For most of us, the Holidays are a time of cheer and represent a season where we all come together to celebrate giving.
But for others, the Holidays are more about taking what doesn't belong to them and stealing your hard-earned money.
But instead of leaving you out in the cold to fend for yourself this winter, we've compiled a list of some of the most popular types of Holiday scams and real-world methods you can use to avoid them.
After all, you work hard all year long, and we know you want your money to go toward gifts that can make your loved ones happy—not to some scam-obsessed criminals.
So to begin, let's take a look at some of the popular emails scams that rear their ugly heads this time of year.
Holiday Email Scams
As the world becomes increasingly technological, how we communicate with one another has drastically changed. But along with it, so have the methods that scammers use to defraud you.
Regardless of the types of email scams you might encounter this Holiday season, though, keep in mind that many of them can be avoided (or have their impact greatly minimized) by simply making sure your anti-virus software is up to date, and that your firewall is active.
This is because the point of most scams (email or otherwise) is to steal your ID or your credit card information, both of which can be prevented by using quality security software.
1. Fake Delivery Notification Emails
Did you receive a shipping notification email claiming that your package was undeliverable, or that your gift is on its way, but you aren't expecting a package in the first place?
This may be an example of a type of phishing scam where criminals will try to get you to click on the link inside an email, which will route you to a page that asks for your personal information. Alternately, you may be asked to download and print a new invoice, which is actually just a virus.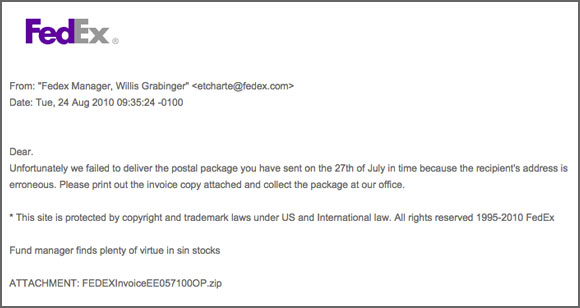 Example of a fake delivery notification email (image credit: fedex.com)
Often times, these emails appear legitimate, and to have been sent from major nationwide retailers such as Costco or Walmart. In fact, UPS, FedEx, and the US Postal Service have all issued warnings about these types of scams, and how you can avoid them:
Never click on any links: The most important thing to remember is that you should never click on any links contained in an email from someone you don't know, or weren't expecting. And in the event that you do click on one of the links, you shouldn't give any of your personal information. Instead, go to the company's website directly by typing the URL in a browser window.
Look for telltale signs: If you open one of these emails and suspect it might be a scam, try looking around for telltale signs such as design flaws (e.g. logo looks different, alternate color choices, etc.), poor grammar and/or misspellings, the absence of alternate contact methods (e.g. phone, mail, etc.), or an unwarranted sense of emergency (e.g. "your account will be suspended within 1 hour if you fail to respond").
Pro tip: Are you legitimately expecting a package? During your order, you can often avoid some of these concerns by leaving specific instructions for the parcel carrier about where to leave your package.
Or, you could have it delivered to work for even greater precaution.
2. E-Card Emails
Who doesn't like receiving a Holiday card from someone they care about? Well, scammers might use this against you by sending you what appears to be an e-card (also known as an electronic greeting card) by email.
When you open it up, you may be asked to click a link that will download the card to your computer. But what you may not realize is that it's actually a virus or some other type of malware.
In order to help identify scam e-card emails, most experts recommend looking for spelling and grammar mistakes or links that lead to an odd-looking URLs (e.g. "www.http://" rather than "http://www.").
In order to avoid the problem in the first place, experts also recommend not opening any emails from senders you don't know—and if you do, not clicking on any links they contain.
Additionally, you can start using more secure web browsers, such as Firefox, versus more security prone ones like Internet Explorer.
3. "Letter from Santa" Emails
The Better Business Bureau recently released a notice warning consumers about a relatively new scam where you'll receive an email claiming that, for a "low price," your child can receive a customized letter from Santa, an official spot on the nice list, and more. All you have to do is click on the link and enter your credit card information.
In most of these instances, though, you'll simply be throwing your money out the window. And in a worst-case scenario, you could be handing over your personal information for thieves to use in ID fraud.
An example of "Letter from Santa" Email
Like other types of email scams, the BBB recommends looking for poor grammar and misspellings, hovering over links to make sure they'll redirect you to where they claim, and researching the business to make sure they're legitimate, including calling any phone numbers listed in the email or the website you're redirected to.
Holiday Shopping Scams
As evidenced by the fact that online sales continue to increase each year, it's clear that more and more people are spending their money online when shopping for Christmas gifts. However, this monumental rise in online spending has opened up a wide variety of doors for scammers to steal your identity, your money, or both.
We'll talk more about actionable shopping tips you can use to avoid scams in a moment, but first, let's take a look at two specific types of online shopping scams you might encounter this season.
1. Deals That Are Too Good to Be True
Whether you heard about it through an email or an online advertisement, scammers will take advantage of your desire to score outstanding deals on the things you want to most this Holiday season by convincing you that they're available at unheard of discounts.
Often times, these scammers will set up fake websites that look legitimate but are only intended to steal your personal information and/or download a virus onto your computer and to never deliver on the deals that they promised.
And while many of these websites attempt to come off as legitimate third-party companies, they also might attempt to "piggyback" off a national retailer's reputation by making it appear that you're shopping through them, when it's actually just a scam website.
In order to avoid these types of scams, it's generally recommended that you don't shop through retailers or websites that you've never heard of.
And if you see an advertisement or receive an email from a trusted retailer displaying an ultra-low price on a product, visit the retailer's site directly instead of clicking on the advertisement or a link contained in an email.
See Also: Budgets, Surprises & Theft: A Survey About Holiday Shopping Habits
2. Holiday Travel Scams
Closely related to too-good-to-be-true shopping deals are travel scams, which become increasingly prevalent around the Holidays as families begin planning their annual vacations, often to warmer locations that offer a respite from winter.
These type of scams come in many different forms, although nearly all claim to offer steep hotel and airfare discounts to top destinations around the world.
This often comes in the form of making an upfront payment for coupons or vouchers over the phone or online, which will end up being worthless, while the scammers use your credit card information to purchase whatever they please in the mean time.
See Also: 6 Scams & Rip-Offs to Look Out for During Holiday Travel
A similar scam involves advertisements, whether through email or elsewhere online, promising to provide you with unheard of travel deals, as long as you agree to pay money through a wiring service such as Western Union.
However, after sending the money, you'll never receive any reservation confirmation, while the scammers are long gone and on to their next victim.
In order to avoid these types of scams, be sure to verify the name of the hotel or airline you're supposed to receive vouchers or discounts from and then contact these companies directly to confirm the deals are legitimate.
You can also perform an online search for "Company X scam" to see if other consumers have fallen victim. Finally, legitimate travel companies will never ask you to wire them money, and if they do, it may be a sure sign of a scam.
3. Gift Card Scams
Have you ever purchased a gift card from a large rack where dozens of other cards were available? If so, you might want to be extra careful this Holiday season.
This is because scammers are known to visit one of these racks and write down many different card numbers. Then, they'll regularly call the issuer to find out how much balance "they" have remaining, and once they have the green light that one's been activated, they'll quickly go on a shopping spree.
Perhaps an even a bigger problem is used and counterfeit cards sold through third-party websites, which can unexpectedly leave you out of some much-needed cash for presents.
Some of the more legitimate sites like Cardpool promise to guarantee all their cards work as advertised, so there are trusted sources available. Avoid purchasing gift cards through auction sites like Ebay or from unmonitored sites like Craigslist.
Holiday Phone Scams
1. Bank Robocall Scams
Although they've become less prevalent over the years as more and more consumers begin shopping and banking online, a common phone scam that criminals use is to call you and claim that your credit card information has been compromised, or something along these lines.
Then, they'll ask for your credit card number and security PIN in order to reactivate your account, at which point they'll quickly rack up the charges.
See Also: How to Identify & Avoid Phone Scams
However, regardless of how the scammers frame the scenario, the important thing to keep in mind is that your bank will never call you and ask for your account information over the phone.
If this occurs, it's a sure sign of a scam, and you should immediately disconnect the call, take down the number, and file a complaint with the FCC.
2. Holiday App-etizers
Although non-jailbroken smartphones and tablets have previously been immune to malware attempts, the recent uncovering of an iOS-specific virus known as WireLurker "heralds a new era in malware attacking Apple's desktop and mobile platforms."
Granted, this app only affected Chinese users, but its appearance means that these types of viruses could quickly reach other countries as well.
In order to prevent infecting your smartphone, tablet, and computers with viruses like this, Palo Alto Networks recommends:
Making sure your iOS software is up to date.
Never pairing your device with an unknown computer or charging it using an unknown source
Avoiding downloading apps from third-party sources outside of Apple.
As always, make sure your computer's anti-virus software is up to date.
Fake Charity Scams
Charity scams are meant to take advantage of your goodwill by making you think you're donating to a worthy cause when you're actually just lining the scammers' pockets.
During this time of year, charity scams can appear online, through email, over the phone, door-to-door, and even at your local mall.
Their websites might appear to be well made and look legitimate, their emails can be convincing, their phone sales pitches well-rehearsed, and if in person, their name badges and other types of paraphernalia (e.g. signage, business cards, etc.) can look good.
In other words, they can be difficult, if not impossible, to distinguish from a legitimate charity.
Because of this, you'll have to play good defense in order to avoid falling victim. According to Scambusters.org, the best methods of avoiding Christmastime charity scams are:
1. Being extremely wary of emails from charities requesting you to donate, as this isn't a method that most charities use to solicit donations, especially if you've never donated previously.
2. Asking for the charity's name, address, phone number, and registration number. You can also visit the Better Business Bureau's Wise Giving Alliance website to browse reports for any charity you're thinking about contributing to. Alternately, you can call the charity's phone number to make sure they have a current drive going on, and if the location you're at is a legitimate one.
3. Donating money by writing a check instead of handing over cash. You'll also need to make sure you make the check out to the charity and not to an individual. This can help you keep a clear record of your donation while taking one more step toward preventing your money from ending up in the wrong hands.
4. After making your donation, be sure you get a receipt showing the amount you paid, and verify that the charity's name is clearly visible on the receipt.
5. Avoid the hard sell. Scammers posing as charities will use high-pressure sales tactics not just to get you to give money, but to give relatively large sums. Ignore any statements about "minimum donation amounts," and simply give whatever you're comfortable with.
6. Finally, scammers often prey on impulse; that is, convincing you to make a last-minute donation. As such, the best method of avoiding charity scams is by determining which charities you'll be giving to in advance.
Pro tip: Even if you're dealing with a nationally recognized organization, it's important to keep in mind that not all charities donate the same percentage of their income to those in need.
For example, the American Red Cross uses 90% of donations to fund its programs and services, while some smaller charities, like the Cancer Survivors' Fund, only uses 8% of donations for this purpose.
To help you discern which charities are worthy of your money, CharityNavigator and CharityWatch can act as indispensable resources.
General Shopping Tips that Can Help You Avoid Holiday Scams
In addition to the above scams, here are some general tips that can go a long way toward helping you avoid others you might encounter while out shopping this Holiday season.
Online Shopping Tips
When checking out, look at your browser's address bar and make sure you see "https:" at the beginning of the site's URL. If you see this, your connection should be secure, which means your information is safe to transmit.
Avoid paying online with a debit card. Instead, use a credit card, since you'll be able to refute any fraudulent activity more easily, and scammers won't be stealing cash directly from your bank account.
See Also: 3 Reasons Why Your Credit Card is Better Than Your Debit Card
Unless you're absolutely sure that you're ready to make a purchase, don't enter your credit card information. Otherwise, you might find that some less-than-stellar companies will process the transaction, even without you pressing the submit button.
In-Store Shopping Tips
Skimming devices can be attached to just about any credit card machine, whether it's a local ATM, gas station, or as Target found out last year, any in-store credit card machine at a register.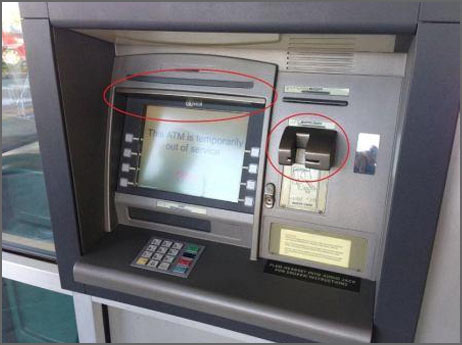 An example of a skimming device (image credit: springhillnow.com)
In order to avoid having your credit or debit card information stolen at a compromised terminal, PCMag recommends:
Checking for signs of tampering, including graphics that don't align properly and different materials or colors than the rest of the machine
Wiggling and pushing parts to make sure they're firmly in place
Wiggling your card as it enters the terminal
Covering the keypad when entering your PIN
Most banks have fairly good security measures in place to quickly alert you any time fraudulent activity is suspected, but it's still a good idea to check your credit card statements regularly, whether through mail or online.
This one's a biggie: When you're out and about, smartphones and tablets can be convenient methods of multi-tasking and getting more Holiday shopping done in less time.
However, be wary of using a store's free Wi-Fi, as these signals could be transmitted by scammers, who will intercept your personal and credit card information if you attempt to make a purchase.
Instead, it's best to use your carrier's data service or wait until you get home to log on to your secure internet connection.
Finally, pickpocketing is one of the oldest methods of separating you from your hard-earned cash, which is especially prevalent as crowds swell this time of year.
To help avoid this, it's always a good idea to only leave the house with what you need (such as an ID and a credit card), carry your wallet in a front pocket, and avoid rummaging through your wallet in public.
Stopping Holiday Scams Begins With You
Here at HighYa, we're on a mission to make you a more informed consumer by helping you identify scams and shop smarter. But, although we take a great deal of pride in the content we provide, it won't do any good if it doesn't reach it's intended audience.
That's why we're asking for your help. Every year, millions of hardworking people fall victims to scams, so it's almost certain you know someone (or several people) who could benefit from the information contained in this article.
So go ahead and share, whether through email or social media and help spread the word.
And if you have some unique tips for avoiding Holiday scams, be sure to leave a comment below.