Holiday shopping is no longer a simple affair.
There is Black Friday. Cyber Monday. Early leaks on sale prices. Doorbusters. Scams. Flash sales. Coupons. It used to be relatively easy to find a gift – just head to the nearest mall and buy the stuff you know your family and friends like.
Now, you've got to have a game plan to handle the rush of discounts, websites, and brick-and-mortar stores.
As good as we've all become at spotting the best deals and hitting the right sales, we've left out some viable options for gift giving: alternative shopping websites.
You may have never heard that phrase, but it's the best way we can describe websites that don't usually come to mind when buying someone a gift – Amazon, Target.com, and BestBuy.com these are not:
Some of these are old favorites, while others are relatively new. We're going to talk about how to use each website to buy gifts and the pros and cons of using them.
1. eBay: The Old Favorite is Still Pretty Cool
Remember back in the 1990's when eBay was like the second coming of the retail messiah? Well, it's still around and as popular as ever. In fact, eBay makes efforts to remind shoppers that their large retail auction site is a desirable holiday shopping hub.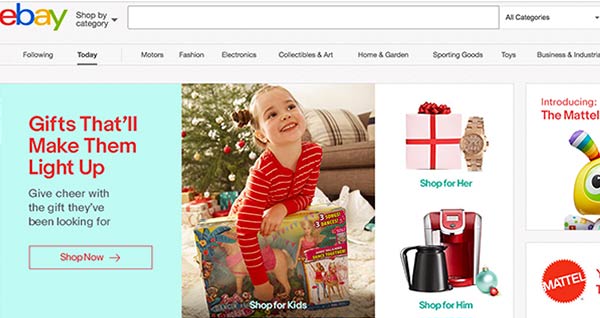 Suzy Deering, eBay North America's chief marketing officer, told Business Wire the site's strength is that you have thousands of options for new or used gifts.
"As a global marketplace, eBay is the only place to find this year's most in-demand items, from small and mid-size sellers to top brands, to one-of-a-kind personal or bespoke items," Deering said. "We empower shoppers to be the ultimate gift-givers with our unparalleled selection."
One of the big reasons why eBay is still a shopping destination, Deering said, is because 74% of consumers say they have a hard time finding the perfect gift at the perfect price.
How you go about finding that perfect item at the perfect price takes a little finesse. There are three ways you can buy things on eBay:
Auction: You and other people bid for an item. Once the clock on the item hits zero, the highest bid wins.
Buy It Now: You buy an item just like you would on Amazon or Target.com. Click on the "Buy It Now" button, pay for the item, and you're done.
Best Offer: You have three chances to offer a lower price on a Buy It Now item. If your price is accepted, you win the item.
Using Best Offer to Get the Best Deals
While auctions are fun and Buy It Now is simple; we want to focus on Best Offer items. In my experience, Best Offer items are usually things that the seller wants to get rid of but isn't ready to post at a lower price.
All Best Offer items also have a Buy It Now price, but, in my experience, the seller isn't looking to get the BIN price. They want to sell their item for between 80% and 90% off that price. Formulate your three bids around this strategy.
So, let's say you find a used iPhone 5 for $200. You want your first bid to be 20% of that, or $160. You'll get a notification as to whether or not the bid was accepted or rejected. The seller will do one of two things if your price is rejected: a "no" without a counter offer and a "no" with a counter offer.
If they counter offer, you'll get a better read on what the seller wants to get for the item. Don't accept this offer, though. My suggestion is to split the difference between 80% and 90% and offer $180 for your second bid.
If that offer is rejected, then you've got one last bid – offer 90% of the item and leave it at that. If your offer is accepted, awesome; if it's rejected, you're left with the Buy It Now price, which is probably going to be cheaper than what you'll find on Amazon.
A silver 16GB unlocked iPhone 6 can be picked up on eBay for $389.99, while the same phone on Amazon is $432.99.
Pros to Using eBay
eBay sellers value their reputation, so if your purchase doesn't meet your expectations, they'll usually do everything they can to satisfy you, whether it's a partial refund or return. Remember, though, to make sure returns are accepted by the seller.
The Best Offer buying tactic is simple and budget friendly. Since you're using an 80-85-90% bidding technique, you won't waste much time. Wait for the response, then bid again.
You've got a huge variety of items from which to choose, as well as plenty of reliable sellers with good reputations.
Cons to Using Ebay
eBay sellers don't always ship the item out the day of or day after your purchase, so allow yourself a few weeks for shipping, just in case.
Some sellers don't allow returns, and those who do will require you to pay return shipping.
If you're buying a gift for someone who is out of state, you'll have to pay twice for shipping – once to get the item, then once to send it to the recipient. You could send the item directly to the recipient, but the packaging for eBay items tends not to have the polished looked of big-box stores.
2. Bespoke Post: The Perfect Gift for the Guy Who Has Everything
Subscription websites have surged in popularity over the past five years, with companies offering everything from snacks and whiskey to makeup and wine. In fact, CBS News pointed out that subscription-box review website My Subscription Addiction has more than 1,500 different subscriptions listed on its site.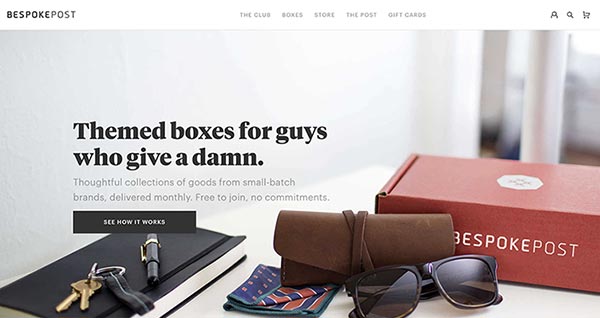 "Why have these boxes become so popular," reporter Aimie Pichhi asked. "It's partly the 'treat yourself' mentality of wanting to provide a bit of luxury or pampering for yourself or a friend."
Bespoke Post is one of the leading subscription boxes for men, and rightly so, in our opinion. They offer unique, decidedly manly products that span personal care, style, drinking and more. Here's how it works:
Boxes are $45 per month for subscribers and $55 for a one-time gift purchase.
You can pick from a variety of boxes on their website, with each product page describing what's in the box. Each box has a name indicative of its contents.
The box is shipped to the address of your choice, for free.
In our experience, Bespoke boxes have been packaged handsomely, the items in the boxes were quality and the informational card included in each box is a great introduction to where each item was made and why they were chosen for the box.
The overall experience led Investopedia's Richard Best to say Bespoke Post is among the best of male-focused subscription boxes.
"Most men don't like to shop, in stores or online, but some like the idea of a shopper picking things out for them that they would not ordinarily try on their own," Best wrote. "That is the special brand identity Bespoke Post has created with its subscribers."
To judge the value of a Bespoke package, we shopped prices on items in the Mangia box, which includes a pasta machine, cookbook, wooden spoon and bag of semolina flour:
Weston pasta machine – $43 ($28.62 + $14.48 shipping from Walmart)
The Frankies cookbook – $20.70 (free shipping from Barnes & Noble)
Olive-wood spoon – $9.68 (free shipping on Amazon w/$49 min. purchase)
Organic semolina flour – $9.99 (free shipping on Amazon w/$49 min. purchase)
The grand total with shipping included is almost $83, and even without shipping the price of the items is still around $13 more than what you'd pay for the Bespoke box.
Pros to Using Bespoke Post
Makes it easy to buy a gift; there are around 10 choices.
Unique – each box has its personality and is more interesting than a gift card or single item.
Stylish – the Bespoke brand can appease cool-seekers and average guys.
Cons to Using Bespoke Post
Only seven boxes to choose from when we did our research.
Most items are limited to food, drink, fashion or personal care.
May not be a good fit for someone who doesn't like to branch out from their traditional gifts.
3. Groupon: Giving a Night Out to Far-Away Friends & Family
The popular coupon site Groupon.com offers shoppers various discounts on restaurants, activities, travel packages and an interesting mix of products ranging from NFL-themed doormats and Samsung earbuds to luggage tags and dog beds.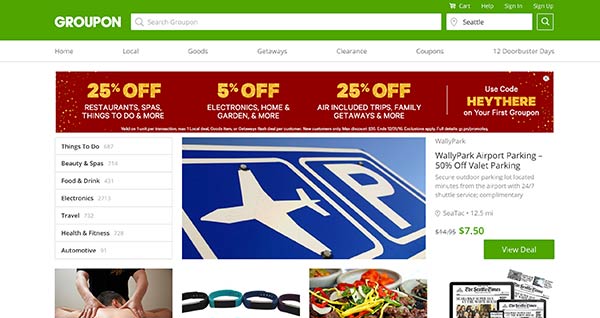 ​
Their website offers deals in hundreds of cities across the United States and abroad. In fact, I've used Groupons in Spain, Florida, and California.
The purchase process on Groupon is easy. You pick the coupon you want; then you pay for it. Easy as that. Each coupon offers a discount on the item, service, event or nosh you buy. Restaurants are a classic example: $10 for $30 worth of food, $5 for $10 and so on.
You can choose to use the Groupon for yourself or send it to someone as a gift. If you choose the gift option, Groupon lets you pick from a variety of e-card styles that add a little flair to the gift. The coupon is then emailed to the recipient, who clicks on the e-card you sent and downloads your digital present.
Before you buy, though, make sure you read the terms and conditions of the offer you want to buy. Some restaurant coupons, for example, are only good on certain days and for certain meals. Also, all coupons have an expiration date.
See Also: Groupon Getaways: What They Are (and Aren't) Good For
The ease with which you can buy and use Groupons and the discount concept led to huge growth when the company started in 2008, and though the company has faced its ups and downs, it continues to grow, so much so that Fortune's Dan Primack called Groupon "an original unicorn…that remains a successful one."
Pros to Using Groupon
You can buy local deals for friends and family who don't live near you.
Using their app can get you additional 20% on coupons.
If a coupon expires, it's worth whatever dollar amount is listed on the coupon.
Cons to Using Groupon
It can be hard to know which restaurants or entertainment venues are good.
The recipient may or may not remember the restrictions on the coupon.
The coupon may go unused. Between 2008 and 2014, $44 billion in gift card values went unused.
4. Etsy: A Handmade Gift With Meaning
If it's artisanal, rustic gifts you're looking for, Etsy, the online marketplace for artists and crafters, is pretty much your retail Disneyland.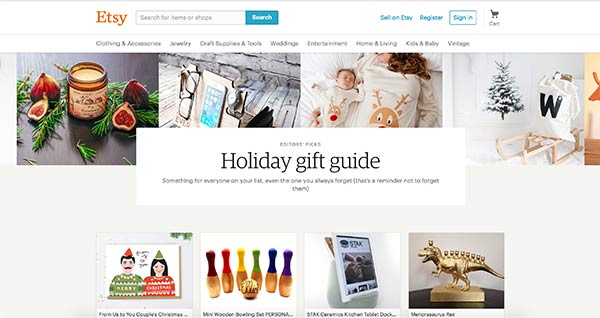 The website is unique in that all its sellers are offering handmade or vintage goods in the following areas:
Clothing & accessories
Jewelry
Craft supplies & tools
Weddings
Entertainment
Home & living
Kids & baby
Each seller has a rating based on what customers have said, and you'll find that sellers take a lot of pride in their product. All the items I've ordered from the site have had unique, detailed packaging that added to the awesomeness of what I bought.
Unlike eBay, Etsy's products aren't auctioned off. Think of the site as a big online store. You find something you like; you buy it, and it ships.
We suggest you check out the terms and conditions of each item. Also, contact the seller to find out how long it will take them to create and send you the item you want to buy. Around the holidays, a lot of orders come in and their shipping times may be one or two weeks longer than usual.
Pros to Using Etsy
Handmade items you won't find anywhere else.
Large selection of vintage and artisan products.
Many sellers put as much effort into packaging as they do into their product.
Cons to Using Etsy
Finding truly original pieces is hard. Many jewelry sellers buy bulk supplies, so you'll see the same charms on necklaces and earrings in many different Etsy stores.
Sizing can be tough – clothes and jewelry may not always fit.
You get what you pay for. Jewelry under $25 tends to tarnish quickly.
Birchbox: Monthly Beauty Products on the Cheap
Birchbox is one of the original subscription services out there. Their concept is simple: sell $10 subscription boxes filled with sample-size beauty products.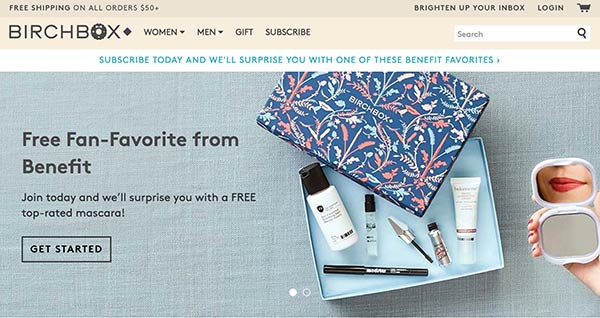 ​
Birchbox offers beauty boxes for men and women, but since we've already covered a man-focused subscription service (Bespoke), we're going to focus on the female side of Birchbox.
Like Bespoke, Birchbox offers the monthly boxes. Unlike Bespoke, however, you can't buy their full selection of boxes for gifts. Around the holidays, however, they offer gift cards for 3, 6 and 12 months of boxes.
Beauty products can be tricky, though. There are all kinds of skin types, sensitivities, and preferences, so make sure you take a look at some of the products they sell to get a sense of what your boxes will include.
Here are their categories for women's boxes:
Makeup
Hair
Skincare
Fragrance
Bath & body
Lifestyle accessories
Tools
Nails
Their makeup page currently includes products from Bobbi Brown, Clinique, Stila, Laura Geller, Smashbox, Benefit and more. Their skincare page features products from Kiehl's, Elizabeth Arden, Clinique, Dr. Brandt, Vasanti and several other brands.
There's no guarantee as to what will show up in your box; you could love it, or you could have it. But, in general, Birchbox is well-loved by its customers.
My Subscription Addiction reviews Birchbox's monthly deliveries, and reviewer Haley Fay had good things to say about the Nov. 2016 box.
"I wasn't super excited about my November Birchbox just from opening and looking at my samples, but after trying each on I'm actually really happy with it. I think every single item … pleasantly surprised me," Hay said. "I know I'll use up as much as I can from every sample. The value of my box adds up to $32.50 which I'm happy with for a $10 box filled with new happy product discoveries for me!"
Haley's review reveals some of the pros and cons of Birchbox.
Pros to Using Birchbox
Exciting – products change every month and packaging is great.
Sample sizes, so if something doesn't work for you, you don't waste tons of money or product.
Cheapest of all the major subscription services at $10 per month.
Cons to Using Birchbox
For someone with specific makeup needs, Birchbox could be a frustrating experience.
No consistency in which products you get.
Sample sizes can run out quickly depending on what type of product you get, so you're always using different products on your skin.
Conclusions About Alterative Sites for Holiday Shopping
As consumers, we tend to go with the safe bet that's or the popular site, which usually means we're scouring Amazon on Cyber Monday or hitting up Target.com on Black Friday to snag amazing deals. Those sites are tried-and-true, and we can't argue with how great they are, but sometimes it helps to mix things up a bit.
eBay is a great site for variety and, in many cases, bargains can be had by using savvy Best Offer techniques. Bespoke post is a great place to find a gift for that "man who has everything," while Groupon allows you to buy coupons you can email to family and friends who live across the country.
Etsy is the kind of online artisan stores; many of their pieces are unique, and you won't be able to find them anywhere else.
Birchbox is an excellent resource for finding gifts for a female. While they don't offer a lot of individual boxes for a one-time purchase, you can buy gift cards that can be redeemed for subscriptions of varying length.
For some readers, buying gifts online just isn't their thing. You like the rush of heading to a store, being first in line, shopping for a few hours and then hitting up a Starbucks before you commence with round two.
If you fit that description, stop by our holiday shopping and travel guide page, where we've got dozens of articles that will save you time, money and stress.