If you're not part of the Millennial generation, you probably remember a time when online dating was considered a little weird; something that only the most adventurous among us would try.
Today however, online dating is viewed as a perfectly mainstream activity that more than 41 million Americans have tried at some point. And in their quest for love, the average online dater spends $239 per year, leading to an industry that's blossomed immensely and rakes in more than $1.2 billion annually.
But despite its widespread public acceptance, there is a dark underbelly of online dating that's often overlooked by love seekers; the world of online dating scams. And because being scammed isn't at the top most people's minds when they're looking for love, crooks stole more than $50 million from online daters in 2011, which works out to about $8,900 per victim.
This means that if you've just entered the world of online dating, you need to know as much as you can about some of the most popular scams out there, as well as actionable, tried-and-true methods of identifying them and steering clear.
But before we dig in, let's cover some of the basics.
Taking Advantage of Your Vulnerability
If your heart's been broken before (and whose hasn't?), you have a first-hand understanding that in order to find love, you have to make yourself at least somewhat vulnerable. And regardless of their ultimate motive, it's precisely this vulnerability that scammers will prey upon.
In other words, scammers will give you a glimmer of hope that you've found true love, which ultimately causes your defensive walls to come crashing down. And once this occurs, scammers will then use the situation to their advantage and take as much of your hard-earned money as possible (or even steal your identity), all while proclaiming their undying love for you.
As bad as it may seem though, it's important that you don't become jaded. After all, there are millions of trustworthy people out there who are looking for love, just like you.
But just who are these dating scammers, and why are they so prevalent online? Let's take a look.
Where Do Online Dating Scammers Come From?
Although scammers who use online dating sites can hail from any country in the world, they're most often located in West African countries such as Nigeria and Ghana.
Here, scammers will often work in small teams (more about this in a moment) where they often have the support of local businesses, and will even follow scripts, like in a modern telemarketing call center. Each member of the team will work on several different "accounts" at once, and there will generally be a clear chain of command among the group (e.g. workers, management, big bosses, etc.).
And while this "dream team" of scammers can make it seem like you don't have any hope of outsmarting them, the fact is that there are 6 primary red flags you can use to identify these scams, stop them in their tracks, and save yourself a ton of heartache in the process.
Red Flag #1: The Age-Old Question
More often than not, online dating scammers target older individuals and senior citizens. Why? Because they're more prone to feeling alone, and might be more willing to take chances at finding "true" love that they would otherwise avoid. In addition, senior citizens typically have less online literacy than younger generations, so they might not identify fraudulent behavior as easily.
What to Do: If someone reaches out to you through a dating website, obviously the first thing you'll want to do is visit their profile and see what they have to offer. However, if you notice they're younger than you (especially if they're significantly younger), this could be your first signal that it might be a scammer.
Granted, it might be a legitimate love-seeker who prefers mature partners. But the sad fact of the matter is that many scammers recognize that older individuals are often more financially secure—and have a tendency to be lonelier—and are prime targets as a result.
Red Flag #2: Petal to the Metal
In a surprisingly short period of time, online dating scammers will escalate the relationship to include the big "L" word. They might talk about how they can't wait to finally be with you, how much they cherish your love, and may send you long, love-filled poems, or even flowers.
What to Do: While it might be romantic to think that love at first sight (or click of the mouse, to be exact) is what's happening here, this isn't a fairy tale. In real life, if someone you've never met tells you that they love you after a few online messages, it's definitely not the right time, and could be a strong sign that you're being set up.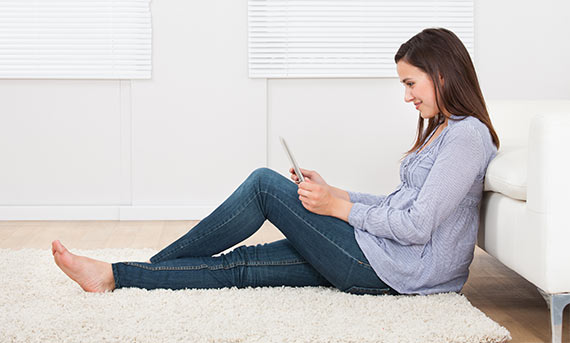 ​
Red Flag #3: Failure to Lunch
Whether or not you're older, and regardless if they've expressed a love interest early on, it goes without saying that if it seems promising, you need to meet. While this can certainly involve meeting in person for lunch (or another similar activity), this can also entail speaking with them over the phone or video chatting.
However, if they continue making excuses as to why they can't speak (which will often become increasingly bizarre), your alarm bells should start going off.
What to Do: Because online dating scammers work in teams, they'll typically respond to your messages within a matter of minutes. After all, they've got a business to run, and keeping in contact with their "customers" is the highest priority.
Because of this, if you find that your messages are responded to very quickly, regardless of when they're sent, this might be an indication you're being scammed (or at the very least, that this person is an insomniac who's always on their phone or computer). Also, if you do request to meet in person, never—ever—give them your home phone number, or your home or work address.
Important Note: In most instances, experts recommend not taking a relationship away from the site where you met, including phone calls, text messages, and third-party apps such as Skype, until you've had plenty of time to verify they are who they claim.
Red Flag #4: Picture ID, Please
Although they'll avoid contact at all costs, online dating scammers will claim to live relatively nearby, but that they're currently traveling for business, visiting family, or some other excuse, which (they hope) will keep you strung along as long as possible.
What to Do: At this point, you've almost certainly browsed through this person's online profile in order to learn more about them and to find out what they look like. However, if they've exhibited one or more of these red flags, revisit their profile and really study their pictures.
Do you see any inconsistencies, such as "places that are not in geographic proximity to where they live," or "identifying features that do not match with the picture this person has built up of themselves?" In other words, if this person claims to live in Tucson, AZ but all of their pictures show them in a dense urban setting with green foliage all around, this could be an indication they're not who they say they are.
However, the reality is that very few scammers will use their real pictures on online dating sites. Instead, they'll often steal images from strangers' social media accounts. Because of this, you'll want to run one (or more) of their profile images through Google's reverse image search, which can quickly help you determine if their pictures are legitimate or not.
Red Flag #5: Love Might Be a Universal Language, But…
As we mentioned above, most online dating scams originate from non-English speaking countries, so if you notice that this person's messages are filled with numerous spelling and grammatical errors—ones that even someone with a basic understanding of English wouldn't make—be wary.
What to Do: Another tactic you can use during your detective work is to keep an eye out for the tone of each message. Did they "forget" something you were talking about previously? Did they call you by the wrong name? Do they use different words to describe things? Do the messages sound like they're coming from different people?
If any of these become apparent, it could be because you're talking with different members of the scammer's team.
Red Flag #6: Cash, Check, or Charge?
Regardless of who they say there are, the language they use, or how they landed in their current situation, the ultimate goal for online dating scams is to rob you of your money. This can take many different avenues, but it always involves some kind of very pressing emergency, such as an unplanned hospital stay, being robbed or imprisoned, or even losing their passport and becoming stranded in a foreign country.
What to Do: Out of all the steps provided in this article, this is perhaps the easiest one to follow: Never give out any of your financial information. Period. No credit card or banking information. No wiring money. No cashing any checks or paying to ship boxes. Nothing at all.
Your scammer may have been lovely up until this point, but once you start balking at sending any money (or providing some other means of support), they'll turn up the heat. This will obviously include some heart-wrenching story about how they thought they'd found real love, how this is going to ensure you'll never meet, and other such nonsense.
In fact, if you decided to take your relationship away from the original dating site, you could be set up for extortion or blackmail, so just don't do it.
But whatever happens, don't give in. Instead, report the scam to the FBI's Internet Crime Complaint Center, as well as to your local police precinct. This way, not only will you stop yourself from being scammed this time, but others around the country as well.
It Matters Which Dating Website You Choose
Finally, when it comes to online dating websites, keep in mind that not all are created equal. In other words, based on hundreds of reviews from HighYa readers, it would seem that many non-traditional dating sites (e.g. those that cater to specific interests), such as FarmersOnly.com, TripTogether, and Zoosk, seem to host an especially large number of scammers.
In fact, many of these reviews also claim that the sites themselves are scams, and intentionally employ others to convince you to spend as much money as possible on connection (e.g. sending messages, live chat, etc.) credits.
As such, if you're new to the online dating scene, it might be better to start with better-known sites such as Match.com, eHarmony.com, or OKCupid.com. Many of these recently started conducting background checks on all of their members, and also require their members to complete extensive questionnaires.
Granted, you'll still need to keep the above tips in mind at all times, but this will at least weed out most of the unscrupulous users, leaving you room to find love.
What's Your Online Dating Story? Were You Scammed?
As you can see from the links above, hundreds of HighYa readers have provided feedback about some of the most popular online dating websites. Now, it's your turn.
Have you been involved in an online dating scam? Do you have important tips to help fellow readers avoid online dating scams? Be sure to leave a comment below, and to share this article far and wide. Together, we can help put a stop to online dating scams!
Read Next: Romance Scams That Target Solo Tourists