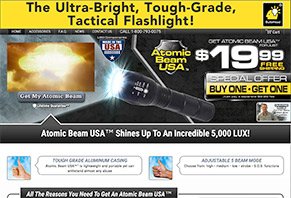 Atomic Beam USA Flashlight promises to deliver the same tactical technology used by U.S. Special Forces, along with five adjustable modes, all at a competitive price.
About Atomic Beam USA
The Atomic Beam USA tactical flashlight uses ultra bright LEDs to shine up to 40X brighter than ordinary flashlights, and features a tough-grade aluminum casing that's claimed to withstand extreme conditions.
At just a little over 5" long and less than 1.5 pounds, Atomic Beam promises to implement the same tactical technology used by U.S. Special Forces, plus a beam that can be adjusted between high medium, low, strobe, and S.O.S. And since it shines up to 5,000 lux and features a 2,000X zoom function, the manufacturer claims that Atomic Beam is "one of the most powerful flashlights on earth."
Let's cut to the chase: You don't have time or extra money to purchase something that won't deliver value, so let's find out if Atomic Beam will be your next tactical flashlight.
Does Atomic Beam USA Feature U.S. Special Forces Tactical Technology?
Compared to their civilian brethren, tactical flashlights are generally much brighter. Why? Instead of illuminating an area, they're supposed to temporarily stun/blind a person at the receiving end. Tactical flashlights also feature strong, yet lightweight, construction, with the on/off switch situated in the tailcap and the ability to be mounted to a firearm.
Based on these characteristics, except for this last bit, it seems like atomic beam matches the broad definition of a tactical flashlight. Before moving on though, we need to explain why not all tactical flashlights are created equal.
How Bright Is Atomic Beam?
There isn't a standard light output for tactical flashlights, but there is a standard unit of measure to convey this output, which is something known as lumens (tactical flashlights can range anywhere between 60 and 1,000+ lumens).
However, the manufacturer only tells us that Atomic Beam outputs 5,000 lux—and, without knowing the square footage of the area where this measurement was taken, we can't convert this number into lumens.
Ultimately, the company doesn't really provide any useful numbers we can use to gauge Atomic Beam's real-world power and compare it to the competition (or confirm that it's 40X brighter).
Speaking of the competition, are there other flashlights out there like Atomic Beam? We'll talk more about that in a second, but let's first talk about its price.
How Tough Is Atomic Beam?
In the Atomic Beam commercial, we see the flashlight dropped from dozens of feet in the air, after which the spokesperson picks it up and finds that it works just fine. This is known as impact resistance, which measures how well a flashlight can withstand a drop to concrete from a specific distance.
While there's no standard impact resistance that a flashlight must meet in order to earn the "tactical" distinction, most are warrantied between 1 and 3 meters (about 3-9 feet). Does Atomic Beam come with a warranty at all?
We'll talk more about this next. But first, what about those demonstrations where Atomic Beam was enclosed in ice or pulled from boiling oil? Again, neither of these are requirements for a tactical flashlight designation, but it's a demonstration we've seen more than once, and doesn't seem to be unique to Atomic Beam. Either way, we wouldn't expect any tactical flashlight to work for very long when exposed to similar repeated abuse.
Now, let's talk about Atomic Beam's price.
How Much Does Atomic Beam Cost?
When checking out on the Atomic Beam website, you'll be presented with 2 options:
Main Offer: $19.99 plus free shipping for the first Atomic Beam. Get a second for an additional $9.99 fee.
Deluxe Offer: Includes one Atomic Beam tactical flashlight, plus a rechargeable battery and charger, hands-free tactical headband, and reinforced nylon carrying case: One for $39.98, two for $59.97.
You can also purchase the accessories found in the Deluxe package individually:
Rechargeable Battery & Charger: $12.99
Reinforced Nylon Carrying Case: $9.99
Hands-Free Tactical Headband: $7.99
Regardless of which option you choose, all orders come with free shipping, as well as a 30-day refund policy, less S&H.
Pro tip: Keep in mind that the $9.99 fee for the second Atomic Beam in the Main Offer technically counts as shipping, so you'll immediately lose it when requesting a refund. You'll also be required to pay return S&H.
All Atomic Flashlights come with a lifetime replacement guarantee. Here's how the company puts it in their commercial: "If it ever breaks, for any reason, you get your money back."
In order to request a refund or cash in on your replacement guarantee, you'll need to call Telebrands customer service at 855-668-1655.
How does this price compare to the competition?
Are There Other Tactical Flashlights Like Atomic Beam?
Since you're reading this review, you probably already know there are literally hundreds of other tactical flashlights like Atomic Beam. If not, you can quickly find out by searching for the term on your favorite search engine. We've even reviewed another ASOTV version called TacLight by Bell + Howell.
When you search, you'll find that in many instances, these other tactical flashlights are almost indistinguishable from Atomic Beam. In other words, they'll generally share the same important features, like high lumens (usually between 600 and 1,000), rechargeable batteries (that you don't have to pay extra for), sturdy construction, and multiple modes/zoom features.
One area most of these other options can't compete, though, is price. Whereas one Atomic Beam flashlight comes in at about $20, some models from the competition can reach $80 or more. But just because it's less expensive, does this mean that Atomic Beam will provide a better value? Let's find out as we come to our conclusion.
Atomic Beam USA Test
We thoroughly tested the claims of the Atomic Beam USA. To find out what we experienced, be sure to watch the video below:
For more product tests and reviews: Click here to subscribe to HighYa's YouTube channel.
Is Atomic Beam USA The Right Choice?
Telebrands (including their Bulbhead division) is the largest company in the ASOTV industry, so they're definitely not a scam (although based on a 2014 lawsuit by the NJ Attorney General's office, they might not always operate in the best interests of their customers). However, in order to keep your expectations realistic about Atomic Beam, we think there are a couple more important facts you should consider:
Is Atomic Beam Useful for Self Defense?
In the Atomic Beam commercial, we saw a woman quickly hold up Atomic Beam's strobe mode to fend off a would-be attacker, who immediately runs off. How realistic is this?
As we outlined above, since there's no way to measure Atomic Beam's lumens, we can't know how well it would blind an attacker. However, assuming it features the same number of lumens as other tactical flashlights, it might be possible to temporarily stun an attacker—just remember that you'd have to keep your hand on the flashlight's button at all times in order to react so quickly.
Given this, unless you're using a tactical flashlight like Atomic Beam alongside a firearm, with think it's doubtful that an attacker would react so strongly to a simple flashlight.
Who is Hunter Ellis?
Hunter Ellis is a former Navy aviator and FedEx pilot, who also appeared on the reality TV program Survivor: Marqueses during 2001-2002. Since that time, Hunter has worked as a news anchor, television host, and general on-screen personality.
While Mr. Ellis might have some star power, remember that just because a celebrity endorses a product, this doesn't mean they use the product—or that it's necessarily any good.
The Bottom Line About Atomic Beam
Based on its feature set and price, it's admittedly difficult not to immediately hand over your money for Atomic Beam USA flashlight. After all, it seems to have all the key features you'll need for a tactical flashlight, including rugged construction (although there's no formal definition for "tough grade"), a bright light (although we can't know how bright), and multiple settings.
From this perspective, there's little doubt that other Telebrands products have provided tens of thousands of customers with the value they were seeking. With no online reviews yet, we'll have to wait and see if the same holds true for Atomic Beam. At minimum though, we think you should check out this tactical flashlight buyer's guide before making a final decision (No this isn't another one of our sites nor are we affiliated with it in anyway, we just wanted to provided additional resources for you).
Talk all about your Atomic Beam experience by writing a review below!
1 out 1 people found this review helpful

Best flashlight

I am a military war veteran. This is by far the best flashlight I have ever owned. I highly recommend it.

Bottom Line: Yes, I would recommend this to a friend

---

The best flashlight that I have owned

By

Richard

,

Knoxville, Tennessee

,

Jan 19, 2017

I received the Atomic Beam USA as a Christmas gift, so I'm not out any money. However, I must admit that it is by far the brightest flashlight that I have ever used.

The strobe function and SOS pattern are just bells and whistles because I don't anticipate ever needing those functions. I use it as an emergency light, and that's all. If my power goes out, this is the light I will use because it is very bright.

Is it worth $20? Probably. If it is only used as emergency lighting, you can't go wrong.

Bottom Line: Yes, I would recommend this to a friend

---

Advertisement

---

1 out 1 people found this review helpful

Bad light

This product claims to be able to withstand whatever you throw at it, well, I beg to differ on that.

The yellow button is as cheap as it gets, I have used it twice and cannot even keep it in. The groove where it sits keeps falling thru, which means there goes the waterproofing. As far as freezing it and it staying on, we will never know because I know for sure the button will not hold up. And don't take it in the pool, or you are just out the 30 bucks it took to get it to you.

Just as well buy a cheap $5 one so you are not upset about having to get a new one when you break it! I give it one star only because I have to in order to tell you all about it.

Bottom Line: No, I would not recommend this to a friend

---

3 out 3 people found this review helpful

Total scam

This is a cheap product that doesn't deliver anything advertised. I dropped it from my roof (approximately 24 feet), and the LED stopped working as it bounced on the ground. The claims that the 5,000 lumens are so bright it can light the front of a house at 50 feet is a bald-faced lie. I couldn't find any component that it was made in the USA. It is the biggest scam on TV, do not buy.

Bottom Line: No, I would not recommend this to a friend

---

Advertisement

---

3 out 4 people found this review helpful

Bell and Howell Atomic Beam flashlight

By

Shirley

,

Ashton, IA

,

Jan 13, 2017

This light did not live up to my expectations from their advertising. The tail switch went into the light and came apart, and so far I have not found a diagram as to how to put it back together. After the first few uses, it does not seem as bright on any setting. It doesn't correspond to my memory of Bell & Howell as being a good quality company.

If anyone knows where I can see a diagram of the tail switch, please advise here.

Bottom Line: No, I would not recommend this to a friend

---

1 out 3 people found this review helpful

What's all the bad reviews about?

I don't know how rugged this thing is, but I don't have a habit of throwing my things around nor dropping them to see how well it's constructed. I will say it is strong. As far as the power, it won't jump start your Harley and won't light your campfire, but it will easily light your way and have plenty to spare. For 20 bucks there's no way you can go wrong.

Bottom Line: Yes, I would recommend this to a friend

---

2 out 3 people found this review helpful

Switch broke

The switch broke on mine. I used it a few times the first week that I got it. Now, the switch has gone crazy on me.

As you try it, it goes off, on, off. Then off, on, flash slow, off. Then off, on, flash slow, flash fast, off. Then off, on, flash slow, flash fast, on, on, on, on, on and then you have to hit it a few times to get it to shut off. When you push the button, you can feel that the button has moved inwards. When I take the bottom off to look at the batteries, the switch falls out.

After you put it back together, it works alright once or twice, and then it starts acting up again. It is a piece of trash.

Bottom Line: No, I would not recommend this to a friend

---

Advertisement

---

2 out 3 people found this review helpful

Never again

By

Cody

,

Ripley, WV

,

Jan 9, 2017

Scam!

I bought this flashlight, put some high output batteries in it, and it never has once turned on. I noticed that a little spring, which was cheaply sauntered into it, wasn't attached. I have tried to reach the company through phone and email, with never receiving an answer or response.

Bottom Line: No, I would not recommend this to a friend

---

4 out 5 people found this review helpful

Atomic flashlight

The button on the two Atomic flashlights that I bought, (and one was given to me as a gift) either work improperly, come apart when you change the battery, or break altogether. It is bright when it does work though.

Bottom Line: No, I would not recommend this to a friend

---

8 out 9 people found this review helpful

Load of crap

By

Stacy

,

Montana

,

Jan 4, 2017

First of all, the commercial shows the light being taken out of hot oil, but how is this possible with plastic parts?

We bought it out of curiosity, and well, we put batteries in, turned it on and off twice, and the switch pushed in and broke. It never worked again. Yes, the light was nice and bright, before it broke.

Don't waste your money, its a piece of crap.

Bottom Line: No, I would not recommend this to a friend

---

Advertisement

---

7 out 9 people found this review helpful

Atomic beam flashlight

By

Charles

,

Washington

,

Jan 4, 2017

I bought one at Walgreens and the lens fell out after a week. I took it back and they exchanged it. After I had it for about a week, something happened to it where it would not turn on, and they wouldn't exchange it this time. I think this is crap.

Bottom Line: No, I would not recommend this to a friend

---