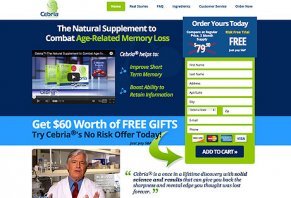 Cebria is a dietary supplement that claims to contain a natural, patented blend of neuropeptides clinically proven to help combat age-related memory loss.
About Cebria
If you're over 50 and searching for a nutritional supplement to help improve your memory, you may have seen advertisements for Cebria. This natural, patented memory enhancement formula is claimed to help combat age-related memory loss, and to be scientifically shown to significantly improve memory in just 30 days.
But is Cebria really the memory enhancement supplement it claims to be, or is it just a bunch of hype? Let's see what the facts have to say.
Understanding How Cebria Works
According to Cebria, as you get older, your body produces less and less neuropeptides, which ultimately causes memory to fade. In fact, they claim that by age 50, most people have lost 50% of their short-term memory.
With this in mind, similar to Nootrobrain and Brain Abundance, Cebria claims to be a natural nootropic that can improve short-term memory and boost your ability to retain information. Cebria claims to accomplish this using Neuro Pep 12, a patented blend of neuropeptides that support healthy neural connections.
With more than 12 million doses already sold worldwide, Cebria claims to have been developed by a leading European pharmaceutical company with a 20-year history of treating Alzheimer's and stroke victims, and to include the following safe, effective ingredients:
Neuro Pep 12 proprietary blend 282.8mg, which is comprised of:
Lactose
Glutamic acid
Lysine
Leucine
Arginine
Aspartic acid
Serine
Phenylalanine
Valine
Threonine
Tyrosine
Isoleucine
Histidine
Methionine
Tryptophan
Cebria Pricing & Refund Policy
Currently, there are four ways to purchase Cebria:
30-day risk-free trial, which will include two bottles; just pay $9.95 shipping and handling.
1 Box: $59.95, plus $9.95 shipping and handling
6-Month Autoship Program: $159.80
Super Saver Program: A total of 12 boxes for $319.60
With the Risk Free Trial, if you're dissatisfied within the first 30 days, the company claims that you can return the unused portion and you won't owe another dime. However, if you fail to cancel within 30 days, your credit card will be charged $39.95 per bottle (a total of $79.90).
Also, if you choose the Risk Free Trial or 6-Month options, this will include enrollment in Cebria's autoship program, which means that you'll continue receiving two or sixth-month supplies at regular intervals, and your credit card will be charged accordingly.
Regardless of which option you choose, the company claims they'll include $60 worth of free gifts, such as The New Memory Advantage, an e-book that features brain building games, nutritional advice, memory improvement techniques, and more. You'll also receive a 30-day supply of Perfect Omega, which claims to have the same level of Omega 3s as three bottles of fish oil. However, you'll be charged an additional $7.95 S&H for this supplement.
What Do Other Consumers Have to Say About Cebria?
Cebria is manufactured by Cebria, LLC based out of Sherman Oaks, CA, and holds a B+ rating with the Better Business Bureau, with four closed complaints filed over the past three years. However, during the informational video on Cebria's website, a label appears on the supplement's box that reads "Thera Botanics," although we were unable to locate any additional information about this company online.
Although Cebria's trademark was recently registered in December 2013, the supplement already has numerous online customer reviews, most of which appear to be negative. The most common complaints we encountered during our research cited difficulty processing returns, difficulty cancelling autoship programs, failure to work, and very high price.
What's the Bottom Line About Cebria?
As we mentioned in our Complete Guide to Buying a Nutritional Supplement and Recent Billing Scam articles, there are three red flags you'll almost always encounter when dealing with a less-than-stellar supplements manufacturer:
Overblown/unsubstantiated claims (e.g. too good to be true)
Free trials
Autoship programs
With this in mind, Cebria ticks all three boxes. When companies use these tactics, it's often the case that negative customer reviews quickly follow, which certainly seems to be the case here. As such, the most common complaints we encountered during our research cited extreme difficulty processing returns and cancelling autoship programs, failure to work, and very high price. In fact, we read more than one online customer review that claimed the company is being investigated by the FBI, although we weren't able to locate anything to confirm this allegation. As if this weren't enough, we also read several reviews claiming that you can find generic supplements with similar ingredients for much less money.
See also: The Truth About Memory Supplements: What to Look for & How to Buy One
So what's the bottom line with Cebria?
Without providing any evidence to back up their claims, and the fact that they tick all three boxes in HighYa's "Beware of this Manufacturer" warning sign list, we'd recommend speaking with your physician about a nootropic manufacturer with a better reputation.
See also: 6 Ways to Naturally Improve Your Focus, Energy, Productivity, and Decrease Stress
7 out 17 people found this review helpful

I love this product!

By

Jill Seale

,

Nowata, OK

,

Apr 20, 2017
Verified Reviewer

Back in 2012, I ordered the plain Cebria. I started it and tried it for about 5-6 months. Then I got shingles on my face, scalp and right eye. The itching was very bad, and the pain too. When the symptoms got better, I started Cebria again. Well, I would get short-term itching and pain so my doctor looked it up and said that since it affects the nerves, I should stop it.

My mind wasn't really bad so in 2016 I found it at the GNC stores. It was the Ultra blend. I've taken it since then. Now they don't have it. I ordered it from Amazon and received prostate meds. I need to buy some. I can't focus or remember names. IT WORKS; I just can't afford a lot of money. I'm a nurse and the only person working. I also have a strong Hx of dementia and Alzheimer's in my family. Thanks.

Bottom Line: Yes, I would recommend this to a friend

View all 1 comments

Hide comments

Jul 5, 2017

You need to subscribe to Dr. Russell Blaylock's monthly newsletters. He is a retired neurosurgeon that has done extensive research on supplements that can greatly improve your health, especially your neurological well being. An annual subscription is relatively cheap and you will get access to all his previously published newsletters, you have a lot of reading to do.

There are some very questionable amino acids in Cebria such as glutamic acid for one, that is actually quite harmful to brain cells. What I find absolutely horrifying is that the second most prevalent amino acid essential to brain health isn't included in Cedria! It is L-Taurine. It's shocking to me since about 80% of Americans are deficient to some degree in their daily intake of this very important amino acid.

Dr. Blaylock can steer you towards supplements that are actually quite helpful in delaying and even preventing the neurological disorders you mentioned. Just Google his name. He can be viewed on YouTube as well if you are interested. Good luck.

---

68 out 70 people found this review helpful

Never do business with this company

By

Brian

,

Clifton, NJ

,

Feb 22, 2017
Verified Reviewer

This company is a COMPLETE scam.

They tell you it's $9.95 for shipping to try the product, but that is is a complete lie. Evidently, in unreadable fine print, they send you a two-month supply, charge your card about $90, and put you on an auto-ship. Instead of a nice brochure with the product, they have the nerve to greet you with a document that states that since you accepted the product, you have agreed to arbitration. In other words "we are ripping you off, and you have waived your right to legal recourse."

Seriously, what kind of cowboys would do that. How can you possibly know in advance that there is such a document inside before you open it? What kind of welcome to their product is that? If their product was good, why would they need to resort to such dubious business practices? My experience with arbitrators is that they tend to side with the company that pays the arbitration fee. What kind of fools do they think we are?

Sadly, because of the nature of the product, they know they are mainly dealing with the elderly who bullied by their SCAM. Cebria, SHAME on you!

Bottom Line: No, I would not recommend this to a friend

---

Advertisement

---

52 out 55 people found this review helpful

Don't bother

By

Janet

,

Redding, CA

,

Jan 31, 2017
Verified Reviewer

I ordered by phone, as my mother wanted to try it, and nobody told me that I was being signed up for a monthly program where I would be sent specials, coupons, etc. She never endorsed it.

I called, and the customer service representative sounded like she was drinking too much. Then today I noticed she gave me the incorrect order number to return the rest of the product. What a headache. I am returning what's left, but am also canceling my credit card. It is a waste of time.

Bottom Line: No, I would not recommend this to a friend

---

134 out 141 people found this review helpful

Does not work

By

Isaac

,

New Jersey

,

Feb 4, 2016

The product does not work. On my way home after taking the 30 month supply, I actually forgot to pick up the Cebria along with some important papers. There are clinics that do brain scans and specialize in neuropathic disorders. Don't buy a bottle of pills, see a medical professional.

Bottom Line: No, I would not recommend this to a friend

---

Advertisement

---

131 out 134 people found this review helpful

Cebria

By

Lori

,

South Carolina

,

Nov 9, 2015

I can tell no difference from before and after taking this product.

Bottom Line: No, I would not recommend this to a friend

---

131 out 134 people found this review helpful

It dose not work.

By

Phyllis Miller

,

Trenon, GA

,

Nov 9, 2015

Cebria doesn't work would. The company would not refund our account on our card as promised and they charged our card for a two months supply although we only got a one month. They charged our account right after we got them way before we had the chance to try out the Cebria. Don't let them rip you off, it's a scam!

Bottom Line: No, I would not recommend this to a friend

---

131 out 134 people found this review helpful

Scam to the Max!

By

Carol Apczynski

,

Detroit, MI

,

Oct 13, 2015

I don't know if this stuff works or not, but I suspect not. If you order it by phone, they enroll you into something called Mon Value Plus that will charge you $24.95 per month on your credit card. This gives you nothing other than a higher credit card bill. If they have to do that, then their product probably is worthless.

Bottom Line: No, I would not recommend this to a friend

---

Advertisement

---

129 out 130 people found this review helpful

Don't waste your time and money

By

Amy Miranda

,

Ashburn VA

,

Sep 4, 2015

I saw the ad on TV, and decided to check the website. At one point I thought I would like to try it, so I filled in my info, but then decided I don't want to buy it and got out of the site. Next thing I know I received an email two days later saying my order has shipped. I call customer service at 1-800-214 8347 and speak with Dolores, customer service representative number 3365, who insists that I will have to call her back after I get the order, and I will have to pay the return shipping, after I tell her I only filled out my info and never pressed the 'send' button. I am now stuck with this and have to pay shipping, otherwise they will charge me $79.90 by October 5, 2015 (in a month). Rude representative and unhelpful.

Bottom Line: No, I would not recommend this to a friend

---

32 out 68 people found this review helpful

Good News

By

Bill M

,

Coon Rapids, MN

,

Aug 8, 2015

I just finished the first card (blister pack) in the box. Recall is very much better. Not stumbling over words when on phone, remembering tasks better and making fewer mistakes. Stopped using Ginkgo Bilbao this week as I feel the Cebria is helping memory. If I feel the memory is declining, I will add Ginkgo back in my daily supplements as sometimes a combination of supplements are what is needed.

I was taking Acetyl-l-Carnitine and Alpha-Lipoic-Acid what a Prof. recommend in Discover many years back, but ran out four weeks ago and started Cebria. I will also add these back also if decline.

Is Cebria a placebo brought about by the infomercial I don't know, but for now something is working.

Bottom Line: Yes, I would recommend this to a friend

---

115 out 121 people found this review helpful

Do your homework

I found the list of ingredients and they are all readily available a. in your diet, or b. in much cheaper pills you can get at the supermarket. Of course, once you give your CC for the money back trial, good luck getting them to stop charging you. Outfits like this really make their money charging people for junk then making it so difficult to get it back that many give up. Targeting folks with self admitted cognitive deficits with a scheme like this is particularly cynical and reprehensible. BTW, I'm a Ph.D. clinical neuropsychologist, and if it were all this easy, I would be out of business.

Bottom Line: No, I would not recommend this to a friend

---

Advertisement

---

29 out 54 people found this review helpful

I started Cebria about two months ago and its been very helpful

By

Marc Greenberg

,

New York, NY

,

Jul 7, 2015

I found this product to be very helpful. I don't think it was my imagination. I believe its made a big difference in my mental functioning. I have also found the company to be very helpful in my dealings with them.

Bottom Line: Yes, I would recommend this to a friend

---