Cosamin Reviews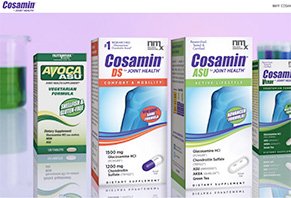 Manufactured by Nutramax, the Cosamin line of supplements use glucosamine and chondroitin to help cushion joints, protect cartilage, and relieve pain.
About Cosamin
Whether due to age, injury, or dozens of other causes, each of us will likely experience chronic joint pain at some point in our life. Is this what you're going through right now?
On the market for more than 20 years, Cosamin's line of premium joint health supplement promise to help protect cartilage, cushion your joints, ease movement, and keep you active. In fact, the company claims Cosamin is clinically proven to "work at the cellular level to inhibit enzymes that break down cartilage," and supported by more published research than any leading joint supplement (more about this soon).
On top of this, Cosamin's supplements go through 80 quality checks to ensure you're receiving a high-quality product, and to ensure that all their formulas are fully "researched, tested, and certified" and ready to "change the lives of people just like you."
Because Cosamin's been available for more than two decades, you probably learned about it from your doctor after discussing your joint pain with them, or from a friend or family member who tried it. What kinds of results can you really expect, though? Will you achieve clear benefits after paying a premium for these supplements?
You're here to find out if Cosamin is right for you, and whether or not it'll finally help you find some relief from your joint pain. We're here to help you find some answers.
What Is Cartilage? How Does It Relate to Glucosamine Chondroitin?
When touching your nose or your ears, you probably notice that they're firm, but unlike bone, they're not completely rigid and allow some "wiggle room."
This is because these body parts are made of cartilage, a connective tissue consisting of chondrocyte cells embedded in a matrix, along with collagen and elastin protein fibers for added strength.
Cartilage isn't just found in your ears and nose, though. Depending on the type, cartilage is present in the lining of bone joints (hyaline cartilage), structures like the larynx and Eustachian tubes in the inner ear (elastic cartilage), and discs between your vertebrae, as well as in ligaments and tendons (fibrocartilage). Of these, supplements like Cosamin are intended to prevent the breakdown of joint (hyaline) cartilage, improve movement, and reduce pain. How does it do this?
We'll talk more about all Cosamin's supplements in a second, but at the root of each one are two ingredients: glucosamine and chondroitin.
Glucosamine is an amino sugar produced naturally in the human body, which helps build cartilage. As we age, glucosamine production slows down, so people often begin adding glucosamine to their diet through a supplement, typically derived from the exoskeletons of crustaceans (in the case of Cosamin, it's shrimp). 1,500mg is the maximum recommended daily dose, which is the amount found in Cosamin's supplements.
Similarly, chondroitin is also found naturally in the body, but primarily in connective tissues. As we age, our body produces less, so many people supplement the chemical. The recommended daily amount of chondroitin is 1,200mg-1,800mg (Cosamin's products contain 1,200mg).
Are Glucosamine & Chondroitin Supplements Effective for Joint Health?
Like most ailments, it makes sense that if your body's production of glucosamine and chondroitin decreases with age, re-balancing your levels should be as easy as adding more to your diet. However, this might not necessarily be the case. Why?
WebMD notes that, while some studies show that chondroitin supplementation can "reduce pain, increase joint mobility, and decrease the need for painkillers," more recent studies haven't shown this to be the case. On the other hand, The Arthritis Foundation notes that chondroitin might help modestly relieve osteoarthritis pain in the hand, but only by about 8-10%.
What about glucosamine? Its effectiveness seems to be similarly murky, although Mayo Clinic states there's "good scientific evidence" that it might address knee osteoarthritis, as well as osteoarthritis in general.
Now, this is the evidence for these ingredients individually. What about any evidence when they're combined in Cosamin's products, specifically?
Is There Clinical Evidence for Cosamin's Supplements?
Although no clinical evidence is listed on the Cosamin website, we dug up one study for their DS formula (see here). You can access research for all Nutramax's products on their website (not specifically for Cosamin), although you'll have to register for an account first.
Nonetheless, it's important to note that, based on the above study's results, only 52% of participants responded favorably to the supplement—and all of them related to knee osteoarthritis—while 17% experienced an adverse effect.
However, as we found with glucosamine and chondroitin in the previous section, just because a couple non-peer reviewed laboratory tests indicate something might work, this does not mean it's "clinically proven."
In fact, Nutramax was sued in 2013 because the plaintiff alleged, "The small scale tests conducted on Cosamin and cited by Defendant fail to provide clinically significant evidence or proof of joint pain relief." They go on to explain:
"These studies are the perfect example of the difference between "statistical significance" and "clinical significance." A determination of statistical significance indicates to investigators the probability that an apparent difference between two or more treatment groups in a study is real and did not occur merely by chance.

Accordingly, statistical significance has nothing at all to do with whether or not the hypothesis being tested in a study is true or false, and, thus, it cannot "prove" one's hypothesis."
We're not sure how the trial ended up, but we think these points should be at the top of your mind whenever researching a nutritional supplement, Cosamin or otherwise.
Like any other supplement though, what works for one person may not work at all for another, based on our unique biologies. As such, it's important to talk with your doctor in advance of taking Cosamin.
What about side effects?
Will the Glucosamine & Chondroitin in Cosamin Cause Any Side Effects?
For the most part, glucosamine and chondroitin are safe for human consumption for lengthy periods of time (glucosamine's been studied up to 2 years, while chondroitin has been studied for up to 6 years).
In some instances, glucosamine can cause gas, bloating, and cramps, and chondroitin might also cause stomach pain in nausea. In rare cases, chondroitin supplementation might also lead to "bloating, diarrhea, constipation, headache, swollen eyelids, leg swelling, hair loss, skin rash, and irregular heartbeat."
We've already talked a lot about Cosamin's main two ingredients. Now, let's talk about each of the joint supplements in their lineup.
What Products Does Cosamin Offer?
Overall, there are four products within the Cosamin lineup:
Cosamin DS
This is Cosamin's "most researched, clinically proven" supplement for joint comfort, which was formulated more than 20 years ago by a pharmacist named Dr. Bob Henderson. According to the company, Cosamin DS stimulates cartilage production and prevents certain enzymes from breaking cartilage down, using only 2 ingredients:
1,500 mg (1.5g) of FCHG49® Glucosamine HCl

1,200 mg (1.2g) of TRH122® Chondroitin Sulfate
The manufacturer recommends taking 3 capsules daily, whether all at once or divided among meals, "until desired comfort is reached."
Cosamin DS's ingredients label.
Cosamin ASU
Compared to their DS formulation, Cosamin ASU claims to work faster than glucosamine alone by adding avocado/soybean unsaponifiables (ASU), AKBA (from Boswellia serrata), and a "decaffeinated green tea extract providing EGCG." Cosamin claims ASU's ingredients will "work together to decrease the markers associated with cartilage breakdown and joint discomfort."
1500 mg (1.5 g) of FCHG49® Glucosamine HCl
350 mg of TRH122® Chondroitin Sulfate
Proprietary Blend 400mg: NMX1000® ASU, QUIKLOXTM AKBA, and a "decaffeinated Green Tea extract providing the antioxidant polyphenol, EGCG."
Take 3 capsules of Cosamin ASU daily until your desired comfort level is reached.
During our research, we didn't find any clinical evidence that these ingredients will work faster than glucosamine alone, nor any clinical evidence (available for third-party review) showing the ingredients in ASU's proprietary blend will promote joint health or relieve pain.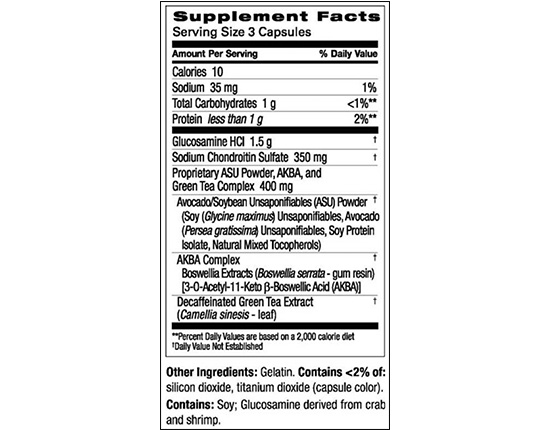 Cosamin ASU's list of ingredients, although there seems to be limited clinical evidence showing they'll work any better than the original formulation.
Cosamin Verde
Remember how we mentioned that most glucosamine is derived from shellfish exoskeletons? Obviously, this is bad news for vegetarians and vegans.
To address this issue, Cosamin claims their Verde formulation is shellfish-free. You'll notice from the label below that it contains much of the same formulation as ASU, just using vegetarian-friendly glucosamine (likely derived from grain fermentation).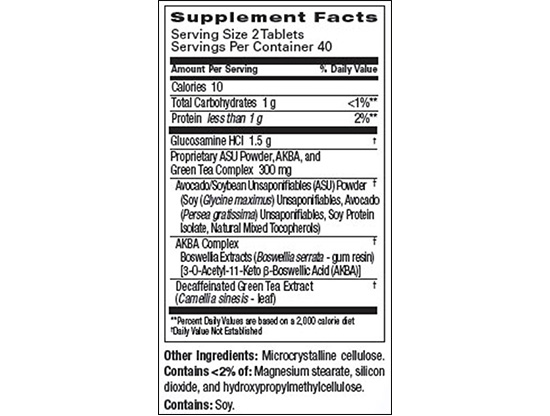 Although Cosamin Verde contains many of the same ingredients as the ASU formula, it's vegetarian-friendly.
Avoca ASU
Like Verde, Avoca ASU is shellfish-free and vegetarian friendly. However, it also adds Methylsulfonylmethane (MSM), which is listed as "possibly effective" for treating some symptoms of osteoarthritis. Specifically, Cosamin claims it'll help "decrease biomarkers associated with cartilage breakdown."
Take 3 tablets daily until desired comfort level is reached.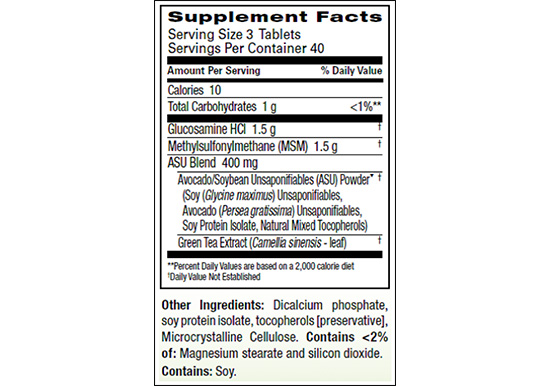 Avoca ASU adds MSM to help reduce cartilage breakdown.
How Much Do Cosamin's Products Cost?
Cosamin's products are sold through a variety of national retailers (both in-store and online), including Walgreens, CVS, Rite Aid, Walmart, and many others, as well as through Nutramax's online store. In general, prices range between:
Cosamin DS: $20-$60, depending on count
Cosamin ASU: $30-$70, depending on count
Cosamin Verde: $35-$40
Avoca ASU: $30-$35
If purchased directly through Nutramax, all orders over $90 come with free S&H. Otherwise, you'll pay a flat rate of $9.95.
Cosamin extends a 10-day refund policy on all direct purchases, whether or not they've been opened. You can still request a refund after this (but within 30 days), although only unopened bottles in original condition will be eligible.
To request one, Nutramax customer service can be reached at 888-886-6442.
If you purchased Cosamin from a third-party retailer, refunds may be subject to different conditions.
What Are Customers Saying In Their Cosamin Reviews?
There were 44 customer reviews for Cosamin DS on Coscto.com at the time of our research, who gave the joint supplement an average rating of 4.7 stars. Most compliments referenced reduced discomfort, whether the back, knees, or elsewhere. Most complaints (what few there were) referenced failure to work, which is common with any supplement.
Similarly, 393 Amazon customers gave Cosamin DS a 4.4-star average rating, with many of the same compliments and complaints found elsewhere online. One person also claimed that the capsules were large, and another claimed it actually made their pain worse.
From a company perspective, Cosamin is manufactured by Nutramax Laboratories, based out of Edgewood, MD. The Cosamin line seems to be their most popular products by a wide margin, and they had an A+ BBB rating and only one closed complaint at the time of our research (as of 6/15/16).
Given everything we've discussed here today (and we've discussed a lot!), what's the bottom line for Cosamin?
Will Cosamin Help Relieve Your Joint Pain?
Is Nutramax a legitimate company, and is Cosamin a legitimate product? Absolutely. Does this necessarily mean you'll attain any benefit from using it?
While the clinical evidence for the ingredients is mixed (as is the evidence for Cosamin supplements specifically), they appear to come with exceptional customer ratings and reviews. So, it really might be the case that Cosamin's blend of ingredients works better than they do on their own—just keep in mind that most evidence points to relief from osteoarthritis-related knee pain, not anything else.
If you order directly from Nutramax, you'll have 10 days to return your bottle for a full refund (30 if it's not opened), which means you won't be out more than a few dollars in S&H. In fact, since Cosamin is sold a dozens of national retailers, you might be able to avoid S&H altogether (not to mention make the return process easier) by shopping locally.
Whether you bought online or in-store, tell us about your Cosamin experience by writing a review below!