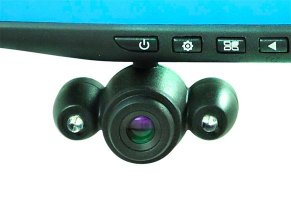 HD Mirror Cam is a dashboard camera that attaches directly to your car's rearview mirror, records in full HD, features an adjustable wide angle lens, and more.
About HD Mirror Cam
HD Mirror Cam's slim, discreet design means it can attach directly to any standard size, factory-issued rear view mirror in seconds, and allows you to record up to 14 hours of video and audio. Then, you'll be able to instantly review your video on HD Mirror Cam's 2.5" LCD screen, or download it via USB or SD card to your computer.
HD Mirror Cam also comes standard with important features like:
Full 1080p video recording, with endless loop recording option
Adjustable high-resolution, wide-angle lens
Automatically adjusts to changing light, so it works great day or night
Motion detection
Optional time/date stamp
Auto startup and motion detection
Built-in rechargeable battery
It sure sounds like HD Mirror Cam is feature-packed! But just because it has a lot of features, does this necessarily mean it'll provide you with a solid value? Or, will you just end up with an expensive electronic paperweight? By the time you've finished reading this quick review, you should have all the information you need to make a smart buying decision.
First, to answer any questions about value, we need to talk about HD Mirror Cam's price.
How Much Does HD Mirror Cam Cost?
One HD Mirror Cam will set you back $49.99 plus $7.99 S&H, although you'll get free shipping if you order two or more.
Each kit includes the HD Mirror Cam with built-in rechargeable battery, car charger, USB cable, and instruction manual.
Important note: In order to use HD Mirror Cam, you must have an SD card inserted when recording. It doesn't come with one, although the FAQ mentioned you can "upgrade you order" to include it for an additional $7.99. However, this option wasn't presented when we attempted to check out.
All HD Mirror Cams come with a 30-day refund policy, less S&H. Need to request one? You'll want to call Inventor's customer service department at 323-375-1042.
Now that we've got this information to work with, let's talk about other products like HD Mirror Cam.
HD Mirror Cam vs. the Competition
You're obviously in the market for a rearview mirror camera, and it's positive that you're seeking out reviews before making a purchase. But did you know you've got hundreds (or maybe even thousands!) of options to choose from? It's true!
To see for yourself, search online for "mirror video camera" or "mirror dash cam" and you'll find them in all shapes and sizes; some very different than HD Mirror Cam, while others that are very similar. In fact, we found one dash cam mirror sold through Sky Mall that appeared to be essentially identical to HD Mirror Cam.
Want even more options? Try searching just for "dashboard camera" or "dash cam," and you'll find other video cameras that can do many of the same things as HD Mirror Cam. But instead of attaching to your rearview mirror, they attach to your dashboard. DashCam Pro is a prime example of this (more shortly).
Granted, many of these options are priced much higher than HD Mirror Cam. But if we've learned anything about ASOTV products over the years, it's that quality is just important as price when determining overall value.
Is HD Mirror Cam a Quality Piece Of Equipment?
By their very nature, As Seen on TV products can come from a variety of sources, although a couple of the most common might be:
Excess stock purchased from an overseas manufacturer at a bulk discount. Then, the products are re-branded under the company's name, an infomercial is filmed, and they start selling to customers.
Ideas generated from inventors or entrepreneurs, who sell their rights to an ASOTV company. In turn, the company might subcontract an overseas manufacturer to produce the physical product.
In either instance, you can see that there are a lot of parties involved in bringing an ASOTV product to market, and it can be all but impossible to know who actually manufactured it.
But the good news is that we know a lot about the company behind HD Mirror Cam, InvenTel. They're a mid-to-upper level player within the ASOTV industry, and are responsible for popular products like Gripeez, Liberty Lantern, Magic Finder, and even the DashCam Pro we discussed above.
Here on HighYa, Inventel's products had an average rating of 2 stars (read: be very cautious), based on complaints of failure to work as advertised, poor quality, and negative customer service experiences (usually related to unresponsiveness and difficulty getting refunds).
Does this mean the same will happen with HD Mirror Cam? Not necessarily, but we'd recommend keeping it at the top of your mind.
Will HD Mirror Cam Reflect Poor Quality?
If you take a few minutes to read through Dashboard Camera Reviews' "must-have" list of features, you'll find that HD Mirror Cam ticks many of the boxes, including 1080p resolution, the ability to record at night, loop recording, motion detection, and more.
But in order for all these features to provide you with a solid value for the money, they need to be housed inside a quality unit. And when it comes to InvenTel (and most As Seen On TV companies in general), they don't exactly have reputations for making high-quality products.
On top of this, many HighYa readers have complained that InvenTel's DashCam Pro took months (yes, you read that right!) to arrive, and that the instructions are so poorly written that they're very difficult to follow. And perhaps worst of all, they were far outside the 30-day refund window by that time, so they were stuck with the product forever!
Our recommendation? The goal of most ASOTV products is to eventually reach store shelves, so in our opinion, it'd be best to wait until this occurs before purchasing HD Mirror Cam. In the mean time, we'd also recommend browsing DashCam Talk's in-depth comparison for higher priced (but also higher quality) options.
1 out 1 people found this review helpful

Great HD Cam, works great and good customer service

I ordered one and received it like five days later. I read several times that there was no SD card. I had a 16 micro SD card handy, so I slide it in and charged the unit and put it in my car. Tt was very easy to set up, no problem, and it works great and looks good. I like it. Well worth the money, and I did take out the chip and viewed the recording. Again, it worked super. It's nice, it's what I wanted, and it works for me.

Bottom Line: Yes, I would recommend this to a friend

---

4 out 4 people found this review helpful

HD Mirror Cam less than optimal

By

Hal

,

Texas

,

Apr 19, 2017

I received this camera a month or so ago right from the website. It shows up after a couple weeks, and I installed it. It is a nice little camera, except the recordings sure aren't in HD. The best offered is 720 at 30 frames per second.

If you want something like this that records driving, you will need at least 1,080 at 60 frames per second. Hold out for the better. If they ever upgrade, I will buy the upgraded mirror.

Night vision is useless so don't expect it to work and you won't be disappointed. Please wait for a better version of this camera. Great idea, just poor application.

Bottom Line: No, I would not recommend this to a friend

---

Advertisement

---

3 out 3 people found this review helpful

Beware

First of all, customer service is a joke; you get no responsible help and all the representative are simple and don't know the product.

There is no 1280x720p resolution. There is a difference between 1280 and 720.

Bottom Line: No, I would not recommend this to a friend

---

4 out 4 people found this review helpful

Instructions? What instructions?

By

Drew

,

Jackson, NJ

,

Apr 11, 2017

I just got it today. Went and hooked it up with the hopes of using the "motion detect" while the vehicle is sitting in the driveway. However, there really are no instructions. I mean, I'm not an idiot, I can read and follow instructions very well. Moreover, the motion detect might work "if selected," but it doesn't say how to select it.

So I'm out there walking around the driveway in front of the truck, and nothing. So, if you want motion detect, you have to select that mode, but good luck trying to figure out which mode it is and turning it on.

Bottom Line: No, I would not recommend this to a friend

---

Advertisement

---

8 out 8 people found this review helpful

Junk

By

George

,

Pennsylvania

,

Apr 10, 2017

My Mirror Cam froze up and did not work shortly after removing it from the box. I tried talking to tech services, and the phone would disconnect me. The customer service rep could barely speak English. I returned the product and requested a refund. In time, we will see if I get a refund.

Bottom Line: No, I would not recommend this to a friend

---

10 out 12 people found this review helpful

Great buy

By

Sophia

,

Pennsylvania

,

Mar 16, 2017

I was a little skeptical but ended up being really surprised. It was really easy to use and so far has worked great. Can't beat it for the price!

Bottom Line: Yes, I would recommend this to a friend

---

41 out 45 people found this review helpful

Disappointing

By

Robert

,

Liberty Hill, TX

,

Jan 26, 2017

I bought three of these cameras for each of our vehicles. My problem is that I am very disappointed in the customer service that I have received each time that I called to explain that one of the cameras was not functioning properly. The representative told me to plug it into my computer for an hour, and hopefully, it would work. I did so, needless to say, I got the same results. The camera keeps turning off seconds after you turn it on.

I got so frustrated with it that I removed it, and will reinstall my previous camera. At this point, I will not recommend this camera to friends or family because of the service that I received. Why even put any of the two numbers that they have in the instructions?

Bottom Line: No, I would not recommend this to a friend

---

Advertisement

---

16 out 18 people found this review helpful

Best on market for price

This is the best mirror addition with a camera. I have purchased a GoPro Dash Cam, which cost a whole lot more, and I had to purchase an SD card extra. So if you chose to buy the SD card for this mirror at the price they sell it at it is still a good deal.

I love the swivel mirror and the quality of the video and picture option. Until you need to download the video, it keeps recording, no start and stop to download. The only thing I forget is that my plug continues to charge even when I turn the car off. Everything is so automated in my new car I often forget to unplug it. It never runs my battery down, but I don't like it left on when I'm not in the vehicle.

This is a great deal and a must have for me. No issues so far. Get one at this price because you never know when you will need it. The picture option is worth it alone. Who doesn't want to take a picture and be able to swivel the camera in the right direction? It is great!

Bottom Line: Yes, I would recommend this to a friend

---

63 out 79 people found this review helpful

They Lie

Don't bother. We saw the ad on TV and thought it was a good idea. I got online at hdmirrorcam.com and placed the order on 12/6/16. It arrived on 12/10/16. We immediately put it in the car, but when we turned it on there was a message "no card installed". Three different places, 2 in the user manual and once in the quick start it plainly says the SD card is pre-installed. When I called, I got a total runaround, hung up on twice, and told that if I'd bought it in a store the card was installed, but if I bought it online it was not and it said so in the online ad. I would have to pay extra. What? I went back to hdmirrorcam.com and finally found, way down at the bottom, next to where you are concentrating on putting in your payment information, a line that says the SD card is not included. I want to return it, but they tell me I will have to pay for the return. I called my bank and disputed the charge. I buy a lot online and usually don't have an issue, but once in a while you get some fly by night company that wants to kick you in the shins, and I refuse to let them. They can send me a card, send me a return label, but they don't seem to want to make me a happy customer.

Bottom Line: No, I would not recommend this to a friend

View all 3 comments

Hide comments

Dec 30, 2016

Did you buy an SD card? I know the local Micro Center has them pretty cheap, about $11 for 32 gigabytes. What I'm more concerned about is whether it works? Does it record well? Did it die after a couple of weeks?

Jan 2, 2017

If you read or watch the video commercial, it does say the SD card is an extra cost. Even if you have to buy one online, it's only $7.95 for 32 megabytes, which is inexpensive. So quit whining about the card.

The mirror works great for the money it cost me, and paying a little extra for the card is not a big deal. I suggest buying a GoPro dashcam. You will pay a whole lot more and still have to get the SD card for it. I did that before I saw this and got the SD card for it too.

It is a great addition to my mirror, and with all the road rage I am sure it will come in handy at some point. I love it. I have no problems yet.

Mar 6, 2017

I don't think this is a fair review because you didn't read the advertisement. The website clearly states "SD card is not included." The video clearly states "SD card is not available."

---