Hurricane Spin Scrubber Reviews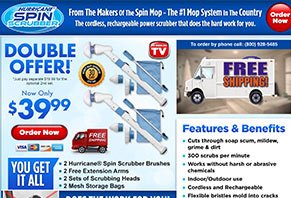 With its 3 interchangeable heads, flexible bristles, and "incredible" torque, Hurricane Spin Scrubber promises to make cleaning your shower easier and faster.
About Hurricane Spin Scrubber
Using a built-in rechargeable battery that spins the head at 300 RPM, the Hurricane Spin Scrubber promises to rinse, clean, and leave your shower spotless in less than 30 seconds. We're also told that the "incredible" torque it delivers can cut through any caked-on dirt and grime.
Attached to Hurricane Spin Scrubber's head are three interchangeable brushes, each of which the company claims feature flexible bristles that mold into cracks and crevices. This way, the company tells us you'll be able to attack soap scum, mildew, and more, in tracks and corners.
On top of this, Hurricane Spin Scrubber features an extension arm that can help those with arthritis clean hard-to-reach areas. It can even be used outdoors!
Who doesn't want to restore the luster and shine of the shower, faster, easier, and without harsh chemicals? And perhaps most importantly, without scrubbing or rubbing?
But will Hurricane Spin Scrubber really "do the hard work for you," or will you end up disappointed? Before you hand over your credit card information, that's exactly what we'll help you figure out here.
Hurricane Spin Scrubber vs. Turbo Scrub
The HighYa team has been writing about and testing ASOTV products for years, and one thing we've learned is that it's fairly common for these companies to "share" products. In other words, we'll often see a product appear from one company, only for its website to be pulled and reappear weeks (or months) later, sold by a completely different manufacturer.
What's the point? A few months ago, we reviewed a nearly identical product named Turbo Scrub, which—except for the blue accents on Hurricane Spin Scrubber—appears to be the identical product.
However, the reality is that if you search online for "powered shower scrubber," you'll quickly learn that there are other functionally identical products like Quickie Tub N' Tile Power Scrubber (which appears to be the original). You'll find even more products that are designed meaningfully different (even power drill attachments!), but that will likely deliver similar results.
What's the point? Hurricane Spin Scrubber is not a unique product. But will it deliver superior performance?
We'll get to that in a second, but first, let's find out how much you'll pay.
How Much Does Hurricane Spin Scrubber Cost?
One Hurricane Spin Scrubber set will cost you $39.99, plus free shipping and handling. This includes:
1 Hurricane Spin Scrubber Brush
1 Extension Arm
1 Set of Scrubbing Heads
1 Mesh Storage Bag
During checkout, you'll be able to purchase a second set for an added $19.99 fee.
Hurricane Spin Scrubber is brought to you by the same company who makes Hurricane 360 Spin Mop and Hurricane Twin Spin Mop (Telebrands), who provides a 30-day refund policy, less S&H charges, on most of their products. In order to request one, you'll need to call customer service at 855-668-1655.
Now, let's get back to examining Hurricane Spin Scrubber's performance potential.
How Well Can You Expect Hurricane Spin Scrubber to Work?
That cloudy film covering your shower (informally known as soap scum) is the result of calcium and magnesium in water reacting with the fatty acids in soap. Not only does it look unsightly, but by creating a prime breeding ground for bacteria, soap scum can even pose a health hazard in some instances.
Now, soap scum isn't exactly a new problem, so there have been thousands of different home remedies and products to remove it over the years, including baking soda and vinegar solutions, borax, ammonia, pumice stones, dryer sheets, and much more.
See Also: Super Simple, Natural, & Cheap Cleaning Solutions Already In Your Kitchen
While these options rely mostly on chemistry to remove soap scum, devices like Hurricane Spin Scrubber rely on brute force. The problem is that we're not informed how much force the device puts out, so we can't really be sure how well it'll clean—especially for nasty, tenacious stuff like soap scum.
Sure, we're told that the head spins at 300 RPM and that it features "incredible" torque to cut through the toughest dirt and grime, but this is more marketing jargon than it is information we can use to judge Spin Scrubber's real-world cleaning power.
With this said, the previous Turbo Scrub version was said to feature a 3.6V NiCd battery, although the new company makes no mention of this, so we can't be sure this feature remains the same.
Our Test of the Hurricane Spin Scrubber​
We thoroughly tested the claims of the Hurricane Spin Scrubber. Watch the video below to see what we found out:
For more product reviews: Click here to subscribe to HighYa's YouTube channel.
Are There Any Customer Reviews for Hurricane Spin Scrubber?
Hurricane Spin Scrubber is a fairly new As Seen on TV product and the reviews are just now beginning to come in.
However, having been in business for more than three decades, AJ Khubani's Telebrands is the largest company in the ASOTV industry. As such, in addition to the other Hurricane models mentioned earlier, the company is responsible for recent runaway hits like Red Copper Pan, Atomic Beam USA, Ped Egg Power, and many others.
While we're definitely not saying you'll experience the same, HighYa readers have given these products (and all ASOTV products in general, regardless of the manufacturer) an average rating of 2 stars. Why? From a product perspective, the most common complaints typically revolve around lower quality than expected and not working as advertised.
Other common complaints often revolve around business practices, such as long shipping times and difficulty processing refunds.
Again, this doesn't mean you'll experience the same. We're simply providing you with a complete view of the information.
Will Hurricane Spin Scrubber Help You Win the Battle Against Dirt & Grime?
Can Hurricane Spin Scrubber help you get your shower clean? As with any kind of friction between two surfaces, it's hard to imagine that it won't help remove at least some dirt and grime in your shower. Will it make it easier? With its extension arm, this also seems possible.
Perhaps most importantly though, will Hurricane Spin Mop help make that inevitable soap scum a thing of the past?
In general, it appears that chemical reactions often provide the best results at removing soap scum. Sure, you can definitely get rid of it with enough time and elbow grease, but liquid solutions (even homemade ones) might deliver better results with less effort. What does this mean for you?
Assuming the device delivers on its promise of "incredible" torque, cleaning surface dirt, grime, mold, mildew, and other debris could be meaningfully easier with Hurricane Spin Scrubber. But if you're targeting soap scum—arguably the biggest focus in the product's commercial—the results you achieve might be based more on the solution you use than the scrubber you choose.
The good news is that if you feel like rolling the dice on Hurricane Spin Scrubber, it comes with free S&H and the company seems to stand behind it with a 30-day refund policy. Just be sure to hang onto your original box, since it probably won't be cheap to send it back to the manufacturer.
Related: Vacuum Cleaner Buyer's Guide: 3 Steps to Finding the Perfect Vacuum
2 out 2 people found this review helpful

I LOVE IT

By

J. Clark

,

Fort Myers, FL

,

Dec 3, 2016

I really love this product. It is light, affordable and works like a charm. I finally have a way to get the deep grout in my kitchen completely clean. Other products never got into the grout. The tile was clean but the grout remained dirty.

I used my Spin scrubber to get all of the dirt up and then I used my spin mop to mop the entire floor clean.

I also used it in the bathroom and it's wonderful.

Bottom Line: Yes, I would recommend this to a friend

---

5 out 5 people found this review helpful

Where is it?

By

Debra D

,

Alamo, TX

,

Nov 29, 2016

Need to know something, why is my payment Pending? It was 11-10-16 that I put the order in. So where is it? I can use the money for other things, if you do not want it, then stop it.

Bottom Line: No, I would not recommend this to a friend

---

Advertisement

---

28 out 28 people found this review helpful

They ship only once they get the product

By

Todd

,

North Carolina

,

Nov 24, 2016

I had order the deluxe model hurricane spin scrubber for the upgraded motor and lifetime warranty with expedited shipping (3-5 days). After a week and multiple calls to the company, they said to allow 3-6 weeks for delivery.

I explained to them I paid expedited so I wouldn't have to wait, well they said they were sorry and dropped the expedited charge but would still send expedited.

Then after another week I noticed a charge. GREAT. I will now get the scrubber, NOT. They are sending me the lower rated unit because they don't have the upgraded and I should have that shipped in 7-10 business days.

So I asked them how can they sell a product that they don't have. They say they are out right now and maybe in 2 weeks call back as they may have some in stock.

I just canceled my order. It's not worth the headache anymore and they won't tell you much.

I'm just going to order TURBO scrubber now and see how that goes

Bottom Line: No, I would not recommend this to a friend

---

51 out 52 people found this review helpful

Hurricane Spin Scrubber - Bait and Switch

I ordered this product on 11/6/16 for the advertised price of 39.99 and an additional one was free for 19.99 paying separate shipping costs. Well, I called the next day for verification of order and when it will be shipped. I found out my bill charge was 144.99. How did this happen? The Customer rep says he would give me a 20.00 dollar discount on my order. I cancelled my order. have to wait and see if I get my money reimbursed.

Bottom Line: No, I would not recommend this to a friend

---

Advertisement

---