LA-3 by Live Cell Research Reviews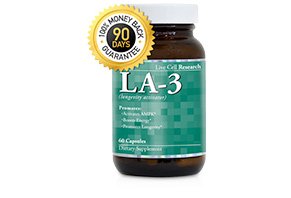 LA-3 by Live Cell Research is a "longevity activator" that claims to increase your AMPK levels, boost your energy, help you think more clearly, and more.
About LA-3 by Live Cell Research
LA-3 by Live Cell Research is a nutritional supplement that claims to boost your AMPK levels, resulting in increased energy, clearer thinking, decreased abdominal fat, and a "stronger, healthier body." For these reasons, Live Cell Research calls LA-3 a "longevity activator."
How? According to the company, LA-3 contains three different ingredients that have never before been combined, which can provide maximum benefits after just a few months of continuous use:
Days 1-7: You may begin experiencing increased energy and reduced appetite and cravings.
Days 7-30: Because you're eating less, you might notice your abdominal fat melting away, further increasing your energy.
1 Month+: After this time, your AMPK levels should be elevated sufficiently so that your thoughts become clearer and your mind less forgetful. You might also notice that you body is becoming stronger and healthier, along with a continued change in your shape.
To achieve these benefits, Live Cell Research states you'll just need to take 2 capsules of LA-3 with water per day, with or without food. They also promise that LA-3 can work for anyone, is safe to use with no known side effects, and is third-party tested for safety, purity, and potency.
If you didn't know better, Live Cell Research's LA-3 supplement might sound like some kind of fountain of youth and an incredible weight loss program rolled into one. But what does science have to say about many of the company's claims? Will this supplement really work? Is it worth the money? Keep reading to find out what we uncovered during our research.
What is AMPK? How Does It Work?
5' AMP-activated protein kinase (or AMPK for short) is "an enzyme that plays a role in cellular energy homeostasis," and is concentrated in a number of areas throughout the human body, including the brain, liver, and skeletal muscle. AMPK itself is made up of three proteins: STE-related adaptor (STRAD), mouse protein 25 (MO25), and LKB1.
Live Cell Research calls AMPK a "master switch" because this enzyme regulates several key systems within the body, such as increasing cellular energy, stimulating the oxidation of fatty acids and glucose transport, and more.
While the exact details are far outside the scope of this review (and they might make you go cross-eyed), the thing about AMPK is that some fairly specific conditions need to be present in order for the enzyme to be activated—the primary method of which is muscle contraction (i.e. working out).
Once AMPK is activated, there is some clinical evidence showing it may increase blood supply to muscles, help transport glucose (simple sugars), boost fatty acid metabolism (thereby creating more energy for the cell), and more.
What if you don't want to hit the gym in order to boost your AMPK levels? Can you accomplish the same thing by popping a couple LA-3 pills?
Will LA-3's Ingredients Boost Your AMPK Levels?
According to their supplement label, LA-3 contains the following ingredients:
Of these, gynostemma may be effective for reducing cholesterol, while quercetin might help alleviate prostate pain and inflammation. The recommended dose of quercetin is 500mg, twice daily though, so there doesn't appear to be enough in LA-3 to provide these benefits.
Important note: The gynostemma pentaphyllum found in LA-3 is actually part of a proprietary ingredient named ActivAMP, which is manufactured by a company named Gencor Pacific. According to their website, through a 12-week randomized clinical trial, the ingredient was shown to decrease body fat mass and body fat percentage, reduce body weight and BMI, and shrink the total abdominal area.
We reached out to Gencor Pacific and obtained some of their clinical evidence for ActivAMP, which consisted of seven different trials. Here are just a handful:
A 2013, 23-week randomized, double blind, placebo-controlled clinical trial that concluded it may be useful for treating obese individuals.
A 2012, 8-week study that showed mice "decreased body weight gain, liver weight, and blood cholesterol levels with AMPK activation in the soleus muscle."
A 2011 study showing the ingredient may be effective for improving glucose and lipid metabolism.
A 2008 study showing that ginsenosides may have an anti-obesity effective. All results were obtained via cells in a controlled laboratory setting.
Now, we're not medical experts, and we have no reason to doubt these findings. Just keep in mind that results obtained through experiments conducted on mice and cells doesn't necessarily mean you'll experience the same thing.
Berberine might also be effective at reducing cholesterol, as well as blood sugar levels in diabetes patients.
As we can see, there are clearly some clinically validated benefits for the ingredients found in LA-3. However, there doesn't appear to be enough clinical evidence showing that these ingredients—whether on their own or in combination—can elevate AMPK levels.
Granted, there is some promising research related to AMPK, although most clinical studies have been conducted on mice (including one of the studies for ActivAMP), and there's little proof that these same protocols will work in humans.
Are There Any Potential Side Effects From LA-3?
Despite the limited evidence showing that these ingredients can boost AMPK levels, the good news is that they're generally considered safe.
However, WebMD notes that gynostemma pentaphyllum "can cause some side effects such as severe nausea and increased bowel movements." Also, it's unknown if taking quercetin for more than 12 weeks is considered safe.
How much will you pay for LA-3's three-ingredient formulation?
How Much Does LA-3 Longevity Activator Cost?
Live Cell Research's LA-3 supplement is available in the following quantities:
1 Bottle: $46.99
3 Bottles: $117
6 Bottles: $216
Like all Live Cell Research products, LA-3 comes with a 90-day refund policy, less S&H charges. In order to request one, you'll need to contact customer service at (844) 650-5933 or support@LiveCellResearch.com.
Who is Live Cell Research? Are They Reputable?
Live Cell Research is based out of Southern California, where they manufacture a line of popular supplements, including Niagen, Cerastim, Midogen, Vital Stem, and more.
Overall, the company's supplements seem to come with mostly positive online customer reviews, with common compliments citing effective results. On the flip side, common complaints reference failure to work/achieve results and difficult customer service experiences.
Unfortunately, the company wasn't listed with the Better Business Bureau at the time of our research. Let's bring it all together, shall we?
Is LA-3 the Right Nutritional Supplement for You?
On one hand, with many of Live Cell Research's products we've reviewed to date, we've noted that the clinical evidence supporting many of the company's claims is often lacking. On the other hand, many customers claim to have experienced positive results with the company's supplements—clinical evidence notwithstanding.
Does this mean you should hand over your hard-earned money for Live Cell Research's LA-3 supplement? Like any other nutritional supplement, what works fantastically for you might be a total flop for someone else, and vice versa.
The seemingly good news is that Live Cell Research offers a 90-day refund window on all of their products, which you can take advantage of if you're not fully satisfied. Just keep in mind that you'll be out a few dollars in return shipping and handling.
Finally, if you type the phrase "AMPK supplement" or "AMPK activator" into your favorite search engine, you'll be met with dozens of supplements making many of the same claims as LA-3, including Life Extension. Sure, they might not be formulated exactly like LA-3, but their claims (and general lack of clinical support) are pretty much the same.
Were you pleased with LA-3's performance? Or, do you feel it was a waste of money? Whatever your experience, we want to hear about it—be sure to leave a review below!
1 out 1 people found this review helpful

I think it is working

It is almost a month since I started on the LA-3 and I am noticing a difference in my body shape. I haven't weighed myself yet, so I don't know if I have lost weight. The stubborn belly fat is still there, but it is getting smaller and I don't feel as bloated. The love handle fat is gone and I was even able to wear a belt with my jeans.

I don't find that I have any more energy through-out the day but I have been able to do my run almost every morning. I am eating less because I get full much easier. Some nights I don't even finish my dinner. Or I eat just a bit at lunch and then have a little snack later. My eating habits have definitely changed.

I have probably tried every weight loss pill out there. I can't say yet that this is the magic one, but I will stay on it and see what happens. So far so good.

Bottom Line: Yes, I would recommend this to a friend

---

Still in progress

I'm about half way through LA-3 and I have noticed a change in my appetite, and not feeling so bloated.

Bottom Line: Yes, I would recommend this to a friend

---

Advertisement

---

Glad it finally got here

I am very hopeful that your product will do something for me as I have tried so many other things. I was a little frustrated when things were delayed getting to me but I do understand, but then I didn't hear for a while and I had to contact your company to follow up to find out where and when my product would arrive especially after I had paid already and was hoping I had not been scammed. Anyway I did get in touch with one of your representatives who assured me the product was on the way. I have had it for a little over a week now and I am following the directions as noted. I am keeping my fingers crossed for some positive results. I eat pretty healthy but due to fibromyalgia and an accident that injured my neck and back, my exercise and activities are limited to shorter spurts. If I don't move I cripple up and if I over exert I cripple up so doing my best to find that fine line. I eat mostly organic foods and beverages and try to use natural products such as turmeric for pain management but I know that I must get off the weight I gained since the accident that is hard on my heart and joints. I am a retired RN and now work doing books and office for our family business, so more sedentary.

Hoping for the best.

Bottom Line: Yes, I would recommend this to a friend

---

Good Product

By

Jodi

,

Lynchburg, TN

,

Sep 30, 2016

I'm starting my 3rd week of LA-3 and so far I have noticed that my sweet craving is much better than it was last week. I have Type 2 diabetes and was mainly taking it for that reason. I haven't really been checking my blood sugar, but just the thought that I have less of a sweet crave is a good thing. I take two pills 1st thing in the morning on an empty stomach. I notice that I really don't want much to eat until after lunch. I give this product 5 thumbs up!

Bottom Line: Yes, I would recommend this to a friend

---

Advertisement

---

Positive

I have completed two weeks of being on LA-3. Have seen very little weight loss so far. However, I feel like my belly is shrinking by appearance and the way my clothes fit. I am looking for 30 to 60-day results for weight loss. Staying Positive.

Bottom Line: Yes, I would recommend this to a friend

---

1 out 2 people found this review helpful

Results not obvious right away

It took a full 30-day supply for me to finally realize the benefits of advertised results. Still fighting the belly fat but didn't expect it to go away in 30 days. I have seen a reduction in appetite for sweets, a "full" feeling after eating about 1/2 of what I used to be able to eat, and not being as hungry as before. Will keep on track for awhile. Still testing the product for myself before referring friends, got to have some more definitive results.

Bottom Line: No, I would not recommend this to a friend

---

LA-3

I started using LA-3 August 19, 2016. I take the recommended two tablets first thing in the morning about an hour before breakfast, if I have breakfast. Being 200 lbs. over weight, I was hopeful the promises made would come true. I have wondered because of my size, if taking more than two tables per day would be appropriate.

Although the results haven't been as aggressive as I had hoped for, there has been a gradual increase in energy, not feeling exhausted mid-afternoon, and my appetite has been reduced. In conjunction, I feel my mental acuity has improved, not dramatically, but has improved.

I travel extensively via automobile up to 800 miles per day. I do feel more alert at the end of the day.

I am sleeping better. Prior to starting, I was up every couple of hours for bathroom reasons. That has been reduced to once a night after going to bed.

Because of weight issues and life style, I struggle with on going pain in my lower back, right hip, and right knee. That has not had any noticeable improvement.

I haven't taken my weight for a while but have lost about an 1" around my waist since starting this product.

Bottom Line: Yes, I would recommend this to a friend

---

Advertisement

---

Coincidence?

By

LaBree

,

Maine

,

Sep 26, 2016

I am a post menopausal woman who has been carrying a stubborn 15lbs of belly fat around for 6 years. I am active, eat well, but just cannot rid myself of this weight.

I have taken this product for 2.5 months now and have changed nothing in my daily routine. About 2 weeks ago, I stepped on the scale, ( I usually avoid this because it depresses me), and I saw that I had lost 7lbs. Coincidence?

Bottom Line: Yes, I would recommend this to a friend

---

It does what you said it would do!

I now have great energy and weight loss and I'm less hungry!

Thanks a million!

Bottom Line: Yes, I would recommend this to a friend

---

4 out 5 people found this review helpful

Nothing revolutionary here

I purchased a three-bottle pack of LA-3 five weeks ago and used the first bottle. I don't mind being a beta tester after researching the three ingredients. I usually purchase herbal items separately, through other vendors, and these cost about the same, so no complaint about the cost. For example, 100 capsules of Gynostemma from Immortalitea costs $21. And 60 caps of Berberine from Swanson also cost $21. Quercetin​ which you can buy anywhere, costs about $13 for 100 capsules = $55.

During the first month of LA-3, I experienced no negative side effects. There has been some decrease in appetite, but nothing dramatic. I have been on a mild program of walking, biking and use of a ski machine, and yard work and my weight has held at about 10 pounds above my target and about 5 pounds below my initial weight. Nothing dramatic there either. I don't look younger. I don't think they should make dramatic claims like that, nor did I have any expectations. Herbal formulas just don't work like that - they may contribute to longevity, but that doesn't show in a few weeks. Overall, I have some mild feelings of increased energy. My hard belly fat seems to be softening a bit. There may be some mild benefit provided by using Gynostemma, Berberine and Quercetin, but nothing revolutionary here.

Now, I'm trying the individual herbs for a month to see if I feel differently. The combinations are slightly different, but they are close. I'll go back to LA-3 after a month. I do not plan to make another order unless I see a great difference between the two.

So far, I recommend it only because it all comes in one capsule rather than buying separate items and trying to manage the right quantities. I think I will be positioned to provide a more comprehensive recommendation after several more months.

Bottom Line: Yes, I would recommend this to a friend

---

Advertisement

---

9 out 9 people found this review helpful

So far so good

By

Joanna

,

Palm Springs, CA

,

Aug 22, 2016

I just finished the first of a three months supply. Overall I feel better and lost 3 pounds with little effort. There seem to be no side effects or tummy upsets while talking the capsules. In fact I think my digestive system is running smoother and my energy level has improved.

I think I will have a better idea after I complete all the months but so far so good!

Bottom Line: Yes, I would recommend this to a friend

---