LendKey Reviews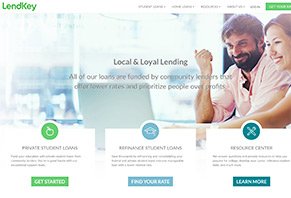 LendKey provides access to low interest private student loans, student loan refinancing, and home mortgage refinancing, along with exceptional customer support.
About LendKey
LendKey is an online marketplace where you can find, customize, and fund new private student loans, refinance your existing ones, and even locate home improvement and auto loans (coming soon). Whichever option you need, LendKey promises to help lower your payments, simplify your finances using one convenient loan, and provide flexible repayment terms with no hidden fees.
LendKey loans are handled by their network of 300+ credit unions and local banks, who work directly with the company to offer lower rates than what you might find elsewhere. On top of this, these banks and credit unions help fund the neighborhoods where their customers live and work, keeping them "vibrant and growing."
In order to find a loan that's best for you, LendKey claims to offer a quick and easy application and approval process:
Answer a few simple questions to apply online (more about this next).
Instantly see real-time rates from multiple lenders based on your loan amount, location, and credit information.
Pick the term, rate, and payment offer that best matches your needs.
Verify your identity and upload documents to receive your funds.
To date, LendKey claims their transparent, accessible borrowing options have resulted in 40,000+ borrowers and nearly $2 billion in approved loans. And they promise to never pass your information along to others!
Lower interest rates, an easier application and approval process, working with a lender who's part of your neighborhood, simplifying and decreasing your monthly expenses—what's not to like about LendKey? They certainly seem to have a lot going for them, but let's find out if they're right for you.
LendKey's Application Process
We'll talk more about this in a moment, but it's important to emphasize that LendKey only originates and services loans, but does not fund them. Instead, funding is handled by a local bank or credit union.
Refinancing Your Student Loan with LendKey
Using LendKey.com's "unified application process," you can learn what refinance rates to expect in about 30 seconds, without impacting your credit score. All you'll need to do is enter the school you last graduated from, your undergraduate or graduate degree program, the current state you live in, your student loan amount, zip code, and credit range.
Finally, press the See My Rates button. You'll then be redirected to a page displaying your estimated monthly payment, APR, and total number of payments.
An example of what you'll see after entering your information and searching for refinance rates on LendKey.com.
From there, you'll need to enter your name and email address to continue the application process.
LendKey's Private Student Loans
Compared to their refinance process, LendKey's private student loans are a little more complex. You'll have to enter your requested amount, whether you're pursuing a graduate or undergraduate degree, the school you're attending, expected graduation date, and more.
Once you receive your rates, you'll have to choose the best one for you and submit your formal application.
Note: At the time we attempted to obtain rates, we received the following notification: "We are not accepting loans for the academic period you entered at this time. Please come back on June 1st when we will begin accepting applications for the 2016-2017 academic year." As such, you may not be able to request rates too far in advance.
How to Apply for a LendKey Home Improvement Loan
Like private student loans, obtaining rates for a LendKey home improvement loan takes more time and information. You'll start by entering the type of property the loan is for (single family or townhome), whether you own or rent, if this your primary residence, and where you're planning to renovate.
Then, you'll complete the form by entering your citizenship status, co-borrower and contractor information, the requested loan amount, and your email address.
Will LendKey Affect Your Credit Score?
LendKey advertises that these rate inquiries will not impact your credit score. Since you won't enter any information during the process, this certainly appears to be the case.
However, keep in mind that this also means any rates you receive could change (potentially drastically) once your application is submitted, based on your credit score, employment history, overall debt, and much more. Let's carry this thought over to the next section.
LendKey Rates, Eligibility, & Fees
It's completely free to browse LendKey's various rates, although what you'll actually end up paying is based on income, credit score, and many other important factors.
If you have a poor credit score though, it's likely that a cosigner will be required. Even if you don't, applying with a cosigner may be able to get you a lower interest rate.
At the time of our research, LendKey's refinance rates were 2.14% for variable loans or 3.25% fixed, across 5, 10, 15, or 20 years. The company claims they can help you save an average of $10,500, although we didn't find any numbers to support this.
According to some third-party websites, LendKey can refinance between $7,500 and $175,000 of student debt, and offers the option of paying interest only for the first 4 years. You will need a credit score of at least 660 and a $24K annual income.
LendKey's private student loans may qualify for a 1% interest rate reduction "once you've entered the full repayment period and repaid 10% of the loan principal." Home improvement loans only go up to $40K, although they don't come with origination fees or prepayment penalties.
Finally, LendKey customers may receive a 0.25% reduction for "enrolling in automatic monthly payments from a personal checking or savings account."
What Happens if You Change Your Mind?
LendKey allows customers to cancel their loan within 30 days of disbursement without fees or interest. To do so—or to discuss any other matters—LendKey's support team can be reached at (888) 549-9050.
Given some of these unique features, what's everyone saying about LendKey?
Does LendKey Have Good Online Customer Reviews?
LendKey has been in business since 2007, so the they've received a fair amount of press attention over the years, including popular sites like NerdWallet, StudentLoanSherpa.com, and MagnifyMoney.com. Considering how long they've been in business and how many customers they have, we found it surprising how little direct customer feedback was available for the company during our research.
Among these professional reviews, the most common complaint referenced the fact that LendKey didn't provide 20-year loan terms, which the company appears to have since addressed.
LendKey Technologies Inc. based out of New York, NY had an A+ Better Business Bureau rating at the time of our research, with only 5 closed complaints (most appeared to reference payment issues).
LendKey vs. SoFi
While you were browsing through the LendKey website, you might have picked up on the word "marketplace" in several areas. If you've been researching different student loan options, you might have also linked it to another "marketplace" named SoFi. Are there any similarities between the two?
LendKey & SoFi Similarities
LendKey and SoFi both claim to help their customers refinance federal and private student loans with low rates, and save $10K+ over the course of the loan.
They both also provide access to non-traditional lenders and pass the potential savings on to their customers, while reducing accounts attached to electronic payments by 0.25%.
LendKey & SoFi Differences
LendKey can also help you refinance a mortgage and take out a new private student loan, while SoFi also provides new mortgages and refinancing, along with personal/parent/MBA loans.
While LendKey focuses a lot on customer service, SoFi seems to focus on after-the-fact resources like career support, unemployment protection, and entrepreneur programs.
LendKey's APR ranged between 2.14% and 3.25% at the time of our research. SoFi came in a little lower with rates between 1.9% and 3.5%. LendKey's minimum loan was $7,500, while SoFi's was $10K.
Perhaps the biggest difference between LendKey and SoFi isn't what lending options they provide, but how they provide these options. Whereas LendKey uses traditional institutions like banks and credit unions, SoFi taps into a peer-to-peer network of individual direct investors.
Can LendKey Unlock Money for Your Student Loans?
In Everything You Need to Know about Student Loan Debt, we talked about how recent college grads are burdened with an average of $35K in student loan debt, which will probably take them 21 years (or more) to pay off.
With this rise in debt, a new breed of companies like LendKey have entered the marketplace in order to help college students worry less about their debt and focus more on their career. And in general, they seem to come with mostly positive online reviews.
In the end, which of these companies (if any) are right for you depends on hundreds of different factors, from the company's underwriting criteria to your personal preferences. Before you apply though, be sure to talk with a professional (such as a financial planner) and make sure your credit score is where it needs to be.