Life Credit Company Reviews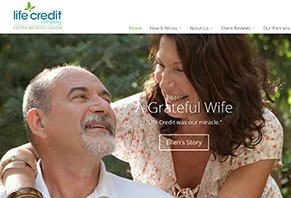 Life Credit Company's Living Benefits Loans claim to help those with cancer and other serious medical conditions get the money they need, without restrictions.
About Life Credit Company
You're going through some unimaginable times right now. And in addition to your diagnosis, you also have to deal with the financial repercussions.
But Life Credit Company, a nationally licensed consumer lender, tells us that their life insurance loans may be able to provide some financial assistance. How so?
If you have at least $75,000 of life insurance and have been "diagnosed with cancer or another serious medical condition," Life Credit Company's Living Benefit Program can loan you up to 50% of your life insurance policy's death benefit.
According to the company, you won't have to make any loan payments, you won't have any out-of-pocket expenses, and the money is yours to spend without restrictions. All you have to do is:
Apply
Get approved
Receive your funds
Depending on your situation, it certainly seems like one of these loans could come in handy when you need money the most—all in a simple, straightforward process.
But will obtaining a Living Benefit Loan from Life Credit Company really be as simple as 1, 2, 3? Are there any important considerations to keep in mind? That's what we'll help you learn in this review.
How Does Life Credit Company 's Living Benefit Loan Program Work?
Launched in 2012, Life Credit Company's Living Benefit Loan program can issue a loan that's secured against the whole benefit value of your life insurance policy, which is an asset, like your house and your car.
In order to qualify from a medical perspective, you'll need to have been diagnosed with cancer or another serious illness like ALS, Alzheimer's, Congestive Heart Failure, Stage IV Renal Failure, and End-stage Liver Disease.
We're told the Living Benefit program can work with all types of life insurance policies, including term, group, universal, FEGLI, variable, and whole life. Regardless of your policy type, you'll need to have $75,000 or more in coverage.
If you qualify for the Living Benefit program, you'll have immediate access to up to 50% of your policy's death benefits. According to the company, you also:
Won't have any out of pocket expenses,
Won't need any additional collateral,
Won't have to repay the loan, and
Won't have to pay any future life insurance premiums.
This is because we're told your loan will be repaid from the death benefits proceeds of your life insurance policy, with the remainder going to your family and other beneficiaries.
What are the fees and other costs associated with a Life Credit Company Loan?
What Are the Costs & Fees Associated with a Life Credit Company Loan?
There weren't a whole lot of details provided on the Life Credit Company website, although we're told that consultations with a professional counselor are free and come without obligation.
When submitting your application, you'll have to provide a "copy of your medical records along with a recent life insurance policy statement," although your credit won't be checked.
From there, the company tells us that your dedicated loan counselor will let you know how much you qualify for within 72 hours. This can depend on several important factors, including:
The size of your policy
The premiums associated with your policy
Your current level of health
No specific interest rates are listed on the Life Credit Company website (more about this next), which they claim can vary depending on the state.
For additional details, a Life Credit Company counselor can be reached at 888-274-1777.
What Are the Pros & Cons of Life Insurance Loans?
This is a fairly large topic, but for the purposes of our conversation, there are two types of life insurance loans; those paid out by insurance companies and those paid out by third-party lenders like Life Credit Company.
Are there any meaningful differences?
Traditional Life Insurance Loans
According to financial authority websites like Bankrate, NerdWallet, and Investopedia, traditional life insurance loans are only available on permanent life insurance policies; i.e. ones that don't "expire (unlike term life insurance) and combine a death benefit with a savings portion."
This is because permanent life (including whole, variable, and universal life) policies accumulate cash value with every payment you make. Then, once enough has accumulated, you can take out a loan against this value.
A good way to think of it is like a home equity line of credit; you've made payments and earned equity, which can now be borrowed against.
In many instances, these loans come with interest rates that range between 5% and 9% (much lower than most credit cards), and the money goes to your bank account tax-free. Keep this in mind, because we'll come back to it in just a second.
What's the Difference with a Life Benefit Loan?
Comparatively, Life Credit Company tells us that their loan program works with all types of life insurance policies, even those without a cash value, such as permanent life.
This is because you're not necessarily cashing out some of the equity in your life insurance policy with Life Credit Company. Instead, they're simply a third-party lender who will loan you a certain amount using your policy as collateral.
Important Considerations to Keep In Mind
Now, remember the interest we just talked about? While Life Credit Company might make your premium payments, someone will still have to pay the interest on your loan.
Generally, this can be handled directly out of your pocket, or it can be borrowed from your policy by subtracting from its cash value. Either way, remember that life insurance loans aren't free.
Also, if Life Credit Company determines that your insurance policy requires significant cash value in order to qualify for a loan, this generally takes about 10 years to achieve (and which can take just as long to rebuild, if necessary).
Related: Payday Loans & the Cycle of Debt: What You Must Know Before Borrowing
Remember that your insurer will likely have a decision as to whether or not your policy qualifies to have a loan taken out against it. If not, though, you might also consider borrowing from your 401(k) or IRA as well.
Are Life Credit Company's Clients Leaving Positive Reviews?
Although Life Credit Company has been in business since 2012, there wasn't a whole lot of online feedback about the company at the time of our research.
However, we did find 44 customer reviews on TrustPilot, where the company earned an average rating of 9.4 stars (out of 10).
There, most compliments seemed to reference ease of doing business, great customer service, and professional, caring staff. In fact, the only complaint there referenced high/unknown fees.
Outside of this, the only other place we found any Life Credit Company reviews was on the Better Business Bureau website, where the La Jolla, CA-based company had an A+ rating.
Taking all of this together, should you apply for a Living Benefit Loan?
The Bottom Line About Life Credit Company
After searching online for a fair amount of time, we didn't come across any other companies that focus solely on providing loans that use life insurance policies as collateral.
So, if this is what you're looking for, Life Credit Company seems to be your only option.
Since they also partner with Cancer Treatment Centers of America, they might be a logical first choice if you're a patient. Also, the company seems to come with positive customer feedback, which is always a plus.
Ultimately, only you can decide whether or not it's time to take out a Living Benefit Loan from Life Credit Company. Just be sure to thoroughly discuss it with your loved ones and financial planner before making any rash decisions.
See Also: 6 Red Flags: How to Find a Financial Advisor You Can Really Trust