MSC Cruises Reviews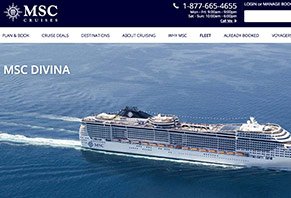 MSC Cruises offers the Continental flair of a premium cruise, plus a wide variety of interesting ports, at a fair price. Here's what guests can expect on board.
About MSC Cruises
MSC Cruises are a premium European cruise line that began making waves by offering unique, affordable, and family-friendly cruises in the late 1980's.
The cruise line's parent company, MSC, is better known as one of the world's largest cargo shipping companies, boasting over 300 years of navigating the world's oceans. However, don't let MSC Cruises' heritage make you think that their experiences are bare bones and basic.
The MSC fleet operates 12 ultramodern ships that eschew the normal glitz and clutter of cruise decor in favor of clean lines and bold colors. The sophisticated tone of MSC's seaworthy interior decor is a reflection of the cruise line's Italian heritage—an influence cruisers will also notice when dining onboard.
Top Reasons To Cruise With MSC Cruises
How do MSC Cruises compare to the competition? According to US News, the line was recently rated sixth in Best Cruise Lines for Families, and eighth in Best Cruise Lines for the Money, Best Cruise Lines in the Caribbean, and Best Cruise Lines in the Mediterranean.
Ample routes and affordability are among the additional reasons MSC claims you should select from their voyages your cruise.
Unique Itineraries
Promising all the quality and comfort of a 5-star hotel, MSC offers a wide variety of voyages throughout Mediterranean, many allowing for a lot of time in ports of call and include few, if any, sea days. To visit some intriguing, off-the-beaten-track ports of call that other cruise lines bypass, try to book when the fleet repositions in between seasons.
For the most part, MSC's itineraries are geared to European travelers. However, the line has made a major commitment to not only sail elsewhere—including South America, Canada/New England, the Caribbean, South Africa, the Gulf—but to become more accessible to North American customers.
MSC is so committed to expansion it has deployed one of its newest ships, MSC Divina, to sail full-time from Miami as of November 2013.
Should you have difficulty choosing between MSC Cruises' over 2,000 excursions and custom tours—which span 190 destinations in 73 countries—the cruise line offers personal guidance through their consultants, available at (877) 665-4655.
Affordable Prices
Once you get past the cost of flying to a foreign port of call, MSC will allow you to experience destinations around the world at extremely reasonable rates—with some cruises costing less than $100 a night.
Related: Find the Cheapest Flights and Buy Your Next Ticket Like a Pro
In addition to dining in the many onboard restaurants and access to facilities like pools, cinemas, and bowling alleys, MSC rates also cover fitness classes and gratuities. Extra services, such as a la carte menus and port shuttles, are available for extra fees.
Families might also find that MSC Cruises' ships are ideally suited for family cruise vacations, thanks to a fleet-wide kids-sail-free policy.
What To Expect On Board
MSC Cruises sailing throughout the Mediterranean and Baltic Seas cater mainly to European travelers, while Caribbean itineraries attract an American clientele.
Regarding ambiance, most MSC Cruises are geared toward retirees, so don't be surprised if you encounter families during summer and holiday breaks from school (especially if you're sailing the Caribbean). Couples—particularly honeymooners—also cruise with MSC to take advantage of activities and packages designed specifically for pairs.
Additionally, MSC's more classic vessels—which lack state-of-the-art kids' facilities and sail on longer, more exotic itineraries—are tailored to older travelers.
Overall, MSC adopts some activities that appeal to American passengers without abandoning those preferred by Europeans; however, regardless of the itinerary, be prepared for an Italian-influenced on board experience:
Dining: Unlike other modern cruises that take a relaxed attitude towards mealtimes, dinner on MSC ships is a traditional multiple-course event centered on authentic Italian fare. Menus list Mediterranean regional specialties and classic favorites prepared from scratch. Guests who like a late-night snack will find that the nightly midnight buffet is a retro food feast missing from most of today's cruises. Room service is always available, though the options are somewhat limited.
Entertainment: In addition to guest lecturers, computer classes, and cooking lessons featured in the enrichment programs, Italian-language classes are a popular option. Nightly shows accentuate the cruise line's Mediterranean heritage; there might be a flamenco show in the main show room and live music for listening and dancing in the smaller lounges, although the disco is a happening late-night spot.
Fitness: Up-to-date exercise equipment, a jogging track, and basic fitness classes for all levels are available in onboard fitness centers.
Extra Tips For Cruising With MSC
Like most cruise lines, MSC inspires a unique atmosphere by imposing their own requirements and guidelines. Here's some extra information you may find helpful before booking your trip:
Dress Code: There is a "resort casual" dress code aboard MSC ships in the evenings, which means no jeans, T-shirts or shorts are permitted in the dining venues after 6 p.m. On formal evenings (there are one to four formal nights, depending on the length of your cruise), women are expected to wear cocktail dresses and men should plan to wear suits or jackets and ties to dinner.
Currency: For cruises in Europe, as well as transatlantic cruises departing from Europe, the onboard currency is the euro.
Children: Children must be six months or older at the time of departure to cruise with MSC. Children 11 years or younger may sail for free as long as they stay in the same stateroom as a parent or a responsible adult. Passengers under the age of 21 must be accompanied by—and share the same or an adjoining stateroom as—a parent or adult over the age of 21.
MSC Refund Policy: To receive a full refund, cancellation requests must be made in writing and received at least 60 days prior to your scheduled embarkation date. If you cancel 46 to 75 days before your scheduled departure date, you will forfeit the deposit. If you cancel 16 to 45 days before your scheduled sailing date, you may receive a 50 percent refund of the price of your cruise, excluding taxes. If you miss this deadline and cancel your cruise within 15 days of your sailing date, you will receive no refund.
What Cruisers Are Saying About MSC
Since the MSC fleet encompasses 12 ships, it's best to read reviews specific to that vessel when shopping around—Cruise Critic shares their own experience and reviews from cruises, categorized by ship.
Despite the variety of experiences available, cruisers have consistently voiced several concerns.
Questionable Service Standards
While some reviewers state that their service experiences were awful, and others found it just unremarkable, you're hard-pressed to find a glowing review of service aboard an MSC cruise.
Inconsistencies can be partially attributed to cultural differences, as one reviewer pointed out that the mainly Italian staff can seem befuddled by American habits and expectations. Another pointed out that improved English language training for staff on ships catering to Americans should be a top priority for the cruise line.
Language & Cultural Differences
As mentioned above, language aboard an internationally-based cruise line can create some annoyances. Reviews mention this most frequently in regards to the on board ship announcements (which occur multiple times throughout the day) and entertainment—each of which is repeated in five different languages.
Additionally, reviews mention that cultural differences go beyond service staff, as the entire MSC experience has more of an international air. This may affect the enjoyment of some North American cruisers who aren't accustomed to subdued entertainment, limited dining options, and pressure to maintain more formal standards of dress.
Poor Food Quality & Options
While MSC Cruises touches on their dining options with pride, many reviewers on this Trip Advisor thread commiserate that they experienced bland meals and limited options. While evening dinners offer several choices, guests who wish to eat throughout the day are limited to paying for extra fare or selecting food from the buffet, which offers only pizza, hamburgers, and hot dogs every day.
Related: Eating Internationally: How To Enjoy Street Food Safely
It's worth noting that a minority of reviews stated an opposite experience, leading us to believe that experiences can vary from ship to ship.
Finally, while you can sign up for one of MSC's beverage packages (for a fee) that will allow you your choice of alcoholic and non-alcoholic drinks on board, your standard rate does not include beverages. This leaves guests paying for drinks throughout the entire cruise—even soda, water, and juice.
Inescapable Cigarette Smoke
Chalk it up to MSC's relaxed European stance on smoking, but many reviews state that cigarette smoke was everywhere. Unlike other cruise lines, which have a restricted smoking area, guests aboard an MSC voyage are seemingly allowed to do so where ever they like.
Should You Cruise With MSC?
Unlike a regular vacation, once you're aboard a cruise ship, you have minimal opportunities to change your situation. That's why it's always important to be aware of the ship's intended ambiance when choosing a cruise. Just like you wouldn't throw a 6-year-old a birthday party on Bourbon Street, families seeking boisterous entertainment or American-style, Disney-grade customer service aren't going to enjoy an MSC Cruises experience.
Confident that you're MSC's intended audience? Here are some of the top reasons we'd choose their cruises:
Wide array of itineraries to choose from
Constantly updated deals and sales make cheap fares even more enticing
Children ages 11 and younger can sail for free
Cruise fare covers many onboard amenities
Opportunity to interact with a variety of cultures
And, for those unsure if MSC Cruises is their style, the cons are:
Beverages, including soft drinks, are not included in the cruise fare
Many announcements and shows are not in English
European standards of customer service are often not up to North American expectations
Evening meals employ a dress code
Shore excursions cost extra
Dining options are fairly limited
Bottom line? Anywhere you look, MSC Cruises has mixed reviews, a great selection of which can be found on Cruise Critic. But, even with those less-than-stellar reviews, it still appears that MSC offers voyages that can be a good value for the cost—assuming you adjust your expectations to account for some cultural differences, language barriers, and a few quirks.
One reviewer at Trip Advisor pointed out that comparing an MSC cruise to other 5-star lines is setting yourself up for disappointment; however, otherwise it's perfectly possible to have a great time.
Read next: A Beginner's Guide To Choosing a Cruise