Ninja Cooking System Reviews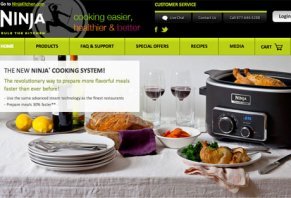 About Ninja Cooking System
Have you recently watched an infomercial for the Ninja Cooking System, or seen it for sale on QVC? If so, you may be wondering whether this 3-in-1 slow-cooking system really does allow you to make easier and healthier meals in 30% less time. Also, can the Ninja Cooking System actually steam roast, bake, sear, and slow cook all in one pot? Is it really "revolutionary?"
To answer these questions—including whether or not it's worth your hard-earned money—we dug up some facts about the Ninja Cooking System. Here's what we found out.
Ninja Cooking System Details
At its most basic, the Ninja Cooking System is a traditional slow cooker, but with added abilities, such as:
Can use stovetop mode for heating up leftovers, or for searing meat and locking in the flavor.
Countertop oven that heats to 250-425 degrees, which provides the ability to bake.
As such, the Ninja Cooking System bills itself as a one-pot "3-in-1 cooking system" that gives you the ability to create faster, easier, and healthier homemade meals.
When compared to traditional slow cookers however, the Ninja Cooking System claims use super heated steam that can cook your food up to 30% faster, and with 30% less fat. In addition, the Ninja Cooking System claims to be able to cook one-pot meals in just 30 minutes, while its non-stick pot makes for easy cleanup after your cooking is done.
Ninja Cooking System Pricing & Refund Policy
If purchased directly through the manufacturer, each Ninja Cooking System is priced at $199.80 plus $19.95 shipping and handling, and includes:
Ninja Cooking System
Ninja Roasting Rack & Multi-Purpose Pan
Recipe book with more than 150 recipes
5-year guarantee (what does this include?)
During checkout, you can also add a second Ninja Cooking System for $149.85, priority processing for $9.95, and a lifetime warranty to $29.95. It should be noted that during our research, the Ninja Cooking System's website would not allow us to move past the Special Offers screen, which meant that we couldn't complete the transaction. We attempted to retry using several browsers over 2 days, and continued to experience the same glitch.
Keep in mind that the Ninja Cooking System is also available through QVC, Walmart, Bed Bath & Beyond, Kohl's, Amazon.com, Sam's Club, and many other retailers, and ranges in price between $130 and $175. However, it's important to remember that many of these retail models do not include the cookbook, which sells for an additional $30.
Note: The Ninja Cooking System is available in several models, the most popular of which appear to be the MC700, MC701, and MC702. Regardless of the model though, the 3-in-1 cooking system appears to be the exact same, and only differs on the included accessories. Although it's nearly a year old, this Amazon review provides a fairly detailed overview of the different Ninja Cooking System models, as well as retailers that sell them.
The Ninja Cooking System comes with a 60-day money back guarantee, less shipping and handling charges. In order to initiate the process, you'll need to contact customer service at 877-646-5288. However, as you'll see in the Bottom Line section, this may not always be a smooth process.
See also: Power Pressure Cooker XL Review
What Do Other Consumers Have to Say About the Ninja Cooking System?
Overall, it appears that the Ninja Cooking System has an overwhelmingly positive online reputation, both from professional and consumer standpoints. Most reviewers seem to be very satisfied with its performance, its flexibility, and its ease of use.
With this said, some of the most common complaints we encountered when researching the Ninja Cooking System included high price compared to the competition (more about this in the Bottom Line section), that you can't see your food while cooking without lifting the cover, and flimsy, poorly-made accessories; specifically the pan and roasting rack.
What's the Bottom Line About the Ninja Cooking System?
After reading through the above information, it's highly likely that you already have a fairly good idea of whether or not the Ninja Cooking System is right for you. But is it ultimately worth the high price? The answer is: it depends on what you plan on using it for.
In other words, if you're just looking to create traditional slow-cooked meals, it's probably not worth the high price. On the other hand, if your creativity comes alive in the kitchen, you may enjoy many of the Ninja Cooking System's additional features.
Also, consider the following before making your decision:
The Ninja Cooking System is manufactured by Euro-Pro Operating LLC, who also makes many other popular kitchen products including the Nutri Ninja Pro Blender and the Ninja Mega Kitchen System. While the company has an A+ rating with the Better Business Bureau, some of the most common complaints seem to center around two subjects:
Poor quality products – Cheap materials, don't work as advertised, suddenly stop working after a short period of time, etc. As noted above, the Ninja Cooking System seems to be solidly built, while the pan and roasting rack appear to warp quickly.
Poor customer service – Primarily related to refunds and defective products, such as return packages that go missing after being received by the company, and failure to send return labels/replacement parts despite repeated requests. This means that if something does go wrong with your Ninja Cooking System, returning it to the company and getting your money back may present a frustrating process.
Also, keep in mind that the faster cooking times provided by the Ninja Cooking System translates into more energy usage, as well as a tendency to overcook your food. Because of this, if you're used to traditional slow cookers, cooking effectively with the Ninja Cooking System might take some initial trial and error.
Love, love, love it!

I purchased my Ninja cooking system about four months ago, and I have used it about 50 times!

It is so easy to use, and cleanup is a breeze. I purchased one for my daughter for Christmas, and I plan on buying another for myself. I love, love, love it!

Bottom Line: Yes, I would recommend this to a friend

---

Love love love it!

By

Kathy

,

Pocono Summit, PA

,

Feb 3, 2016

To date, I've purchased four Ninja Cooking Systems. One for myself, and three for my two daughters (one with eight children). I've used it to slow cook, bake, and roast for over 2 years now. We all love it.

Bottom Line: Yes, I would recommend this to a friend

---

Advertisement

---

4 out 4 people found this review helpful

Amazing

By

Tara

,

Comer, Ga

,

Jul 20, 2015
Verified Reviewer

I received the Ninja Cooking System for Christmas and being 21 I thought wow, a crock-pot. I have used crock-pots before so I thought this was just another one to pull out of the back of the cabinet on special occasions. I was wrong, very wrong. This is not an ordinary slow cooker. I use my Ninja everyday. I don't even use the oven at all anymore. I actually had the gas turned off to my oven. I make chicken, pork chops, pasta, hamburgers, and I even made a cake. Everything cooks so fast. I love it. Put dinner on 30 minutes before we want to eat and by the time I get the kitchen cleaned up, food is ready for the table. I recommend this to everyone! I have never written a review for any product before but this one blew my mind. I love the fact that I can set it on slow cooker, stovetop, or oven.

Bottom Line: Yes, I would recommend this to a friend

---

2 out 3 people found this review helpful

I love my Ninja Cooker

By

Maya

,

Philadelphia Area

,

Jul 13, 2015

I purchased the Ninja Cooker at BJ's Wholesale just over two years ago. I absolutely love it. I have only used it for stews and similar recipes that I would previously use a slow cooker for. What I love is that I used to skip browning the meat for my beef stew, but since the Ninja has the stove stop setting, I brown the meat right in the pot, I just don't love washing a lot of pots and pans frequently, so I want a one pot solution if possible. The added benefit is that you don't lose any of the flavor from the browning process.

I also saute the vegetables and other things I need right in the pot. I have made Rice Pudding in it, and stewed fruit (Dessert). It is really wonderful, and the pot is very sturdy. I am not even sure where my slow-cooker has gotten off to at this point.

Between the Ninja, my Rice cooker (purchased at a Korean Grocery store) and my Pressure Cooker XL, my life is easier, my family is eating better, and I get more time with them. I would gift this to friends if it wasn't so pricey, but well worth it. Now I want to buy some of the other Ninja products. Really sturdy and well built. No problems in over two years.

Bottom Line: Yes, I would recommend this to a friend

---

Advertisement

---