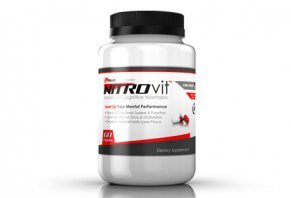 About NitroVit
Proclaimed by the manufacturer as "America's most advanced cognitive super vitamin," NitroVit claims to be an advanced nootropic that can improve your focus, motivation, productivity, and memory, and can even act as a method of controlling symptoms associated with ADHD. As such, after years of extensive research and testing, NitroVit is claimed to be a truly effective and efficient solution for supporting maximum growth and optimization in the brain.
If you've seen the 2011 box office hit Limitless, you might have a better understanding of the benefits nootropics could provide in the not too distant future, which could account for the huge increase in these types of supplements over the past couple years. And while the manufacturer claims that NitroVit won't provide you with such a vast change in mental capacity and that it does not increase your intelligence, can you reasonably expect some type of noticeable change in brain activity after taking the supplement? In other words, as the NitroVit website claims, can it really help you "level up your mental performance?"
How Does NitroVit Claim to Work?
NitroVit is a nootropic (a fancy word for a "brain booster") that claims to have been formulated using breakthrough research, and that can help provide protection from cognitive decline, promote memory retention and recall, and improve clarity, focus, concentration, and motivation. As a result, the company claims that you may be able to increase your work output, concentrate on tasks for longer periods of time, and improve your mindset. In fact, NitroVit is also claimed to have helped some users experience heightened libido, and even to quit smoking.
With this in mind, NitroVit claims to work in 3 key areas: Increasing blood flow to the brain and strengthening neurotransmitters, breaking down potentially harmful lipofuscin, and providing your brain with the vital nutrients it needs to thrive. In order to accomplish this, NitroVit is claimed to include only the purest prescription-grade levels of key natural ingredients, including:
Vitamin B6 20mg
Vitamin B12 150mcg
Bacopa Leaf Powder 250mg
Oat Straw Herb Powder 250mg
Acetyl L-Carnitine HCl 200mg
Ginkgo Leaf Powder 125mg
Alpha GPC Choline 100mg
Alpha Lipoic Acid 100mg
L-Taurine 50mg
Phosphatidylserine 30mg
Vinpocetine 20mg
Huperzine A 150mcg
The company claims that NitroVit is manufactured in a GMP-certified laboratory, and that you should take 2 capsules per day for at least 90 days in order to experience its optimal benefits. After you begin, NitroVit is claimed to provide immediate results such as increased motivation, improved mood, and reduced brain fog, while long-term benefits include improved memory recall, increased blood flow to the brain, and more. However, the manufacturer recommends that you not exceed 4 capsules of NitroVit in a 24-hour period.
NitroVit's manufacturer also sells NitroAMP, which is claimed to be "a powerhouse blend of Caffeine Anhydrous and L-Theanine" that can be stacked with NitroVit to provide you with increased energy, but without the negatives associated with most stimulants.
NitroVit Pricing & Refund Policy
NitroVit and NitroAMP are available in 6 different purchasing options:
60-Day Amplifier Pack (1 bottle of NitroAMP): $19.97
6-Month Amplifier Pack (3 bottles of NitroAMP): $49.97
30-Day Student Pack (1 bottle of NitroVit): $57.97
60-Day Project Pack (2 bottles of NitroVit and 1 bottle of NitroAMP): $119.97, plus free shipping
90-Day Quarter Pack (3 bottles of NitroVit): $149.97, plus free shipping
6-Month Performance Pack (6 bottles of NitroVit): $289.97, plus free shipping
If you choose a package that does not include free shipping, your order will include a flat $7.97 USPS Priority Mail charge, although faster options are available.
NitroVit comes with a 60-day refund policy, less S&H charges, although this only applies to unopened bottles. Unfortunately, there is no phone number listed for NitroVit's manufacturer, so you'll need to contact customer service at customerservice@nitrovit.com in order to initiate the refund process.
Can NitroVit Really Help Improve Your Cognitive Capabilities?
If you've spent much time researching brain health supplements, you probably know that they all claim to do pretty much the same thing, using many of the same ingredients. But when it comes to NitroVit, can you reasonably expect it to help you think better? It's possible, although you should keep the following in mind:
How Well-Researched is NitroVit?
Although NitroVit's manufacturer claims that their supplement contains ingredients backed by substantial evidence, similar to Cebria, Cellusyn Neuro-HD, and Cerebral Success, the reality is that nearly all have insufficient evidence supporting their efficacy, which is something we covered in depth in our article titled The Truth About Memory Supplements. And even if they were to have some beneficial properties, they definitely will not increase your intelligence.
Are Brain Boosters Safe?
Lack of clinical evidence notwithstanding, most brain supplements contain at least some Generally Recognized as Safe (GRAS) ingredients, although most also contain at least one ingredient about which no long-term safety studies have been conducted.
In the case of NitroVit, there could be some cause for concern for taking Phosphatidylserine longer than 6 months – there have been no research studies conducted on the ingredient for longer than this. In addition, while Choline is generally considered safe for most adults and children, WebMD states, "There is some concern that increasing dietary choline intake might increase the risk of cancer of the colon and rectum."
Customer Feedback
NitroVit is manufactured by Neuro Laboratories, who is not listed with the Better Business Bureau, although their URL was registered in January 2014.
With this said, other than affiliate websites posing as legitimate reviews, there are no online customer reviews regarding NitroVit that can be used to gauge overall satisfaction levels. However, some of the most common complaints related to other brain health supplements are failure to work and high price.
Bottom line
While some of the ingredients contained in NitroVit may help improve blood flow to the brain, there is insufficient evidence that any of its ingredients can help improve cognition in otherwise healthy individuals, and there are no online customer reviews that you can use to make a more informed purchasing decision. As such, you may want to discuss other options for improving focus and overall brain health with your physician.
See also: 6 Ways to Naturally Improve Your Focus, Energy, Productivity, and Decrease Stress
6 out 6 people found this review helpful

Nitrovit

By

Mike Sommence

,

Oct 10, 2015

I've been using Nitrovit for close to 5 months now and find myself in a very different position to where I was back then. Nitrovit has helped my focus issues, and has had a profound effect on my mood. They have changed the formula in the time I have been taking it, but both formulas have been similar in terms of ingredients, so no real difference except they got rid of Noopept, which I felt was a shame due to the deserved hype surrounding it. The current formula is great however for myself and while I have only tried one other product (Provasil), Nitrovit has been the one that has come closest to the mark in terms of results versus claims.

Bottom Line: Yes, I would recommend this to a friend

---

19 out 23 people found this review helpful

Amazing product from a company that seems to care.

By

John Hardwell

,

Northampton, UK

,

Jun 11, 2015

My fascination with the Limitless movie had me searching for brain pills some time back and I found NitroVit through the online review sites. I loved the branding, and the manufacturers claims seemed pretty awesome too. This was my second purchase of these types of pills and whilst I knew the pill from Limitless was pure fiction, I was looking for something to help me with my focus & concentration as I work from home (which can provide distractions a plenty).

The price was a little more than the others I looked at (but with a quick search I found a 20% discount code on a review site). With that said, I really didn't care as the cost was still only just over a pound a day which in my mind was a smart investment IF it did as it said.

I am from the UK so shipping took 6 days (not bad from experience) but was a little costly. Anyway, it arrived with no issues from customs, and I got stuck in. (I am a graphic designer so my work requires creativity, focus, and can take long hours working on one project which isn't ideal if you suffer from concentration issues like I do).

I took two capsules and within 45 minutes I started to feel a calm sort of focus. It's hard to explain, but if I was to say I usually fidget a lot in my chair and tap my leg a lot, and that for the first time since I can remember I didn't feel the need to do either. I was just 'comfortable', and pretty focused. Perhaps a placebo I thought, but great all the same. The nice thing was (unlike the other brand I tried) that I didn't have any uncomfortable energy rush. It wasn't like a coffee or sugar rush where you want to run about like a headless chicken, but rather I just felt really positive and excited to be working on what I was currently working on.

3 hours later I stopped for lunch, and around a couple of hours after that I guess the effects had worn off as I was aware that I was fidgeting again. So approximately 5 good hours of concentration from two caps.

I continued with this for about a week or so, and took the weekends off as suggested by a review site to ensure I didn't build up a tolerance too quickly. That was 3 months ago, and the strange thing is I actually find now, from continued use, that I actually get a whole days worth of undisturbed focus for my two caps. This shouldn't be normally due to tolerance build up, however the supplied instruction manual suggested that the effects would actually get stronger with time. (I don't understand the science but the website explains a little on how this works).

Anyway, their site said that anyone who wanted to share a positive experience would receive a free bottle of their Amp product. So I sent a testimonial to their customer service team and the next morning woke to probably the nicest, sweetest email I think I have ever received from a company. The customer service manager Shannon also explained that a bottle would be put in the post that day. Sure enough, 8 days later I received a bottle of Amp, a handwritten thank you, AND another bottle of Nitrovit! Nice touch in an era of shockingly bad service (at least here in the UK).

I will continue to take Nitrovit until it ever stops working, or I find something better, but to be honest, their approach and customer service has pretty much bought my loyalty for life.

I think the reason I am posting this review is more because of that than anything else. So it's great to find a product in this space that does as it says, and to find a company behind it that really cares about their customers, and over delivers on their promises is a rare find. 5 stars from this happy customer.

Bottom Line: Yes, I would recommend this to a friend

View all 1 comments

Hide comments

Jan 8, 2015

Just bought a bottle and am waiting on shipment. Will update once tested. Figured I would try this before Modafinil.

---

Advertisement

---