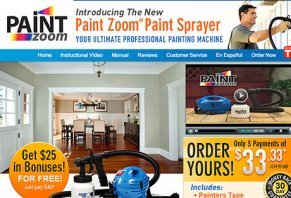 About Paint Zoom
Hey do-it-yourselfers – have you heard about Paint Zoom? This sprayer claims to be the ultimate professional painting machine that delivers the perfect amount of paint to any surface, and to do it in only one coat. Because of this, Paint Zoom claims to be a "paint miracle breakthrough" that ultimately cuts your painting time in half.
If you've used a professional paint sprayer in the past, you're probably skeptical about these claims. On the other hand, if you're new to do-it-yourself painting, you're probably intrigued. In other words, does the Paint Zoom really work as well as it claims and is it worth your hard-earned money? Let's apply an even coating of fact and see where it leads.
Paint Zoom Features and Details
At its most basic, the Paint Zoom paint sprayer claims to use an industrial strength 650-watt motor to help you paint like a pro and avoid using rollers, brushes, and paint trays, as well as the messes they cause. The Paint Zoom's lightweight design and powerful motor are claimed to provide the same coverage as these other traditional tools, but allows you to achieve the same result in less time, while also using 50% less paint. Keep this in mind because we'll come back to these points in the Bottom Line section.
The Paint Zoom claims to accept paint, stain, or varnish, and to be able to paint essentially any surface, including wood, drywall, stucco, brick, and more. All you have to do is dial in the 3-way direct dial spray head, which can be adjusted for vertical or horizontal painting, as well as a spot jet setting for tight or hard-to-reach areas, and then pull the trigger.
Paint Zoom Pricing & Refund Policy
The Paint Zoom is currently priced at 3 payments of $33.33 plus $19.95 shipping and handling, bringing your total to $119.94.
With your order, you'll also receive the Perfect Painting Kit, which includes trim & border masking tape and 2 jumbo drop cloths. You'll also receive 3 additional paint storage containers for an additional $19.95 S&H.
The Paint Zoom comes with a 30-day money back guarantee, less shipping and handling charges, as well as a one-year replacement warranty.
Note: During our research, we found 2 different versions of Paint Zoom: Deluxe and Platinum. While there are no descriptions of either version on the Paint Zoom website, it appears that the Platinum model features a different motor base design, an 800-watt motor, and a spray gun holder.
However, it appears that the only version offered through either of the product's websites is the Deluxe model, although it's not referenced as such. For full details, be sure to take a look at the Paint Zoom instruction manuals.
What Do Other Consumers Have to Say About Paint Zoom?
Overall, it appears that the Paint Zoom paint sprayer has a slightly negative online reputation.
Of the customer reviews we found, some of the most common compliments referenced low price, good overall coverage, and light weight. On the other hand, most consumers complained of the Paint Zoom's lengthy setup time (checking viscosity and thinning/straining paint – something we'll discuss more in the next section), excessive overspray, and mediocre quality (tendency for the hose to break and detach unexpectedly, a motor that overheats after about 30 minutes, and a nozzle that clogs easily).
What's the Bottom Line About Paint Zoom?
Now that you've got a better handle on how the Paint Zoom works as well as its claimed benefits, should you spend your hard-earned money on it? The answer is that it depends, and here's why:
First, the Paint Zoom is an "As Seen on TV" product, which often carry lower customer satisfaction ratings that similar mainstream products. On top of this, "As Seen on TV" manufacturers generally employ offshore, non-English speaking customer service personnel who are often trained to make returns much more difficult than they need to be.
With this in mind, even among customers who rated the Paint Zoom average or above, the most common complaints referenced poor quality, including the tendency for the hose to break and detach unexpectedly, a motor that overheats after about 30 minutes, and a nozzle that clogs easily. Several customers recommended using duct tape on each end of the hose in order to prevent it from unexpectedly detaching, but is this something you should expect from a brand new product? Probably not.
In addition, the setup time for Paint Zoom seems a bit excessive, and here's why: Depending on viscosity, you may have to thin your paint (10% water, 90% paint) before running it through the Paint Zoom, which could increase the number of coats you need to apply. After testing the viscosity, you'll then need to strain each batch, which between these two, can significantly increase your work time.
On top of this, keep in mind that you can't just stop using one color and begin using another as the promotional video might suggest. Instead, when switching between colors, you'll have to "purge" your Paint Zoom with water, allow it to dry, and then begin painting with the new color.
Finally, although the Paint Zoom claims to be a one-coat "miracle breakthrough," the fact is that the number of coats you'll need depends almost wholly on the type of paint or stain you're using, not the sprayer. In fact, even though the Paint Zoom is advertised as a "one coat" sprayer, the instructional video on the product's website specifically recommends applying 2 coats.
Bottom line: If you're thinking about purchasing the Paint Zoom, keep in mind that your local home improvement store sells many mainstream paint sprayer brands that are only slightly more expensive, but are built with much higher quality—and perhaps most importantly—allow you to pour the paint in and immediately begin spraying. In other words, you won't have to thin or strain your paint, which could save you an immense amount of time.
When it comes down to it, the Paint Zoom may be a good option for smaller jobs, but the preparation process and tendency to overheat probably make it unsuitable for larger jobs. This might just create more work for you than it helps to avoid by using traditional rollers and brushes.
20 out 22 people found this review helpful

Thieves

After seeing the paint zoom commercial, I went online to see the various options. I put in my credit card to be able to see the bottom line, which NEVER showed up. I tried different options but a total NEVER showed, and I NEVER authorized ANY charge.

The next day I got an email saying my order had shipped. What order? I called them, and they said it is too late to stop it but I should just REFUSE the package. Later I got another email that another order had shipped. My credit card was charged $174.59 and $53.28. It was a lot of hassle, but I refused BOTH packages.

Finally, refunds showed up on my credit card; one for $129.84 ($44.75 short) and the other for $33.33 ($19.95 short). They have stolen $64.70 from me. This is TERRIBLE. I am fighting this with my credit card and have complained to the Attorney General.

Bottom Line: No, I would not recommend this to a friend

View all 1 comments

Hide comments

Jun 5, 2017

They are liars, cheaters and their customer service is horrible. I paid for two machines in full. The following month they charged my card for $86.57, this was an unauthorized purchase. My bank is investigating them for fraud.

---

Advertisement

---