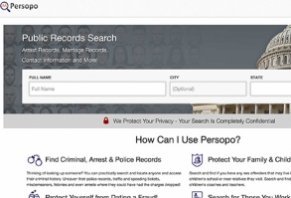 Persopo is an online search service that claims to aggregate public records data from all 50 states into easy-to-read reports that can help you stay informed.
About Persopo
Persopo is an online people search service that's claimed to aggregate data using their unique technology in order to provide access to public record information in a fast, safe, and affordable manner, so that you can make more informed decisions about new individuals you meet.
Persopo claims to make it easy to find detailed and important information about anyone using county, state, and federal records from all 50 states, including criminal, arrest, and police records, marriage records, contact information, and much more. This way, Persopo claims you can locate long lost friends and family, find out more about your neighbors, learn if sex offenders live near you, and even protect yourself from dating fraud.
How Does Persopo Claim to Work?
In order to begin using Persopo, you simply need to enter the person's full name, their city, as well as their state on the home page, and then press Search. According to the company, your search will always remain completely confidential, and their top-notch customer care team is always available to help if you have questions.
After your search is complete, Persopo will display results matching your query, including the person's name, age, location, and possible relatives. Then, once you click on the Access Report button, you'll need to answer 3 security questions to verify that:
You're 18 or over and a legal citizen of the U.S.
You agree not to use the information for employment decisions.
You agree not to use the information to blackmail anyone.
Finally, you'll be required to enter your email address and choose a membership package (more about this in the Pricing section) in order to view the report. Persopo claims that each of their membership option includes unlimited searches and comes with zero hidden fees.
Making personal connections with others is one of the biggest joys in life. But whether you're looking for someone with whom you lost contact long ago, or to check up on a new person you're dating, are Persopo's services worth your hard-earned money? Consider the following:
Where Does Persopo Pull Its Information From?
Similar to other people search companies such as Instant Checkmate, SpyFly, and BeenVerified, Persopo aggregates public records information and combines it into an easy to read report. In other words, the information Persopo pulls includes "documents or pieces of information that are not considered confidential," and are widely available to anyone with online access. In other words, you have the ability find this information yourself elsewhere, for free.
With this said, the primary benefit that people search companies claim to provide is to save you the time and hassle of visiting dozens of different state, county, and city websites, and scouring their databases for the exact information you need. Instead, they claim to provide the information you're looking for in seconds, and to display it a simple report.
Is There Anything that Persopo Can't Be Used For?
Persopo is not classified as a Consumer Reporting Agency, which means the information you obtain from their site cannot be used for employment, credit or insurance eligibility (including student loans and/or scholarship eligibility), or tenancy.
Instead, if you need information related to any of these services, you'll have to use a reporting agency approved by the Consumer Financial Protection Bureau.
Are Customers Pleased with Persopo's Services?
Based on 17 customer reviews on SiteJabber, Persopo had an average rating of 2 stars. A couple customers claimed to have experienced positive results and solid customer service, although the most common complaint cited "thin" information (e.g. it could have easily been uncovered for free). Other complaints included messy reports (information was displayed poorly) and being charged full price after signing up for a $1 trial.
ComplaintsBoard listed six entries for Persopo, with some customers stating they were pleased with results of their report, as well as the customer service. On the other hand, some customers appear to have been disappointed with their results, as well as the fact that they were billed on a recurring basis.
From a company perspective, Persopo, who is based out of Las Vegas, NV, is listed with the Better Business Bureau, with a rating of an A- (as of 6/6/17).
With this in mind, it's important to note that most of the complaints listed against Persopo are nearly identical to the other people search companies we've reviewed here at HighYa, so customer dissatisfaction seems to be industry-wide—not just for Persopo.
Persopo Pricing & Refund Policy
Persopo's services are available through three different membership packages:
1 Month: $19.93/mo
3 Months: $14.93/mo
6 Months: $9.93/mo
All membership options are claimed to include unlimited searches. Remember that your membership will automatically renew when the time comes, so you'll need to contact the company to cancel in order to prevent this from recurring.
Important note: Unlike many of the other people search companies we've reviewed, based on customer feedback, it doesn't appear that Persopo nickel-and-dimes you for anything beyond basic information. However, many customers complained that their report took 72 hours (or longer) to be sent to them after performing their initial search. In fact, several customers complained that they never received their reports at all.
According to Persopo, they offer a guaranteed 100% no hassle and no haggle cancellation process. However, there aren't any refunds available, and your membership will remain active for the remainder of the term you original signed up for.
In order to cancel your Persopo membership, you'll need to contact customer service at 866-371-2590.
Can Persopo Help You Obtain Information About People?
Chopping to the point: When it comes down to it, all of the information contained in Persopo's people search reports can be obtained elsewhere online for free. Considering this, along with numerous customer reviews claiming that Persopo's reports contained only minimal information (that was frequently incorrect), you'll have to decide whether or not the convenience they provide is worth the price you'll have to pay.
SEE ALSO: The Problems with Online People Searches, & How You Can Find the Same Information for Free
1 out 2 people found this review helpful

Persopo gives you false numbers to call so you can't cancel your subscription.

By

Joyce Akers

,

West Virginia

,

May 12, 2017
Verified Reviewer

I am not satisfied at all with Persopo. I called the number they provided to cancel your monthly subscription. This number they provided me with (1-800-371-2590) takes you on a roller coaster ride of advertisements and free offers. Then after staying on the phone with this crap for 20 minutes listening, they then get on and tell you that this number is no longer in service in my area. They give me another number to call to cancel my subscription (1-800-712-6600). I called this number to cancel and low and behold another host of advertisements and free offers.

I still cannot cancel my subscription. Please be aware. Now I must contact my bank and cancel my card and wait for my new banking card to arrive because this site gives you the runaround and provides you with false and misleading phone numbers when trying to cancel my subscription. I have learned a valuable lesson today. Never again will I be scammed!

Bottom Line: No, I would not recommend this to a friend

View all 1 comments

Hide comments

Jun 6, 2017

We must say that we apologize for the journey you took. We do see that you have in fact emailed our company previously to cancel your account. The account was canceled at that time. Just for confirmation, your account has been set to cancel and you will see absolutely no further charges from our company moving forward.

Additionally, we must clarify one thing. You stated that you tried contacting us through a 1-800-371-2590. The reason you did have difficulties would be that our number is 1-866-371-2590. We are an 866, not an 800, the number you called has absolutely no connection with our company in any way, and the 6600 number they provided also has nothing to do with us. We do apologize for such a terrible misunderstanding.

If you have any other questions or concerns please call customer service directly at 1-866-371-2590. We have representatives standing by, ready to assist you.

---

2 out 3 people found this review helpful

Total rip off

I can't believe I fell for this one. The $1 trial fee turned into a $29.93 monthly rip off, for something I never even used! When I confronted their "service" people about the charges, they offered to refund the last five billings, with no questions asked. I contacted my credit card security, and they would provide a refund for four billings.

I am reporting this outfit to my State's Attorney General for a review and possible fraud charges, which in this state can result in treble damages. Don't use or even think about using this "service."

Bottom Line: No, I would not recommend this to a friend

View all 1 comments

Hide comments

Jun 6, 2017

We are sorry for your experience Richard. When you signed up, you selected the checkbox that completely explained your billing plan, acknowledging that you understand that billing. It states that if you don't contact us to let us know you no longer want a membership, your trial membership to our site becomes a monthly membership at a rate of $29.93 per month.

You can also find that information in the email confirmation we sent after registering. We do understand that mistakes are made. We are glad you see that we did, in fact, bend over backward to accommodate you with even more credit than your own card service would attempt.

If you have any other questions or concerns please call customer service directly at 1-866-371-2590, or email support@persopo.com. We have representatives standing by, ready to assist you.

---

Advertisement

---

1 out 2 people found this review helpful

Waste of your hard-earned money!

By

Amanda

,

Massachusetts

,

Feb 23, 2017
Verified Reviewer

I paid for a comprehensive report on top of paying for a membership. They gave me information that I could have looked up on Google for free!

Bottom Line: No, I would not recommend this to a friend

View all 1 comments

Hide comments

Jun 6, 2017

We definitely understand your frustration with a service, when you did not see the information that you were hoping for. Unfortunately, the nature of our service is not the location of specific records for specific people. The service that we provide is a membership to perform unlimited searches of our existing and continually updating the database of public records on over 320 million Americans. Since we are not the source of these records, but a resource, we have no control over what records may or not show.

In short, you can think of it like a library. They have an existing and continually updated resource of information. Like them, we cannot guarantee to have a piece of information (books). Also, like a library, we are unable to edit or create new information and can only order new information created by the source. So, the statement of us not having information that you believe should show is similar to stating that a library doesn't have a book that you were able to purchase from the publisher.

While we understand that this can make it difficult to locate information that you want and in some cases, desperately need, it is the reality of what public record is and how it operates. We do apologize for any inconveniences experienced. Should you have any further questions or concerns, please call customer service directly at 1-866-371-2590 or email support@persopo.com. We have representatives standing by, ready to assist you.

---

1 out 2 people found this review helpful

Don't be fooled

By

Noel

,

Bridgeport, CT

,

Feb 22, 2017
Verified Reviewer

First of all, half the information isn't there. I mean public information!

Secondly, they are rude on the phone when you cancel. The woman I spoke to must have thought she was in a street fight instead of a customer service representative helping a customer. She never let me get a word in when I said I had thought I had already canceled and was still getting billed. I mean, she was nasty. I guess it's the kind of company that values that kind of "customer service" representative. I learned my lesson.

Bottom Line: No, I would not recommend this to a friend

---

Advertisement

---

2 out 3 people found this review helpful

Scam

By

Tom

,

Santa Clarita, CA

,

Feb 19, 2017
Verified Reviewer

They offered a "report" for a dollar as I was about to leave the website. I took the bait, and the search revealed my full name and phone number for one dollar. What a waste!

Then, they immediately charged me $29.95 on my credit card after promising a trial. They now have my credit card info, and I can't access it at their website, so I can't delete my account.

Bottom Line: No, I would not recommend this to a friend

---

4 out 5 people found this review helpful

Stay away!

By

Jessica

,

Albany, NY

,

Jan 16, 2017
Verified Reviewer

Not only did their reports show misinformation and incomplete information, but they sold my email address. 12 hours after signing up I had received 32 spam emails, all similar in nature about loan services! Now almost 24 hours later, it's just gotten worse.

I've never seen such spam before. I called their "Customer Support, " and they told me they don't sell email address. Yeah, right!

Bottom Line: No, I would not recommend this to a friend

---

8 out 9 people found this review helpful

It's garbage.

By

Janice Ross

,

California

,

Nov 24, 2016
Verified Reviewer

Do not waste your time or money. I needed some marriage date but it had none.

Bottom Line: No, I would not recommend this to a friend

---

Advertisement

---

5 out 6 people found this review helpful

Run away as fast as you can

I only wish I had looked up the reviews for Persopo before I subscribed. I learned a good lesson, that's for sure. As all reviews have commented, nothing is shown on this site that I could not have been found on a free site. Moreover, when I tried to sign in immediately after logging in, using my newly minted password and e-mail address, I was told that one or both were wrong. When attempting to contact the company by phone, no luck there.

Bottom Line: No, I would not recommend this to a friend

---

4 out 5 people found this review helpful

Poor Results, poor customer service

By

Tracy

,

Georgia

,

Sep 20, 2016
Verified Reviewer

The results were incomplete as compared to similar services. The customer service rep was rude and kept cutting me off when I tried to speak. Don't waste your money. ZERO STARS.

Bottom Line: No, I would not recommend this to a friend

---

4 out 5 people found this review helpful

Was looking for a marraige certificate

This site provide useless or no information, it is definitely a scam.

Bottom Line: No, I would not recommend this to a friend

---

Advertisement

---

6 out 7 people found this review helpful

Useless

By

Joe

,

Ohio

,

May 5, 2016
Verified Reviewer

All you get is phone number and address. Then they tell you to wait up to you 72 hours. I got no more info than I get from my white page app. This isn't for me!

Bottom Line: No, I would not recommend this to a friend

---