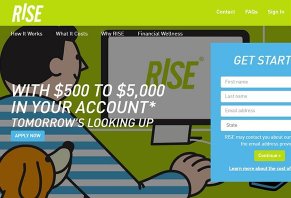 Rise Credit claims to provide short-term installment loans that can help get you the money you need as fast as possible, along with flexible repayment terms.
About Rise Credit
Your interest may have been piqued by a recent commercial from Rise Credit, a short-term lender that claims to help you address financial emergencies using fast and easy personal installment loans. On top of this, Rise Credit claims to offer flexible repayment terms that put your loan within your control, in addition to free Financial U courses that can increase your personal loan I.Q.
But even if Rise Credit really is different from traditional short-term lenders, does this mean you should use them in the first place? To address this question and many others, we performed some research. Here's what we found.
Rise Credit Details
By offering loan amounts between $500 and $5K, Rise Credit claims to be different from other short-term lenders in 3 primary ways:
As you continue to pay on time, your rates will decrease.
You can choose your terms for flexible repayment schedules.
Credit Score Plus option is claimed to track and monitor your credit. You can also visit the Financial U section to take free loan-related courses.
In keeping with this theme, if you're interested in applying for a Rise Credit loan, the process works over 3 steps:
Fill out an online application, which includes basic information such as name and address, as well as more detailed info such as social security number, checking account balances, and so forth. According to the Rise Credit website, in order to qualify for a loan you'll need apply online and to have a valid checking account and email address. We'll talk about additional requirements in the next section.
Once approved, your loan can be funded as soon as the next business day and sent directly to your checking account.
Log into your account to view activity and check your balance 24/7.
Rise Credit Pricing
First and foremost, in order to obtain a Rise Credit loan, you must be at least 18 years of age with a job or other proven source of income, and have an active/valid checking account, a working phone number, and an email address.
After you complete your application, the verification will be sent daily at 5pm CT, after which point your loan can then be approved in seconds. From there, the funds can be sent via ACH the following business day, and your first payment will generally be withdrawn 14 days after your loan's effective date.
According to the company's website, you'll have 5 days from the origination date to repay the principal without accumulating any fees. Otherwise, APRs range between 124.67% and 363.97%, so it's probably a good idea to play around with their Sample Loan Amounts calculator in order to get a better idea of what you can realistically expect to pay.
Rise Credit claims that their Credit Score Plus and Financial U courses are free, and that their loans come without any hidden fees or early payment penalties.
After signing up with Rise Credit, you can earn points for things like taking out your first loan, making on-time payments, completing a Financial U courses, and more. As such, the more points you accumulate the greater savings you can receive on future loans.
For additional information on APRs and repayment terms, Rise Credit can be reached at 866-580-1226.
What Do Other Consumers Have to Say About Rise Credit?
The vast majority of online reviews regarding Rise Credit appear to be negative, with by far the biggest complaint relating to their enormously high interest rates. Despite this fact, the company holds a C+ rating with the Better Business Bureau, with more than 80 closed complaints over the past three years.
When viewing Rise Credit's BBB page, we noticed that they also do business under the name PayDay One. This company is the subject of numerous online customer complaints stating that they attempted (often times successfully) to obtain "good faith" non-refundable payments from applicants before ever approving their loans.
On top of this, Rise Credit and PayDay One are owned by Think Finance, which has apparently come under scrutiny for shielding themselves from having to follow consumer protection laws by hiding behind Native American tribes.
What's the Bottom Line About Rise Credit?
With all of this in mind, is it a good idea to take out a short-term loan through Rise Credit? Perhaps in some instances, but consider the following first:
Most importantly, as we've mentioned in our CashAdvance.com, MoneyMutual, and other related reviews, short-term loans should be completely avoided unless there are no other options, as they comes with exorbitant APRs that you leave you paying more in interest than your original loan amount. In fact, the Rise Credit website even specifically states, "This is an expensive form of credit."
To illustrate just how much you could pay in interest, the Rise Credit website provides the following example:
Let's say you live in Idaho and decide to take out a $700 loan with Rise Credit. You agree to a 349% interest rate and to repay the loan using bi-weekly payments over a period of 14 weeks. Even if you consistently pay the requested amount on time, you'll still end up paying more than $800 in interest.
Conclusion
It's our recommendation that only under the most dire circumstances should you use a short-term lender like Rise Credit. And if you absolutely must, be sure to pay off the loan as quickly as possible. In short, consider what this 2014 article noted: "Just because it's advertised as an installment loan does not make it a safe loan… It's important to understand that these loans typically don't function in the way they are advertised. They make promises of quick financial fixes but in reality they function as long-term debt traps."
Pros:
Claims to provide short-term loans ranging from $500 to $5K, with instant decisions and next business-day funding.
Added benefits such as Credit Score Plus and free Financial U courses.
Can pay off your loan within 5 days to avoid accruing interest and fees.
Cons:
Short-term loans such as these should only be used as a last resort in the event of an emergency.
Extremely high APRs, which might mean that you pay more in interest than your original loan amount.
Rise Credit loans are only available in 14 states.
Great

The process was fast and easy, no long wait time and you really get the funds you need with a flexible plan to pay back your loan.

I surely recommend Rise to anyone and everyone who are in need of financial help.

Bottom Line: Yes, I would recommend this to a friend

View all 1 comments

Hide comments

Jul 15, 2017

Thank you for taking the time to post about your experience with Rise and choosing us for your lending needs! Welcome to the Rise family! Please let us know if there is anything that we can help with regarding your Rise account.

Thank you,

Rise Credit

---

Loan payments

By

Craig Clancy

,

Milwaukee, WI

,

Jul 14, 2017
Verified Reviewer

I have been a customer with Rise and had a few loans taken out, which paid them back. But recently I took out another loan, which did help me, and I called to make another payment arrangement or an extension, and they couldn't do anything. I did explain that I just got laid off work and there's no money in my account, also had documents provoking that I'm laid off until mid-August, but still they did help me extend payment. I was trying to avoid payment coming back negative, but they said there is nothing they can do about it. I guess I'll have to wait and see now. Not happy when you're trying to work things out.

Bottom Line: No, I would not recommend this to a friend

View all 1 comments

Hide comments

Jul 15, 2017

We are very sorry to hear of your current situation. We would love to be of any help. Please give us a call at (866)-580-1226 so that we can set up a payment arrangement for you.

-Rise Credit

---

Advertisement

---

Great experience

I needed money to pay bills (car payment and utilities). I got behind with paying extra child support and with being out of work for a month. So I turned to rise and borrowed $1000. The process was smoothed and quick. I had my money in my account the next day. The interest rate was a little high, but I understand for this type of loan it has to be high. The website is very easy to use. It gives you all kinds of options for your payments.

Bottom Line: Yes, I would recommend this to a friend

View all 1 comments

Hide comments

Jul 10, 2017

Thank you very much for sharing your experience with Rise. We are happy that you had a pleasant experience. Please do not hesitate to let us know if there is anything further that we may be able to assist you with.

Sincerely,

Rise Credit

---

1 out 1 people found this review helpful

Fulfilled a need in desperation

By

A.D.

,

Alabama

,

Jul 10, 2017
Verified Reviewer

Rise came to the rescue when I was desperate for emergency money. The interest rate in insanely outrageous, but that's what happens when you get between a rock and a hard place.

It was a definite lifesaver, but I hope to use a different option in the future with more reasonable payments.

Bottom Line: No, I would not recommend this to a friend

View all 1 comments

Hide comments

Jul 10, 2017

We are happy that we were able to help! Welcome to the Rise family! Please let us know if we can be of any assistance in the future.

Rise is designed to provide you with funds at the best possible price and only if other forms of credit are not available or are more expensive. Prior to accepting funds, we present the terms and conditions with the entire cost if you were to carry the loan full term. We also offer a five full business day rescind guarantee in case you decide that a Rise loan is not right for you.

If you pay off your loan early, you will only pay interest and/or fees for the amount of time that your loan has been active.

Sincerely,

Rise Credit

---

Advertisement

---

Great experience

I wasn't too sure if this was a scam or the real thing, but it is safe to say that it is the real thing. I was approved and received my money within two business days. Customer service called the same morning to check that everything happened smoothly. This loan came at a perfect time when all the other big lending companies denied me because of my credit score, but last time I checked that is the reason I needed the loan to help re-establish my credit score that was suffering.

Bottom Line: Yes, I would recommend this to a friend

View all 1 comments

Hide comments

Jul 7, 2017

We are happy that we were able to help! Welcome to the Rise family. Please let us know if we can be of any assistance in the future.

Thank you,

Rise Credit

---

Appreciate help

Florence, South Carolina

,

Jul 7, 2017
Verified Reviewer

I appreciate the chance to build my credit back up and the financial help. I would recommend Rise to my family and friends. Their customer service is outstanding, polite, knowledgeable and professional.

Bottom Line: Yes, I would recommend this to a friend

View all 1 comments

Hide comments

Jul 17, 2017

Hi Serena,

Thank you for sharing your experience with us. We are delighted to hear you are happy with Rise. Welcome to the Rise family and thank you for coming to us for all your lending needs.

-Rise Credit

---

1 out 1 people found this review helpful

Simple, quick and easy to understand

By

Lyle P Hale

,

Highland, CA

,

Jul 6, 2017
Verified Reviewer

In a tight spot with needs for money now, the process was not intimidating or made me feel like a loser for needing a quick loan. I control the amount, the payment and the time frame of payments to suit my needs. I was pleased and impressed.

Bottom Line: Yes, I would recommend this to a friend

View all 1 comments

Hide comments

Jul 7, 2017

Thank you very much for sharing your experience with Rise. We are happy that you had a pleasant experience. Please do not hesitate to let us know if there is anything further that we may be able to assist you with.

Sincerely,

Rise Credit

---

Advertisement

---

2 out 2 people found this review helpful

Stress free

I got a loan, and it was stress-free. I have my loan in my bank account the next business day, and I'm so glad I got it from Rise Credit, and I don't think I would go anywhere else to get a loan. Again, great service people!

Bottom Line: Yes, I would recommend this to a friend

View all 1 comments

Hide comments

Jul 7, 2017

Thank you very much for sharing your experience with Rise. We are happy to hear that you had a pleasant experience. Please do not hesitate to let us know if there is anything further that we may be able to assist you with.

Sincerely,

Rise Credit

---

Loan experience

The application process was simple and response time was fast. All payments laid out in an orderly manner and explained well. Interest rate is high, but that's okay. It will help rebuild my credit.

Bottom Line: Yes, I would recommend this to a friend

View all 1 comments

Hide comments

Jul 5, 2017

Thank you very much for sharing your experience with Rise. We are happy to hear that you had a pleasant experience. Welcome to the Rise family!

Sincerely,

Rise Credit

---

2 out 2 people found this review helpful

Rise review

I was very satisfied with my experience. After I received a letter in the mail stating that I was pre-selected for a loan approval, I went online and submitted my application, and I was approved within minutes. My loan was deposited to my account the very next day. They really came through for me in a jam.

Thanks Rise.

Bottom Line: Yes, I would recommend this to a friend

View all 1 comments

Hide comments

Jun 30, 2017

Thank you very much for sharing your experience with Rise. We are happy that you had a pleasant experience. Please do not hesitate to let us know if there is anything further that we may be able to assist you with.

Sincerely,

Rise Credit.

---

Advertisement

---

2 out 2 people found this review helpful

Summary of experience

Santa Maria, CA

,

Jun 30, 2017
Verified Reviewer

I just applied for a loan with Rise Credit and though I had some problems, in the beginning, getting my application to go through the system, the staff at Rise Credit helped me through it all!

So I would say I had a pretty good experience and received the loan!

Bottom Line: Yes, I would recommend this to a friend

View all 1 comments

Hide comments

Jun 30, 2017

Thank you very much for sharing your experience with Rise. We are happy to hear that you had a pleasant experience. Please do not hesitate to let us know if there is anything that we may be able to assist you with.

Sincerely,

Rise Credit.

---