Rosland Capital Reviews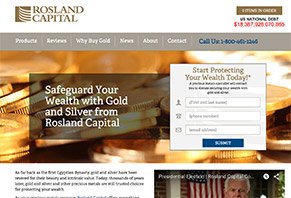 Rosland Capital helps you diversify your portfolio with gold, silver, and palladium numismatic coins and bullion, as well as precious metals-backed IRAs.
About Rosland Capital
Whether this is your first time investing or you're a seasoned pro, Rosland Capital is a precious metals asset firm that can help you plan for the future. How?
By helping you safeguard your financial assets with gold, silver, and other precious metals, as well as through precious metals-backed IRAs.
On top of this, Rosland Capital claims to offer high-quality customer service and helpful information, regardless of whether you're ready to buy or are just looking for some details.
You've got a lot of questions about Rosland Capital, and HighYa's here to help you find some answers. First, is investing in gold and other precious metals considered wise?
Is it Wise To Invest in Precious Metals?
According to Rosland Capital, "gold has stood the test of time as a reliable store of wealth, especially in unstable times." Is this actually the case?
While this is a vast subject, most financial professionals will tell you that your portfolio needs to be diversified, and one way to accomplish this is by purchasing gold and other precious metals.
Like any other investment vehicle, the price of precious metals can swing wildly based on factors you have no control over, such as the current political climate and the state of the stock market. Also like other investments, you stand to make the most money with gold when you purchase low and sell high.
Despite what many companies might like you to believe though, gold doesn't always increase in price.
In fact, as the US experienced after 1980, the price of gold can experience sharp run-ups, followed by decades of lackluster performance. So it's anything but a sure bet, and successful investing depends on your level of knowledge (we'll come back around to this in the final section).
How Can Rosland Capital Help You Invest in Precious Metals?
Rosland Capital focuses primarily on purchasing physical gold, silver, and palladium numismatic coins, as well as bullion bars. The company also claims to help with precious metals-backed IRAs, although as we'll discuss in a moment, this seems to be low on their priority list.
Numismatic Coins vs. Bullion
What's a numismatic coin? Compared to standard bullion, which is produced on a year-to-year basis, numismatic coins are no longer being manufactured, and as a result are considered collector's items.
Compared to bullion, which is priced at market value (depending on the metals it contains), numismatic coins can be priced much higher than their face value. On one hand this is good news for the investor, but on the other, the value can swing wildly based on what someone's willing to pay, versus where the current market price is set.
Physical Gold vs. Gold-Based ETFs
When investing in gold (for example), you'll typically have one of two options: 1) purchase the physical gold and store it wherever you'd like (as with Rosland Capital), or 2) through a gold-based ETF. What's the difference?
Ultimately, you're investing in the same thing, but gold-based ETFs can make it easier to liquidate if the time comes. On the downside, ETF gold can come with transition costs (e.g. expense ratios, broker commissions, etc.), although this is usually less than the purchase, storage, and insurance of physical gold.
You probably already noticed that there are dozens of precious metals companies out there, most of whom offer very similar (if not identical) services. How does Rosland Capital compare?
Rosland Capital's Online Investor Reputation
We've reviewed several of the most popular precious metals companies here at HighYa, including Lear Capital, Merit Gold, and Regal Assets, and Rosland Capital claims that they'll beat any competitor's price at any time. The company also claims that all of their orders ship in 10 days or less.
Is this what their customers are saying?
TrustLink.org
Based on 47 Rosland Capital customer reviews on TrustLink.org, the company had an average rating of 3.7-stars (as of 10/7/15). Most of these reviews referenced specific Rosland Capital representatives, and common complaints centered around rude customer service, failure to respond to requests for information, receiving different coins than what they thought they were buying, and high spread fees (one customer noted 33%).
Pro tip: Interestingly, many of TrustLink's 3-star reviews only included positive (some might even say glowing) information, which is odd, considering these reviewers didn't give the company 5 stars. In many instances, this could be a red flag for fake reviews.
ComplaintsList
There were also 7 customer reviews (along with dozens of comments from additional customers) for Rosland Capital listed on ComplaintsList. The included big misrepresentations, less-than-stellar customer service, long waits for refunds or cashing out accounts, and high-pressure sales tactics.
Finally, Gold IRA Buyer's Guide gave Rosland Capital a 4 out of 10, and noted that the company seemed to focus "on coins over bullion, when bullion is the superior investment option for IRAs in most cases."
Better Business Bureau Feedback
Rosland Capital was founded in 2005 by Marin Aleksov, and had an A+ Better Business Bureau rating at the time of our research, based on 14 closed complaints.
Common complaints referenced being overcharged for coins, inflated prices over market value (sometimes as much as 65%), long delays in receiving coins (or money for selling coins to the company), and not receiving the coins they ordered.
Where does all of this leave you?
Is Rosland Capital the Right Precious Metals Company for You?
Rosland Capital has been in business for more than a decade, and overall, seems to have a mostly positive online customer reputation. And based on their website, they also seem focused on providing prospective investors with as much information as possible.
However, this doesn't mean that investing in precious metals—whether through Rosland Capital or another company—is right for you. In order to figure this out, it's up to you to speak with your financial planner and to learn as much as gold and other precious metals as possible.
Otherwise, you might find that you call Rosland Capital for some information, but walk away purchasing something that's not necessarily right for you.