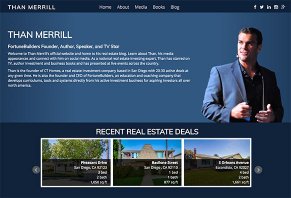 As the founder of FortuneBuilders and a prolific author, Than Merrill can help you launch your real estate investing business and achieve your financial goals.
About Than Merrill
Nathaniel "Than" Merrill has worn many hats in his 37 years. This includes Yale student, NFL team member for the Tampa Bay Buccaneers and Chicago Bears, and founder of CT Homes, LLC and Grand Coast Capital, a real estate brokerage and investment fund.
As if this wasn't enough, Than Merrill is author of popular investing books The Real Estate Wholesaling Bible and The E-Myth Real Estate Investor. He's also passionate about philanthropy, having founded the Equal Footing Foundation, FortuneBuilders Gives, and Future FortuneBuilders.
But perhaps more than anything else, Than is best known for his role as founder of FortuneBuilders, a "premier real estate education company" that helps their students build wealth through buying and selling real estate (we'll talk more about this in a second). In fact, it was Than's experience with FortuneBuilders that landed him a spot on the last three seasons of A&E's hit show Flip This House.
Despite his well-known name and TV stardom, does this mean you can trust his advice? Let's begin by talking more about Than's flagship company.
Than Merrill & FortuneBuilders
If you're even remotely interested in real estate investing, you've almost certainly encountered ads for seminars that claim to teach you various tricks of the trade, including sourcing properties, funding your purchases, how to get the highest ROI, and much more.
We've even reviewed many of these "flipping" seminar programs here on HighYa, including Scott Yancey, Flip with Nick, The Flipping Formula, Armando Montelongo, and of course FortuneBuilders (remember these, because we'll come back around to them).
Fun fact: Did you know that every one of these "gurus" also got their start on an A&E real estate-related program? It's true!
Much like all of these other programs, Than Merrill's FortuneBuilders works using the following process:
Step 1: The Free Event
You'll initially attend a free 2-3 hour event that promises to unveil some helpful information to get your real estate career off the ground, without leaving your local area. This includes sourcing income-producing properties, financing the purchase (usually using other people's money), and networking with other local investors.
You'll generally be enticed with some freebies as well, which at the time of our research, included a Money Resource Guide and a VIP Success Package (more of Than's e-books) with a total value of $300.
According to Than, this is the same system he currently uses, and is also the one that's helped him build his wealth.
Step 2: The First Upsell
During this free event, the seminar's host will attempt to convince you to sign for a 3 or 4-day event where you'll learn even more information. The price for this event is usually pretty low (somewhere around $200).
Often, it's the case that more time will be spent in these free events convincing you to sign up for the next "level" than they will teaching you any actionable information.
Step 3: Your First Paid Event
Overall, many previous clients have agreed that the information you'll encounter in the paid event is worthwhile (we'll discuss this in depth in the next section), but you'll definitely be exposed to a lot more upselling—this time convincing you to sign up for their Mastery Program.
The FortuneBuilders team might also spend a fair amount of time during this event convincing you to increase your credit card limits. Why would they want you to do that?
Step 4: The FortuneBuilders Mastery Program
For the low price of $25K, you can joint FortuneBuilders' Mastery Program, which claims to provide one-on-one coaching for investors who are really looking to take their careers to the next level.
Granted, whether you're paying a couple hundred dollars or several thousand, it could be worthwhile if you'll learn tips and techniques that can bring in more money. But is this what Than Merrill's clients are finding, or are they feeling duped?
Than Merrill's Client Feedback
Before digging in here, it's important to note that Than doesn't attend most of the live events bearing his name (we think the number's probably closer to zero). In fact, the FortuneBuilders website specifically notes, "Than Merrill is not able to attend all live events, however he has experienced trainers teach his systems, strategies, and investment techniques."
As such, the feedback here is less about Than Merrill as an individual than it is about his companies (mostly FortuneBuilders).
If you type the phrase "Than Merrill review" or "FortuneBuilders review" into your favorite search engine, you'll find that you'll receive thousands of hits.
There's a lot of discussion about Than and FortuneBuilders on the BiggerPockets forum (see here and here as a couple of lengthier examples). Overall, there seems to be mixed feedback about how much value you'll get out of some of the higher-priced programs, but many seem to think the $200 seminar can be a great introduction to the industry if you're a newbie.
However, if you're an intermediate or advanced investor, it's likely you already know much of what will be covered.
On Yelp, FortuneBuilders had an average rating of 3.5 stars based on 41 reader reviews (as of 11/11/15). There, the most common compliment cited valuable information that can successfully launch your career. On the other hand, many customers complained about hard-selling tactics during seminars, ultra-high prices, and that much of the same information can be found elsewhere for free.
On Amazon, Than Merrill's The Real Estate Wholesaling Bible had an average rating of 4.5 stars at the time of our research, and The E-Myth Real Estate Investor had a 5-star average rating.
Obviously, a lot of people seemed to have enjoyed Than's books, although it's important to note than many of his 5-star reviews came from accounts where this was their only review (or, where most reviews were posted within a short time of one another), which is often a sign that they could be fake.
Finally, Than Merrill's FortuneBuilders and CT Homes LLC had A+ Better Business Bureau ratings at the time of our research, which just 13 and zero closed complaints, respectively.
There, common complaints matched most of what we found elsewhere online, including high-pressure sales tactics and providing little value for the money.
So, when it comes to Than Merrill, his companies, and his products, where does this leave you?
Should You Trust Than Merrill with Your Money?
Like mastering any kind of new skill, dialing in your real estate investing "chops" takes a lot of learning, whether this involves books, attending seminars, finding a mentor, or just getting out there in the real world and learning as you go along.
From this perspective, there's no doubt that Than Merrill's products and services can add to your knowledgebase and further your investing career. But ultimately, it comes down to a question of value.
Are you a complete newbie with no idea where to turn for help? Then—at least according to online customer feedback—Than Merrill's books and FortuneBuilders seminars might be of immense help and could point you in the right direction. So, regardless of how much you pay, they might provide great value.
Important note: This is in stark contrast with many other seminar-based programs we mentioned above, which most customers agree provide very little value. In fact, it could probably be argued that Than Merrill's FortuneBuilders often gets lumped in with these other seminars, since they use many of the same sales tactics.
Despite this distinction, you should recognize that much of what you'll learn through FortuneBuilders isn't necessarily groundbreaking or unique, and that you might be able to learn much of the same information through books (although this will certainly take more time and patience on your part).
Bottom line: If you're a real estate investing newbie and can stand the high-pressure sales tactics, you could learn some useful information from Than Merrill and FortuneBuilders.
But if you have the drive and patience, you might be able to locate a mentor at your local REI club, who could teach you much of the same information, but without the steep prices and constant upselling.
1 out 5 people found this review helpful

Great and exciting workshop

By

M Smith

,

Chicago, IL

,

Mar 14, 2017

I attended a Fortune Builders 3-day workshop in the Chicago area on January 13th to 15th in 2017.

Sean McNicholas (Seannie Mac) our speaker gave a great and exciting workshop, and I'm glad I came. I learn so much that weekend then I did at any real estate seminars and workshop I have attended in the past. Like Carlton Sheets and many more; you name them, I was there. When I first heard about Fortune Builders, I wasn't sure, but my heart and my feelings told me to go.

This feels real, and I'm proud to say that the small investment was worth it and I'm looking forward to moving ahead. Thank you Seannie Mac for delivering a great, wonderful, and knowledgeable weekend. You will be hearing from me.

Bottom Line: Yes, I would recommend this to a friend

---

129 out 135 people found this review helpful

This is a BIG FAT SCAM!

My boyfriend, his Dad and I went to this event thinking we were actually going to learn something about flipping houses. Unfortunately, they just get you all hyped up and excited about the next step, which will cost you a little under $200.00 each.

We signed up for a three-day workshop. Then after doing some research, we found out that the next phase would cost each of us thousands of dollars if we really wanted to find out how to flip houses. By the way, no one will see Than.

Bottom Line: No, I would not recommend this to a friend

View all 1 comments

Hide comments

Jan 4, 2017

Hi there.

Listen, I completely agree with your review! I went to the seminar of Armando Montelongo one time. These people did the same exact thing, they try to convince you to go to their crappy, boring seminar, and then they try to sell you something. You should read my review on Yelp and see what my experience was like with these "good for nothing" con artists. They should be investigated because they are advertising the seminars to make huge financial negotiations on the public. I also think those people being interviewed in their commercial show are actors.

---

Advertisement

---