145 Scam Hacks E-book Reviews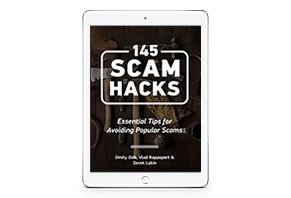 HighYa's 145 Scam Hacks e-book helps you avoid scams and become a more informed consumer using quick, easy, and informative tips and tricks.
About 145 Scam Hacks E-book
Originally published in November 2015, 145 Scam Hacks: Essential Tips for Avoiding Popular Scams outlines unique, actionable methods you can use to spot scams and avoid becoming a victim.
All you'll need to do is enter your email address—which also signs you up for HighYa's weekly e-newsletter—and you'll be able to immediately download your copy.
Across 70 pages and 19 different scam categories, 145 Scam Hacks e-book walks you through everything from online shopping trickery to social media scams, all aimed at helping you become a "professional shopper." After all, as the authors state in the e-book, they believe that the "best way to fight back is by arming yourself with as much information as possible."
Will you really get all the information you need to avoid scams from HighYa's 145 Scam Hacks e-book? Is it worth giving up your email address? We created this page to help you answer these important questions.
What Kinds of Tips Will You Find in 145 Scam Hacks?
Designed to be brief but immensely useful, HighYa's 145 Scam Hacks covers 19 different categories of scams and provides anywhere between 2-17 tips per category. Here's a quick overview of what you'll learn in each section:
1. Anti-Aging – Sales techniques and business practices to be wary of. Are celebrity endorsements meaningful? Which claims to watch out for, and how to verify their accuracy.
2. As Seen on TV & Infomercial Products – How to verify the quality of customer service before placing your order. Basic concepts that you should understand to maximize your satisfaction. More business practices you should watch out for.
3. Scholarships & Financial Aid – Don't hand over money to obtain any scholarship, and be very careful who you share your personal information with.
4. Distance Education – Check a school's reputation (especially among employers) before enrolling, and understand you'll probably pay a lot for the convenience, compared to the same program at traditional colleges.
5. School Fundraising – How to deflect high-pressure sales tactics and which questions to ask.
6. Employment – Which options could be legit and what to do before giving out your personal information.
7. Online Identify Theft – The software you need to stay safe, how to handle your email, and the top red flags indicating you could be dealing with a scammer.
8. Real-World Identity Theft – How crooks get ahold of your personal information and resources you can use for help.
9. Online Dating – Recognizing how emotion can affect your decision-making, how to identify potential scams, and what to do if things are moving too fast.
10. Facebook & Social Media – One of the top Facebook scams you're likely to encounter, how your computer can download a virus from social media, and how to avoid these scams in the first place.
11. Auto Insurance – What you should do if you're involved in an accident to avoid being scammed, red flags you should be wary of.
12. Homeowner's Insurance – The homeowner's insurance scam you're most likely to encounter, methods you can use to minimize your chances of being scammed.
13. Medical/Health Care Insurance – What things you should do to avoid falling victim to a medical or health care insurance scam.
14. Nutritional Supplements – How to critically examine clinical evidence, key traits to look for when purchasing a supplement.
15. Online Shopping – How to verify if your connection is secure, what you should do if you receive an unknown email, and what to think about free trials and autoship programs.
16. Online Investment "Opportunities" – Can you expect high returns? What to do if you're approached about an "opportunity."
17. Fake Websites – How to identify a potentially fake website and which red flags to watch out for.
18. Summer – Popular summer scams and how to identify/avoid them.
19. Tax Season – Inflated refunds, information sharing, and what to do with your personal documents.
Finally, 145 Scam Hacks wraps up by discussing what you should do if you've been scammed.
Who Wrote 145 Scam Hacks?
In order to become an expert on a consumer-related topic, it can take thousands of hours of experience researching every imaginable aspect, while making sure you have a well-rounded understanding of all the different nuances. Is this what the HighYa team boasts?
The e-book is co-authored by HighYa's co-founders, Dmitry Ozik and Vlad Rappaport, and Derek Lakin, HighYa's senior product analyst.
Regarding HighYa itself, the company/website has been in existence since 2013, is based out of Bellevue, WA, and (at least part of their work) is focused on collecting genuine customer reviews. To this extent, as of writing, the HighYa team has garnered over 47,000 individual reviews gleaned from 2,000+ editorial reviews, published 500+ in-depth guides and articles, and hosts 2 million+ monthly readers.
Taken together, the HighYa team is able to identify patterns and better understand various scams across many different industries, including Finance, Health, Beauty, Technology, Travel, and many more.
Are There Other Free E-Books Like145 Scam Hacks?
Are the other e-books that cover the exact same material, from the exact same perspective, as 145 Scam Hacks? Not that we could find. Could you get much of the same information for free, directly on HighYa.com? Probably so, but it would take you a lot longer—with a ton more reading involved—instead of quickly skimming through 145 Scam Hacks.
Ultimately, it's difficult to beat free, especially when the HighYa team clearly has years of experience investigating scams and reviewing a variety of popular products. We'll also never share your email, so you won't have to worry about being bombarded with spam just for going the extra mile and trying to stay scam-free.
Should You Download HighYa's 145 Scam Hacks E-Book?
We already talked about the authors' qualifications, but we should also mention that the HighYa team is genuinely interested in helping others shop smarter and avoid scams (it's our motto, after all).
Is 145 Scam Hacks the end-all, be-all reference for avoiding common consumer scams? Probably not. But then again, we don't claim that's what you'll get. Instead, we think the e-book is ideal for anyone who wants to get a quick bird's eye view of popular consumer scams and tactics used by the people and companies who perpetrate them. In other words, it's intended to help you become more aware.
As such, it might be ideal to read the book in a single sitting and then referenced as needed—which is why the e-book is split into easily accessible sections.
In short, HighYa's 145 Scam Hacks e-book is intended to be used as a field guide to help you navigate the murky waters of online shopping.
» Check Out Our Other Book: Your Complete Online Safety Handbook Review
You save me money and grief!

By Donald B.

,

Danville, VA

,

Jan 11, 2019
Verified Reviewer

I saw an ad on TV for an appliance that I thought could be useful to me. Before I made a purchase, I stumbled across your website and I am glad I did and grateful to you for your information. Thank you HighYa, you did good.

Bottom Line: Yes, I would recommend this to a friend

---

1 out 2 people found this review helpful

Wish I had read 145 Scam Hacks before becoming a victim

By Doris L.

,

Stratford, Ontario, Canada

,

Jun 12, 2018
Verified Reviewer

The information contained in this book would have prevented me from my current situation with Brainiacs' faulty return service. I purchased a backpack as a gift from their site. Everything was great (i.e. the website, the payment site, the delivery, the product) until the recipient decided the backpack was too small for his needs.

Brainiacs customer service replied immediately with a return form and instructions. However, the item was to be returned to a China address (the website lists only a U.S.A. address) and needed to be tracked.

I complied with all the instructions except the tracking. It would cost a little over $80 CDN to track the package for which I already had paid $99.95 CDN. My mistake was to trust the postal service and Brainiacs by paying $22.27 for regular postage. It was to take 5 -6 weeks to ship. I notified Brainiacs customer service of what I had done.

After 8 weeks, I have emailed them repeatedly to see when I can expect my refund, but have not had a response from them.

I live in Canada. The advise in the book, 145 Scam Hacks, applies to U.S. residents. I do not know if the Canadian police care about a small issue such as mine.

Bottom Line: Yes, I would recommend this to a friend

---

Advertisement

---

Need to know info!

By Mildred G.

,

North Carolina

,

May 23, 2018
Verified Reviewer

From "As Seen on TV" scams to scholarships and financial aid scams, to distance education scams, school fundraising scams, employment scams, online identity theft, online dating scams, Facebook and social media scams, auto insurance scams, homeowner's insurance scams, medical and healthcare insurance scams, nutritional supplement scams, online shopping scams, online investment opportunities, and more, this is an essential tool! Great information to help navigate through all the fraud, thanks!

Bottom Line: Yes, I would recommend this to a friend

---

1 out 1 people found this review helpful

Great eye opener

By Geo

,

New Brunswick, Canada

,

Nov 4, 2017
Verified Reviewer

Some very easy to practice scam elimination techniques. It really gets one thinking about how many ways you can be preyed upon by criminals.

I find it very informative and well presented. Good resource to help not be victimized by others.

Bottom Line: Yes, I would recommend this to a friend

---

Advertisement

---

1 out 1 people found this review helpful

IRS debt, phone scam

By Martha Melgar

,

Los Angeles, CA

,

Jul 21, 2017
Verified Reviewer

I am learning a lot from this book, thanks. Since 2008 someone has been trying to rip me through the internet. The first time was a man who supposedly wanted to marry me. I fell in love for several months, and when he thought that I had already grasped the idea, he asked me to change a check in the bank or that I deposited it in my personal account and then said when you do, send me $600 by Western Union after. It is already history, but fortunately, I realized in time and the plans of the thief.

Bottom Line: Yes, I would recommend this to a friend

---

1 out 1 people found this review helpful

Best scam-type document I have read

By Gene Sechrest

,

Versailles, Indiana

,

Feb 9, 2017
Verified Reviewer

Everyone who old enough to read in the United States should read this document. And I do mean even the scammers, as it might even cause some of them to look for honest employment.

Bottom Line: Yes, I would recommend this to a friend

---

Great know

Very interesting and great know about the false selling of products.

Bottom Line: Yes, I would recommend this to a friend

---

Very important information

By Alli

,

Jan 25, 2017
Verified Reviewer

I would recommend every internet user to join HighYa for their own benefit, and for HighYa's tremendously priceless information for your own protection!

Bottom Line: Yes, I would recommend this to a friend

---

3 out 3 people found this review helpful

Satisfied

By Ken Adams

,

St. Joseph, MO

,

Dec 16, 2016
Verified Reviewer

My experience so far has been very rewarding. I have learned things to look for so that I won't be a victim. I would recommend this book to my friends.

Bottom Line: Yes, I would recommend this to a friend

---

1 out 1 people found this review helpful

Awesome

By Bryan Long

,

Hampton, VA

,

Sep 30, 2016
Verified Reviewer

Very informative. Saved my butt, I was getting ready to get into something that I did not want to end up in.

Bottom Line: Yes, I would recommend this to a friend

---

1 out 1 people found this review helpful

Great book

A lot of scam hacks to be aware of and never get scammed again.

Bottom Line: Yes, I would recommend this to a friend

---