1MD EasyFlex Reviews
Claimed This company has claimed this profile, is getting alerted on any new customer reviews entering this page, and may engage in dialogue with its customers to address their matters.

Companies cannot pay money or provide goods in order to remove or alter customer reviews.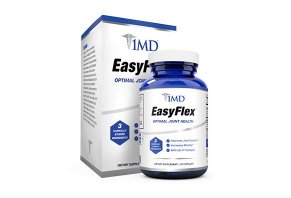 Using a three-ingredient formulation of curcumin, Boswellia Serrata, and UC-II standardized cartilage, 1MD EasyFlex claims to help you find joint pain relief.
About 1MD EasyFlex
1MD EasyFlex is a dietary supplement that promises to deliver a revolutionary blend of ingredients to help optimize joint health, relieve discomfort, and improve body-wide mobility.
These include proprietary, clinically researched options like Longvida Optimized Curcumin, WokVel Boswellia Serrata, and UC-II brand collagen. The website indicates the formula is also free from GMO ingredients, as well as gluten, dairy, sugar, soy, and preservatives.
Together, we're told that EasyFlex can help you enjoy life again, whether you experience pain and discomfort in your hands, feet, knees, hips, or all of the above.
But, is this what you might realistically expect based on the available clinical evidence? Let's start with some quick basics, which we can use to answer your important questions.
Joint Pain 101: The Basics
The fact of the matter is that like pain anywhere else on the body, joint discomfort and other issues can stem from hundreds of potential causes. The Mayo Clinic tells us that common ones include:
Osteoarthritis – A disease that causes the breakdown of joint material.
Necrosis – Death of tissue as a result of limited (or a complete loss of) blood flow.
Gout – Joint inflammation related to the excess buildup of uric acid.
Other possible causes include leukemia, lupus, Lyme disease, sprains and strains, and other forms of arthritis (e.g., gonococcal, psoriatic, reactive, rheumatoid, septic, etc.).
As you might imagine, this means that before taking any dietary supplement related to joint pain (1MD EasyFlex or otherwise), you'll want to have an in-depth conversation with your doctor. They'll start by asking questions and then ordering appropriate tests, which will help formulate an official diagnosis.
From there, they can recommend science-backed options that might deliver improved relief based on your specific circumstances.
With these high-level details in mind, let's zoom in on EasyFlex's formulation and find out what the clinical evidence has to say about its effectiveness.
Taking a Closer Look at 1MD EasyFlex's Ingredients
According to the supplement facts label listed on the 1MD website, EasyFlex contains the following ingredients:
LongVida Optimized Curcumin Extract 400 mg
WokVel (Boswellia Serrata) 666 mg
UC-II Standardized Cartilage 40 mg
The bottom line is that medical professionals don't staff HighYa. As a result, when reporting whether or not an ingredient is considered 'effective' for a claim, we rely on the clinical evidence summarizations provided by sites like the Natural Medicines Database, WebMD, and Examine.com.
With this said, they indicate that taking between 1,000 mg to 2,000 mg of turmeric per day (whether part of EasyFlex or another dietary supplement) is 'possibly effective' for reducing osteoarthritis pain about as well as ibuprofen. However, they emphasize it didn't seem to work as well as prescription medications like diclofenac.
Some studies have also shown that between 100 mg and 333 mg of Boswellia Serrata (commonly known as Indian Frankincense) per day can decrease joint pain in those with osteoarthritis by 32% to 65%, as well as improve mobility.
Cartilage contains high levels of collagen, a structural protein often concentrated in joint tissues. However, these same sites indicate there's insufficient clinical evidence that supplementation can provide any joint-related benefits in humans.
Related: Do Anti-Aging Collagen Supplements Really Work for Your Skin?
Potential Side Effects Related to EasyFlex's Ingredients
WebMD and the Natural Medicines Database also report that the turmeric and Indian Frankincense in supplements like 1MD's EasyFlex often doesn't cause side effects, but when it does, it can lead to general digestive upset and diarrhea (no dosages or other specifics provided).
How Much Does 1MD EasyFlex Cost & Where Can You Buy?
If purchased directly from 1MD's main website, each bottle of EasyFlex will cost you:
1 Bottle (60 capsules): $69.95
3 Bottles: $ ($66.65 each)
6 Bottles: $ ($65.83 each)
Single bottle customers will pay a flat $5.95 S&H fee, while this is free for three- and- six-bottle orders.
On a standalone website, we encountered a separate free trial offer for EasyFlex, which involved paying $4.95 S&H for a 15-day supply. 16 days following your order, you'll be enrolled in 1MD's subscription program, where you'll receive one bottle of EasyFlex per month and charged $69.95 each time.
Related: Winning the Battle Against Sciatica & Chronic Back Pain
All 1MD supplements come with a 90-day money back guarantee, less S&H, which you can request by reaching out to support at (888) 393-4030. They'll also cancel your subscription, if necessary.
1MD EasyFlex vs. the Competition
While we didn't encounter any overarching joint pain statistics during our research, the Centers for Disease Control and Prevention (CDC) reports that approximately 23% of the population has been diagnosed with some form of arthritis, which is the leading cause of joint pain.
As a result, it might not come as much of a surprise that there are perhaps hundreds (maybe even thousands) of joint pain dietary supplement formulations in the same market as 1MD's EasyFlex. In fact, even if you completely avoid online options, most drug stores and big-box retailers carry at least a handful of related formulations.
There were so many options that even searching online and narrowing our options only to supplements containing LongVida Optimized Curcumin, WokVel Boswellia Serrata, and UC-II Standardized Cartilage, we found several meaningfully similar competitors, including:
| | | |
| --- | --- | --- |
| Brand | Price | Formulation |
| 1MD EasyFlex | $69.95 (60 capsules) | LongVida Optimized Curcumin Extract (400 mg), WokVel Boswellia Serrata (666 mg), UC-II Standardized Cartilage (40 mg) |
| ProHealth Optimized Curcumin Body & Joint | $26 (60 capsules) | WokVel Boswellia Serrata (666 mg), LongVida Optimized Curcumin Extract (400 mg) |
| Mdrive Joint | $29 (30 capsules) | UC-II Standardized Collagen (40 mg), Sodium Hyaluronate (20 mg), Boswellia Serrata (230 mg), Bromelain (210 mg), Turmeric Extract (110 mg) |
| Opus Pure | $20 (30 capsules) | Glucosamine Sulfate (300 mg), Boswellia Extract (100 mg), Turmeric Extract (100 mg), UC-II (20 mg), Hyaluronic Acid (10 mg), OligoPin (5 mg) |
This is to say nothing of other popular joint pain supplements like Whole Body Joint Stimuflex ($40) and InstaFlex Advanced ($56).
Not to sound like a broken record, but figuring out where your money is best spent when addressing your pain should begin with an in-depth conversation with your doctor. If they recommend pursuing a supplement with ingredients similar to 1MD EasyFlex, after writing about hundreds of options over the years, we'd recommend only doing business with companies who:
Provide peer-reviewed, double-blind, placebo-controlled clinical evidence to support their claims of effectiveness
Offer at least 30-day refund policies (used or not), with no restocking fees
Come with mostly positive online customer feedback
Does all of this look good when viewed through the lens of 1MD EasyFlex?
Our Final Conclusions About 1MD EasyFlex
While many of the general ingredients (including the proprietary versions) found in the EasyFlex supplement have clinical support indicating they're possibly useful for addressing some joint-related concerns, 1MD doesn't offer support for their specific formulation, at least non that we were able to locate ourselves at the time of the research.
In fact, as we can see from the table in the previous section, it's our opinion that their formula doesn't appear to be necessarily unique, and they're also at the upper end of the price spectrum compared to the competition.
On the other hand, as a company, 1MD seemed to come with almost wholly positive online customer feedback at the time of our research, and they stand behind EasyFlex (along with all of their other supplements) with a 90-day money back guarantee.
Just remember that you'll have to pay to ship your bottle(s) back to the manufacturer if you're not satisfied with its joint pain-reducing power.