1Sale Reviews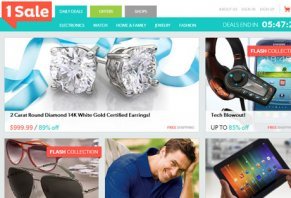 1Sale is an online retailer that claims to offer some of the biggest discounts on brand name items across different categories, including electronics, jewelry, fashion, and more.
About 1Sale
By offering customers products at "far greater discount than anywhere else," 1Sale is an online shopping destination that claims to provide "the absolute lowest prices on the items consumers truly want and need."
In fact, the company claims to have saved their customers more than $2 billion over the past 6 years and to have more than 500,000 visitors each day.
1Sale was founded by in 2007 by Ben Federman, and is operated by 1SaleADay, LLC, which shows 2 locations through the Better Business Bureau: One in Brooklyn, NY with a D- rating and more than 400 closed complaints, and another in Miami, FL, with a C rating and nearly 1,000 closed complaints.
With this in mind, most customer complaints appear to reference defective/incorrect items, non-delivery of products, and failure to honor their refund policy.
Outside of the Better Business Bureau, online customer reviews appear to be primarily negative, with poor customer service, extremely long shipping times, and defective items/items that were in poor condition ranking as the top complaints.
How 1Sale Works
1Sale claims to offer big savings on a wide variety of products across five different categories, including:
Electronics – TV & Home Theater, Computers & Tablets, Audio & Gaming, and more.
Home & Family – Kitchen & Dining, Sports & Outdoors, and more.
Watches – Hundreds of designs of Men's & Women's watches.
Jewelry – Rings, Earrings, Bracelets, and more.
Fashion – Men's, Women's, & Children's Apparel, Footwear, Sunglasses, and more.
Whichever items you're looking for, 1Sale offers them in three different selling formats:
Top Sellers and Hot Deals, which run until stocks are depleted.
Daily Deals, which begin at 12am ET and run for 24 hours. If an item is especially popular, it may reappear at a later date.
Sell Offs, which "feature a new deal every 30 minutes for 30 minutes."
If you find an item you like, simply add it to your cart and complete the checkout process. However, keep in mind that products sold through 1Sale are either new or refurbished, which, along with any applicable warranties, will be specifically stated under the item's specs.
Also, if you like to shop on the go, 1Sale offers Android and iDevice apps, which are free to download.
1Sale Pricing and Refund Policy
Because products sold through 1Sale cover a wide variety of categories, pricing can range from just a few dollars, to several hundred. However, all products sold through the website include free UPS shipping.
While 1Sale claims to have a satisfaction guarantee, we learned that refunds are only available for defective items, which must be returned within 21 days. In order to begin the refund process, you'll need to contact customer service and obtain a Return Merchandise Authorization (RMA) number.
Pros:
Claims to offer great deals on a variety of items across five different categories.
According to several reviews, 1Sale may even lose money on some items in order to build a "buzz."
Free UPS shipping on all orders.
Cons:
1-3 day response time for customer support requests, and numerous complaints of poor customer service.
Extremely long shipping times.
Refunds only available on defective items.
The Bottom Line
While 1Sale claims to be actively addressing many of its customers' concerns, the company appears to have an extremely poor online reputation. Here's why:
First, in the promotional video on the company's About page, it's explained that 1Sale attempts to keep as few products on hand as possible. While this may help the company's bottom line, it appears to result in extraordinarily long shipping times—often as long as 4-6 weeks.
On top of this, in the event that something goes wrong with your order, there is no phone number available to speak with customer support. Instead, there is only an email address, which the company admits will take anywhere from 1-3 days for you to receive a response.
Next, we read countless complaints during our research that claimed items received were in poor condition, and/or were not the same items that were originally advertised on the company's website. To add insult to injury, when customers contacted the company to request a refund, they were often told their return would be subject to a 25% restocking fee.
Bottom line: If you plan on ordering an item from 1Sale, keep in mind that even though you may score a great deal, it might end up causing far more frustration than it's worth.
2 out 2 people found this review helpful

Ordered designer glasses from 1Sale

I haven't ordered from 1Sale in a while and recently saw a good deal on a pair of designer sunglasses. Everything went very well, the glasses shipped fast and arrived in good shape. Thank you 1Sale for the deals.

Bottom Line: Yes, I would recommend this to a friend

---

2 out 2 people found this review helpful

Great stuff!

By Phil P.

,

Omah, NE

,

May 25, 2018
Verified Reviewer

I love the products and prices! Shipping was very fast too. All around a great place to shop! Every day I get emails with pictures that catch my interests. I'm not saying I buy things every day, but I do take the time to investigate whether there is anything I need or want to purchase as a gift. Plenty of gift ideas and the prices are amazing. Shipping and reconciliation of items that need to be returned are handled very well, and the communication is top notch. I have never had a bad experience and feel valued to be sure. Great job and keep up the good work!

Bottom Line: Yes, I would recommend this to a friend

---

Advertisement

---

1 out 3 people found this review helpful

Poor service

By N Krishna

,

San Jose, CA

,

Jul 9, 2015

I was a big fan in 2012/13, but in 2014, emails would take long to respond and very often stock replies. When their so called rebate card for $20 expired, I requested an extension as CA law specifies that gift cards cannot expire. After many emails, I gave up. Having been a long time customer, I was frustrated. Guess what, I bought nearly $1000 from their competitors - DailySteals. And all my friends and family were all warned.

Bottom Line: No, I would not recommend this to a friend

---

1 out 1 people found this review helpful

All lights worked perfectly

By Ken A.

,

Sault Ste. Marie, MI

,

Nov 12, 2018
Verified Reviewer

All the lights worked perfectly, and all the light adapters worked as well. I am very pleased with the brightness of the lights.

I recommended them to my family members, and they have ordered them as well. I am just waiting for a power outage now.

Thanks.

Bottom Line: Yes, I would recommend this to a friend

---

Advertisement

---

0 out 3 people found this review helpful

Customer service is excellent, however, I am disappointed

By Tanjay H.

,

Windsor Mill, MD

,

May 27, 2018
Verified Reviewer

The service is excellent. My package was received timely. However, I was disappointed when I unpackage my order.

The quality of the glasses was not very appealing to me. I am bit disappointed. I have gotten better quality for the amount spent. I am not sure if I will be willing to take a chance with the merchandise in the future.

Bottom Line: No, I would not recommend this to a friend

---

Extra plug

By David W.

,

West Virginia

,

Sep 10, 2018
Verified Reviewer

I ordered the 6-plug and 2-USB plug for my bedroom. It is exactly what I need for behind my bed and adds four extra outlets plus the 2-USB plugs. The price was cheaper than any other I found. Delivery was quick and packaged well.

Bottom Line: Yes, I would recommend this to a friend

---

Would buy again

By Carol L.

,

North Carolina

,

Sep 25, 2018
Verified Reviewer

I am pleased with my order. It was sent in a speedy time frame. The price was just what my budget needed. My glasses needed a more updated version of today's busy and stylish eyewear.

Bottom Line: Yes, I would recommend this to a friend

---

Didn't ship what I ordered

By Mike T.

,

Pennsylvania

,

Oct 1, 2018
Verified Reviewer

This is the last time I'm using these guys. They shipped an entirely different product that now I had to go spend the time to ship back. One would assume with ONLINE ordering, they would at least ship the right product. I assume they will ship a replacement while they have my money.

Bottom Line: No, I would not recommend this to a friend

---

Ray-Ban sunglasses

By David R.

,

Texas

,

Nov 1, 2018
Verified Reviewer

Great price and shipment, it went out the next day as promised but was delayed two days from Post Office, but that's not 1Sale's fault. This is the third time I have bought from them and will continue to. Great prices and service.

Bottom Line: Yes, I would recommend this to a friend

---

Nice socks

By Dean P.

,

Oregon

,

Nov 6, 2018
Verified Reviewer

Nice socks! However, a bit misleading sale! I read 16 pairs, not knowing that it was only 8 pairs. I didn't know pairs is one sock! My bad?

Bottom Line: No, I would not recommend this to a friend

---

Great experience

By Jessica B.

,

Green Cove Springs, FL

,

Nov 8, 2018
Verified Reviewer

My item was swiftly delivered within a few days. The item arrived just as described in listing with ample packing to protect it.

It was a smooth transaction. I would definitely recommend using 1Sale.com.

Bottom Line: Yes, I would recommend this to a friend

---