21 Day Fix Reviews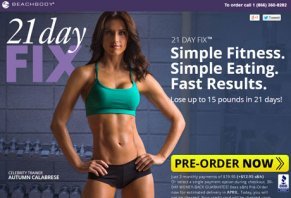 21 Day Fix is an exercise program that claims to help you lose up to 15 pounds in 21 days, using only one daily 30-minute workout, as well as proper portion control.
About 21 Day Fix
Hosted by fitness expert Autumn Calabrese, 21 Day Fix is a new workout program that claims that "achieving your fitness and weight-loss goals has never been faster—or simpler," and that it's "a better way to lose weight." In fact, the program is claimed to help you lose up to 15 pounds in 21 days using just one 30-minute workout per day, in addition to healthy portion control.
Day Fix is produced by Beachbody, LLC, based out of Santa Monica, CA. The company holds an A+ rating with the Better Business Bureau, with a total of nearly 100 closed complaints over the past three years, most of which appear related to billing issues. However, since the 21 Day Fix program doesn't release until April 2013, as of the time of this writing, online reviews were limited to bloggers who received advanced copies of the program. With this said, these reviews appeared to be primarily positive, with no common complaints.
How 21 Day Fix Works
According to the product's website, most diets don't work because you get tired of watching what you eat and spending hours in the gym. Instead, 21 Day Fix is a workout program that claims to help "break the cycle" by providing portion control and one 30-minute workout per day. In addition, the program can be used by men and women of any age, regardless of their current fitness level.
As such, the 21 Day Fix program includes 6 workouts across 2 DVDs:
Total Body Cardio Fix – Helps increase your heart rate and metabolism, even after you've completed the workout.
Upper Fix – Resistance training to help "shape your chest, back, shoulders, arms, and abs."
Lower Fix – Works out your lower body, while still helping you to shed calories and unwanted fat.
Pilates Fix – Helps "strengthen your core, elongate your muscles, and firm your hips and thighs."
Cardio Fix – Puts your body in motion and increases your heart rate.
Yoga Fix – Improves relaxation, while focusing on "balance, flexibility, and strength."
You'll also receive 7 color-coded containers and a Shakeology® shaker cup, which will help you maintain portion control. These include:
Green: Vegetables
Purple: Fruit
Red: Protein
Yellow: Carbohydrates
Blue: Healthy Fats and Cheese
Orange: Seeds and Oils
Shakeology Shaker Cup: Drinks
Finally, you'll receive the 21 Day Fix Start Here quickstart guide and calendar, in addition to 4 free bonus gifts:
21 Day Fix Eating Plan – A step-by-step guide that "makes portion control easy."
3 Day Quick Fix – Helps you lose extra weight in just 72 hours.
Dirty 30 Workout – 4 "fat-burning exercises" to lean you out and increase your strength.
24/7 Online Support – Gives you access to weight loss experts and other 21 Day Fix users.
21 Day Fix Pricing & Refund Policy
21 Day Fix is currently available for pre-order at a price of three monthly payments of $19.95, plus $12.95 for Express shipping. If you choose, you can also add Rush shipping for an additional $9.95.
Because the 21 Day Fix program has yet to be released, the estimated delivery will occur in April, though your credit card will not be charged until it has been shipped.
All Beachbody products, including 21 Day Fix, come with a 30-day money back guarantee, less S&H charges. In order to initiate the process, you'll need to contact customer service at 800-998-1681, via a contact form, or live chat.
Pros:
Claims to help you lose up to 15 pounds in 21 days.
Each workout is only 30 minutes long.
Includes color-coded containers that can help you achieve proper portion control.
30-day refund policy.
Cons:
Will not be released until April, so online reviews are limited only to bloggers and fitness experts who received advanced copies.
Bottom Line:
Overall, most Beachbody exercise programs have fairly positive online customer reviews. However, 21 Day Fix doesn't release until April, so reviews are currently limited only to bloggers and fitness experts who received advanced copies. With this said, even the CEO of Beachbody, Carl Daikeler, claims to have underwent the 21 Day Fix program, and lost 12 pounds and toned up considerably.
Also, even though the 21 Day Fix claims to help you lose weight and tone up in just 3 weeks, just like any other exercise or workout program, you need to continue making healthy choices after you've finished, or you may quickly put back on the weight—and then some.
Finally, as we mentioned in our first Focus T25 article, since 21 Day Fix is manufactured by the same company, you might experience some speed bumps when placing your order. For instance, if you choose to contact the company directly (versus ordering online), you may be upsold numerous products during the call, which you'll have to decline time and time again. With this said, customer service personnel appear to be otherwise friendly, helpful, and knowledgeable.
Do you have experience with 21 Day Fix? If so, stand up and let your voice be heard by writing a review!
3 out 5 people found this review helpful

This program works if you do.

By Cindy

,

Colorado

,

Nov 19, 2015

Here's the thing about ordering, get it from teambeachbody.com not the infomercial. You can control when and how you are charged. Just had to get that out there since most of the reviews mention this even though it has nothing to do with the actual program.

The first time I did a 21 day round, I lost 8 pounds in 21 days. Not bad since I started at 135 lbs. Fast forward many months later and I'm in another round because I just couldn't stand my most recent eating and exercise habits. I'm in day 10 and have lost 5 lbs (started at 145 lbs).

The point is, this program works if you are diligent with the nutrition plan. The other reviewers are right, 30 minutes a day of workout is not enough unless you are doing it with the nutrition plan. That means NO cheating and keeping track of everything you eat.

I've done lots of the Beachbody programs and have seen results with each, but my favorite is the 21 Day Fix because it's easy to follow and doesn't take an hour a workout or 60-90 days to see the same results as I'm seeing in 21 days.

Bottom Line: Yes, I would recommend this to a friend

---

13 out 17 people found this review helpful

Billing Scam

By Tom

,

Sep 28, 2015
Verified Reviewer

It took 9 months and $278.56 in charges to get them to stop billing us for things we never ordered. We got the videos and the containers for the portion control, but never ordered the supply of vitamins that just keep coming after many calls for them to stop. Don't get sucked in. You can do a workout program and portion control program for free yourself.

Bottom Line: No, I would not recommend this to a friend

---

Advertisement

---

9 out 11 people found this review helpful

Charged without confirming order

By Lyn

,

Los Alamitos, CA

,

Aug 24, 2015

I was going to order this product, but after the initial page there were several pages of add-ons. I tried to cancel my order, but there was no way to do it. I had never confirmed my order, so I left the website, because I was supposed to confirm my order and shipping to process my order. I later received an email saying it was on its way. When I called, could not get an English speaking rep, they said they were on the Bahamas. After asking to speak to a supervisor, it took 18 minutes for him to find one. The supervisor said I confirmed the order when I checked the box saying I understood the terms and conditions. I was furious, so he eventually said they would send me out a label to return it and once they receive it back they will reimburse me. I sure hope so. Everyone says this product works, but I do not want to do business with such a company. If you are not sure you want it, wait until you are certain. I was sure I wanted it until the barrage of up sells.

Bottom Line: No, I would not recommend this to a friend

---

20 out 22 people found this review helpful

Don't buy it.

By Ann

,

Connecticut

,

Aug 10, 2015

I haven't even received my package yet and already I can't wait to refuse it. First, I was billed twice. I received an email notification that my online order wasn't complete, therefore it canceled. I reordered, and come to find out, was billed twice and shipped two separate orders. When I called to complain I could not get one customer service agent on the line that didn't speak broken English. I was told my order was canceled and my cc would be credited while I was on the phone with them. Yeah, that never happened.

On the second call I was told I would be refunded an additional shipping fee to return the unwanted product. So far my cc has been credited for one s&h fee only. I am still waiting for the refund promised from my third call. To make matters worse, if you order the product there's a little box you can check where you get "free" upgraded 3-5 day delivery. Ha-ha. So far it's been seven days and I have not received either package. I wouldn't use this product if it was miraculous. The customer service department is such a joke. I can see myself having to [replace] my debit card as not to be charged further for not one, but two unwanted shipments. Waste of time and money.

Bottom Line: No, I would not recommend this to a friend

---

Advertisement

---

25 out 28 people found this review helpful

They keep billing

By Harris

,

Houston, TX

,

Jul 29, 2015

Well we ordered the 21 day fix package and that's all we wanted. We received it with no problems. By the next month, they bill my husband's card for like 100 dollars. He contacted them and told them he did not authorize to have any more money taken out of his account. He hasn't ordered any thing and he told them to cancel the orders for the pills that they said they shipped out. We did receive them after. He told them he didn't want any more products and to just cancel the account and shipment.

Well here it is another month where they have deducted another $100 out of his account and when you try and call, no one ever comes to the phone.

Bottom Line: No, I would not recommend this to a friend

---

10 out 16 people found this review helpful

SCAM

By Bonnie

,

Bay Area, CA

,

Jul 16, 2015

Do not give your credit card number to these people under any circumstances. I, like many others I have heard from, are receiving additional unauthorized charges for items and services not ordered. If you order by phone, you have no paper copy of what they say you signed up for. Nightmare.

Bottom Line: No, I would not recommend this to a friend

---

24 out 25 people found this review helpful

Worth it just for the portion plan

By Nadiyah B

,

Los Angeles, CA

,

Jul 7, 2015

If you only have a little weight to lose and you're under age 50 you might lose 15 pounds in 21 days, if you stick religiously to the plan. Realistically though you will need to do a few rounds if you're over 50 or are 15-20 plus pounds over your ideal weight. The portioning is what is different and works well. Some of the exercises are harder than T25 and in some cases, P90x, but they're effective. I also say no to all the add-ons, they are unnecessary and costly, just like a gym membership can be if you let it. Stick to the basics and it works fine.

Bottom Line: Yes, I would recommend this to a friend

---

16 out 18 people found this review helpful

It works but skip the expensive add-ons.

By Jennie P

,

Southeast Kansas

,

Jul 3, 2015

Ordered my kit after my son and his future bride had a lot of success with it. Suffered a knee injury before it got to me but began the eating plan right away. Dropped 13 lbs. the first 21 days and have started another 21. Will be starting the exercise when the Dr. okays it. Had a problem with them auto shipping vitamins that I did not order, but got that resolved. I already have two people who work with me who have ordered their kits and are having just as much success as I have.

Bottom Line: Yes, I would recommend this to a friend

---

18 out 29 people found this review helpful

Review the product not the company you bought from.

By Mike

,

Jersey

,

Jun 15, 2015

All these reviews are bull crap, write a damn review about the actual product, not on how your issue was with the company you had purchased it from.

Now, I've done this program with the wife, and I will say this hurts. It's a lot better than I expected on the workout side. I can't vouch for their meal plans and the foods to follow as I haven't done that yet but I do have another dieting program that I use.

From Beachbody, I have done Insanity (didn't it complete, just too long for me), but I did start T25 just before I jumped on with the wife to test out 21 Day fix, both of these workouts kick butt.

Reviews about financial issues a crap because this isn't a review about shipping or cost (unless you tie cost into the program's worth). Stay on point and give a review worth something.

21 Day fix is worth a try. It's serious, she may be slightly annoying to some, but so was Gillian and her workouts were good for the wife.

Bottom Line: Yes, I would recommend this to a friend

---

14 out 17 people found this review helpful

21 Day Fix Needs Shakeolgy

I like the 21 day fix program. However, when I started this I was given a Shakeolgy sample that lasted two weeks. I saw results. It worked to keep my appetite at bay. I couldn't afford to buy it, even with a coach. I just wish you guys would explain that on your infomercial. It would really helps. There is no mention of it at all. I think the overall workout and programs works better with Sakeology. I just think the Shakeology is the icing on the cake. So for now I'm drinking Pure protein whey. It's not the same but it'll do. Good luck everyone.

Bottom Line: Yes, I would recommend this to a friend

---

16 out 19 people found this review helpful

Don't do it, it's a scam.

By Martha

,

Alexander City, AL

,

May 27, 2015

I called to purchase the 21 Day Fix off of infomercial I saw on TV. I was excited about getting the product but before I ever received anything by mail, my card was charged $97.80. The product I ordered was only supposed to have cost $42.00. I called my card company and we both called the place only to be put on hold for 30 minutes. Afterwards, we decided to call a line as if we were ordering the product again. We got in touch with a person this time. I told him about what had happened. He said I had upgraded to the Deluxe, which I never had.

I told him I wanted to cancel the program. He said I would have to return the product that they had shipped. Well when it came in, I did. It had been over a week but nothing has went back onto my card. He said that when they will put it back on my card, I wouldn't get $25 out of the order. But it looks like to me I won't get any of it.

Bottom Line: No, I would not recommend this to a friend

---