24/7 Lending Group
Claimed This company has claimed this profile, is getting alerted on any new customer reviews entering this page, and may engage in dialogue with its customers to address their matters.

Companies cannot pay money or provide goods in order to remove or alter customer reviews.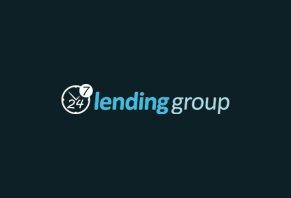 24/7 Lending Group is an online lending marketplace where you can fill out one application and get loan offers from a variety of companies including SoFi and Quicken Loans.
24/7 Lending Group Review: Is It Legit?
24/7 Lending Group helps consumers obtain personal loans for anywhere from $1,000 to $35,000.
As a loan middleman, they take the information you fill out in your loan application and match it with more than 200 lenders.
24/7 Lending Group is based in Raleigh, N.C. and started their business in 2001. They have partnerships with hundreds of lenders, including some well-known financial institutions.
In our review of this company, we'll talk to you about how their loan process works, what past customers say about the company and what our thoughts are about the company's overall pros and cons.
The 24/7 Lending Group Loan Process
To begin using 24/7 Lending Group's services, you'll first need to fill out a short application, where all included information should be accurate and up to date.
The site will ask you for your income, your household income, the purpose of the loan and your total credit card debt. It will also ask you if you have any outstanding payday loan debt.
According to the company's website, the details obtained during your loan approval process are 100% secure and will remain completely private throughout.
After your application has been submitted, it will be reviewed and forwarded to specific lenders based on your credit score and loan requirements.
Then, you'll typically receive a phone or email response within 24 hours, and if approved, will also be given important details such as the loan amount, APR, repayment schedule, and so forth.
Keep in mind that 24/7 Lending Group will match you with multiple lenders, which means there's a good chance you'll get multiple phone calls and emails within an hour of submitting your application.
In addition, it's important to keep in mind that fees, late payment stipulations, and renewal information is lender-specific, so if there's something in your contract you don't understand, this would be the best time to speak up and ask.
Some of the 24/7 Lending Group's hundreds of loan partners include companies we've reviewed:
Freedom Debt Relief
Lending Tree
LoanDepot.com
PrimeLending
Quicken Loans
SoFi
If you choose to continue after carefully reviewing all the terms and conditions, simply e-sign the agreement, and your money should be available in your bank account shortly thereafter.
Factors to look for within your loan contract include:
Interest rate
Origination fee
Late payment penalties
Payment due date
The company should be able to tell you in a clear manner exactly how much interest you'll pay over the life of the loan. 24/7 Lending Group indicates your interest rates will range from 5.99% to 35.99%.
Furthermore, they should tell you in dollars how much their origination fee will cost you. 24/7 Lending Group says this will be 0% up to 5%.
They will factor this fee into your APR, which is why your lender will give you an interest rate that will be lower than the actual APR.
Finally, find out what happens if you pay late. The fine print notes lenders' policies could differ.
In some cases, you may only pay a fee for late payment. In other cases, your account will go to collections, which not only means you'll endure aggressive debt collectors but your credit scores will see a significant drop, too.
24/7 Lending Group Customer Reviews
At the time of publishing, 24/7 Lending Group had 89 verified consumer reviews on HighYa for an average score of 4.6 stars. Most of the recent reviews were glowing, with several customers praising the company for how easy it was to get a loan.
Several of the reviewers mentioned they were trying to get an unsecured loan, which signals to us that folks with bad credit have been able to benefit from loan access through 24/7 Lending Group.
However, two different reviewers noted that 24/7 Lending Group either asked them to pay $14.95 to run their credit score or asked them to sign up for a $39.95 service that gives you access to your FICO score.
If this happens to you, we suggest politely declining. You shouldn't have to pay a company to run your credit score and free credit score websites won't cost you anything.
The Bottom Line
In general, we think that 24/7 Lending Group could be a smart choice for you because of the number of lenders they work with and the positive response from HighYa readers who have gone through the company's loan process.
Pros
This website gives you some distinct advantages. First, it's a platform through which you can fill out one application and get multiple offers for loans.
Second, since you do an application on 24/7 Lending Group's site and not with an actual lender, you can cancel your application at any time without any pressure.
Third, customers on HighYa seem to be very pleased with the site and, especially those with low credit scores that need a loan.
Cons
The site's downsides are that you won't know which lenders you get until you finish out your application.
Second, you'll have to speak with each lender individually in order to find out what terms they offer. This will take some work on your part to ask the right questions and compare the answers you get.
Finally, even though the site gives you access to lenders who accommodate borrowers with bad credit scores, the terms of those loans may have high interest rates and restrictive rules for late payments.
---
Got me out of a bind.

By Howard

,

Wake Forest, NC

,

Mar 2, 2018
Verified Reviewer

Overall Experience:

Service worked for me. I have very bad credit and was denied by my bank. I was feeling hopeless but decided to give 24/7 Lending Group a go. They quickly matched with a lender that worked with me for my needs and situation. I would recommend.

Bottom Line: Yes, I would recommend this to a friend

---

Having to pay $14.95 for them to pull my credit score and start the loan process

Puyallup, WA

,

Feb 28, 2018
Verified Reviewer

Overall Experience:

I am in need of about a $3,000 unsecured loan to purchase a car. I read the reviews about 24/7 and decided to fill out an application and speak with a representative. After answering all of their questions, they did inform me that it would cost me $14.95 for them to pull up my credit score. I did already tell them my credit score from the three credit reporting agencies, but they still needed the money to pull it up themselves. I told them no at this point because I don't believe you should have to pay money in order to try to borrow money.

Bottom Line: No, I would not recommend this to a friend

---

Advertisement

---

Got me out of a bind

By BH

,

Atlanta, GA

,

Sep 26, 2016
Verified Reviewer

Overall Experience:

I was hit with thousands of dollars of unexpected expenses.

I contacted 24/7 Lending Group and after providing my information I was approved for more than I even asked for (which I did not take). I just had my first payment automatically withdrawn from my account with no issues.

So far so good.

I know the interest is higher than I would like, but when you are in a bind and need money fast, I would recommend them.

Bottom Line: Yes, I would recommend this to a friend

---

Overall Experience:

This loan was very easy to apply for. Just emailed the few things they needed and was funded the next day. I would recommend them to anyone looking for a reasonable loan.

Bottom Line: Yes, I would recommend this to a friend

---

Advertisement

---

24/7 Lending Group

By Don Toney

,

Youngstown, FL

,

Jul 21, 2016
Verified Reviewer

Overall Experience:

I used this service to find a lender for an un-secure loan. Through 24/7 I was able to do this, which was a huge help for me. In fact I had the money in my account within 48 hours. It was quick and easy. The only draw back to this is a slightly higher interest on the loan, but the terms were agreeable.

Bottom Line: Yes, I would recommend this to a friend

---

Good Service

By Aniah Bey

,

Mint Hill, NC

,

Jul 21, 2016
Verified Reviewer

Overall Experience:

Good website to use. Application process was really easy a got an approval in less than an hour. I would highly recommend this website when you really need a loan.

Bottom Line: Yes, I would recommend this to a friend

---

Quick and Easy Loan

By Richard

,

Boise, ID

,

Jul 7, 2016
Verified Reviewer

Overall Experience:

The whole process was quick and painless. The individual I worked with was very patient and helpful.

Bottom Line: Yes, I would recommend this to a friend

---

Fast, convenient, and easy platform

By S.Harper

,

Charlotte, NC

,

Jun 20, 2016
Verified Reviewer

Overall Experience:

Great experience. Very easy platform to use in entering information. Really quick response times in terms of approval and loan offers. Overall, very easy, convenient, quick, and helpful system that I would use again, and would definitely recommend.

Bottom Line: Yes, I would recommend this to a friend

---

Helpful service

By Joy

,

AL

,

Jun 13, 2016
Verified Reviewer

Overall Experience:

I am pleased with your service. I was given the name of a lender that matched my needs on a Friday and funds were deposited to my account Monday. Now that is service.

Bottom Line: Yes, I would recommend this to a friend

---

Overall Experience:

24/7 Lending Group is an angel in disguise! No matter what your financial needs are, they will help you in your time of need.

Bottom Line: Yes, I would recommend this to a friend

---

Great and Fast Service

California

,

May 29, 2016
Verified Reviewer

Overall Experience:

The lady that helped me out gave me all my options and the prices were right. And I got the money fast.

Bottom Line: Yes, I would recommend this to a friend

---