24HR Rose Hydrating Mist by Beverly Hills MD Reviews
Claimed This company has claimed this profile, is getting alerted on any new customer reviews entering this page, and may engage in dialogue with its customers to address their matters.

Companies cannot pay money or provide goods in order to remove or alter customer reviews.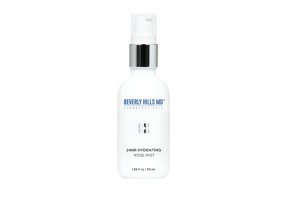 Formulated with the coveted Damask rose and other natural botanicals, 24HR Rose Hydrating Mist by Beverly Hills MD promises to brighten your appearance and deliver a quick pick-me-up whenever you need.
About 24HR Rose Hydrating Mist by Beverly Hills MD
According to the Beverly Hills MD website, their 24HR Rose Hydrating Mist is the result of years of precise formulation involving a combination of the Damask rose, Jania ruben sea plant, and other natural botanicals and advanced nutrients.
Together, they advertise you can expect 24-hour hydration, energized skin cells that deliver a radiant glow, and a reduction in the appearance of dark circles, puffiness, and a dull complexion.
And because Beverly Hills MD reports the Damask rose contains "one of the highest skin-protecting antioxidant concentrations of any flower on the planet," they indicate it can help protect your skin from daily free radical damage.
They explain you only have to mist the formula over your entire face (after closing your eyes, of course), whether over or under makeup (it can even be used as a hydrating primer), as many times as you need during the day.
Within seconds, they say the fine micro-droplets will absorb into your skin and remain effective for up to 24 hours. Results will become increasingly noticeable with continued use.
As a company, Beverly Hills MD has been in business since 2012, has released many popular products among consumers in that time, including Crepe Correcting Body Complex and Lift + Firm Sculpting Cream (to name just a few), and comes with an almost wholly positive online customer reputation.
But, once you've handed over your money for their new 24HR Rose Hydrating Mist, will you end up equally satisfied? Let's dive right in and quickly cover a couple of foundational principles.
The Basics Behind Free Radicals & Antioxidants
Whether caused by food, medications, air and water pollutants, alcohol, tobacco smoke, or pesticides, Live Science contributor Jessie Szalay explains that:
"The body is under constant attack from oxidative stress. Oxygen in the body splits into single atoms with unpaired electrons. Electrons like to be in pairs, so these atoms, called free radicals, scavenge the body to seek out other electrons so they can become a pair. This causes damage to cells, proteins, and DNA."
As this damage accumulates, it's closely associated with "cancer, atherosclerosis, Alzheimer's disease, Parkinson's disease," as well as the aging process.
The good news is that according to MedlinePlus, antioxidants—whether natural or man-made—can help offset a meaningful amount of damage caused by free radicals. Common examples they provide include beta-carotene, lutein, lycopene, selenium, vitamin A, vitamin C, and vitamin E.
However, they also emphasize that the medical community doesn't fully understand antioxidants since it isn't clear whether the benefits they provide are "because of the antioxidants, something else in foods, or other factors." In fact, high doses of antioxidants have actually been proven harmful in some instances, by increasing the risk of certain types of cancers and interacting with medications.
Granted, you won't ingest any of the antioxidants contained in Beverly Hills MD's 24HR Rose Hydrating Mist. Given this, might you realistically expect the same level of protection against free radicals?
Taking a Closer Look at 24HR Rose Hydrating Mist's Ingredients
Beverly Hills MD reports their 24HR Rose Hydrating Mist formula contains the following ingredients:
Water, Glycerin, Polysorbate 80, PEG-6 Caprylic/Capric Glycerides, Althea Officinalis (Marshmallow) Root Extract, Rosa Gallica (Rose) Flower Extract, Jania Rubens Extract, Citrus Grandis (Grapefruit) Seed Extract, Aloe Barbadensis Leaf Extract, Rosa Damascena Flower Oil, Sodium Carrageenan, Phenoxyethanol, Fragrance.
According to sites like Paula's Choice, EWG's Skin Deep Cosmetics Database, and Truth In Aging, these ingredients work primarily as:
Surfactants and emulsifiers (Polysorbate 80, PEG-6 Caprylic/Capric Glycerides)
Skin conditioning agents and moisturizers (Jania Ruben Extract, Citrus Granid (Grapefruit) Seed Extract, Aloe Barbadensis Leaf Extract)
Stabilizing agents (Sodium Carrageenan)
Fragrance (Rosia Gallica (Rose) Flower Extract, Rosa Damascena Flower Oil)
Preservatives (Phenoxyethanol)
The fact of the matter is that you'll commonly find these ingredients (not necessarily together) in hundreds of other beauty, skincare, and anti-aging products, which primarily work to help skin minimize water loss, thereby maintaining suppleness and elasticity.
What about rose-based formulations like Hydrating Mist?
While rose water has been used for millennia for its fragrant properties, we only encountered minimal clinical evidence on sites like the National Institutes of Health's PubMed and ScienceDirect that rose petals a) are necessarily better sources of antioxidants than others, or b) that spraying these compounds onto skin will deliver meaningfully better hydration or other skincare benefits than existing alternatives.
Specifically regarding 24HR Rose Hydrating Mist, we also didn't encounter clinical support for the claim that the Damask rose "contains one of the highest skin-protecting antioxidant concentrations of any flower on the planet," or that it's "one of the rarest and most beneficial anti-aging skincare ingredients in the natural world," as stated on the Beverly Hills MD website.
Could 24HR Rose Hydrating Mist's Ingredients Cause Potential Side Effects?
Many of these same sites report no significant side effects related to any of these ingredients, although especially sensitive individuals could experience mild, temporary redness or irritation at the application site.
Whether you're thinking about purchasing 24HR Rose Hydrating Mist or another skincare formulation, you can help minimize any potential side effects by having an in-depth conversation with your dermatologist in advance.
How Much Does 24HR Rose Hydrating Mist Cost?
If ordered from their BevHillsMD.com website, customers will pay:
1 Bottle (1.69 fl oz): $49
2 Bottles: $86 ($43 per bottle)
3 Bottles: $117 ($39 per bottle)
On the other hand, prices on their main BeverlyHillsMD.com website are meaningfully higher:
1 Bottle: $68
2 Bottles: $122 ($61 per bottle)
3 Bottles: $174 ($58 per bottle)
Regardless of which site you order from, you'll receive free shipping, and a 60-day money back guarantee, less S&H. To request one, you'll need to reach out to 877-828-5528 or support@beverlyhillsmd.com.
What Can We Learn From 24HR Rose Hydrating Mist Customer Reviews?
We encountered more than 50 customer reviews for 24HR Rose Hydrating Mist on the Beverly Hills MD website at the time of our research, who had given the spray an average rating of about 4.9 stars.
There, common compliments referenced effectiveness (refreshing, moisturizing, increased skin's glow, etc.), pleasant scent, and the fact that it can be used as often as you like throughout the day. Customers who left four-star ratings only included compliments and didn't indicate why they rated it less-than-perfect.
24HR Rose Hydrating Mist vs. Other Rose Water Formulations
A quick online search for the term 'rose water' returned thousands of relevant results at the time of our research. Some of these only contained the essence of roses mixed with purified water, while others like 24HR Rose Hydrating Mist featured more robust formulations with additional ingredients.
The vast majority of these were priced between $5 and $15, whether as sprays, mists, or serums. We even found some Damask rose-based formulas for as low as $20, putting 24HR Rose's $49 - $69 price point (depending on which of the company's sites you purchase from) at the top of the cost scale.
After writing about thousands of beauty and skincare products over the years, we've learned that in addition to the budget, you'll want to focus on doing business with companies who:
Provide robust double-blind, peer-reviewed, placebo-controlled clinical evidence to support their efficacy claims.
Offer customers at least a 30-day window to try their products, with reasonable S&H charges and no restocking fees.
Come with mostly positive online customer feedback, which could be a good indication of what you'll experience after placing your order.
Pulling all of these details together, does 24HR Rose Hydrating Mist have a place in your future?
Our Concluding Thoughts About 24HR Rose Hydrating Mist by Beverly Hills MD
Beverly Hills MD has been in business for years, features a product lineup formulated by two well-known physicians, and comes with overwhelmingly positive online feedback from customers. They also stand behind their products with a 60-day refund policy, free initial shipping, and no restocking fees.
It's important to balance these positives with the fact that, from a consumer's perspective, their Rose Hydrating Mist is up to 12X more expensive than some of the other rose water competitors, and dozens of times more expensive than DIY options. It's even up to 3X more expensive than different Damask-based formulas.
And since sites like Paula's Choice, EWG.org, and Truth In Aging report that most of its formula consists of similar moisturizing, skin conditioning, stabilizing, and preserving ingredients found in other mists, it doesn't seem clear that customers will necessarily achieve greater value by paying a meaningfully higher price.
>> Read next: Natural Ways to Reduce the Appearance of Dark Under-Eye Circles: 9 Home Remedies
Love the Rose mist! The smell is beautiful and it hydrated perfectly! Wish it came in larger sizes.

By Kelly M.

,

Portland, OR

,

Mar 14, 2019
Verified Reviewer

I love the Rose hydrating mist! It smells beautiful to my senses and it hydrated beautifully! I only wish it came in a larger bottle.

I use it after my other serums and during the day for a pick me up while feeling dry, especially in these winter months.

Bottom Line: Yes, I would recommend this to a friend

---

Advertisement

---