3 Week Yoga Retreat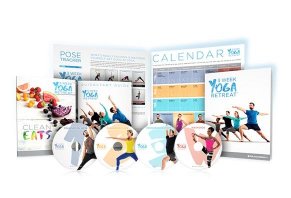 3 Week Yoga Retreat from Beachbody enlists four professional instructors to help beginners learn the basic idea and poses, and then progress on their own.
3 Week Yoga Retreat Review: Is It Legit or Just Hype?
Taught by world-class teachers, Beachbody's 3 Week Yoga Retreat is an easy-to-follow program specifically geared toward beginners of any age, and at any fitness level.
Each class can be completed in 30 minutes or less per day, doesn't involve any chanting, pretzel poses, or embarrassing classes, and—if you stick with it—could help you improve flexibility and lose weight and inches off your waist.
The website tells us that yoga can also provide an array of additional benefits like helping you increase confidence, improve digestion, boost muscle tone, improve balance, feel happier, reduce stress, improve strength and posture, and boost your sex life.
Over the course of just 21 days, can you expect the 3 Week Yoga Retreat program to help you master the fundamentals of yoga in the comfort of your own home? After it ends, can you realistically expect to have the skills you need to move on to a formal yoga class?
These are two of the central questions we'll help you'll answer over the next few minutes.
Potential Benefits of Yoga
According to the Ananda Sangha Worldwide, "Yoga means union. Etymologically, it is connected to the English word, yoke. Yoga means union with God, or, union of the little, ego-self with the divine Self, the infinite Spirit." As such, in its original form, yoga is a spiritual tradition focused on the breath.
In addition to mindful breathing, Hatha Yoga adds a "system of bodily postures" that can help the body maintain flexibility and strength. In addition, the American Osteopathic Association adds the following potential benefits to yoga:
Improved respiration, energy and vitality
Maintaining a balanced metabolism
Weight reduction
Cardiovascular and circulatory health
Improved athletic performance
Protection from injury
Stress management
Mental clarity and calmness
Increased body awareness
Sharper concentration
Although the AOA emphasizes that "it is possible for anyone to start yoga," the reality is that it can seem intimidating to a first-timer, especially considering the financial commitment for classes—not to mention the sheer nervousness of trying these poses for the first time in front of a bunch of strangers.
Next, let's find out how 3 Week Yoga Retreat's program promises to help get you up to speed, without the monetary investment or social stress.
How Does 3 Week Yoga Retreat Work?
In all, the 3 Week Yoga Retreat system involves 72 workouts over the course of 21 days, with no music. This includes detailed, crystal-clear instruction, classes that are no more than 30 minutes in length, and modified poses for those who are new to Yoga, or even to fitness in general.
From an equipment perspective, Beachbody notes that a yoga mat is required, while they recommend 1-2 yoga blocks, a yoga strap, and/or a towel, depending on the specific video. These are split up into the following four sections, with each week building on the previous one:
Beginner Basics Videos
A total of 13 short tutorials regarding basic yoga principles, which cover these topics:
Mindfulness
Downward Dog
Balance
Cobra vs. Upward Dog
Props and Equipment
Yoga Squat
Elongating the Spine
Engaging the Core
The Warriors
Savasana (Corpse Pose)
Child's Pose
Breathing
Mountain Pose (Tadasana)
Week 1 – Foundation
With the help of Yoga Expert Vytas, during this phase of 3 Week Yoga Retreat, you'll learn the fundamentals of moves like Warrior 2 and Triangle. Not only will he help you understand the poses, but he'll also teach you why they're important.
Day 1: Core (32 min) – According to the site, this class is all about engaging, activating, and building awareness about your core muscles.
Day 2: Stretch (31 min) – Helps you extend and lengthen all the muscles in your body.
Day 3: Balance (28 min) – More core-engaging postures, this time aimed at helping you find physical, mental, and emotional stability.
Day 4: Flow (30 min) – You'll put together what you've learned and "connect it to your breathing."
Day 5: Flow-on-the-Go (20 min) – A faster version of the Flow class.
Day 6: Relax (24 min) – This day each week, instructor Faith will help you relax and unwind.
Day 7: Take 10 (10 min each) – AM: Wake up your body and energize your muscles as you start the day. PM: Relax a de-stress before going to bed. Abs: A routine that targets your abs and core. Poses you'll learn include Half Lord of the Fishes and Easy Pose.
Week 2 – Expansion
During week two, Yoga Expert Elise Joan will help you expand on the poses you've already learned, including new ones like Downward Dog and Upward Dog:
Day 1: Core (31 min) – The same focus as in Week 1.
Day 2: Stretch (33 min) – You'll continue extending and lengthening all the muscles in your body.
Day 3: Balance (30 min) – More challenging postures.
Day 4: Flow (31 min) – The same focus as in Week 1.
Day 5: Flow-on-the-Go (19 min) – The same speedy workout found in Week 1.
Day 6 Relax (29 min) – The same Faith-led session from Week 1, just five minutes longer.
Day 7: Take 10 – The same 10-minute workouts (AM, PM, Abs) featured in Week 1.
Week 3 - Progression
In the final stretch of Beachbody's 3 Week Yoga Retreat program, Yoga Expert Ted McDonald will "kick it up a notch" and help you see real improvements in your skills and understanding, and help you get ready for higher-intensity programs. New moves you'll learn include Twisted Triangle and Tree Pose.
On the website, each day is advertised identical to Weeks 1 and 2, with the exception of time:
Day 1: Core (31 min)
Day 2: Stretch (30 min)
Day 3: Balance (30 min)
Day 4: Flow (31 min)
Day 5: Flow-on-the-Go (20 min)
Day 6: Relax (29 min)
Day 7: Take 10 (10 min each)
What Do We Know About 3 Week Yoga Retreat's Instructors?
Vytas Baskauskas has 15 years of experience teaching Yoga in Los Angeles, and the 3 Week Retreat website tells us that he's "one of the most sought-after instructors in the world." Originally a mathematician by training a subsequent professor, Vytas also appeared on the NBC TV show "Survivor."
Elise Joan is a former ballet soloist and professional dancer, so her site advertises that her approach combines the disciplines of yoga, ballet barre, and strength training. According to Beachbody, her "primary passion is to awaken people to realize their full potential, both on and off the mat."
Ted McDonald is a formed Elite Adventure Racer, is formally educated in Iyengar and Ashtanga yoga, and is one of the designated yoga teachers for the Tour De France. He focuses on building muscle strength and stamina while preventing injuries.
Washington D.C./NYC-based Faith Hunter has been studying Hatha, Vinyasa, Ashtanga, and Kundalini Yoga since early 1990, and is said to blend "classic yoga principles, meditation, and real-world experience" to provide students with a "passionate and free-spirited teaching style."
Could 3 Week Yoga Retreat Cause Side Effects?
According to the National Center for Complementary and Integrative Health, yoga is a low-impact activity that's considered safe for healthy people, with a low rate of side effects and a "quite low" risk of serious injury. Although they emphasize this is "when practiced appropriately under the guidance of a well-trained instructor."
With this said, the disclaimer at the bottom of the 3 Week Yoga Retreat website notes that you should "consult your physician and follow all safety instructions before beginning this high-intensity and physically demanding exercise program and nutrition plan."
How Much Does 3 Week Yoga Retreat Cost?
The 3 Week Yoga Retreat DVD set is available directly through Beachbody for three monthly payments of $19.95, plus $12.95 S&H, or a single payment of $72.80. For this price, you'll also receive:
Clean Eats Plan – Simple, delicious recipes
Quickstart Guide – Shows you what you'll be doing, step-by-step
Class Calendar – A 21-day calendar to help you build your foundation
Pose Tracker – Document your skills and see how far you've come
And when you complete the program, you can send the company your before-and-after photos and receive a free 3 Week Yoga Retreat motivation bracelet in return.
Standard shipping is free for the DVDs, or optional rush shipping is available for an additional $9.95.
The 3 Week Yoga Retreat program is also available to stream through Beachbody on Demand, which is priced at $99 per year.
All Beachbody orders come with a 30-day refund policy, less S&H charges. In order to request one, you'll need to reach out to customer service at 800-470-7870 or via online chat.
What Can We Learn from 3 Week Yoga Retreat Reviews?
We found five Amazon customer reviews for the 3 Week Yoga Retreat program during our research, which had collectively given the program an average rating of 3.4 stars. There, the most common compliment referenced ease of use—especially for a beginner, while more than one complained that their DVDs didn't work properly.
From a company perspective, Beachbody, LLC is based out of Santa Monica, CA and has been in business since 1998. In that time, they've released dozens of hits, including recent standouts like 21 Day Fix, CIZE Dance Workout, Body Beast, and Focus T25.
They held an A- rating with the Better Business Bureau, based on 63 customer reviews (75 percent of which were negative) and more than 800 closed complaints, as of 12/21/17. Most of these appeared to revolve around customer service concerns, such as difficulty canceling accounts or processing refunds. In each instance, a company representative responded with a solution.
Are There Other Beginner Programs Like 3 Week Yoga Retreat?
According to the NCCIH article referenced earlier, yoga is the sixth "most commonly used complementary health practice among adults," with more than 13 million adults adhering to the practice, as of 2006.
As such, it's no surprise that we encountered hundreds of relevant results competing with 3 Week Yoga Retreat when searching online for terms like "beginner yoga programs," including many free options on YouTube. Given this breadth of choices (not to mention price points), how can you figure out which one will deliver the most value?
New York Times' Kelly Couturier, points out that yoga really is for everyone and largely comes down to understanding a few key poses, terms, and how to breathe mindfully.
Yoga International advises that you'll also want to make sure that you commit to carving time out of your daily schedule to practice, as well as setting aside a dedicated space in your home.
Then, once you grow in your practice and learn more about your preferences, you might choose to pursue a specific style, such as Ashtanga (each movement is linked to a breath), Bikram or Hot (involves artificially heated rooms), Iyengar (special attention is paid to perfect posture), or Vinyasa ("fluid, movement-intensive practices"), to name just a few.
Where does all of this information leave you when it comes to Beachbody's 3 Week Yoga Retreat?
Our Bottom Line About Beachbody's 3 Week Yoga Retreat Program
3 Week Yoga Retreat certainly seems like it could help absolute beginners—at any age or fitness level—learn more about yoga, understand the practice, teach themselves the basic postures, and determine whether or not they want to continue pursuing the practice.
However, the Beachbody website specifically emphasizes that, "results vary depending on starting point and effort. Exercise and proper diet are necessary to achieve and maintain weight loss and muscle definition." As such, we think it's important to maintain realistic expectations about your results at the end of 21 days.
With this said, based on the company's descriptions for each day of the three-week program, it appears that several of them are duplicates. So, we might imagine that if you require fresh motivation each day in order to remain on track, this might eventually become tiresome.
On the other hand, Beachbody stands behind 3 Week Yoga Retreat with a 30-day refund policy, which should be more than enough time to decide if the program is right for you. This way, you might not have much more to lose than original and return S&H charges (if you chose the DVD option) for giving it a try.
Not really for beginners

By Nancy J.

,

Maine

,

Oct 25, 2018
Verified Reviewer

I think that this program is more advanced right out of the gate. It's really not for older, (68) out of shape beginners, which is where I started. Perhaps I misunderstood the infomercial. Leeza is very convincing. I kept up with the first three sessions as best I could but, it took me a week to do it. I was so sore in places I didn't know were places. I gave up and went back to a much gentler program I had been using. To be honest, at this point I have not gotten back to it so I can't really rate the program as a whole. I still hope to. It might be a great program for someone younger.

Bottom Line: No, I would not recommend this to a friend

---

Too bad!

By Karen G.

,

North Carolina

,

Sep 18, 2018
Verified Reviewer

I was so disappointed in this 3 DVD set. Yes, I did order it, and yes I did do it. But, really folks, why do you think it's ok to preface EVERY SINGLE workout with advertisements? There are much better DVD's out without the constant bombardment of overpriced food and retreats and clothing and on and on. Do the research and purchase something else!

Bottom Line: No, I would not recommend this to a friend

---

Advertisement

---

So far, so good...

By Marcia C.

,

Fairmont, WV

,

Apr 23, 2018
Verified Reviewer

I have been through the first week and have to say I love it, with one exception - when you order, they give you the option to "upgrade" to a package that comes with a yoga block and yoga mat. DO NOT purchase the upgrade. You only get one block, and generally you need two from what I have experienced thus far, and the mat is of very poor quality. You need a yoga mat with "stick" to it in order to hold your poses, the mat they send you has no stick whatsoever. Very poor quality. You are better off to buy one on your own.

Other than that, I love the program; good instruction, modifiers, and a good at your own comfort and pace atmosphere. It is definitely worth the investment, in my humble, yoga beginner opinion.

Bottom Line: Yes, I would recommend this to a friend

---

Scam

By Robin

,

Anderson, SC

,

Mar 21, 2018
Verified Reviewer

I never received the DVD's, never got past the first order taker. He took my name, email address, mailing address, and of course my credit card info and then he pushed 'Play' on his recorded product information, and if you try to interrupt, nope, keep listening to the pre-recorded information about the three upsells coming your way. Not to worry, the recorded up-sell product just repeats over and over until you raise your voice and say "Can I speak to a human being?" I just want to order the advertised Yoga DVD's demonstrated by Leeza Gibbons. Oh NO, no worry, these people continue to up-sell the vitamins that I DON'T want and then the "Shakelogy" product that I DON't want. The recording continued and finally my representative said "Do not interrupt me because you have to listen to these other products." My reply was "No I don't, let me speak to your supervisor." That never happened.

Three phone calls later, two separate 1-800#'s and 47 minutes of wasted time (even spoke to a Beachbody rep directly), NO solution. So as a result, I called my credit card company to make sure that a charge had not been processed and learned I will need to call every few days to be assured that the $19.96 times thre, plus shippig and handling, does not get charged to ME. Geez...Never, EVER order a product off the TV!

If you can't order an item "as advertised" and you "have to accept the up-sell(s)" and then waste additional time to cancel the original order and/or the up-sell product(s), forget it. Just join the YMCA and attend a fitness class. No Beachbody products for me. How can I say SCAM again! I personally wasted 47 minutes this morning and I received NOTHING. Nothing at all!

Bottom Line: No, I would not recommend this to a friend

---

Advertisement

---

Never got to try the tapes

By Mary Hamer

,

Missouri Valley, LA

,

Feb 2, 2018
Verified Reviewer

I never got to try the tapes. The person on the line started strong-arming me about the vitamin program that I had to accept, but if I didn't want it, I'd have to cancel it, but first I had to get it. She wanted my credit card for a second time to cover the cost of the vitamin order. I refused to give it and said I did not want anything but the yoga tapes. She finally hung up on me.

My question is, is that part of the program, or can I get around the vitamin regimen? I don't want to get them (vitamins), then have to cancel my subscription to them. But I REALLY want to try the tapes.

Bottom Line: No, I would not recommend this to a friend

---