5-Hour Tea Reviews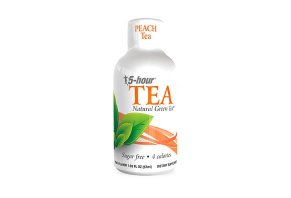 5-Hour Tea contains all of the same core ingredients as their Regular Strength version, but uses caffeine sourced only from organic, 100 percent natural green tea to help boost your energy.
About 5-Hour Tea
Using caffeine-derived only from green tea leaves, 5-Hour Tea is a great-tasting sugar-free supplement shot that can deliver quick energy, with only four calories per serving. Together, the company advertises this is why it's geared toward "people with a more natural outlook."
The website also indicates each 1.93-ounce shot is Star-K Kosher certified and that the manufacturing process does not include adding gluten, animal products, wheat, yeast, or peanuts.
Should you go ahead and pick up a bottle of 5-Hour Tea? Will it deliver different effects or other benefits that the standard formula won't? These are just a couple of the important questions we'll help you explore here.
How Do Energy Products Like 5-Hour Tea Work?
According to TIME Health, common ingredients found in energy products include:
Guarana – Contains a caffeine-like compound
Sugars – Sucrose, glucose, high fructose corn syrup
Taurine – An amino acid that supports brain development
B Vitamins – Essential for proper bodily functioning
Misc. Additives – Carnitine, Yohimbe, bitter orange, etc.
However, they point out that the most common ingredient is caffeine, which websites like WebMD, the Natural Medicines Database, and Examine.com report is a central nervous system stimulant that increases blood pressure and boosts dopamine levels, resulting in a mild rise in energy.
As such, they cumulatively list it as 'possibly effective' for (among other things) temporarily improving mental performance, athletic performance, memory, and side effects related to certain headaches; usually for a period of four to six hours.
But, when it comes to products like 5-Hour Tea, are there any meaningful additional benefits related to caffeine derived from green tea, versus other sources? Let's continue with this thought in the next section.
Taking a Closer Look at 5-Hour Tea's Ingredients
According to the product's website, 5-Hour Tea contains all of the same ingredients as their Regular Strength 5-Hour Energy formula. Other than it's Peach flavor, the only difference is that the former uses caffeine naturally derived from organic green tea:
Niacin 30 mg
Vitamin B6 40 mg
Folic Acid 400 mcg
Vitamin B12 500 mcg
Sodium 18 mg
Energy Blend 1,870 mg: Taurine, Glucuronic Acid (as Glucuronolactone), Malic Acid, N-Acetyl L-Tyrosine, L-Phenylalanine, Caffeine (200 mg), Citicoline
At 200 mg, this means 5-Hour Tea contains the same amount of caffeine as a cup of the leading premium coffee. Comparatively, the standard Extra Strength formula contains 10 more mg of niacin and 30 mg of additional caffeine, which is comparable to 12 ounces of the leading premium coffee.
As we can see, 5-Hour Tea contains several ingredients commonly found in energy drinks. However, according to their summaries of the available clinical evidence, sites like WebMD, the Natural Medicines Database, and Examine.com report insufficient clinical evidence that most of these ingredients will deliver meaningful benefits related to tiredness, energy, or attention in non-deficient individuals.
As discussed earlier, the obvious exception to this is caffeine. Also, they report 100-300 mg of tyrosine has been clinically shown to boost mental performance, memory, and alertness following a lack of sleep, but only under stressful circumstances. Since this ingredient is part of 5-Hour Tea's proprietary blend, though, we can't know if it contains the same dosage found in supporting studies.
Green Tea Caffeine vs. 'Normal' Caffeine
Most caffeine added as an ingredient to third-party products (e.g., energy drinks, sodas, dietary supplements, standalone pills, etc.) is harvested as a result of coffee's decaffeination process.
However, searching sites like the National Institutes of Health's PubMed, we didn't encounter robust clinical support that consuming caffeine from green tea—as a standalone ingredient—is necessarily 'better' than caffeine derived from other sources, like coffee. Or, even than artificially created caffeine.
With this said, these sites also indicated that green tea as a whole contains other potentially beneficial ingredients, such as polyphenols (plant compounds that contain high levels of antioxidants), which could prevent inflammation, protect joint cartilage, and even fight against certain viruses like HPV.
However, there's no indication that 5-Hour Tea contains any of these additional components.
Could 5-Hour Tea's Ingredients Cause Side Effects?
According to these same sites, most of these ingredients won't cause side effects other than mild digestive upset. Niacin can also lead temporary flushing, which is caused by increased blood flow near the skin.
With this said, the manufacturer recommends that you shouldn't consume more than two bottles of 5-Hour Tea per day, and you'll also want to limit your consumption of other products that contain caffeine. Even then, you could experience side effects like "nervousness, sleeplessness, and occasional rapid heartbeat."
Finally, these shots shouldn't be taken if you're pregnant or nursing, and they aren't recommended for children.
Any time you're thinking about taking a new dietary supplement, whether it's sold online or at your corner convenience store, it's always a good idea to speak with your doctor in advance. They can help you avoid potential side effects and medications based on your specific diagnosis.
How Much Does 5-Hour Tea Cost and Where Can You Buy?
If purchased directly from the manufacturer, 5-Hour Tea 12-packs are priced as follows:
One-Time Purchase: $28.65
Recurring Shipping (every 14, 21, or 30 days): $25.61
We also found it available on Amazon. If you're located close to brick-and-mortar retailers like Walgreens, Walmart, 7 Eleven, Target, Dick's Sporting Goods, Safeway, Wegmans, HyVee, and Dollar General (to name just a handful), you're likely to find 5-Hour Tea as well.
What Can We Learn from 5-Hour Tea Customer Reviews?
On their website, 5-Hour Tea had two customer reviews at the time of our research and an average rating of about 4.5 stars. Among seven combined customer reviews on Amazon, we encountered about the same average rating, with common compliments citing good taste and long-lasting energy, while more than one complained about leaky packaging and less-than-stellar taste.
5-Hour Tea is manufactured by Living Essentials Marketing, LLC, a Farmington, MI-based company.
5-Hour Tea vs. the Competition
While we didn't encounter anywhere near as many tea-based shots as standard versions, when browsing marketplaces like Google Shopping and Amazon, we encountered a handful of popular competitors:
| | | |
| --- | --- | --- |
| Brand | Price Per Shot | Ingredients |
| 5-Hour Tea | $2.08+ (1.93 oz) | Niacin (30 mg), Vitamin B6 (40 mg), Folic Acid (400 mcg), Vitamin B12 (500 mcg), Sodium (18 mg), Taurine, Glucuronolactone, Malic Acid, N-Acetyl L-Tyrosine, L-Phenylalanine, Caffeine (200 mg), Citicoline |
| Nature's Answer Green Tea Energy w/Yerba Mate | $1.94+ (2 oz) | Vitamin C (80 mg), Niacin (20 mg), Vitamin B6 (20 mg), Folate (100 mcg), Vitamin B12 (500 mcg), Sodium (32 mg), Potassium (47 mg), Taurine, Panax Ginseng, ORAC Super7, Tyrosine, Guarana, Rhodiola, Yerba Mate |
| Arizona Extra Strength Energy Shot Green Tea w/ Honey & Ginseng | $1.58+ (2 oz) | Vitamin B12 (500 mcg), Vitamin B6 (40 mg), Niacin (30 mg), Folic Acid (400 mcg), N-Acetyl L-Tyrosine, Taurine, Glucuronolactone, L-Phenylalanine, Green Tea Extract |
| Alpha Brain Supplement Energy Shot - Green Tea Extract | $3.17+ (2.5 oz) | Vitamin C (80 mg), Vitamin B6 (10 mg), Vitamin B12 (500 mcg), Pantothenic Acid (15 mg), Sodium (5 mg), Choline, Green Tea Extract, Acetyl L-Carnitine, Organic Acerola Cherry Extract, Organic Acai Berry Powder, N-Acetyl L-Tyrosine, Organic Blueberry Powder, L-Theanine |
What's the goal of listing the key details for each of these products side-by-side? First, to outline the fact that most competing formulas contain the same core ingredients, as discussed earlier.
Second, to show that exactly how much you pay for these relatively similar formulas (and the ingredients they contain) can vary widely. So, how can you choose the best option?
Let's wrap everything up as we come to a final conclusion about 5-Hour Tea.
Our Final Thoughts About 5-Hour Tea
According to a recent CNN article, while the energy drink market represents a $39 billion industry, a lot remains unknown to the medical community about how the ingredients in these beverages "could interact to cause negative health effects."
As a result, if you're thinking about taking one of these supplements, check with your doctor first, who can make recommendations based on your specific diagnosis.
They emphasize this is especially important "for those under 18, women who are pregnant, people who have a caffeine sensitivity, people who don't consume caffeine on a regular basis, and people who are taking certain medications, like Adderall for attention deficit (disorder)."
If your doctor gives you the go-ahead, choosing the 'best' option could largely come down to those that match your budget and taste preferences. From this perspective, 5-Hour Tea's price was the second highest in the table above, although customers won't pay more for its green tea-derived caffeine than the Regular Strength standard version.
To this extent, we also didn't encounter clinical evidence that consuming caffeine from green tea necessarily provides better benefits than from other sources. So the tangible advantages this provides over 'standard' formulas might not be clear.