5 Second Fix Reviews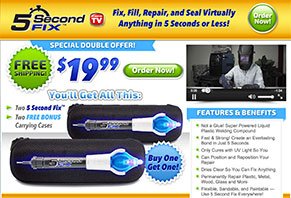 5 Second Fix is a pen containing liquid plastic resin that doesn't harden until exposed to UV light, allowing you to fix almost anything in a matter of seconds.
About 5 Second Fix
5 Second Fix is a liquid plastic welding compound that becomes solid when exposed to UV light, which the company claims will allow you to fix, fill, repair, and seal virtually anything in 5 seconds or less, including plastic, metal, wood, glass, and more.
Compared to other bonding agents, 5 Second Fix is claimed to allow you to position and reposition until you're ready to make the bond permanent, which can help you avoid a sticky mess. On top of this, 5 Second Fix's liquid plastic resin is claimed to dry clear, which can then be sanded and painted for an unnoticeable repair.
Sure, 5 Second Fix might seem like something extraordinary, but it this really the case? And will it provide a solid value for your money? Consider the following:
Does 5 Second Fix Actually "Weld" Anything?
In short, no.
Instead, the plastic resin contained in 5 Second Fix remains a liquid until exposed to UV light, at which point it quickly hardens, turns into a solid, and forms a strong bond between 2 materials. On top of this, plastic resins can be used to form simple 3D objects (such as a key hook), which is something that traditional bonding agents can't accomplish.
As such, it might be better to think of 5 Second Fix as a bonding agent, similar to glue, but without the possible mess and with some added capabilities.
Will 5 Second Fix Hold 400 Pounds?
In the 5 Second Fix commercial, we see 5 Second Fix applied to a frayed steel cable, which is then used to pull a full size pickup truck into a trailer. But is this for real?
While we don't have any reason to disbelieve the 400-pound claim, it should be noted that "As Seen on TV" manufacturers often carefully create these tests under very specific circumstances. As such, 5 Second Fix may not be able to withstand 400 pounds of force in all situations.
Other Liquid Plastic Resin Options
While the first liquid plastic resin pen to appear on the market was Bondic, the genre has recently exploded with many "As Seen on TV" manufacturers jumping on the bandwagon with their own versions, including Lazer Bond and BondTastic. In fact, if you take a look at each of these products, you'll see that their designs are nearly identical to one another.
Compared to these other options though, 5 Second Fix is claimed to be sandable and paintable, which could certainly be a big advantage if you're looking to achieve the best looking repairs (and who isn't?).
With this said, this means that you have plenty of liquid plastic pens from which to choose. On top of this, many of these might be available at your local hardware or home improvement store, which could help you save money on S&H charges if you're dissatisfied, not to mention making the return process as easy as hopping in your car.
Online Customer Reviews for 5 Second Fix
While there weren't any online customer reviews available for 5 Second Fix at the time of our research, the product is manufactured by Ontel Products Corp, one of the bigger players within the "As Seen on TV" industry. As such, Ontel also makes popular ASOTV products such as Veggetti, Foot Angel, Miracle Copper Socks, and more.
Among more than 100 HighYa reader reviews for these products, they held an average rating of 3 stars. While some customers claimed to have had positive experiences, the most common complaints appeared to revolve around failure to work as advertised and poor quality, although this doesn't mean you'll experience the same with 5 Second Fix.
5 Second Fix Pricing & Refund Policy
Two 5 Second Fix pens and 2 carrying cases are priced at $19.99 plus free S&H.
5 Second Fix also comes with a 30-day refund policy, less S&H charges. In order to request a refund, you'll need to contact customer service at 844-239-0488.
Does 5 Second Fix Belong in Your Toolbox?
Chopping to the point: Liquid plastic resin pens seem to be all the rage in DIY circles nowadays, and 5 Second Fix appears to be a new addition. However, this popularity means you have lots of options from which to choose, which almost certainly includes local options that are easier to buy—and return if you're dissatisfied.
Compared to many of these other options though, 5 Second Fix appears to provide 2 unique advantages:
The company claims it can be sanded and painted for the cleanest possible repairs, and
Comes with free S&H.
As such, although we almost always recommend purchasing these types of products locally, 5 Second Fix appears to be a solid option if you're only interested in buying online.
Ureka!

By George S.

,

Blue Ridge, GA

,

Oct 25, 2019
Verified Reviewer

As a Luthier (stringed instrument building/repair), I, and my fellows, are always on the lookout for SOMETHING that will perform "Drop-Fills", and repairs to dings in finishes. Well, this is it! After a moment of carelessness (less than a moment?) in the Buff-Out process with my 14" Stationary Buffer, I went too far over the edge of a fingerboard, which yanked the instrument (a PRS, no less!) out of my left hand, and sending the tip of the guitar's headstock to my un-rubber matted concrete shop floor. Having tried to do similar (customer caused) repairs in the past, with various mediums, including "SOLAREZ" (another UV curing product), I have had limited success, particularly when attempting to "build up" a chipped out corner area. Well, I FOLLOWED INSTRUCTIONS, and was completely satisfied, and impressed with the stunning result. Yes, it sanded beautifully - #320, #400 W/D, #600 W/D, #1000 W/D, and buffed out fabulously with rough, and finish grades of Menzerna buffing compound (again using the infamous 14" Buffer)! WOW is all I can say! I have more (5) replacement cartridges on the way from AliExpress for .99 cents each, free shipping, but will have to wait up to 2 months for their arrival! I dread running out before then, but will have to "bite the bullet" and buy locally ($$$), because I don't want to be without this stuff in my shop. Thanks, Happy Camper George!

Bottom Line: Yes, I would recommend this to a friend

---

2 out 3 people found this review helpful

Worst product

By Rosemary S.

,

Coraopolis, PA

,

May 27, 2019
Verified Reviewer

I bought this product because I watched the commercial and really believed that it would work. As soon as I opened product I could tell the glue did not flow correctly. I followed directions. The light was even sporadic. I saved the light and the packaging because I had hoped to find out if anyone else had this problem. This taught me a lesson not to buy things from TV ads. It's all from China and who knows how long it has been in a warehouse. Now I have to find another glue to try.

Bottom Line: No, I would not recommend this to a friend

---

Advertisement

---

3 out 3 people found this review helpful

Verimark 5 Second glue

By Anel M.

,

Mokopane, Limpopo, South Africa

,

Oct 31, 2018
Verified Reviewer

Great product. Fixes everything I've tried. Especially glass and plastic and metals.

I am on my 4th tube already. Love it!

I just want to know if you can get refills because the light lasts longer than the glue.

Suggestion: see-through plastic tube for the glue, if the product is not light sensitive, would help.

Bottom Line: Yes, I would recommend this to a friend

---

5 out 8 people found this review helpful

Great glue, works as advertised

By Ken A.

,

Connecticut

,

Jul 9, 2018
Verified Reviewer

I've used this product and I have not had a single issue with it. I've seen the complaints on here and frankly, they're all due to user idiocracy. A Frisbee is made of a waxy plastic and nothing at all could possibly bond it, nothing, so the fact that this didn't work on a Frisbee means squat to me. I've had great success with it using it on metal sunglasses. I got another year out of my glasses, not forever, but a year of near everyday use is not shabby. It also works as a third hand if you need say a light spring held into position, it works especially good for that. I'd recommend it to smarter friends, and will help my slower non-handy friends with it. This stuff works, and I'm picky.

Bottom Line: Yes, I would recommend this to a friend

---

Advertisement

---

2 out 2 people found this review helpful

Works for me so far

By Stewart G.

,

Florida

,

Jun 12, 2018
Verified Reviewer

I got this at a discount at Walmart, and I have been surprisingly impressed. I have stuck a number of items - a phone hook that the 'sticky pad' had let drop off, a cracked Phone case, iPhone charger cable repaired, all of them with no problems and are still working fine after weeks. I found this site while looking at where to get another tube. It has not run out yet, but I want to make sure I have another ready.

Bottom Line: Yes, I would recommend this to a friend

---

9 out 11 people found this review helpful

Terrible

By Stacy H.

,

Buffalo, NY

,

May 22, 2018
Verified Reviewer

This glue is terrible. The commercial makes it look like magic and it holds anything, but it wouldn't even hold together a light plastic. It's the worst glue ever. I would like my money back.

Bottom Line: No, I would not recommend this to a friend

---

10 out 13 people found this review helpful

Complete waste of time

The packaging is about the worse I have ever encountered. The dispenser leaks won't supply the liquid at all, then when unscrewed spills out its contents, wasting most of it.

Then the 5 Second claim is an utter lie - it takes about 5 MINUTES to harden even the smallest drop of this thing.

And then finally, does it hold? Short answer - NO. Don't waste your time or money on this trash.

Bottom Line: No, I would not recommend this to a friend

---

9 out 10 people found this review helpful

5 Second Fix

By Jim Minich

,

Delton, MI

,

Mar 13, 2018
Verified Reviewer

I bought 5 Second Fix at Menards. I thought I would try it and see how well it works. It was packaged in a single tube kit.

I tried it on a frisbee, and it didn't even last one throw before it broke loose.

I also tried it on a pair of sunglasses where the arm had broken. I glued it once, and it came loose right away. I realized that the surface was very smooth so I roughed it up and tried it again. I followed the instructions and made thin layers and cured them before adding layers. I wore the sunglasses one time, and they broke again…now they're in the trash.

I don't think that 5 Second Fix is good for most common repairs because it does not adhere to the surface well.

Bottom Line: No, I would not recommend this to a friend

---

9 out 10 people found this review helpful

Fake customer service line

By Lindsey Scott

,

Colorado Springs, CO

,

Mar 10, 2018
Verified Reviewer

I don't understand who makes this product or who they're affiliated with. I ordered it off of Amazon and it took two months to come, and when it came, it was filled in its bag with the welding liquid, so I couldn't even open the package. On the instruction guide it says don't return the product to the store, but instead call customer service line 844-239-0488. I called this number and the representative had no idea what product I was talking about and states their customer service has never serviced such a product before. Yet this number is found in multiple places for this product.

Bottom Line: No, I would not recommend this to a friend

---

10 out 11 people found this review helpful

Waste of money

I purchased 5 Second Fix. I could not wait to repair a handle on a plastic container. I have now tried three times, and every time I go to use the handle, it breaks off.

Another useless product. When will I learn?

Bottom Line: No, I would not recommend this to a friend

---

3 out 7 people found this review helpful

Awesome product!

With the vibration and frigid temperatures up north riding snowmobiles, the power cord on my navigator kept falling out. I went right around it with 5 Second Fix and have not had a single problem with it all winter. I just ordered 4 more packages for my workshop!

Bottom Line: Yes, I would recommend this to a friend

---