AccuPoint Pain Relief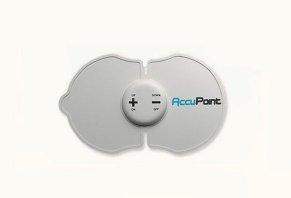 The AccuPoint patch uses electrical pulses of up to 44 times per second to relieve pain that you feel in your arms and legs from everyday tasks like doing housework or working out.
About AccuPoint Pain Relief
AccuPoint is a battery-powered patch that claims to relieve your pain using electrical pulses that stimulate your nerves.
The product's website claims that the pulses are the cornerstone of something called transcutaneous electrical nerve stimulation (TENS), which is a fancy way of saying the patch sends electrical pulses through your skin and down into the tissue where you put the patch.
Setting up the patch is easy and, according to the site, the treatment the patch provides results in long-lasting pain relief.
In our review of AccuPoint, we're going to discuss how the product works, how much it costs, what science says about TENS therapy and how the patch compares to other pain-relief patches, electric or otherwise.
How AccuPoint Pain Relief Works
When you open up your AccuPoint packaging, the patch won't be assembled and the battery won't be installed in the device.
First, you'll use a coin to open up the battery housing, then you'll insert the battery included with the device. The battery you're using is a CR 2032 battery, which is similar to what you'd use in your car's key fob. AccuPoint's site doesn't say how long one battery will last.
Once you've got the battery in place, you'll apply gel pads to the backside of the patch. These pads are what adhere to your skin. Finally, you'll put the patch in the area where you feel pain.
The face of the patch has "+" and "-" buttons that you can use to adjust the intensity of the patch and turn on or turn off the patch. To turn it on, you'll press and hold the "+" for three seconds and to turn it off you press and hold the "-" for three seconds.
When the device is on, you have 15 different levels of intensity from which you can use.
Pro tip: AccuPoint automatically shuts off after 20 minutes.
AccuPoint Warnings
We read through parts of the device's manual and found some important warnings, a few of which we'll list here:
Don't use it near your heart, mouth or diseased skin.
Don't use it in areas of high humidity (bathroom, for example).
Don't let it touch metal objects.
Don't use it more than twice a day in the same spot on your arms or legs.
The device may cause electrocution or burn
May cause "lethal rhythm disturbances to the heart"
Who Should use AccuPoint: People With Basic Aches and Pains
The manual notes that AccuPoint is intended for a very specific type of user. The following is a verbatim repetition of the manual:
"This AccuPoint device is indicated for temporary relief of pain associated with sore and aching muscles in the arms and/or legs as a result of strain from exercises or normal household and work activities."
Furthermore, though the AccuPoint website has a section highlighting common pain points in the arms, legs, back and neck, its fine print notes that the device should be used on the arms and legs.
Who Shouldn't Use AccuPoint: Those With Medical Implants and Various Conditions/Diseases
Our examination of the device's manual revealed a section that lists who shouldn't use this device:
People with pacemakers
People with metal implants
People with insulin pumps
Those with myocardial disease or arrhythmia
Pregnant women
Menstruating women
Those with cancer
Those with metabolic arthritis
As you can see, the list of exclusions is an important one because the device can cause some serious complications among the populations listed here, as described by the Warnings section of the manual.
AccuPoint's Cost and Return Policy
At the time of publishing, the product had five different pricing points:
1 pad: $39.95
2 pads: $69.90
3 pads: $99.99
4 pads: $129.80
5 pads: $149.75
The pricing tiers here are set up to save you money if you buy multiple pads and those savings are certainly incentive enough if you have pain in multiple parts of your body and want to use multiple patches.
According to the fine print, refunds are only allowed if you get a patch or patches that don't work right or are damaged upon arrival. If this is the case, then you'll have to start the return by sending an email to the following address: support@shopmodernnow.com.
The Science Behind TENS Therapy
The AccuPoint website notes there's a study that "demonstrated the surprising effectiveness of TENS therapy." The site didn't link to the study so we did some digging on our own and couldn't find any studies published within a year of writing.
We did, however, find a review of multiple TENS studies that made some conclusions about TENS effectiveness.
Our main takeaway from their findings is that the therapy is effective when done in high frequencies – 100 pulses per second or higher – and that, as one study pointed out, frequencies of 4 Hz (low frequency) were ineffective.
When used in high frequencies, there seems to be adequate evidence that TENS treatments can be helpful in reducing pain in certain areas of the body.
What's lacking, according to AccuPoint's fine print, is data about how long-term use of TENS devices affect you.
"The long-term effects of electrical stimulation are currently unknown but is rapidly advancing," the device's manual says.
It's important for you to remember that this field of pain relief is still developing – if you don't feel comfortable using a TENS device, you aren't required to.
How AccuPoint Compares to IcyHot and Aleve TENS Patches
Well-known pain relief companies IcyHot and Aleve have their own TENS devices that are available are department stores across the country.
The IcyHot TENS device is called the Smart Relief and, at the time of publishing, was on sale at Target for $24.49 with a regular price of $29.99.
We read through the device's manual and found that it has 63 different intensity settings and has a max pulse-per-second (PPS) of 100, which is right at where studies have shown that TENS devices start to be most effective.
The Aleve TENS device is called Direct Therapy and cost $19.99 at Bed Bath & Beyond. Its manual indicates that the device goes through three stages of pulsing, topping out at a max of 120 pulses per second, which is 20 more than the IcyHot device and 76 more than the AccuPoint.
Based on our research of these three products, we believe that both the IcyHot and Aleve product offer better value because their prices for a single patch are lower than AccuPoint and they have higher frequencies.
The Final Word: Pros and Cons of AccuPoint
Our analysis of this product reveals that there are some clear advantages and disadvantages to AccuPoint and TENS devices in general.
As a positive, AccuPoint provides a simple way to use TENS pain relief on arm and leg pain, provided that pain is the result of everyday activities. Research seems to point to the fact that the device's pulse frequencies aren't quite high enough to be effective based on clinical studies. However, that's not a guarantee that it won't relive the aches and pains you feel.
Also, if the patch works for you, then you've avoided having to take pain-killers, which may be a positive for those who either can't or don't want to use over-the-counter medications to relieve their pain.
The downside to the device is that there are cheaper options that provide stronger frequencies and, based on the research we mentioned a few seconds ago, higher frequencies give you a better chance of pain relief in a variety – although not all – situations.
If you're not quite convinced that AccuPoint is right for you, then you may want to consider trying the Aleve TENS patch, as its $19.99 price tag is more affordable than a single AccuPoint patch for $39.99.
2 out 2 people found this review helpful

Worked great until it died

By Gayla N.

,

Detroit, MI

,

Mar 6, 2019
Verified Reviewer

I purchased two units for my husband who has severe back pain and elbow pain so that he could get some pain relief. He loves the units and they actually work great for pain relief, however, one of the units has since stopped working after only two months and the company doesn't accept returns after 30 days, which is a horrible return policy. These cost $40 each and they don't last two months?! I'm really disappointed and so is my husband. A device like this should come with a warranty or a 6-month return policy. Now I'm out $40 and I refuse to buy another one of these units for fear that it will also die.

Bottom Line: No, I would not recommend this to a friend

---

1 out 1 people found this review helpful

Works for my wife

By Daniel M.

,

North Carolina

,

Feb 10, 2019
Verified Reviewer

My wife suffers from fibromyalgia and has extreme back pains. She uses many different pain meds and was looking for a more natural pain relief. She says it seems to work by masking the pain signals. Feels like little needles poking in her back. At least it's better than and more tolerable than the pain.

Bottom Line: Yes, I would recommend this to a friend

---

Advertisement

---

1 out 1 people found this review helpful

Didn't work

By Fay L.

,

Riverside, CA

,

Jan 21, 2019
Verified Reviewer

I am a disabled senior on a tight budget. Wasted money with this product. Very disappointed, was looking forward to some pain relief. Does not work! No manufacturers phone number or return address. Unable to return for refund.

Bottom Line: No, I would not recommend this to a friend

---

3 out 3 people found this review helpful

How to contact company

By Rebecca D.

,

Townsend, TN

,

Jan 4, 2019
Verified Reviewer

Out of the box it does not work. I took the battery out several times to make sure it was connecting. I have a TENS unit with wires and know that it helps relieve pain. I would try a replacement or a refund!

Bottom Line: No, I would not recommend this to a friend

---

Advertisement

---