ACE Cash Express Reviews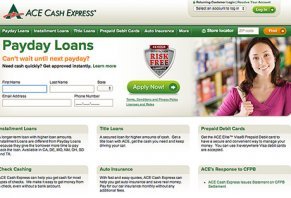 ACE Cash Express provides multiple lending products, including payday, installment, and title loans, which can be approved and funded in as little as 24 hours.
About ACE Cash Express
ACE Cash Express is a payday lender that claims to help you obtain cash quickly through instant approval. And with the company's more than 1,500 retail locations across the country, they claim to offer an unparalleled level of convenience.
But even though ACE Cash Express loans appear to provide fast approval and funding, should you consider them a viable option if you need immediate cash? Let's find out what the facts have to say.
ACE Cash Express Details
With an online presence as well as more than 1,500 retail locations across the country, ACE Cash Express claims to offer customers the following services:
Payday Loans – Short-term, high interest loans that will need to be repaid within 1-4 weeks.
Installment Loans – When compared to payday loans, installment loans typically last for longer periods of time and come with higher loan amounts. Only available in select states and for only up to $2,000.
Title Loans – Title loans work by providing you with funds while using your free-and-clear vehicle title as collateral.
Prepaid Debit Cards – The ACE Elite Prepaid Debit Card donates a portion of each purchase you make to help fight breast cancer, while the Tax Elite card provides you with faster tax refunds.
Check Cashing – Available only at ACE Cash Express retail locations, you'll be able to avoid going to the bank to cash your checks, while being subject to a nominal fee based on the total amount.
Auto Insurance – ACE Cash Express claims to help you "get auto insurance and save real money," while also offering the ability to pay your premiums on a monthly basis without any additional fees. This service includes a variety of coverage levels and no credit checks.
According to the ACE Cash Express website, application is easy and only requires your address, date of birth, financial information, social security number, and requested loan amount, at which point you can receive an instant decision. Once you've received approval, the funds can be deposited in your bank account overnight.
ACE Cash Express Qualification Guidelines
In order to qualify for an ACE Cash Express loan, you must be at least 18 years of age, have a steady, recurring source of income of at least $1,000 per month, as well as a checking or savings account that's been open for at least 1 month. In addition, you must be a resident of the state in which you're applying for a loan, and you cannot be in the midst of a bankruptcy.
However, unlike some other payday lenders, ACE Cash Express may still be able to provide you with a loan even if you don't have a credit history.
ACE Cash Express Pricing & Refund Policy
According to the company's website, they offer loans ranging between $200 and $2,500, depending on the type and state in which you live. Unlike many of the other payday lenders we've reviewed, ACE Cash Express does not provide an overview of their interest rates on their website, and states that you'll need to contact a "representative for details regarding fees, application and loan qualifications."
When it comes to repaying your loan, ACE Cash Express will begin automatically deducting your payments on your first payday after the loan was originated. The company claims that there are no fees associated with their loans or penalties for paying them off early.
In addition, unlike some other payday lenders, ACE Cash Express will not allow you to take out another loan until your existing one is paid off.
ACE Cash Express offers a 48 or 72-hour risk free satisfaction guarantee (depending on the state in which you reside), which means that you can return the funds within this time without fees or penalties.
Should You Use ACE Cash Express?
With all of this in mind, if you find yourself in a tight situation and need cash fast, is ACE Cash Express a good option? Maybe, but consider the following:
Interest Rates
First, understand that whichever loan option you choose, you're going to be subjected to very high interest rates. In fact, it's often the case that the total interest can meet or exceed the amount of your original loan. Also, although ACE Cash Express claims that they can provide loans for individuals without credit, they also claim that they "are not designed to build or repair credit history."
Online Customer Reviews
Overall, it appears that ACE Cash Express has a less-than-stellar online customer reputation, with most customers complaining about high-pressure sales tactics, customer service personnel who are unwilling to help address account problems, multiple instances of scammers taking out loans in other people's names, and numerous requests for upfront fees totaling several hundred dollars—usually via Green Dot MoneyPak cards—due to errors or other similar excuses. While ACE Cash Express claims they don't charge upfront fees, it's important to note that these individuals only received these requests after applying for one of the company's loans.
Settlement
ACE Cash Express recently settled a lawsuit with Consumer Financial Protection Bureau (CFPB) in relation to the their unfair collection practices prior to March 2012. As a result of this, as well as the company's more than 180 closed complaints, ACE Cash Express holds a D- rating with the Better Business Bureau.
The Final Bottom line
Due to their extremely high interest rates and difficult repayment terms, as we've mentioned in our other payday loan reviews, it's typically best to stay away from these types of lenders unless you have absolutely no other option. With this said, if you do decide to take out an ACE Cash Express loan, keep a sharp eye out for fraudsters claiming to be representatives of the company, and make sure you never pay any fees upfront.
SCAMMERS

By Shirley W.

,

Georgia

,

Mar 20, 2019
Verified Reviewer

I requested a loan for $1000. But before I could get the money I was told to wire back part of the money (second mistake).

Today I have been trying to get my checking account straight but they kept telling me to send $200 to obtain $2000. So now I'm stuck with almost a thousand dollars to pay back my bank.

I don't care how much you need money, DO NOT CONTACT THEM...

Bottom Line: No, I would not recommend this to a friend

---

Bad place to do business

By Ernest T.

,

Los Angeles, CA

,

Aug 1, 2018
Verified Reviewer

ACE Cash Express is a bad loan company; they will tell you this and that and lie to you. So they took out the payment that shouldn't have happened when I talked to somebody yesterday about walking into the store to pay it off. I didn't want them to electronically take it out of my bank, which they did already. The lady I talked to said she fixed it and that I can just walk in and pay. Nope, they still took it out electronically and now I have a negative balance because of their stupidity! Your employee didn't do her job right. I would like to speak to someone who reads this. I'm unhappy right now and don't have any money right now because if this.

Bottom Line: No, I would not recommend this to a friend

---

Advertisement

---

I was ripped off

By Alden W.

,

Montana

,

Jul 27, 2018
Verified Reviewer

I was desperate, and I'm kind of old school. I was very foolish not checking things out first. All I can tell you is be very careful and never pay anything up front. I hope the FBI or the company can do something. He swindled me out of $1800, I feel so stupid for letting this happen. So this guy was working out of Florida and that's about all I know. Then I received a call from two other money loaners. I'm on disability and I had my car catch on fire. I live outside of town so I needed a car pronto, so I was desperate. Cash Express is the one that set me up with this guy in the first place. I sure hope Cash Express makes it right with me. Well, I thought I'd warn others. Thank you.

I had paid fees up front and he had me buy Google Play gift cards and kept asking for more money. I never received any loan whatsoever.

Bottom Line: No, I would not recommend this to a friend

---

Easy and affordable

By Don Alger

,

Minnesota

,

May 2, 2018
Verified Reviewer

Except for having to wait unnecessarily on hold with the ACE rep for my bank to answer to verify my account, the process was super fast, super easy, and best of all, AFFORDABLE. I was able to get the money I needed quickly (24 -48 hours), and the rates blew me away; they charge over 300% less interest than all those other wahooos out there. Now I know where to turn when I need a little extra scratch.

Bottom Line: Yes, I would recommend this to a friend

---

Advertisement

---

Will not give "paid in full" statement when you pay off your loan early

I started off pretty good on my installment loan. I am now purchasing a home and my underwriter wanted a "paid in full" on my loan, so I paid them off two months early. ACE then refused to give me a "paid in full" receipt when I paid the loan off. They said it's against their company policy, so if I lose my chances of getting my home because of ACE's screw up in their company policy, they're in for a big surprise. I mean how hard is it to put an email address in an email and say "loan is paid in full." What does that take, two minutes? I think it's a very sorry way to treat your customers when most companies when you pay them off they give you a receipt that you're paid in full right on the spot. I do not recommend this company to anyone.

Bottom Line: No, I would not recommend this to a friend

---

This is no good

I spoke with a man who told me that I received an installment loan only to have $759.22 put into my account and then to learn it was now a fictitious item. It made my account run over and cost me fees. Now I am told they do not service my state.

Bottom Line: No, I would not recommend this to a friend

---

So thankful for the help when I needed servicing.

Well, as a working mom one day my car needed servicing. Totaling $900. ACE was able to lend me $300. I was very thankful, and as time went by I paid my loans due each month even with two payment arrangements, there was never a late fee. I paid in full today, and I hope I won't need another loan. But if I do, I know I'm only using ACE. My other loan is still two months to go with the competition. Thanks ACE, honestly. Life saver!

Bottom Line: Yes, I would recommend this to a friend

---

B.S. Company

If possible, I would give them a negative 100. They are the WORST company to deal with EVER!

I needed to refinance my loan because I wasn't ready to make my payment, so I went online to do so, as the email instructed. Their website makes no sense whatsoever and is not user-friendly at all.

I tried to select the option for me to pay the minimum possible and was not sure if I had done it correctly or not. I called their customer service line and spoke with a representative. I informed her of what I needed and that I was not sure if I had done the request correctly or not. She explained that I had done it correctly (after asking if I wanted to refinance or to extend, I said I wanted to do whichever got me to make the payment next month and not the next day, she said this was to refinance, which is what I had done) and I didn't need to worry.

She stated all that would be taken were service fees, which would be between $150-$200. And I asked her AGAIN if she was sure it was all completed and done correctly and if there was nothing I needed to do further, and she assured me that it was all taken care of.

Well, the next day, what do you know? The full loan amount and service fees were deducted from my account. It didn't cause an overdraft, but it left me with nothing to pay other bills I needed to pay. Obviously, I called immediately to rectify this only to get another rep who says there is nothing that can be done since the loan was paid in full.

Excuse me, but is it my fault your company messed up? NO! She was not sympathetic or apologetic in the least minimal bit. She had an attitude that reflected she could care LESS for the misfortunes her peer had caused me. She informed me I had called to cancel the refinance and that I hung up on the rep. I did no such thing!

I informed her this was incorrect, and her response was that this was what was notated by that same representative. I am telling you she screwed up my account and you are going to call me a liar and say that your coworker could not have possibly messed up? How DARE you.

I requested a supervisor, and she essentially said the same thing as the previous representative. The only thing she did different was give me an email to submit my grievance where I could POSSIBLY get this corrected. POSSIBLY? After the terrible customer service I have received every step of the way? And why did your representative not offer that email to me?I understand there are certain things supervisors can do that regular representatives can't do, but providing an email address is not one of them. Why does this company and representatives not do ANYTHING to assist customers they have screwed over?

I sent the email and they said they would refund any overdraft fees I received and asked me to verify my account. I have verified it several times and they keep asking me to do it again, but either way, I am not asking for overdraft fees back, I'm asking for the loan amount to be reversed! How hard is this to do?

I did not mess up in ANY way. They can pull up my recorded phone call and CLEARLY see what has been done incorrectly by their representative. Explain again, why do I have to pay for their mistakes?

I've never had such a TERRIBLE experience with a loan company such as this one. Do NOT get a loan from here, they will screw you over and not care when they mess up, and you have to pay for their mistakes! They will screw you over, and with the WORST customer service in the entire world.

Bottom Line: No, I would not recommend this to a friend

---

Ace Cash Express Installment Loan

By L Wise

,

Newark. DE

,

Jan 4, 2017
Verified Reviewer

I took out a $400.00 installment loan recently. I have made 4 of the 5 payments required in order to satisfy my obligation. I can not say that I have had any issues other than the extremely high-interest rates, but I understand that some companies attach much higher rates. I would not recommend this loan option unless there was no other option available.

Bottom Line: Yes, I would recommend this to a friend

---