Acorns Reviews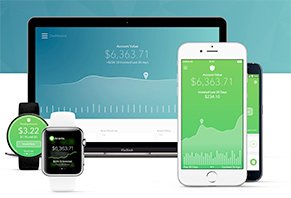 Acorns is an investment app that builds your portfolio by depositing the change from every transaction you make with connected checking and credit accounts.
About Acorns
The barrier that used to exist between the average person and the stock market has all but disappeared.
Acorns is one of many new apps that helps you build your investment portfolio, but it does it through an interesting method: micro-deposits. Each time you make a purchase from your checking account, the change from that transaction is deposited into your Acorns account.
Anytime a new industry pops up, we're curious to know if the latest innovations are really worth your time and money. In that spirit, we've downloaded the Acorns app and set up an account.
Over the next few minutes, we'll couple our experience and our research to help you understand what Acorns does and whether or not it's a good fit for you.
How Does Acorns Work?
Several years ago Bank of America started a program called Keep the Change. Every time you used your checking account to pay for something, B of A would round the purchase up to the next dollar and deposit the difference into your savings account. They framed it as the easy way to build up your savings.
Acorns has done exactly the same thing, but with a couple of wrinkles:
The "change" is deposited to your Acorns account and invested
They charge you $1 a month for their service for up to $5,000
If your total is exactly on the dollar, they round up a whole dollar
You can also connect credit cards to your Acorns account
For example, if you use your debit card to buy a case of bottled water for $8.50, Acorns "rounds up" and deposits $0.50 into your account. If you spend $13.00 on a bottle of wine, Acorns deposits $1.00 into your account.
If you get any dividends from your investments, they're invested back into your account to keep things growing.
We like how Acorns makes it easy for you to deposit money into your account. While ease-of-use is a big deal, it's not nearly as important as where your money is actually going.
So Where Does Acorns Put My Investment Money?
Acorns deposits your money into six different Exchange Traded Funds (ETFs), a collection of all kinds of different holdings that minimize your risk. The idea behind ETFs is that your money is spread out over a wide variety of relatively low-risk areas rather than in just one company's stock. If the market stumbles, it's believed that ETFs will tread water a little more easily while investors who have shares in one company will most likely feel a sharper sting.
Acorns says their ETFs are design to "maximize expected returns for a given amount of risk." In layman's terms, they want to make money for you whether you choose a low-risk portfolio or a high-risk portfolio.
In the meantime, their team of experts adjusts your portfolio as the market changes. So, if you've selected a low-risk strategy and one of your stocks is sliding into the high-risk category, Acorns automatically adjusts your investments to stay within the risk you want.
Based on our research, we believe that Acorns' ETF strategy isn't unique. Other startups like Betterment and LearnVest use the same philosophy. But on the other hand, the presence of multiple, reputable companies using the same investment model gives it a boost in credibility, especially since the ETF investment model is backed up with solid research done by renowned Nobel Laureate Dr. Harry Markowitz, Nobel winner Eugene Fama and finance professor Dr. Ken French.
Does the Acorns Change-Deposit Method Actually Build Wealth?
Acorns' big draw is that you can connect multiple accounts to their app and automatically deposit change into your investment account. It's a great concept because it doesn't take much work. You put in "acorns" of change, and, over time, those acorns will grow into mighty investment oaks. But is that really how it will play out?
To answer this question, I took a look at my personal Acorns account. In the first 12 days my account was open, transactions from my checking account and one credit-card account totaled about $20. Played out over the course of a year, that's about $608 in deposits. Not that much, really.
But let's say you deposited even less than I do … $10 a month. According to Acorns' moderate-risk estimator, 10 years from now you'll have deposited $1200 and made about $400.
In our opinion, those numbers are pretty paltry. It's hard to imagine that the average person would invest their spare change for 10 years in order to make about $400. Granted, it's money earned, but it makes us wonder how effective Acorns' change-deposit strategy is.
Now, you can make big one-time deposits that aren't limited to your change, but we'll get to that in a minute.
In terms of usability, we think the app is great. You can easily switch between your deposit history, portfolio performance and your investment strategy.
How Does Acorns Stack Up Against Other Investment Apps?
Think of Acorns' change-deposit strategy as a bike with training wheels. You can get from point A to point B, but if you really want to travel, you're going to have to take the training wheels off and get a bigger bike.
Don't get us wrong, we think training wheels are important for anyone who hasn't invested before. And as you learn more about it, Acorns actually lets you make one-time deposits on top of your change deposits.
However, based on our research, we think Betterment offers you a more diverse portfolio (12 ETFs instead of six) along with better account management tools.
Acorns' fees are $1 per month for accounts up to $5,000, then 0.25% above $5K. Betterment's fees are $3 for accounts under $100, 0.35% up to $10,000 and 0.25% after $100K. Acorns has the better fee structure, but we think the tools you get with Betterment are stronger and therefore a better value.
Our Conclusions About Acorns
We live in a great time for amateur investors. Companies like Acorns have applied some pretty complex economic theories to their apps, giving you a pretty reliable platform on which to make your first foray into the investment world.
But, in our opinion, once you get the hang of Acorns there's a good chance you'll want to move on to a more powerful investing tool like Betterment. It provides you the ability to set multiple goals for your investments and it spreads your money across a dozen different ETFs.
However, we think Acorns is an excellent way for parents to teach their kids about investing. The app is so simple you can explain it with ease to your kids, whether they're 6 or 16.
It can be a platform to help them understand the basics of investing and set them up for their own investment endeavors as they get older. And, as Acorns points out, all it will cost is some spare change.
Great product!

By Israel L.

,

Reno, NV

,

Jun 6, 2018
Verified Reviewer

The review is incomplete at best and forgot to mention several new features.

1. You can set a multiplier at 2x, 3x, and 10x your round-ups. I have a wife and three kids and have lots of volume and transactions on my linked cards. If you don't have that volume, you can use the multiplier.

2. Weekly Reoccurring investment: If you don't want to add a multiplier then you can transfer a fixed amount each week automatically to your Acorns and use the 1x round-ups. I recommend this strategy with your Acorns account.

3. Found Money: Acorns has links on their website for hundreds of companies like Amazon to Macy's to Zappos.

A purchase with that company using that link will invest 1% to 10% depending on the company into your Acorns. The bad thing is that you have to click on the link in Acorns to get those savings. You would think they just scan your account for that information. I am okay with this though, and no solution is perfect.

I invest $60 a week in Acorns in addition to a traditional 401k with 1x round-ups enabled with the aggressive ETF. I have multiple investment strategies for multiple streams of income. This is not my 401K, but I could see that it could be.

Bottom Line: Yes, I would recommend this to a friend

---

Great investment app

Some people say that it's a bad out, but personally, I have experienced no issues. Whenever I wanted to pull money out I got hit in the time they said it would take and their Investment Portfolio is very strong with ETFs, and I would recommend this to a friend.

Bottom Line: Yes, I would recommend this to a friend

---

Advertisement

---

Acorns is a huge let down

So, for the past seven months, I have been using Acorns. Everything was fine until I decided to try and pull money out of Acorns. It says it can take up to 7 days for the money to show up in your bank account. So I decided to pull a few hundred dollars out.

I waited the full seven days, and to my surprise, nothing happened. So I emailed the customer service team. They responded and said that the day after I requested money be taken out of Acorns and returned to my bank account, I had canceled my request. Now, I know I had done no such thing, so I asked them, "How do you cancel them sending money to my bank account?" They then replied and said it was canceled automatically when they tried to pull more money out of MY bank account and the bank account had insufficient funds. No duh it had insufficient funds. Why do you think I requested you send me $400 from my Acorns account?

Of course, I would have never known this if I hadn't emailed them, but it still makes no sense. What does my bank account only having $6.00 in it have to do with them sending me money from me Acorns account? So I'm beginning to think this is a Ponzi scheme. I will keep you posted.

Bottom Line: No, I would not recommend this to a friend

---

Money invested and made by using Acorns

By Derek

,

Wisconsin

,

Feb 8, 2017
Verified Reviewer

I've used this app for nine months and invested more than $2,400 of my own money. I made more than $100 from stock prices rising, $50 in dividends, $50 in "found money" from partnered companies, and $100 from referrals.

The technical support by Acorns is second to none. But when I have issues with my banking account linking to Acorns, I simply call the support number and am immediately connected with a live representative who promptly discusses my issue and follows up with solutions.

Overall, this is a must-have product for students and those under the age of 25!

Bottom Line: Yes, I would recommend this to a friend

---

Advertisement

---