Acorns Spend Reviews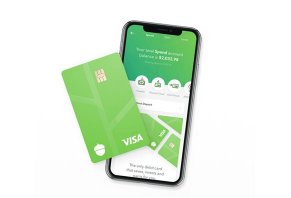 Acorns Spend offers one of the most competitive checking accounts on the market because of a $3 monthly fee that includes investment and retirement accounts and a lack of overdraft and ATM fees.
What Is Acorns Spend?
Acorns Spend is a soon-to-be-released checking account provided by Acorns, a popular robo-advisor who incorporates Spend into its retirement and investment platforms.
What makes Acorns Spend unique is that it was the first checking account of its kind to be integrated into an existing robo-advisor, which is an automated investment app that uses algorithms to invest your money wisely.
According to the company's website, Acorns was founded in 2012 and launched in 2014 by brothers Jeff and Walter Cruttenden. It wasn't until 2018, though, that Acorns announced the launch of Spend. Marketing for the new checking account focused on the debit card linked to the account – a lime green card crafted from tungsten – as well as the way Spend integrated with other Acorns features.
In this review of the checking account, we're going to take a few minutes to talk about the features the checking account offers, the fees associated with the account as well as compare the card to other online checking accounts.
By the end of this review, you'll have an excellent understanding about how this checking account can benefit you and why it may or may not be a good choice for you when you compare it to similar services.
Editor's Note: At the time of publishing, Acorns had a waiting list to sign up for Spend.
Acorns Spend Features
As we mentioned earlier, Acorns Spend is part of the Acorns app, but its features and capabilities are so similar to other online checking accounts that it is best viewed as the main feature of the app with Acorns' investing and retirement tools as extra perks to owning the checking account.
The account's features can be broken down into five different aspects: limited fees, check and deposit functions, purchase rewards and investment perks and integration with Acorns' investment and retirement accounts.
Limited Fees
One of the hallmarks of online banking has been a serious reduction in fees. In the case of Acorns Spend, you'll pay $3 a month for your checking account and investment accounts with Acorns.
However, you won't' have to pay fees for overdraft fees, there is no fee for not having a certain minimum balance and you'll get reimbursements for ATM fees that you pay.
This is a key benefit for those who often use out-of-network ATM's, which means you're using an ATM that isn't from your bank. Fees among the big banks range from $2.50 to $3.00; this is what you'll be charged by the bank whose ATM you used.
You'll also be charged a fee by the people operating the ATM (not the bank) that range from $1.50 to $3.50.
So, as you can see, your ability to withdraw cash without paying ATM fees can save you a few dollars here and there throughout the year when you find yourself in a jam and need cash quick. This is a particularly attractive feature for those who live in big cities.
CNBC reports that the average overdraft fee for New Yorkers is $34.63 and the average ATM fee in the Big Apple is $5.14.
Sufficient Deposit and Checking Functions
Through Acorns Spend you can receive direct deposits from your employer and make transfers to other banks for free. You can also deposit your checks via mobile deposit and send checks, too.
In that sense, a Spend account provides you with all the capabilities you'd need to get through your daily financial life. There isn't much difference between a Spend account and the typical bank checking account.
Purchase Rewards/Investment Perks
Acorns has incorporated a program into their checking account a rewards system in which certain retailers will give you percentage-based bonuses you can deposit into your investment or retirement account.
In addition to these, you can also enroll in a round-up program in which Acorns will round up to the next dollar every purchase you make with your Spend debit card, then deposit that extra money into your investment account.
For example, if you make a $5.25 purchase with your card, Acorns will deposit $0.75 to your investment account.
Keep in mind, though, that this feature isn't specific to the debit card but is available to anyone with an Acorns investment account.
Investment and Retirement Accounts
When we say "investment account," we're referring to the ETF-based investment platform in the Acorns app through which you can make deposits that Acorns' algorithms invest and monitor on your behalf based on your comfortability with risk and your financial plan.
If you want to learn more about this aspect of Acorns, then take a few minutes to read through our review of the Acorns app. It focuses on the investment side of the app.
The retirement account you get is an IRA retirement account to which you can deposit your round-ups or purchase rewards.
In this sense, Acorns offers a huge advantage over traditional banks because you're paying $3 a month for three different types of financial products that most financial experts would consider must-haves for anyone who wants to build a solid financial future.
Comparing Acorns Spend to Other Banks
When you're doing research about a certain financial product, it's important to look at competing products and services so you have some context.
Chase offers basic checking accounts that cost $12 a month and charge you $34 whenever you overdraw your account and an additional $15 for every five days you have a negative balance.
You can avoid the $12 monthly fee if you keep an average daily balance of $5,000 or you get at least $500 worth of direct deposits in your account.
Bank of America's monthly fee for a basic checking account is also $12 but you can waive that fee with $250 a month in direct deposits or a minimum daily balance of $1,500.
For someone who works in the gig economy and is paid by bank transfers or paper checks, Acorns Spend offers the distinct advantage of charging $3/month without any balance requirements.
Big banks aside, online bank Ally provides many of the same features an Acorns Spend account does but with some notable exception.
You can use your Ally account to make deposits and transfer money to and from your account. You also get to use Allpoint ATM's for free, in addition to up to $10 of ATM free reimbursements per quarter to cover you if you have to use a machine outside the Allpoint network.
The biggest difference between Acorns Spend and Ally Bank is fees. Your Ally account will be subject to overdraw fees and several other fees.
We'd say that Ally's main advantage over Spend is that you earn 0.60% interest on the money you keep in your Ally checking account. So, if you had a $10,000 average daily balance, at the end of the year you could earn $60 your first year with the account.
In general, we think that Acorns Spend is the superior choice when compared to the three options presented above, mainly because our research shows that the fees you pay and the services you get provide an unbeatable blend.
The Final Word: Pros and Cons of Acorns Spend
Based on our research, we think that Acorns Spend's strength is that you pay $3 per month for your checking account and you get an investment and retirement account along with it. Plus, you don't have to pay overdraft fees or ATM fees, two things that could easily eclipse $100 a year if money is tight and you're prone to forgetting what your balance is.
The downside to the account is that some users may not be comfortable opening up a checking account and getting an investment and retirement account to go along with it. Those two extra accounts may be beyond the scope of what you want to do with your money.
But, then again, you aren't obligated to deposit money to those accounts; you can stick with your checking account.
In general, we believe Acorns Spend is a great fit for someone who is comfortable with using an all-online checking account and wants that account to be part of an overall financial plan that includes investing and putting money away for retirement.
Because the Acorns app offers all three of those things in a seamless, integrated way, using round-ups from your checking account or scheduled deposits to your investment or retirement account is really easy.