Active Glow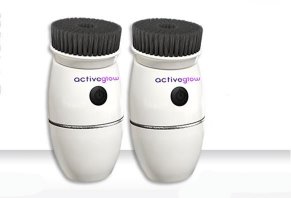 Our review of this product reveals there's a good chance it can improve your skin's appearance by removing dead skin cells but that its activated charcoal bristles most likely won't remove toxins as effectively as Active Glow leads you to believe.
What Is Active Glow?
Active Glow is an As Seen on TV facial cleansing brush that uses activated charcoal brushes to cleanse your skin and, according to the company, "draw out impurities."
What makes this product interesting is that you get two for less than $30 and they come with a charcoal-infused washcloth.
The company selling the product is Spark Innovators. They specialize in As Seen on TV products and have retail partnerships with well-known department stores like Sears, Target, Walmart and Bed Bath & Beyond.
In our review of Active Glow, we're going to talk to you about how it works, how effective facial cleansing brushes are, and how much the product costs. We'll finish up with our thoughts regarding Active Glow's strengths and weaknesses.
How to Use Active Glow
Active Glow touts its ability to clean your face better than a washcloth.
"Is washing your face actually getting your face clean from all the makeup, creams and oils? Now there's Active Glow, the revolutionary new cleansing tool, leaving your skin radiant, fresh and glowing," the site claims.
To get these results, the process is simple. Each Active Glow brush has an egg shape with a power button and a rotating brush head with fibers they infuse with active charcoal.
Hit the power button and glide the brush head over your skin. The brush bristles are hard enough to remove dead skin and, according to Spark, remove toxins, but they're soft enough to form to the contours of your face.
Pro tip: Spark Innovations says that Active Glow works for all skin types.
How Effective is the Active Glow's Brush and Activated Charcoal?
Facial cleansing brushes have been on the market for a long time, so there's plenty of information about how well they do or don't work.
One of the most helpful articles we found comes from Allure, whose article on the ins and outs of facial cleansing brushes offers some solid beauty advice about using these devices.
In the first two weeks, your skin may flare up because the dead skin cells your scraping off can clog your pores, according to dermatologist Jason Emer, whom Allure interviewed for the article.
Your skin should clear up after the first two weeks as you have fewer and fewer dead skin cells. With this in mind, Emer and the article's author said the brushes do work. You'll want to use acne treatments before you use the brush to protect your pores, though, and you'll want to limit your brush use to "once or twice a week," according to Allure.
As for Active Glow's claim that activated charcoal can soak up impurities in your skin, the opinions are as conclusive.
The idea here is that activated charcoal is relatively well-known for removing toxins in your stomach, so it should be able to do the same for your skin. However, in an interview with Reader's Digest, UCLA Professor of Dermatology Dr. Ivy Lee said there's no proof that's true.
"If it purifies toxins in our GI tracts it will probably purify toxins on our skin as well," she says. "The tough thing is, there's no evidence for this. There's no scientific evidence that it purifies the skin."
To further complicate the issue, most conversations bout activated charcoal on your face deal with masks and facial scrubs, not brush bristles.
We conclude Active Glow is likely to brighten your skin by removing dead skin cells but there's not much evidence to prove its activated charcoal bristles will remove impurities.
Active Glow Pricing and Return Policy
At the time of publishing, you could buy one Active Glow brush for $19.99 or you could buy two and get a free activated charcoal stretch towel for $29.98 and free shipping. If you live in New Jersey, Spark will charge you sales tax.
You have 90 days to get your money back if you aren't satisfied with the results. This is more than enough time to find out if Active Glow can help your skin. If you want to make a return, you'll need to contact Spark's customer services at (866)389-3896 or sparkinnovators@customerstatus.com.
Keep in mind that you will pay return shipping costs, which should be about $5 or $6.
How Active Glow Compares to Other Facial Brushes
Earlier we said that facial brushes have been around for a few years now. As such, there are plenty of options to choose from.
We went to Amazon to find two of the top-rated brushes so that you can have an idea of how they compare to Active Glow.
The first brush we'll highlight is from brand-name beauty company Olay, whose facial cleansing brush comes with two brush heads and costs $24.98. At the time of publishing, the brush had 200 customer reviews and an average rating of 4.2 stars.
The second brush is the PIXNOR Waterproof Face Spin brush, which comes with three brush heads ranging in rigidness from coarse to soft to ultra-fine. It also comes with heads that have a pumice stone, a make-up sponge and a face massager. This brush is $22.99, has an average rating of 4.4 stars from more than 1,200 reviews and Amazon lists it as a "#1 Best Seller."
What we noticed is that these competing brushes offer multiple brush heads and they have excellent reviews from customers. Active Glow brushes don't have an extra brush head and, in order to get two brush heads, you'll need to buy two devices for $29.98. This price is higher than the Olay and PIXNOR brushes.
Also, because the Olay and PIXNOR brushes are in the Amazon Prime program, you can same-day or next-day shipping, respectively.
If there was enough evidence to prove that activated charcoal brushes were effective in removing toxins from your skin, we'd say the Active Glow has a distinct advantage over the Olay and PIXNOR brushes.
However, because the claims about the charcoal bristles are, at this point, unproven, we think the Active Glow doesn't offer any significant advantage over the Olay and PIXNOR products.
HighYa's Conclusion About Active Glow's Pros and Cons
We believe the Active Glow's greatest strength is that you get two devices as well as a charcoal-infused stretch towel. This presents a fairly decent bargain compared to the pricing you get from other products.
However, our research didn't turn up any definitive evidence that indicates activated charcoal brushes can pull impurities out of your skin. Because of that, we think you should consider these brushes as standard facial brushes.
When you do this, you start to see the main drawback is price. While it's nice to get two devices and a charcoal-infuses towel, we think that the Olay and PIXNOR brushes we found on Amazon offer a slightly better value based on the excellent customer reviews and the price-point they feature.
With this in mind, we think it's important that you do some comparison shopping before you decide to purchase Active Glow. Amazon is replete with facial-brush options and many of those brushes have hundreds of customer reviews that can help you see the legitimate pros and cons you can expect.