ActivMotion Reviews
Claimed This company has claimed this profile, is getting alerted on any new customer reviews entering this page, and may engage in dialogue with its customers to address their matters.

Companies cannot pay money or provide goods in order to remove or alter customer reviews.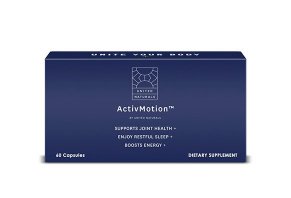 ActivMotion is a supplement that claims to ease your aches and pains by using a mix of collagen and a proprietary blend of four extracts. Learn how customers are rating this product.
---
Thank you

By Colleen N.

,

Texas

,

Nov 20, 2019
Verified Reviewer

Overall Experience:

I have knee joint problems. I should have had knee replacement surgery on both knees, but am afraid to do that. I found ActivMotion online looking for something that might lessen the pain. I showed my Dr. the ingredients and he said to try it. Now, it doesn't take all my pain away, but I am able to move more efficiently with less pain. I use the product every day. When I forget for a couple of days, I notice more stiffness.

The taste is pleasant. I'm glad I found this product because everything else I try doesn't help. I've done my research on the collagen supplements and the turmeric, plus the need for the BioPerine for absorption. All I know is that it is helping me.

So I would like to thank you for this product.

Bottom Line: Yes, I would recommend this to a friend

---

ActivMotion definitely works for me!

By Cynthia V.

,

Pebble Beach, CA

,

Oct 6, 2019
Verified Reviewer

Overall Experience:

I have been taking ActivMotion for 8 months and it has helped me tremendously. I had a serious back injury many years ago, and now as I age, 66, my back pain has returned. My pain was getting so bad that it affected my life in many ways, I am an active person and was in pain every day. I had trouble sleeping because of the pain and it was starting to run me down. I was tired of using pain medication, I'm not a person that likes using drugs of any type. I started to research and came upon this supplement. I was cautiously skeptical and after 2 and 1/2 months of using it every day, I started to feel a relief from my pain and after 3 months, my pain was gone. I also notice a difference in my hair and skin. I am so happy I discovered this product. it has given me back my ability to do all the things I want to do without pain. I have recommended it to several friends and they are experiencing the benefits as well. This is the first time I have ever recommended a supplement to anyone.

Bottom Line: Yes, I would recommend this to a friend

---

Advertisement

---

Outstanding

By Jamie L.

,

Ontario, Canada

,

Oct 1, 2019
Verified Reviewer

Overall Experience:

I was totally surprised by the energy as well as the flexibility that came after my first helping of ActivMotion. I take collagen but was not expecting instant results in increasing energy as well as my range of motion. So I took my Synbiotic 365 with an eight-ounce glass of ActivMotion and the effects were so good I ordered 6 more packages. Do yourself a favor and give it a try.

I am a 69-year-old Toronto boy who has just finished 5 rounds of chemo on June 28. So I truly appreciate the boost.

Bottom Line: Yes, I would recommend this to a friend

---

Energized

By Joe N.

,

Grand Prairie, TX

,

Oct 1, 2019
Verified Reviewer

Overall Experience:

It was very subtle, but after a week or two of taking ActivMotion, I notice a significant increase in my energy! As I continue to use this product, my energy level has continued to be energized!

Bottom Line: Yes, I would recommend this to a friend

---

It's effective and may take a bit of time.

By Gary C.

,

California

,

Sep 16, 2019
Verified Reviewer

Overall Experience:

I've tried this product for about 5 months and started to see the effectiveness when looking back and examining the difference of inflammation in parts of my body. Someone may expect a quick cure/response as someone else may do, as I would do at the beginning, but it should take time because it's like supplements, not medicines.

Bottom Line: Yes, I would recommend this to a friend

---

ActivMotion has been good for me

By Jay N.

,

San Diego, CA

,

Aug 12, 2019
Verified Reviewer

Overall Experience:

ActivMotion has helped me with a couple of things. The two most obvious changes have better sleep and better digestion. Which if I'm understanding the concept of ActivMotion with just these two improvements in my health other underlying benefits will follow.

Bottom Line: Yes, I would recommend this to a friend

---

Great product!

By Alyssa S.

,

Phoenix, AZ

,

Aug 9, 2019
Verified Reviewer

Overall Experience:

I would highly recommend this product! I've used it for almost 3 months now and I can't remember the last time I had knee joint pain! It tastes great and I know it's helping my previous joint pain tremendously!

Bottom Line: Yes, I would recommend this to a friend

---

Advertisement

---

If you want pain relief, this is the product

By Ann J.

,

Nampa, ID

,

Aug 2, 2019
Verified Reviewer

Overall Experience:

I had pain in my knees, my shoulders and my back. I've had back surgery, so the latter was a given. While I still have some stiffness occasionally in my knees and shoulders and some pain in my back, I no longer have the creaking and cracking sounds or the sheer amount of pain. In fact most days I feel great and it happened only from this product. I've tried a lot of other supplements for joints, etc. I've also noticed that a lot of my nerve pain is gone in all of those areas due to constant inflammation. Really, it was a last-ditch effort to try this product and I'm glad I did. I also appreciate the return order discount of the product. Thank you ActivMotion!

Bottom Line: Yes, I would recommend this to a friend

---

Overall Experience:

I have been taken ActivMotion since April, it has really helped my body with aches and pains and my menstrual cycle. I'm able to walk and live life. I'm very happy with it. I have had two friends order just from telling them what it has done for me.

Bottom Line: Yes, I would recommend this to a friend

---

Works for me.

By Anthony B.

,

Gilbert, AZ

,

Jul 26, 2019
Verified Reviewer

Overall Experience:

Since using this product I have experienced tremendous relief from my arthritis. This product also tastes great. I will also continue taking it because I think it is the best product on the market.

Bottom Line: Yes, I would recommend this to a friend

---

So far so good...

By Sonia E.

,

Nanaimo, British Columbia, Canada

,

Jul 25, 2019
Verified Reviewer

Overall Experience:

I had experienced aches and pains in various joints. At my age, I wasn't surprised! After reading the testimony on Facebook..."don't take another Ibuprofen," I decided to try ActivMotion, with great results...Thank you United Naturals.

Bottom Line: Yes, I would recommend this to a friend

---

Bad quality control

By Jan G.

,

Nebraska

,

Jul 25, 2019
Verified Reviewer

Overall Experience:

Your incorrect directions in ActivMotion have made me spend twice what I should and take twice as much as I should for months. I don't expect this review to ever see the light of day, but you're not ready for prime time!

Bottom Line: No, I would not recommend this to a friend

---

Advertisement

---

I love this product

By Linda O.

,

Washington

,

Jul 23, 2019
Verified Reviewer

Overall Experience:

I love this product, the pain is gone. You have to try it, you won't regret it, it will change your life. I have a bad back due to a car accident and being a CNA when I was younger I have had pain for years and this has changed everything.

Bottom Line: Yes, I would recommend this to a friend

---

Love it

By Tim K.

,

Middletown, OH

,

Jul 17, 2019
Verified Reviewer

Overall Experience:

I tried ActivMotion after I saw an ad for it on Facebook. I watched the 20-minute video. I saw all the ingredients that I know are for inflammation. I decided to give the product a try to see if I could get off medication. This product I could tell helped me. I started taking less of my anti-inflammatories. I would recommend trying and taking this product if you have inflammation, I believe it really works. It has helped me tremendously. I just ordered another month's supply.

Bottom Line: Yes, I would recommend this to a friend

---

Product helped right away!

By Steve E.

,

Roanoke, IN

,

Jul 17, 2019
Verified Reviewer

Overall Experience:

I decided to try ActivMotion after watching the video by Dr. Pedre on the internet. I figured that this might just be another one of those ads just to get your money, but I thought I'd give it a try anyway since what the video stated about the ingredients made a lot of sense. I am 70 years old now, and when I received the product about 6 months ago, I was suffering from knee pain. It wasn't affecting my ability to walk, but at night, I had to place a pillow between my legs to sleep on my side so that my knees touching didn't create too much pain and keep me awake! After the first dosage of ActivMotion, my knees no longer hurt and I didn't need a pillow anymore to be able to sleep on my side. After a couple of months, I began to have knee caps again - I didn't know that my knees were that swollen until I noticed how "bony" they were when I put my hands on them! During the past 6 months, I have recommended this product to several people, although I don't think they have experienced the dramatic improvement that I had! This is a great product!

Bottom Line: Yes, I would recommend this to a friend

---

Review on ActivMotion, it works.

By Eileen S.

,

Iowa

,

Jul 16, 2019
Verified Reviewer

Overall Experience:

I ordered ActivMotion March 21, three bags. I was feeling like I needed to have my knees injected again. I have been getting Synvisc injections in both knees about every 8 months for the last 3-4 years. They do hurt. I decided to give ActivMotion a chance and I am glad to say it works. I have used 2 and 1/2 bags and do not feel the need for those shots. I have less pain in my knees and better movement. Sometimes I can go up steps like a normal person instead of the left knee up then right to the same step then left up one step, then right to the same step. So I just reordered 3 bags. Lat year I had a fall because of my knees which ended up badly with a hematoma on my arm from hitting a knob, which then went into cellulitis and a stay in the hospital with IV antibiotics. Then it turned into an abscess with another hospital visit for IV antibiotics, then surgery and going home with an open wound that needed to be packed so could heal from inside out. After 6 weeks it healed luckily. I intend to continue to use ActivMotion as my next move would be replacements and I am trying to avoid that for as long as possible.

Bottom Line: Yes, I would recommend this to a friend

---

After 3 months of taking ActivMotion

By Ronald Y.

,

Afton, OK

,

Jul 11, 2019
Verified Reviewer

Overall Experience:

I have been taking ActivMotion every morning for about 3 months, along with CBD oil at night. I cleared the ingredients with my long term chiropractor. I have noticed a definite decrease in inflammation of my joints. At 78 I am physically active with workouts, elliptical usage, power walking, and golf. I am also sleeping with fewer interruptions at night. As long as I continue to feel this way I will keep taking ActivMotion.

Bottom Line: Yes, I would recommend this to a friend

---

Advertisement

---

Excellent

By Joan W.

,

Massachusetts

,

Jul 10, 2019
Verified Reviewer

Overall Experience:

I have been using ActivMotion for 3 months and have totally noticed a big difference. My right knee always had pain, especially when bending, but since I have been using the ActivMotion I definitely feel a huge difference. I am 75 years old and really am trying to not undergo a knee replacement if possible.

I am very pleased with ActivMotion and just ordered another 3-month supply. It is a little pricey but I feel it is worth it to not have pain and maybe prevent surgery.

Thank you.

Bottom Line: Yes, I would recommend this to a friend

---

Works for me

By Mike M.

,

Southern California

,

Jul 2, 2019
Verified Reviewer

Overall Experience:

First, I never write reviews. But I'm making an exception! ActivMotion is a great product. I'm reordering it after not using it for 1 month. I notice my aches and pains coming back after not using the product. When I was using ActivMotion i didn't need to use Advil, which is a good thing! I highly recommend it,

Bottom Line: Yes, I would recommend this to a friend

---

Great products

By William W.

,

Washington

,

Jul 1, 2019
Verified Reviewer

Overall Experience:

We have been using this product for a couple of months now, it is fantastic, would recommend it for anybody having joint problems or having problems with arthritis. Seems to work great.

Bottom Line: Yes, I would recommend this to a friend

---

Feeling better

By Dan D.

,

Sudbury, Ontario, Canada

,

Jul 1, 2019
Verified Reviewer

Overall Experience:

I started noticing within the first two weeks of taking this that I didn't have as much pain and stiffness. I had shoulder, neck and knee pain that was becoming unbearable. I am so happy that I have finally found something that is helping me. I didn't realize how bad I was until I started feeling better. I highly recommend this! I am glad that I found it!

Bottom Line: Yes, I would recommend this to a friend

---

ActivMotion

By Lory W.

,

British Columbia, Canada

,

Jul 1, 2019
Verified Reviewer

Overall Experience:

I'm delighted, I had been experiencing some pain in my fingers and many joints like my hips recently. Even my feet were getting stiff. I ordered your product and really like the drink. The lemony raspberry is very tasty and I look forward to it each morning.

After 2 weeks I started to experience relief and it lasts...I also sleep much better and I don't toss and turn at night, with achy hips. I have more energy and feel like I am getting back to normal. I am going to stay on ActivMotion for life. Thank you, Dr. Pedre, for formulating this effective product. It has changed my life.

Bottom Line: Yes, I would recommend this to a friend

---

Advertisement

---

ActivMotion has helped me.

By Yoko U.

,

Kelowna, British Columbia, Canada

,

Jun 27, 2019
Verified Reviewer

Overall Experience:

I have been using ActivMotion since April, 2019 and I have found that it has helped me.

The first thing that I noticed was that my left middle toe that I had broken years ago stopped hurting.

I also noticed that the pain in my back upon waking up was going away. I had a Laminectomy in 2013 which got rid of my Sciatica but I was still waking up with a sore back. I had even bought a new bed but the pain had not gone away until after I was taking ActivMotion for about a month.

I also have Arthritis in my fingers, knees and left hip. My fingers and right knee pain have started to feel better. But I still am having problems with my left hip and left knee.

So I am going to continue to take ActivMotion hoping to get even more relief.

I have been telling my friends about the relief I have been getting from using ActivMotion.

Thank you for your help.

Bottom Line: Yes, I would recommend this to a friend

---

The aching in my joints is subsiding.

By Celeste B.

,

New York

,

Jun 27, 2019
Verified Reviewer

Overall Experience:

I have only been taking ActivMotion for 60 days. For 1 week I failed to take the product and my joints didn't feel 100%. As soon as I started taking the product again, my joints felt better. I am continuing to monitor this product and my body but I really think I am onto something good for the longevity of my life.

Bottom Line: Yes, I would recommend this to a friend

---

ActivMotion means no more Aleve for me

By Joe E.

,

Ottawa, Ontario, Canada

,

Jun 26, 2019
Verified Reviewer

Overall Experience:

I have really bad arthritis in my hips due to malformed hip joints and have been treating my daily pain with NSAID's when it becomes unbearable.

I received my first order of ActivMotion in April and have not taken a pain relief medication since early May.

I'm quite active, and a glass of ActivMotion in the morning allows me to be mobile and pain-free all day.

I'm happy enough that I just placed my second order yesterday.

Bottom Line: Yes, I would recommend this to a friend

---

Very pleased with the product

By Donna C.

,

North Billerica, MA

,

Jun 25, 2019
Verified Reviewer

Overall Experience:

Hello, I love ActivMotion when I consistently take it, it relieves my joint discomfort. The only thing I dislike it seems very sweet but the positive effects outweigh that and I'm very happy to give this product a great review.

Bottom Line: Yes, I would recommend this to a friend

---

Works!

By Julie C.

,

Las Vegas, NV

,

Jun 21, 2019
Verified Reviewer

Overall Experience:

I ordered this product for my husband and he loves it so much I am going to start taking it too! It has helped with his back and stomach issues! He is sleeping better as well. The taste is great!

Bottom Line: Yes, I would recommend this to a friend

---