ActivMotion
Claimed This company has claimed this profile, is getting alerted on any new customer reviews entering this page, and may engage in dialogue with its customers to address their matters.

Companies cannot pay money or provide goods in order to remove or alter customer reviews.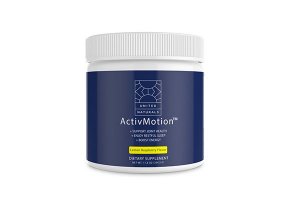 ActivMotion is a supplement that claims to ease your aches and pains by using a mix of collagen and a proprietary blend of four extracts via a daily one-teaspoon serving.
ActivMotion Review - Experience Pain Relief?
ActivMotion is a water-soluble collagen supplement that contains a proprietary mix of ingredients that its manufacturer, United Naturals, claims will help you alleviate aches and pains.
United Naturals' Chief Wellness Officer is Dr. Vincent Pedre who, according to the United Naturals website, is a functional medicine certified practitioner. The site says Pedre graduated from Cornell University "with honors". He also graduated from the University of Miami School of Medicine.
We did a quick check of his credentials and found that U.S. News & World Report lists Dr. Pedre as being affiliated with New York's Mount Sinai hospital and that Pedre did, in fact, graduate from the University of Miami's medical school. At the time of publishing, Pedre's LinkedIn page confirmed this information.
United Naturals' ActivMotion seems to provide benefits for your joints based on the collagen and propriety spice mixture in its powder. And, United Naturals notes, the product has been tested by an FDA-approved lab.
In this review, we're going to examine how the product works, the ingredients and dosage amounts in ActivMotion, as well as the pricing and refund policy of the product.
At the end of our review, we'll give you a few conclusions that will help you decide if this particular product is right for you.
How ActivMotion Works
As we mentioned in our introduction, ActivMotion is a powder that you mix with water and drink. According to the back label of the product, you should mix 1 teaspoon of ActivMotion with 6-8 ounces of water and mix it well.
The product contains cow and chicken collagen, as well as a resin extract of Boswellia serrata, turmeric root extract, Stevia leaf extract and black pepper fruit extract (more on those in a few minutes).
Drinking in these ingredients, the product's website says, leads to the relief of aches and pains and, as they point out, your body uses collagen (in general) to strengthen your body and maintain flexibility.
According to a March 2018 article from WebMD, collagen is a protein whose main job is to hold tissue together. When tissues hold together – muscles, tendons and ligaments, for example – they're stronger and less likely to tear.
But collagen's help isn't limited to muscles, tendons and ligaments. WebMD goes on to say that collagen helps skin stay elastic which leads to fewer wrinkle and an overall younger appearance.
As you get older, collagen-related aches and pains are more prevalent. For example, Healthline points out, your cartilage weakness and joints that used to move freely now have to contend with aging cartilage and, as a result, you may feel pain in your knees, shoulders and other areas.
From a cosmetic perspective, your body produces less collagen as you age and, as it declines, skin flexibility decreases and wrinkles.
ActivMotion's Ingredients: What They Do, Side Effects and Safety
According to ActivMotion's website, there are six main ingredients intended to help your body to fight aches and pains:
6 g hydrolyzed cow (bovine) collagen
40 mg chicken collagen ("type II")
200 mg Boswellia serrata resin extract
120 mg stevia leaf extract
100 mg turmeric root extract
10 mg black pepper fruit extract (piper nigrum)
Each of these ingredients is allergen- and GMO-free, ActivMotion's packaging says. Also of note is that the label says that a daily value has not been established for the six ingredients, which means, at the very least, there is no consensus opinion among regulatory bodies as to how much of each ingredient you should take every day.
Scientific Evidence for the Effects of ActivMotion's Ingredients.
Based on our research of the product's pair of collagen ingredients as well as its proprietary extract mix, we believe there is some scientific evidence that would lend legitimacy to ActivMotion's claims that it can ease aches and pains.
In this section, we'll do a quick overview of what existing studies say about each ingredient.
Cow and chicken collagen
Based on our research of existing studies, we believe that collagen has the potential to provide your skin with more collagen content and, because the substance is high in protein, it has the potential to help you build muscle and burn fat if you add collagen to your weight-lifting routine.
These conclusions come from a pair of studies, both of which WebMD references in their 2018 article about collagen we referenced earlier.
The first study tested collagen on 69 women age 35-55, some of whom took 2.5-5.0 grams of collagen daily for eight weeks and some of whom took a placebo.
The results, which appeared in a 2013 edition of the Skin Pharmacology and Physiology medical journal, indicated that the women who took the collagen had "a statistically significant improvement (of skin elasticity) in comparison to placebo."
The second study came to light when a team of German doctors published their results in the British Journal of Nutrition. They gave 15g of collagen supplements daily to older men (72.2 years, on average) who were dealing with sarcopenia, a condition in which muscles become weaker with age.
The doctors concluded that, while most research focused on how collagen can help your skin, there seems to be some grounds to support the idea that its high protein content can help strengthen your muscles along with weightlifting.
A Quick Word About Cow Collagen as a Topical Application
WebMD has a formidable list of potentially helpful uses of cow collagen, all of which require a topical application. The list does not include any uses that rely on a drinkable collagen solution.
Stevia, Turmeric, Black Pepper Fruit and Boswellia Serrata
These four ingredients make up the proprietary mix that ActivMotion claims will ease your aches and pains.
Stevia
According to a conversation with an ActivMotion chat representative, Stevia is used purely as a sweetener and has no specific value for joint pain or helping strengthen your body.
Turmeric
Turmeric contains curcumin, which, as mentioned in the previous section, is a property that your body uses to fight inflammation. There seems to be enough evidence to support the claim that it can help with joint pain.
Black Pepper Fruit
Consumer Lab notes that the extract from this pepper fruit contains piperine, which, according to the site, has the ability to help your body more efficiently use curcumin, an anti-inflammatory property found in turmeric.
Boswellia Serrata
This extract is more commonly known as Indian frankincense and is a tree-based ingredient that, according to Examine.com, has shown in some studies it can be effective in fighting inflammation and pain related to osteoarthritis, the most popular form of arthritis.
Side Effects of ActivMotion's Ingredients
Based on our research of various articles covering the side effects of collagen, we found one side effect mentioned: mad cow disease.
WebMD notes that, while no link has been made between mad cow disease and human consumption of bovine collagen, it's best to avoid products that use ingredients made in counties where "mad cow disease has been found".
We did some quick research and found that there are only a few instances of mad cow disease in the United States, such that, according to the CDC, you shouldn't be worried about the disease making its way into the food supply.
As for the other ingredients, here's a quick rundown of the side effects we found on WebMD and RX List:
Chicken collagen: Possible stomach issues; reactions for people with chicken and/or egg allergies
Stevia: Possible reaction for those with ragweed allergies, low blood sugar, low blood pressure
Turmeric/curcumin: Nausea, diarrhea and ulcers
Black pepper fruit: Same as turmeric curcumin
Boswellia serrata: Diarrhea, nausea, stomach pain, rash (when applied to skin)
The sources we read put an emphasis on pregnant women avoiding the addition of these various ingredients to their diet. The suggestions weren't so much based on data as they were on the "better safe than sorry" mentality.
ActivMotion's Pricing and Return Policy
At the time of publishing, ActivMotion offers three different price points for their 11.8-ounce supplement jars:
1 jar: $49
3 jars: $134
6 jars: $224
If you aren't satisfied with the product, you have 30days from the date of purchase to return it for a full refund, according to United Naturals' fine print. Also, you'll be responsible for the return shipping costs. To start the refund, you need to call 1-844-794-7728 to process the refund.
When you get ready to buy your product online, ActivMotion will give you the option of signing up for a subscription plan. This plan will send you shipments and charge your credit or debit card automatically.
According to the terms and conditions, ActivMotion won't sign you up without your permission. If, for any reason, you want to cancel your subscription, you can do so by phone or email.
Pro tip: Shipping is $5 for a single-jar order and free for multiple jars. Estimated shipping time for all orders is 3-8 days.
Conclusions About ActivMotion
Based on our research of this supplement, we believe there is sufficient evidence to believe that the various ingredients ActivMotion contains can have a positive effect on the "aches and pains" that you may feel in your joints.
These ingredients directly affect those ailments in two ways, the research seems to suggest. First, curcumin has been proven in certain situations to reduce inflammation, which can reduce pain. Second, the protein content in collagen can strengthen your muscles when used in conjunction with resistance training, which can include lifting weights.
With these in mind, it's important to balance the benefits with the fact that there is no formalized body of evidence we found, either on websites or in journals, that provides parameters for how to take curcumin and collagen (pill form, topical, water-soluble).
Therefore, we cannot say with certainty either way if taking a water=soluble form of collagen or curcumin will be as effective as what was observed in the studies we referenced earlier.
Also, keep in mind that there are collagen and turmeric supplement pills at big-box stores like Walmart. Buying a jar of each supplement could end up costing you less per month than ActivMotion.
---
Bad quality control

By Jan G.

,

Nebraska

,

Jul 25, 2019
Verified Reviewer

Your incorrect directions in ActivMotion have made me spend twice what I should and take twice as much as I should for months. I don't expect this review to ever see the light of day, but you're not ready for prime time!

Bottom Line: No, I would not recommend this to a friend

---

Subsequent order not as effective

By Kathleen M.

,

Bodega Bay, CA

,

Jun 19, 2019
Verified Reviewer

The first order was one bag of ActivMotion. After using it for several days I was delighted to notice I didn't require my daily OTC pain reliever. I was able to walk faster and with better balance.

The subsequent order has not proven as reliable. Am wondering whether the formula has changed and, if so, would you please consider returning to the old formula.

I have suggested ActivMotion to several of my clients and will be disappointed if it is not as effective for them.

Thank you!

Bottom Line: Yes, I would recommend this to a friend

---

Advertisement

---

Tastes good

By Jeannie C.

,

Nevada

,

May 1, 2019
Verified Reviewer

This product tastes good. I have bee taking this for almost one month but I still have not felt any change. I have reordered to give it a chance to take effect on me. Hoping I will feel a change. I have reviewed it as "No, I would not recommend this to a friend." I will definitely change my review depending on my second order.

Bottom Line: No, I would not recommend this to a friend

---

Great pain relief!

By Mae M.

,

Grafton, New Brunswick, Canada

,

Mar 21, 2019
Verified Reviewer

I am on my second bottle taking one scoopful every morning on an empty stomach. I will be 60 next month. I was not sleeping well and was taking Ibuprofen for pains. I have not taken Ibuprofen since I started this product and I am sleeping much better. I really feel that a lot of my pains have gone and others have subsided.

Bottom Line: Yes, I would recommend this to a friend

---

Advertisement

---

Off of Aleve

By Ron D.

,

Texas

,

Apr 12, 2019
Verified Reviewer

After listening to the presentation, I chose to try it and get off of the Aleve last Nov. It works well in reducing the muscle pain I was experiencing. I sleep better at night, which is allowing me to get back to the gym.

Bottom Line: Yes, I would recommend this to a friend

---

Helps with my digestive inflammation

By Clive N.

,

Spring Hill, TN

,

May 1, 2019
Verified Reviewer

I had ulcerative colitis since I was 17 had my colon removed at 44. Have had digestive issues since, took your product and have had a great reduction of issues from inflation. Not sure why you have a strict number of characters I have to use, shouldn't I just tell my story?

Bottom Line: Yes, I would recommend this to a friend

---

A new customer but hopeful

By Janet P.

,

Alberta, Canada

,

May 14, 2019
Verified Reviewer

I have taken ActivMotion for about 2 weeks now. I had a hip replacement a few weeks ago I had been in pain for over a year and my knee on my other leg became swollen and painful. I am hoping with continued use my knee will improve. I have found I sleep well and my energy level is great since taking the product.

Bottom Line: Yes, I would recommend this to a friend

---

Still evaluating

By Mary S.

,

Minneapolis, MN

,

Jun 7, 2019
Verified Reviewer

Initially, I was pleased with the lessened pain/stiffness but was very impressed with the quality of sleep I enjoyed. Having been an insomniac for years, sleeping well on a consistent basis is very important to me. The joint relief has been up and down. I continue to have an off day about every 7-10 days where I seem to ache everywhere. So I am continuing to evaluate the overall effectiveness.

Bottom Line: Yes, I would recommend this to a friend

---

The aching in my joints is subsiding.

By Celeste B.

,

New York

,

Jun 27, 2019
Verified Reviewer

I have only been taking ActivMotion for 60 days. For 1 week I failed to take the product and my joints didn't feel 100%. As soon as I started taking the product again, my joints felt better. I am continuing to monitor this product and my body but I really think I am onto something good for the longevity of my life.

Bottom Line: Yes, I would recommend this to a friend

---

Feeling better

By Dan D.

,

Sudbury, Ontario, Canada

,

Jul 1, 2019
Verified Reviewer

I started noticing within the first two weeks of taking this that I didn't have as much pain and stiffness. I had shoulder, neck and knee pain that was becoming unbearable. I am so happy that I have finally found something that is helping me. I didn't realize how bad I was until I started feeling better. I highly recommend this! I am glad that I found it!

Bottom Line: Yes, I would recommend this to a friend

---

Truly a miracle!

By Adele S.

,

North Palm Beach, FL

,

Jan 20, 2019
Verified Reviewer

I have dealt with lower back, hip, knee, and ankle pain for several years. Most of the time using OTC pain pills for short time relief while worrying about what they're doing to my stomach. I viewed the ActivMotion video and when they said "if you are an ibuprofen user this is for you!" I ordered and have taken two days - AMAZING! I was pain-free on day one and slept well. Today, day two, again doing well. I have alerted all my friends - must try ActivMotion!

I celebrate my 88th birthday in a couple of weeks - BEST GIFT EVER!

Bottom Line: Yes, I would recommend this to a friend

---