ActivPhy Reviews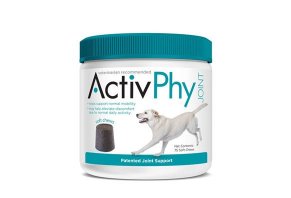 ActivPhy is a once-daily soft chew that claims to help your dog feel their best, improve their coat, alleviate exercise discomfort, and more.
About ActivPhy
According to ActivPhy, their once-daily soft chew supplements can help support your dog's bone, muscle, and cartilage health and make them act and feel their best in all stages of their life. In addition, by suppressing your dog's inflammatory response, ActivPhy claims to help improve their mobility.
But can ActivPhy really provide all these benefits? Is it worth the money, and perhaps most important, is it safe for your dog? We retrieved some facts and here's what we found out.
How ActivPhy Works
At its most basic, ActivPhy's primary claim to fame is that their once-daily soft chews contain patented blue-green algae extract that supplies your dog with an ample amount of antioxidants and other ingredients that can help support their immune system, as well as to support bone, muscle, and cartilage health. In fact, ActivPhy claims to be so effective that it was previously only available through veterinarians.
By supporting these essential functions, ActivPhy also claims to help improve your dog's coat, alleviate discomfort due to normal daily exercise, support structural integrity of joints and connective tissue, and support muscle health and strength.
In order to accomplish this, ActivPhy contains the following ingredients:
Methylsulfonylmethane​ (MSM) 900mg (300mg for Small Bites)
Glucosamine HCI 600mg (200mg for Small Bites)
Creatine 300mg (100mg for Small Bites)
Omega 3 (Flaxseed oil) 300mg (100mg for Small Bites)
Proprietary Antioxidant Blend 300mg (100mg for Small Bites): Blue-Green Algae Extract, Citrus Bioflavonoids, Dicalcium Phosphate, Manganese Sulfate, Turmeric, Vitamin C, Vitamin E, Zinc Sulfate
According to the ActivPhy website, their soft chews can be used by dogs as young as one year of age, although they come in 2 different formulations: dogs under 30 pounds and dogs over 30 pounds (see more about this in the following section).
ActivPhy is claimed to be manufactured in the USA and to be formulated without corn, wheat, grains or mammalian protein. Depending on your dog's weight and the length of time they've been using ActivPhy, they'll need to be given anywhere between ½ and 5 chews daily.
ActivPhy Pricing and Refund Policy
ActivPhy bottles are claimed to include 30 days worth of soft chews and are priced as follows:
Small Bites (includes 90 soft chews): 2 payments of $14.99, or one single payment of $29.98.
Original Chews (includes 75 soft chews): 2 payments of $19.99, or one single payment of $39.98.
Whichever option you choose, your order will be charged $9.95 shipping and handling and will also include Whimzees dental treats.
Important note: Based on ActivPhy's Ingredients & Dosing page, there are only 2 available product options: Small Bites (dogs under 30lbs) and Original Chews (dogs over 30lbs). However, when checking out, under the "ActivPhy For Dogs Over 30 lbs" section it reads, "Today you will get a one month supply of ActivPhy for dogs 31-100 lbs for only one easy payment of $39.98 plus $9.95 S&H and for dogs over 100 lbs for one easy payment of $79.96 plus $9.95 S&H."
This is confusing because it appears that you'll receive one bottle of ActivPhy for dogs 31-100lbs and a second for 100+lbs. Whether you choose the single or 2-pay options, this is the only package you can purchase if you own a dog over 30 pounds. This leads us to wonder why the company would assume that anyone with a dog 31-100lbs also has a dog 100+ pounds? In addition, if you choose this option does this mean that you'll be paying a total of $139.84? Unfortunately, there isn't an order total displayed on the checkout screen to confirm this.
ActivPhy comes with a 30-day refund policy, less S&H charges. In order to begin the refund process or to clarify your order total, you'll need to contact customer service at 855-726-1856.
What's the Bottom Line About ActivPhy?
With all of this in mind, can your dog benefit from using ActivPhy and do these benefits represent a good value? Maybe, but keep the following in mind before placing your order:
The Company
ActivPhy is manufactured by Henry and Clemmie's, LLC based out of Parker, CO who also makes all-weather jackets and backpacks for dogs. However, neither ActivPhy nor Henry and Clemmie's are listed with the Better Business Bureau, although the company's other products appear to have a fairly positive online reputation.
Also, although ActivPhy is claimed to have been previously only available through vets, we were unable to locate any proof of this, or any clinical evidence showing the supplement performs as advertised.
Pros:
A once-daily soft chew that claims to help support your dog's bone, muscle, and cartilage health
Manufactured in the USA and formulated without corn, wheat, grains or mammalian protein
30-day refund policy
Cons:
No clinical evidence to support their claims
» Recommended Reading: Dog Supplements 101: A Detailed Beginner's Guide
---
Worked for my dog!

By Ronni B.

,

Texas

,

Feb 21, 2019
Verified Reviewer

Overall Experience:

I have a rescue Terrier mix (best they could tell) who a Vet tech diagnosed as having a luxating (sp) patella. I noticed an improvement in his use of his right rear leg within 2 weeks. Vet has told me to keep him on it, just at a lower dosage, so I just crumble 1/3 over his food. I now purchased 4 - 75 count chew jars and his "favoring" or limping has never returned.

Bottom Line: Yes, I would recommend this to a friend

---

Overall Experience:

My dog is generally very healthy but would occasionally display stiffness in her hind leg. She is a nine year old goldendoodle.

We heard about ActivPhy through our pet store and decided to give it a try. It has made an amazing difference in her mobility. She is no longer stiff and can run like the wind. People comment that she runs around and acts like a puppy even at 9. She loves the taste. I'm sold! This product works.

Bottom Line: Yes, I would recommend this to a friend

---

Advertisement

---

This actually works!

By Judie

,

Palm Bay, FL

,

Aug 29, 2015
Verified Reviewer

Overall Experience:

I have a two year old pit bull who had ACL surgery, it took her many months to recover but she still limped. Then she had problems with her "good" knee which got so bad one day she literally could not walk. I carried her into the vets office. On the way home I stopped to find a different glucosamine product. I had already tried 2 without improvement. A clerk at the pet store recommended Activphy. I was leary but gave it a try. I started to notice improvement after a month and now she doesn't limp at all, even after rough play and hard running around the yard. I truly believe that this product has saved her from surgery on her other leg. For me, it's a bit expensive but so totally worth it when I can witness the improvement with my own eyes. I don't usually write reviews but I even wrote to the company and they posted it along with Lulu's picture on their website!

Bottom Line: Yes, I would recommend this to a friend

---

Lives up to what they claim

By John

,

Florida

,

Aug 14, 2015

Overall Experience:

I also was hesitant on purchasing this product. I have 3 dogs, one a Rottweiler, and 2 Chihuahuas. The Rotty suffered a leg injury while running, before bringing her to a Vet, I wanted to try this product. This is my third Rotty, and have been there and done that. This breed always seems to have bone, joint, etc. issues. The injury didn't seem serious enough to run to my Vet as I normally do. I learned of these products from previous experience. Getting to the point, this product is everything it claims to be, it works, my dogs love the taste, and compare the ingredients to the runners up, dosage, mgs, how many a day, and you will see you are getting a high quality product for a good price.

Bottom Line: Yes, I would recommend this to a friend

---

Advertisement

---

ActivPhy seems to improve my 13 year old Lab's comfort

By Sherry Seaholtz

,

Pottstown, PA

,

Jul 11, 2015

Overall Experience:

I have given my 13 year old Lab "Emma" these and it seems to help her daily movement and her ups and downs. Besides that, she loves them. I would definitely recommend them to others. Anything to make the last years of my Emma's Life more comfortable I am definitely going to do.

Sherry

Bottom Line: Yes, I would recommend this to a friend

---