Advanced Probiotics by Heartland Nutrients Reviews
Claimed This company has claimed this profile, is getting alerted on any new customer reviews entering this page, and may engage in dialogue with its customers to address their matters.

Companies cannot pay money or provide goods in order to remove or alter customer reviews.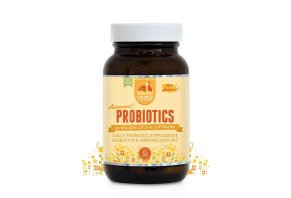 With 30 billion CFU of 15 different acid-resistant bacteria strains, Advanced Probiotics by Heartland Nutrients claims to improve digestive function.
About Advanced Probiotics by Heartland Nutrients
Each dose of Advanced Probiotics by Heartland Nutrients promises to feature 15 beneficial bacteria strains that can help you supercharge your gut and experience better energy, digestion, mood, and overall immune function.
And compared to the competition, the website indicates this probiotic formula delivers 30 billion colony-forming units of acid and bile-resistant strains that won't become damaged inside your stomach, and that also doesn't require refrigeration.
All you have to do is take one capsule of Advanced Probiotics with water, preferably with your first meal of the day. From there, the company claims that some customers will experience a dramatic difference in a matter of days, while most can expect an improvement in their overall health after three to four weeks of regular use.
What's the deal with Heartland Nutrients' Advanced Probiotics supplement? Will it deliver on all of these benefits? And if so, is it necessarily your best option among the competition?
Give us a few minutes and we'll help you answer key questions before handing over your money—starting with the fundamentals.
Your Quick Reference Guide to Probiotics
Over the past 20 years, the scientific community has heavily researched beneficial bacteria strains commonly found in foods like kefir, yogurt, cheese, sour milk, and kimchee.
Outside of these foods, they're also concentrated in capsules and tablets, which can be taken as dietary supplements measured in colony-forming units (CFU)—basically, the number of individual bacterial cells per dose.
Once consumed and populated in the digestive tract (cumulatively referred to as the 'gut'), these beneficial strains have been clinically shown to help crowd out bad bacteria and improve symptoms related to conditions like antibiotic-associated diarrhea, constipation, some allergic reactions, irritable bowel syndrome (IBS), bloating, gassiness, and less-than-stellar immune function.
In certain instances, when combined with a healthy diet and regular exercise, they may even be able to help you lose weight.
And while all probiotic strains are considered beneficial for human consumption, not all provide the exact same benefits. Specifically, which strains will you find in Advanced Probiotics, and what benefits might you expect to experience?
Which Bacteria Strains Are Found in Advanced Probiotics?
Per the supplement facts label listed on the website, Advanced Probiotics contains the following:
Proprietary Probiotic Blend: 30 billion CFU – Lactobacillus acidophilus, Bifidobacterium lactis, Lactobacillus plantarum, Lactobacillus rhamnosus, Lactobacillus casei, Lactobacillus salivarius, Lactobacillus bulgaricus, Bifidobacterium breve, Lactobacillus paracasei, Lactococcus lactis, Streptococcus thermophilus, Lactobacillus brevis, Bifidobacterium bifidum, Bifidobacterium longum, Bifidobacterium infantis
Based on what we've learned during our extensive research into probiotic bacteria, the Lactobacillus genus, or family, is the most common found in supplements. And while all strains in this genus provide similar digestion and immune-related benefits, some, like acidophilus, might be especially adept at addressing IBS, along with urinary tract and vaginal bacterial infections.
Rhamnosus may help reduce (and even prevent) atopic dermatitis in children, as well as reduce the development of allergies. Casei could help improve nutrient absorption and reduce cholesterol levels; salivarius might boost dental health, and bulgaricus and brevis are resistant to antibiotics.
Bifidobacteria is another popular genus found in probiotics (Heartland's Advanced formula, or otherwise) that provides many of the same benefits as Lactobacillus.
Some standouts include lactis (modulates brain activity, reduces the risk of contracting an upper respiratory illness), bifidum (reduces the length of hospital stays for children with acute diarrhea), and longum (reduction of radiation-induced diarrhea).
Can Probiotics Like Heartland Nutrients' Advanced Formula Cause Side Effects?
Authoritative sites like the Natural Medicines Database, WebMD, and Examine.com report that probiotic side effects are typically mild and don't involve much more than temporary bloating and gassiness lasting two to three days.
However, they emphasize that some members of the population should be careful with probiotics, including those who are pregnant, who have short bowel syndrome, or who have experienced any of the above side effects for more than three days.
Even if you aren't experiencing any of these conditions, it's always a good idea to speak with a healthcare professional before you start taking any new dietary supplement, Advanced Probiotics or otherwise.
How Much Does Advanced Probiotics Cost?
Advanced Probiotics is only available directly through Heartland Nutrients at the following prices:
1 Bottle: $19.95
2 Bottles: $39.95 ($19.98 per bottle)
4 Bottles: $79.80 ($19.95 per bottle)
Whichever option you choose, you'll continue receiving the same quantity once every 30 days, and your credit card will be charged accordingly until you contact customer support to cancel.
Regardless of the quantity you order, though, all Advanced Probiotic purchases come with a 90-day money back guarantee, less S&H charges, which can be requested by calling 888-534-2077.
Who Is Liz Voosen, NTP, CGP?
According to the bio on her website, Liz Voosen is a certified nutritionist by the Nutritional Therapy Association, as well as a GAPS (Gut and Psychology Syndrome) natural digestive healing practitioner. Currently, she offers nutritional therapy services through her Hollywood, CA-based practice, Liz Voosen wellness.
By all appearances, Liz's role is to provide expertise and act as a professional endorser for Heartland Nutrients (parent company These Wisconsin Supplements, LLC).
Advanced by Heartland Nutrients vs. Other Probiotic Supplements
With so much reported clinical evidence supporting the wide variety of potential benefits related to probiotics, the number of manufacturers offering supplements has soared over the last several years. Some of these contain just a couple of strains and as little as one million CFU, while others contain dozens of strains with 50+ billion CFU counts. How to decide?
To help you cut through all the clutter, when buying probiotic supplements, we recommend focusing on the following:
Make sure there aren't a bunch of extra ingredients stuffed into each capsule. Look for those that feature only beneficial bacteria strains, and perhaps prebiotics (food sources for the bacteria).

Look for a complete list of probiotic strains found in the supplement, including CFU count. However, we haven't encountered clinical evidence during our research showing that a higher CFU count necessarily results in improved benefits.

A competitive price. While you can pay anywhere between $10 and $80+ for a probiotic supplement, based on our research, customers typically don't report meaningfully better results after paying more.
Our Final Thoughts About Advanced Probiotics by Heartland Nutrients
Based on what we learned from the supplement's website, authoritative sites like WebMD and the Natural Medicines Database, as well as our extensive research into the topic, it seems that there's a lot to like about Advanced Probiotics.
It comes with an ultra-competitive price (although there's no added discount for buying in bulk), features 15 different strains of research-backed bacteria, and comes with a 90-day refund policy, which should be more than enough time to decide if the supplement is right for you.
However, the fact that Heartland Nutrients automatically signs customers up for an autoship program means that you'll have to remember to cancel your recurring orders if you're dissatisfied.
Given all of this, if you're looking to achieve the most value for your money, we'd recommend that you start by making an appointment with your doctor. They'll be able to properly diagnose what you're experiencing and recommend a science-backed approach for addressing them—and whether or not this involves taking supplements like Advanced Probiotics.
1 out 1 people found this review helpful

Could not believe any probiotic for the cost could be as good as its claims.

By Jeffery W.

,

Missouri

,

Jan 3, 2020
Verified Reviewer

I could not believe any probiotic for the cost could be as good as what Heartland probiotic claims. But I had a known a guy at work that backed up the claims of Heartland probiotic. So I gave them a try myself and for the first few weeks that I started taking them, it took them a couple of weeks (or did for me) to start seeing the amazing results of using them. I thought I was right to begin with and there was nothing to all their claims of good results. But I stuck with them and gave them a chance. I am soo happy I did I have been using them for somewhere in the area of 2 years. And my energy has greatly improved. My digestion and bathroom habits were my biggest concern and the reason I started these probiotics. I am so happy I gave them the short time it took for them to work their magic for me. They soo improved my digestion and my bathroom habits, that had been pretty infrequent. I am telling you in this review what happened to me. And I will not promise you that you're going to have the exact same results, because I do not know for a fact that you will. I can only say that if you're looking for a probiotic to begin using, you would be a fool to look over Heartland probiotics. Give them the time it takes for them to work, and you have a wonderful chance of being amazed at results.

Bottom Line: Yes, I would recommend this to a friend

---

Advertisement

---