Age Fit Face Serum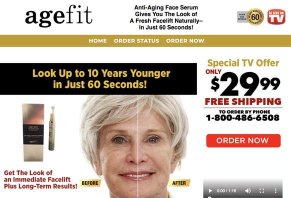 Age Fit Face Serum claims to rejuvenate your face and make you look twenty years younger after just sixty seconds of use.
Age Fit Face Serum Review: Does It Really Work?
Age Fit Face Serum is an 'as seen on TV' beauty product that promises to smooth away wrinkles, creases, fine lines, and crepiness while reducing puffiness and giving you a more youthful appearance.
According to the product website, the serum is meant to be used as an anti-aging primer under makeup, and that it can save you money when compared to paying for expensive surgeries and painful injections.
Can a single product live up to such lofty claims, or will buying Age Fit serum waste your money? Let's look at what the product promises and its purported ingredients to see whether this serum makes sense.
How Does the Age Fit Face Serum Claim to Work?
The Age Fit product website is scant on details about how this serum works, but a YouTube video posted on the site told us that the product is a temporary fix for fine lines, wrinkles, and facial puffiness.
To use the serum, the video suggests dabbing a small amount onto the undersides of your eyes and letting it dry in place before putting on your makeup as usual.
This video then explains that the serum contains an exclusive formula that increases your skin's surface tension and pushes the natural fat bags under your eyes back in place for a dramatic yet temporary effect that lasts for the rest of the day.
It also states that the serum contains an 'active viper venom ingredient' that mimics the effect of Botox and other professional rejuvenating treatments to give you long-lasting results.
The company website doesn't go into further detail about the ingredients within this serum, so we called customer service to learn more.
Despite talking to two representatives, we couldn't get a complete list of the active ingredients within Age Fit and were instead only told that it contained 'water, skin conditioning agents, antioxidants, natural plant ingredients, humectants, anti-caking agent binders, sodium, and potassium.'
The two representatives weren't able to clarify for us what component of the serum would 'mimic the active ingredient in rejuvenating treatments,' and neither could give us any further information about the viper venom ingredient.
Is there evidence of using snake venom for skin treatments? We dug into the research to learn more about its properties.
Can Snake Venom Make Your Skin Look Younger?
It's a bold claim to state that snake venom will make your skin look younger, so does it have any basis in reality? According to some information we found on Truth in Aging, She Knows, and Beauty Haven, the results are mixed.
While these articles state that some in-house skincare brand research shows potential benefits of using cobra viper to temporarily inhibit muscle activity to reduce the evidence of fine lines and wrinkles (similar to Botox), most skin-care products today that claim these benefits actually contain 'syn-ake,' a harmless synthetic tripeptide that mimics the venom's effects.
Though the articles stated that some celebrities swear by this ingredient's effects for long-term skin rejuvenation, they acknowledged that there's not enough research available to back up these claims
Saying this, we want to clarify that the Age Fit website offers no information about their use of this compound beyond a few references to 'viper venom.'
We don't know whether they're using real venom or the syn-ake synthetic version, what concentration it is, or even if they've conducted internal studies about its efficacy.
For this reason, we can't come to any conclusions about its use except to say that the lack of information is cause for concern.
What Does the Science Say About Face Serums?
The Age Fit Face Serum doesn't offer any evidence for why you should believe their serum will keep your skin looking young, though they state that any effects you experience will be temporary.
This matches what's reported by WebMD, which told us that skin serum is the top choice of many skincare pros because they don't contain lubricants, thickening agents, petroleum and other oil-based ingredients that prevent water from evaporating.
When you strip out these ingredients, the website states, you're left with a high concentration of active ingredients like antioxidants and skin brighteners.
This makes small amounts of serum extremely efficient, and the site states that a one-ounce container should last months (Age Fit Face Serum is 15 ml or half an ounce).
However, WebMD states that those with mature skin can't get by with just a serum and that it should instead be considered an add-on to a healthy skin routine that relies on other moisturizers.
As Age Fit Face Serum claims to work within 60 seconds of use and promises to produce results as effective as the use of expensive fillers, there are some contradictions with their claims and the researched benefits of serums.
How Much Does Age Fit Face Serum Cost?
According to the product website, you can buy Age Fit Serum in a 15 ml container for $29.99 and free shipping, and your order will arrive within 7-10 days of ordering.
The company states that every order is covered by a 60-day money-back guarantee from the day you receive it, minus the costs of processing and handling.
Though the company provided contact information for directing your questions about the serum, these numbers reached Tristar Products, the company that told us they aren't associated with the product.
The numbers we called to talk with product representatives were (800) 486-6508 and (973) 287-5192.
What Products Are Similar to Age Fit Face Serum?
If you're looking for a quality face serum to defeat the signs of aging, what options are available? Two popular products are Verso Super Facial Serum and Aveeno Absolutely Ageless Eye Cream.
Priced at $130 per ounce, the Verso Super Facial Serum costs more than four times as much as Age Fit Face Serum. However, we know significantly more about its ingredients.
This serum relies on a retinol alternative that purportedly diminishes the look of fine lines, wrinkles, and dark spots without causing skin irritation.
Notably, this product makes no claims to work in 60 seconds or to give you plastic surgery-worthy results, though it earned positive reviews from users on Dermstore.com.
The Aveeno Absolutely Ageless Eye Cream costs just $21.99, and it relies on an exclusive 'Active Naturals Blackberry Complex' to nourish skin and reduce the appearance of fine lines. This product is designed to be used twice a day, but it only has mediocre reviews on Ulta Beauty's website.
Some users stated that it left their eyes burning and that they didn't notice any difference after wearing it, while others thought it was a cheaper serum alternative to some of the more expensive products available.
What should you look for when buying a skin serum? We believe a detailed ingredients list is a good starting point. Since serums are designed to be ultra-concentrated, it's critical to know what you're putting on your face.
Likewise, InStyle.com states that it's important to buy a serum based on your skin type. Oily skin is better suited for serums with salicylic acid or glycolic acid, and those with dry skin should look for serums with hyaluronic acid.
Which category does Age Fit Face Serum fall into? We don't have enough information to decide either way.
Our View: Should You Buy Age Fit Face Serum?
When it comes to buying skincare products, the more information you can learn about a product before you make a purchase the better. That's why we believe there are some red flags surrounding Age Fit Face Serum.
The product website contains few details about how the serum is supposed to work, and the customer representatives we contacted couldn't give us any definitive information about the ingredients it contained.
There's not much information about Age Fit Face Serum available online, and we couldn't track down any customer reviews.
For all these reasons, we believe that you might want to consider your decision carefully before buying Age Fit Face Serum.
Scam

By Leo F.

,

Wellington, New Zealand

,

Oct 29, 2019
Verified Reviewer

We tried Age Fit as shown on TV, it does not work, save your money, don't buy it.

I have to type 180 characters, I don't what more I can say. I regret purchasing and will not purchase from these TV shops again. I would not recommend this product to anyone, it feels like our hard-earned money has been stolen under false claims.

Bottom Line: No, I would not recommend this to a friend

---