AIG Direct Reviews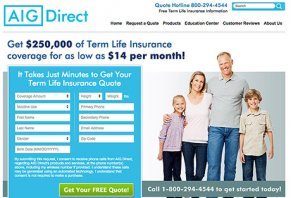 AIG Direct claims to provide a variety of insurance options to their clients, including term life, universal life, whole life, and even accidental death.
About AIG Direct
You may have recently watched a TV commercial for AIG Direct, a company that claims to offer affordable term life insurance that can help protect your family's financial future in the event you pass away unexpectedly. Your interest was probably piqued because the name "AIG Direct" has a reputation as a global leader in insurance, and because of their claim that they could help you save up to 70% on your term life policy.
When it comes down to it, finding the right term life insurance policy isn't a decision that should be taken lightly, since it could mean the difference between your family's comfort and financial ruin in the event of your untimely demise. With this said, let's find out whether or not you should choose life insurance from AIG Direct.
How AIG Direct Life Insurance Works
At its most basic, AIG Direct claims to provide quality term life insurance protection at affordable rates. The company claims to provide you with personalized quotes in just a few minutes, and to work directly with you throughout the approval process.
With this in mind, AIG Direct claims to offer 5 different insurance products:
Term Life Insurance – Covers the policyholder for a specific period of time, usually 10-30 years.
Universal Life Insurance – Covers the policyholder for life, and is considered one of the most affordable "lifetime" insurance policies.
Accidental Death Insurance – Covers you for accidental death and dismemberment, without the need for a medical exam.
Return of Premium Term Life – Gives you the ability to receive your premium back if you live to the end of your policy term.
Whole Life Insurance – A type of policy with a fixed premium payment and a fixed benefit.
When you're ready to obtain your term life insurance quote, you'll need to enter your requested coverage amount, term length, contact information, and personal information (e.g. height, weight, nicotine use, etc.) on the AIG Direct home page. Soon thereafter, you'll be contacted by an AIG Direct representative to help walk you through the application process (see more about this in the final section).
If you're looking to learn more about term life insurance before handing over your personal information, the AIG Direct website also features an educational resources section where you can compare insurance products, find the best life insurance policy for you, learn more about the application process, and more.
AIG Direct Pricing
AIG Direct life insurance quotes are free and come without obligation. However, what you'll ultimately pay depends on a wide variety of factors, including the product you choose, your age, overall health, and much more.
If you'd prefer to speak with an AIG Direct representative instead of obtaining life insurance quotes online, you can call their quote hotline at 800-294-4544.
Can AIG Direct Really Provide You with Cheap Term Life Insurance Quotes?
Putting their nationwide reputation aside, can AIG Direct help you obtain cheaper life insurance than you currently have? Possibly, but keep the following in mind:
Understand AIG Direct's Business Model
First, keep in mind that AIG Direct is the marketing division of Matrix Direct, which is who you'll see come across your caller ID during sales calls, and who you'll receive emails from (more about this is a moment). In turn, Matrix Direct is owned by the American General insurance company, whose parent company is AIG.
While this can all certainly be confusing, what it ultimately means for you is that, while AIG Direct represents a total of 9 insurance companies (7 of which offer term life), the first company your "agent" will attempt to sell you on is American General. And like any other insurance product, you should never settle on the first option that's provided, as they may not provide the best coverage based on your circumstances, or the lowest premium.
With this said, it's important that you shop around at least 3-5 different term life companies before making your decision.
Your AIG Direct "Agent"
If you're used to going through an independent agent for your other insurance policies such as home and auto, the AIG Direct sales process may be a little shocking to you. This is because you're just contacting a huge call center, where your "sales agent" will be basically reading from a script and is under a great deal of pressure to meet their sales quotas to keep their job.
As a result, you may be just another number to your agent, who will probably just move on to their next customer after closing the deal with you.
With this said, if you're looking for more personalized, relationship-based service, you'll probably want to contact an independent agent in your area.
AIG Direct's Life Insurance Guidelines
Next, like any other life insurance company, AIG Direct has their own set of underwriting guidelines to follow. This means that you may receive a very competitive quote initially, which could increase dramatically after your physical has been completed. As such, make sure you're getting at least 3-5 quotes from different companies to ensure that you're getting the lowest possible price.
Also, if it's ultimately determined that you don't fit within their guidelines for a term life insurance policy, your AIG Direct agent may push you to take out an accidental death policy, which has much more restrictive coverage than a life insurance policy. In other words, unless you're specifically looking at an accidental death policy, don't be fooled into thinking it's anything close to a life insurance policy.
Customer Feedback
With this in mind, based on the numerous online reviews, most professionals only recommend AIG Direct Life Insurance if your health is average or better. And while the company holds an A+ rating with the Better Business Bureau, by far the most frequent customer complaints we encountered during our research referenced aggressive, high-pressure sales tactics and numerous sales calls/emails on a daily basis.
Bottom Line
If you're in at least average health and don't mind not having a personal relationship with your agent, AIG Direct may be a good choice for term life insurance. However, as with any other purchasing decision you make, it's always a good idea to shop around.
Beware

By Ally

,

Florida

,

Apr 4, 2018
Verified Reviewer

I purchased AIG Direct insurance after hearing a radio commercial. The price was not as stated and after purchasing. I called four different times to receive a copy of my policy form with terms and exclusions and the customer service was very rude and never provided me anything. All they kept stating were my policy premium and coverage amount. Customer service was TERRIBLE. I never had a worse experience. I canceled my insurance after the fourth time. Beware.

Bottom Line: No, I would not recommend this to a friend

---

Very slow

I applied for 30-year term coverage almost two months ago and am still waiting for the decision. I hope AIG may not take 30 years to finalize the decision. Better not to go through with this company.

Bottom Line: No, I would not recommend this to a friend

---

Advertisement

---

Worst company to deal with regarding death payment

Steer clear of AIG for any life insurance. My mother-in-law passed away, and while my father-in-law was able to collect on a non-AIG policy in a matter of a couple of weeks, he is getting nothing but the runaround trying to collect on the very small AIG policy. Now we are dealing with someone in the Philippines, and although several weeks ago we were told they had all the paperwork to process the claim, now this person from the Philippines is asking for us to send proof of who the beneficiary is! Don't they have the policy?! My father-in-law is the owner of the policy and the surviving spouse.

Next step for us will be reporting AIG to the Insurance Commissioner and pursuing this through small claims court, if necessary. Deplorable service bordering on all-out fraud at this time, similar to many other reviews we have seen from other policyholders. Steer clear!

Bottom Line: No, I would not recommend this to a friend

---

Pathetic insurance

By Astha Gupta

,

New Jersey

,

May 19, 2018
Verified Reviewer

We took insurance for our flight and we canceled but they never refunded. Instead, they make us call numerous times and then DENIED OUR INSURANCE. Pathetic service and people.

We called many times and no response. None of the amount was refunded and no one took responsibility.

Bottom Line: No, I would not recommend this to a friend

---

Advertisement

---

Worst mistake ever! Don't do it!

By Leslie R.

,

Gresham, OR

,

Mar 15, 2019
Verified Reviewer

I made the mistake of getting an ONLINE quote for life insurance and my phone has not stopped ringing for a week! All day, all evening, call after call! I work nights and this has been a nightmare. Do not get an online quote, you will be forever sorry! I am ready to call the police and file a harassment charge!

Bottom Line: No, I would not recommend this to a friend

---

HORRIBLE customer service

By Chad W.

,

Mississippi

,

May 23, 2019
Verified Reviewer

My ten-year policy was set to expire in May. I received a letter several weeks in advance advising of the pending significant premium increase if I didn't renew or cancel. I called one month prior to indicate my desire to cancel and was assured the policy was canceled and no further funds would be withdrawn from my account. Fast forward to May, and the higher premium was indeed withdrawn and my policy never canceled apparently. I've called customer service several times only for the representative to stutter and fumble around, place me on hold for long periods of time, and then finally come back to say "the problem is taken care of". I have no confidence in this company. I'm so glad I didn't die while my policy was active. I can't image the difficulties they would have faced dealing with these incompetent company. If you are shopping for life insurance, please consider other options. You do not need this headache. I gave a rating of one star only because no stars is not an option.

Bottom Line: No, I would not recommend this to a friend

---

Don't take out travel insurance with AIG

By William B.

,

Wantage, United Kingdom

,

Jun 20, 2019
Verified Reviewer

AIG wriggle out of their commitment to provide cover for flights that have to be canceled due to injury. Having suffered a stress fracture in my foot, I was forced to cancel a flight on the advice of the surgeon who had operated on it the previous year. This, according to AIG, counted as a "previous condition". Do not have anything to do with them, is my advice. Remember they were the cowboy outfit that caused the last financial crash and had to be bailed out for $85bn.

Bottom Line: No, I would not recommend this to a friend

---

WORST! Customer service! For death claim payout.

By Donald G.

,

California

,

Aug 8, 2019
Verified Reviewer

I have been trying to get a death claim payout for months. They lie and give you the runaround, always telling me to call back. I was also told that my paperwork was complete and that my check would be to me in 5 -10 days. I called on the 5th day to check the status and they said that my claim had not been sent and that it was the unclaimed funds dept. Grrr.

Bottom Line: No, I would not recommend this to a friend

---

AIG canceled my life insurance after I paid 10 years.

By Phat T.

,

California

,

Oct 18, 2019
Verified Reviewer

In October 2019 I got a letter from AIG that stated my life insurance has been canceled. I was in shock because I have been paying for 10 years and it is canceled because AIG is saying I did not make a payment since May 2019. We set up auto payments to send out monthly for years and back in May 2019 they stated AIG did not receive any payment. I contacted my bank, my bank told me they don't know why it has been returned, then I called on 10/07/2019 to ask why, the customer service person said sorry, your policy had been canceled and we cannot give you the same price again without trying to help out, why? My bank is saying it must be their errors, the customer service is not that helpful and it is really stressing me out. I don't know what to do because AIG keeps saying it is my mistake I did not pay. I have all the proof, it is a very bad experience I have been facing. Do you think I will stop payment after 10 years of making payments? Customer service needs to be helpful and patient with the customer, I called on 10/07/2019 they had recorded my call. Any advice on what should I do? I hope someone from AIG with a higher position can help me on this case. For now, I am very disappointed with AIG the way they handled my life insurance policy, my policy has my agent's person name on it but when I called the customer service person won't transfer to that person. Very bad experience and stressful.

Bottom Line: No, I would not recommend this to a friend

---

Misrepresentation

By Kent P.

,

Palm Coast, FL

,

Jan 2, 2020
Verified Reviewer

My agent (Federico Barker) told me my policy was for $35,000 and was double indemnity. I received the policy and this policy is NOT double indemnity nor is it for $35,000 (much less). Misleading to the point of lying. I have called the agent numerous times; he will not take the call nor will he return the call. I have been on hold for 30 minutes trying to speak with AIG consumer affairs department (800.929.6252). Folks, this experience may qualify as being illegal!

Bottom Line: No, I would not recommend this to a friend

---

Horrible

Columbia, SC

,

Jan 11, 2020
Verified Reviewer

I thought I was only giving information to see if we qualified for insurance at the age of 70 and 75. I did not tell them to start taking money out of my account, which they did. I tried for a week to get someone on the phone to cancel and return my money but could never get anyone on the phone. This has really upset me and I needed medication to try and calm down. Please DO NOT get insurance from this company.

Bottom Line: No, I would not recommend this to a friend

---