Air by crazybaby Reviews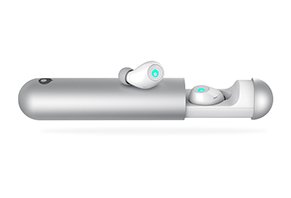 Air by crazybaby wireless earbuds feature unique carbon nanotube speaker membranes that promise to deliver superb audio while remaining reasonably priced.
What is Air by crazybaby?
Like many other wireless Wi-Fi headphones, Air by crazybaby promises to deliver a secure fit in a smaller, portable package that's water resistant, is rechargeable on the go, and works with any Bluetooth-enabled device.
Unlike much of the competition, however, crazybaby tells us that Air also provides single-button control, a more stable connection, and an EQ customizer via their iOS and Android apps.
Crazybaby puts the greatest emphasis on their carbon nanotube speaker membrane, though, which they claim delivers true wireless stereo that allows you to "hear every detail of the music."
If you've been paying attention, you probably noticed many high-profile wireless earbuds entering the market lately. But how can you choose the right option for your needs? Should Air by crazybaby make it on your shortlist?
You've got questions; here, we'll help provide some insight by discussing what we learned during our research.
How Does Air by crazybaby Work? What's Up With Their Carbon Nanotubes?
The Tech Specs
Each Air earbud is 1.01" (25.6mm) long, 0.47" (12mm) wide, 0.67" (17mm) high, and weighs 4.5g. The charging capsule is 5.22" (132.5mm) long and 1.18" (30mm) thick.
A single charge on your Air earbuds will provide up to 3 hours of listening time or 4 hours of talk time. Using the capsule, however, will increase your listening time to 15+ hours and talk time up to 20 hours.
When the time comes, we're told it will take your earbuds two hours to fully recharge.
While Air earbuds can't be used directly in water, they're IPX5 water resistant, which should provide more than enough protection from sweat and the natural accumulation of dust and grime.
Connection, Fit, & Operation
Air earbuds feature Bluetooth 4.2 connectivity that helps provide a consistently reliable connection to any compatible device from up to 10 meters away.
According to crazybaby, they analyzed hundreds of ears during development to ensure Air fit a wide variety of profiles. You'll also find three, medical-grade Sport Sleeves that are ultra-light, skin-friendly, and help customize Air's fitment, without adding pressure to your conch or ear canal.
Once connected and in place, we're told you'll receive a voice prompt, "Your headset is connected." Alternately, once disconnected you'll be prompted with, "Your headset is disconnected."
This, combined with Air's single-button control, allows you to answer/hang up calls, play/stop music, skip to the previous or next track, and even use voice assistants like Siri or Amazon Dot's Alexa.
Sound Quality
As mentioned earlier, it seems that crazybaby's biggest emphasis for the Air is on audio quality.
To accomplish this, we're told the company's "electroacoustic legend," Dr. Yu, partnered with Tsinghua University and Foxconn Associate Labs to develop a proprietary carbon nanotube diaphragm that allows the speaker driver to remain compact and durable.
This delivers "ultra-fast responses for elegant, sophisticated sound," including "dynamic highs and reverberating lows."
Additionally, each of these carbon nanotube diaphragms is made individually, versus mass-produced, to ensure strict quality standards.
This, along with Air's CSR decoding chip and CVC 8th Noise Isolation Technology (noise cancellation), means that whether you're listening to music, taking a call, or using voice prompts, your audio quality will be "among the best of the best."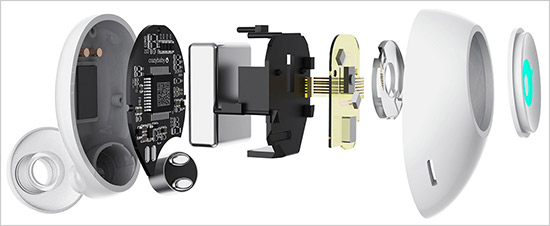 The internal components that make up crazybaby's Air earbuds. Image credit: crazybaby
Finally, we're told that Air's iOS and Android apps allow you to customize your EQ even further.
How much will you pay for all this technology and wireless convenience?
How Much Do crazybaby Air Wireless Headphones Cost?
Crazybaby's Air earbuds are currently only available for preorder via their Indiegogo campaign (more about this next), with an estimated delivery date of January 2017. Perks range between $109 and $198.
Each order includes:
Air Wireless Headphones
XS/S/M/L Silicone Ear Tips
S/M/L Sport Sleeves
Charging Capsule
USC-c to USB Charge Cable
The company just released three new colors at the time of our research (Lava Orange, Volt Green, and Space Gray), along with the standard White/Blue or Black/Red.
All Air orders come with free worldwide delivery, along with a 1-year global warranty against defects in workmanship and materials. According to the fine print:
"Refunds are processed on a case-by-case basis; at some point, we will need to lock refunds in order to go into production and shipment. We will not be able to refund orders once they've shipped."
To request a refund or process a warranty claim, you'll need to send an email to service@crazybaby.com.
Are There Any Early Reviews for crazybaby Air?
At the time of our research, crazybaby had nine days remaining in their Indiegogo campaign for Air, although they had already raised nearly $1.7 million based on an original goal of just $50K.
Because they won't make their way to consumers until January 2017, though, we didn't encounter any in-depth, hands-on reviews.
However, Forbes' Ben Sin had a chance to try on a pair of prototype Airs when visiting crazybaby's Shenzhen, China office, originally to review their Mars speaker (more about this in a moment).
While he didn't spend a lot of time with the Airs, he noted that they felt comfortable in the ear, delivered good sound quality, felt sturdy and well-made, and provided instantaneous pairing thanks to the CSR chip.
From a company perspective, crazybaby was founded in 2014 by Allen Zhang, who's only in his early 30s. The company is based out of Salt Lake City, UT, although, despite his young age, Allen has been working in Shenzhen for more than 12 years, originally for Chinese electronics company TCL.
Since its founding, crazybaby has successfully brought one product to market, with another close on its heels. Let's talk more about this next.
Are There Other Products From Crazybaby?
The first product released under the crazybaby brand was Mars, a unique levitating speaker that promises to deliver "nearly loss-free sound," along with a sleek design.
On Amazon, the Mars speaker had 130+ customer reviews and an average rating of 3.3 stars. Most compliments seemed to reference high-quality audio and craftsmanship, as well as attractive design.
On the other hand, common complaints related to high price, limited functionality (no AirPlay or WiFi connectivity, no streaming ability, can't connect via aux in, etc.), so-so audio quality (especially regarding bass), inadequate volume, and questionable value compared to other Bluetooth speakers.
Crazybaby's second product, Luna, is a wireless speaker that uses proprietary technology to improve transmission distance and sound quality. Additionally, its dedicated computing system and MESHNET technology enable up to 32 Lunas to connect with one another, along with multiple users allowed.
Luna's crowdfunding campaign recently ended and was in a trial production run.
Now, let's return to crazybaby's Air earbuds and find out how they stack up against the competition.
Crazybaby Air vs. Other Wireless Headphones
The HighYa team has reviewed many popular wireless earbud options, including Kanoa, Rowkin Mini, Samsung Gear IconX, and Protek Wireless. Other popular models include the Earin, Apple AirPods, and Bragi.
How does each of these compare to Air by crazybaby? Let's take a quick look:
| Earbuds | Price | Listen / Talk Time (hrs) | Recharge Time (hrs) | Water Resistant / Proof? | Fitness Tracking? | Compatibility |
| --- | --- | --- | --- | --- | --- | --- |
| Air by crazybaby | $109 | 3-4 | 2 | Resistant | N | Bluetooth |
| Kanoa | $179 | 4-6 | 1.5 | Proof | Y | Bluetooth |
| Rowkin Mini | $59.99 - $69.99 | 6 | 1.5 | Resistant | N | Bluetooth |
| Samsung Gear IconX | $199 | 1.5-3.5 | 1.5 | Resistant | Y | Android |
| Protek | $119 | 3-6 | 1 | Resistant | N | Bluetooth |
| Earin | $249 | 3 | 1 hr 15 min | Resistant | No | Bluetooth |
| Bragi | $299 | 6 | 2 | Resistant | N | Bluetooth |
| Apple AirPods | $199 | 5 | N/A | N/A | No | Bluetooth |
When it comes down to it, which of these options might serve you best? Is Air by crazybaby a contender? Let's bring it all together.
Who's the Ideal Customer for Air by crazybaby?
Like any other product, no single wireless earbud option will satisfy every consumer's needs or match their personal preferences. In other words, a lot of unique factors come into play when choosing the "best" option.
For example:
Is price your number one factor? If so, Rowkin Mini is the clear winner, followed by crazybaby's Air.
Run and recharge time? Rowkin, Bragi, and Protek (which also features a CSR chipset) win out in this regard.
Fitness tracking? Your options are limited to Kanoa and IconX.
Only interested in products that are currently available? You'll have to rule out Air and Kanoa.
Regarding this last point, when discussing yet-to-be-released electronics, we often talk about the potential risks involved with backing a crowdfunding campaign. In this instance, though, crazybaby has already released one successful product, with another (Luna) on its way shortly.
While this certainly doesn't remove the element of risk, we think this speaks volumes about what you might reasonably expect with their Air earbuds.
Just keep in mind that your ability to obtain a refund could be limited—and completely goes away once Air has shipped—so be sure to carefully consider your purchase before placing an order.
Did your Air by crazybaby earbuds arrive on time? Did they deliver superb audio quality? What about the company's other claims? Tell the world by writing your review below!
Bad product

By Mike Q

,

New York

,

Jul 27, 2017
Verified Reviewer

I've had mine in black for almost two weeks and from the get go the right ear peace drops the signal. The customer service is slower than molasses. I see them going nowhere with this product but to Claims Court. I am willing to work with them because when they do work, they sound good, but they don't answer my questions.

Bottom Line: No, I would not recommend this to a friend

---

Never received my order

When I went and preordered on Indiego, the company said they would deliver my Air by crazybaby in January of 2017. I still haven't received them, and there is no way to contact the company by email. I am very disappointed that they didn't follow through with delivery, or at the very least, explain why they haven't delivered my Air earbuds. Also, I'm now at a loss of over $100.

I would appreciate it if somebody at crazybaby would have the decency to contact me by email and tell me what is going on. I feel like I've been scammed!

Bottom Line: No, I would not recommend this to a friend

---

Advertisement

---

Awful support and right ear bud drops

By Mike Walker

,

New York

,

Jul 30, 2017
Verified Reviewer

I funded this product on November 4th with a promise of January delivery. I just received them mid-July. Their communication during the funding campaign was pathetic and non-existent. I almost canceled my order many times but held on.

They look fantastic. They fit fantastic. The sound is adequate. The charging tube is neat, BUT the right ear bud constantly drops. I've paired and unpaired and even paired up with my wife and son's phones to make sure it wasn't my phone. Same results.

I contacted support a week ago and again three days ago with NO response except for an automated email response promising that they would contact me within 36 hours. If you go to any review site, you'll see that the right ear bud drop issue is a common problem. Stay away from these until they've fixed the audio drop issue.

Bottom Line: No, I would not recommend this to a friend

---

Stay away from a defective product

By Dick Tusia

,

Austin, TX

,

Jul 24, 2017
Verified Reviewer

I received the product and the left ear bud was Dead on Arrival. I sent an email to their help desk.

Never heard back from them. Stay away, they don't care about you after you pay for their product.

Their help desk said they would get back to me in 36 hours and they never did.

Bottom Line: No, I would not recommend this to a friend

---

Advertisement

---

Not happy so far

By Carter Kenyon

,

Orlando, Florida

,

Jul 20, 2017
Verified Reviewer

Looks good, feels good. The sound is decent. Not digging the tube. Instructions are horrible. The right ear is already dropping out. A full charge maybe lasted an hour. To be continued. I don't expect to get much help with customer service.

Bottom Line: No, I would not recommend this to a friend

---

Absolute garbage!

By Bryan Sargeant

,

British Columbia, Canada

,

Sep 2, 2017
Verified Reviewer

I was an Indiegogo backer. Horrible company. Lied to, ignored, sold an inferior product that was delayed, according to crazybaby, to ensure only perfection was delivered, waited six months past promised delivery only to receive a set of junk. So no idea what was improved during the six-month delay. Poor connection. One side constantly drops. Audio lags. Poor battery. Stay away.

Bottom Line: No, I would not recommend this to a friend

---

Non existent customer services

Been waiting since December for the Air. It's now mid-July and still waiting and no response from crazybaby customer service. I moved to an apartment this week and I am afraid as I have been waiting for so long if it is ever shipped it will go to the wrong address. But no one is responding to emails. The product may well be good (although I don't know for sure as I still don't have it) but the service is lousy.

You need both to have a successful business! And this is despite being over subscribed by over 1700%! You'd think you'd be able to afford some admin support to answer emails.

Bottom Line: No, I would not recommend this to a friend

---

Non-existent product, a myth - buy a unicorn instead

By Grant D

,

Texas

,

Jul 26, 2017
Verified Reviewer

Would be ZERO stars if I could submit that level. I was an early contributor to this company and ordered two of their Air headphones due to arrive in January. I received a few updates about great enhancements, revolutionary design and more. Was promised a March delivery. Then emails about shipping delays due to improvements (April shipment) and final tweaks to create the perfect product, then a July shipment.

Next a few more emails about the shipments beginning to reach customers mid-July. Still nothing. Now requests for support have gone unanswered. Absolute rip-off. I will be reporting their inability to fulfill their orders and the issue with payment for a product that I have never received. Promising technology, promise broken. Save your money and buy a unicorn!

Bottom Line: No, I would not recommend this to a friend

---

How cheap of you crazybaby

By Shylesh KS

,

Kerala, India

,

Aug 1, 2017
Verified Reviewer

I am a backer of their Air by crazybaby from Indigogo and I placed an order almost a year ago, and they were supposed to deliver the product by January of this year. It's the end of July, and still, they have not even arranged any shipment to me. On the other hand, they are selling on Brookstone website for the people who have placed an order just a couple of weeks ago. What about us backers? How can these people be so bad? I am never going to back these guys again.

A pathetic company came across so far.

Bottom Line: No, I would not recommend this to a friend

---

No good

By Mark Palmer

,

Singapore

,

Aug 31, 2017
Verified Reviewer

I backed them on Ingiegogo at the end 2016 for delivery in January 2017. This got pushed back to August 2017 due to various production issues.

I have read others peoples reviews, and the common theme is almost identical to my experience:

1. Sound dropping in right ear bud. Completely fails the iPhone in trouser pocket test.

2. Battery life is pathetic; around 1.5 hours with no audio warning when it's about to die.

Frankly, the wireless headphones I purchased from my local store for $35 are a vast improvement on these. I bought two sets with a view to give one away as a gift. I won't be doing that now, too embarrassed.

I endured a seven months delay for this. To say I am disappointed would be a huge understatement. The fit is good and the sound OK, but the basics are simply not delivered. This product is not fit for purpose.

Bottom Line: No, I would not recommend this to a friend

---

Air by crazybaby don't work and customer service will not respond

I received my "Air by crazybaby" over three weeks ago. I found out immediately that they were not working, and sent an email to support@crazybaby.com. They never responded to this first email. I have sent many emails over the last three weeks, and the only response has been an autoresponse saying they were creating a ticket and would get back to me within 36 hours. Never happened.

The headset has problems connecting to Bluetooth (iPhone 7 that has zero problems connecting with multiple other devices). When it does connect, the right ear continually disconnects several times a minute. So music listening is impossible.

On phone calls, neither the caller nor the answerer can hear. The earphones are completely unusable, and so far I have been unable to get any help whatsoever from the company.

I was an early backer through Indiegogo and waited with eager anticipation created by their advertising. It took over seven months longer than they projected for me to receive the product. That would have been OK if the product just worked. Even if it was not acoustically stunning. This whole experience with "Air by crazybaby" is completely unsatisfactory.

Bottom Line: No, I would not recommend this to a friend

---