Air Dragon Reviews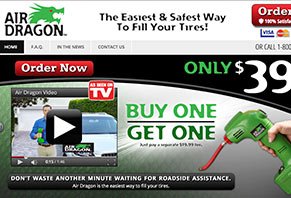 Air Dragon is a handheld tire inflator that features a "powerful" micro-compressor to help give you peace of mind and avoid having to call roadside assistance.
About Air Dragon
Because Air Dragon simply plugs into your car's 12V outlet and fills your tires wherever you go, the manufacturer calls it "the easiest and fastest way to fill your tires."
With its "powerful" micro-compressor, ergonomic handle, easy-to-read gauge, and long, flexible pressure hose, the company promises that Air Dragon will help anyone take away their fear and guesswork from inflating tires. Simply keep Air Dragon in your glove compartment or trunk and pull it out whenever needed, without having to rely on roadside service.
It's easy to see how a device like Air Dragon could come in handy, whether you're just looking to top tires off with a little air, or need to buy some time until you can safely make it to a repair shop. But can you expect Air Dragon to work as quickly and easily as the manufacturer makes it seem? Even if you can, is Air Dragon your best option? We'll explore all of these factors in this review.
How Does Air Dragon Work?
While the precise details are far outside the scope of this review, traditional air compressors essentially work using a piston to draw air into a chamber, which is then routed into a holding tank. The more that's added to this tank, the greater the pressure. Then, once the air pressure gets high enough, it can be used to inflate tires, power different tools, and even power cars.
We're not shown exactly how Air Dragon works, but instead of a holding tank, it appears Air Dragon draws in outside air and routes it directly through a flexible hose, into your car's tires.
Now, Air Dragon's manufacturer makes this "micro compressor" seem unique, but is it?
Are There Other Products Like Air Dragon?
We could tell you, but finding out the answer to this question is as easy as typing "handheld tire inflator" into any search engine (hint: there are a lot). Of course, not all of these will be designed exactly like Air Dragon, but from a functionality perspective, they're essentially identical.
Perhaps the biggest differences between Air Dragon and the competition are price (which we'll talk more about in a second) and power. What's this mean for you?
The majority of these handheld tire inflators are powered by interchangeable battery packs that can also be used to power other cordless tools, like drills. In a lot of instances, these batteries provide about 19 volts of power, which translates into about 200 PSI.
On the other hand, Air Dragon's 12V battery is attached to a cord that plugs into the cigarette adapter in your dashboard. While the manufacturer doesn't tell us how long this cord is or how much pressure Air Dragon will generate, we found some similar options from third-party manufacturers with 11-12 foot cords that claimed to fill tires to 30 PSI in about 90 seconds.
How Much Does Air Dragon Cost?
One Air Dragon handheld compressor is priced at $39.99 plus $9.99 S&H. You can purchase a second at checkout for an additional $19.99 S&H.
Each Air Dragon includes a home adapter kit that can help you inflate anything around the house, including balls, pool floats, bicycle tires, strollers, and more.
Air Dragon comes with a 30-day refund policy, less S&H. If you purchased the BOGO offer, this means you'll immediately lose $30, plus whatever it'll cost to ship them back to the manufacturer.
To request a refund, Telebrands' customer service department can be reached at 855-668-1655. What do we know about Telebrands?
What Kind of Reputation Does Air Dragon Have with Customers?
The HighYa team specializes in reviewing many ASOTV products as soon as they're launched, so there weren't any online customer reviews for Air Dragon at the time of our research.
However, Telebrands is the top dog in the As Seen on TV industry, having launched hundreds of products during its 30 years in business, including recent options like Pocket Hose Ultra, TouCan Can Opener, Mighty Blaster, and many others.
Overall, these products (and most As Seen on TV products in general, including those from other manufacturers) tend come with 2-star or lower average ratings here on HighYa. Why? Common complaints center around failure to work as advertised, poor quality, and difficult customer service experiences.
From a company perspective, Telebrands was recently in hot water with the NJ Attorney General's office for allegedly violating the Consumer Fraud Act. The company ended up settling for a $550K fine and admitted no wrongdoing.
Telebrands also had a C- rating with the Better Business Bureau based on 955 closed complaints (as of 5/12/16), most of which referenced the same concerns above.
Does all of this have any bearing on what you'll experience with Air Dragon? We're not saying this is the case—only that it's worth considering.
Will Air Dragon Help You Say "Goodbye" to Roadside Assistance?
Like we mentioned at the beginning of this review, it's not difficult to foresee dozens of instances where Air Dragon would be useful—stranded on the side of the road with your little ones, as but one example. Whether or not it'll help you avoid calling roadside assistance, though, depends on a variety of other factors.
Is your tire punctured so severely that it'll no longer hold air? If so, that means it will need to be changed, rendering Air Dragon obsolete. Then, do you have the necessary tools to accomplish this? Do you know how to change a tire safely? Even so, are you in a safe enough area where you can change your tire without risking injury (e.g. not the narrow shoulder of a busy freeway)?
Taking these factors into consideration, there seems to be a fairly narrow set of car-related circumstances ideally suited to Air Dragon; namely, if your tire is running a little low from normal use. Outside of this, it seems like Air Dragon might only be useful as a replacement for a manual air pump to inflate things like bike tires, balls, and so forth.
However, if you've had your eye on one of these handheld tire inflators for a while but balked at the price, even with Air Dragon's fairly steep S&H, you'll still come in $30+ less than much of the competition. And if you spring for the BOGO offer, you could get two Air Dragons for less than one of the other guys—just keep in mind that you'll lose a ton in S&H if you process a refund.
What'd you think about Air Dragon? Did it perform well, or was the commercial just full of hot air? Give us your insight by writing a review below!
More on "As Seen on TV" and Infomercial Products:
Same as Donna M - don't recommend buying!

By Tandra M.

,

California

,

Jan 2, 2020
Verified Reviewer

This would be a ZERO star rating. Right out of the box it doesn't work. The hose does not stay in. I gave this as a Christmas gift. Now I cannot find a customer service contact for it. Ugh! Even the flyer contact number (that came in the box) for the battery pack and carry case hangs up on you saying, "This product is not YET available."

Bottom Line: No, I would not recommend this to a friend

---

1 out 1 people found this review helpful

Piece of crap

By Donna M.

,

Illinois

,

Oct 23, 2019
Verified Reviewer

I received my Air Dragon and right out of the box the thing doesn't work. I tried to contact customer service...what customer service? I guess I'm stuck with a $25.00 item that doesn't work. Thanks Air Dragon!

Bottom Line: No, I would not recommend this to a friend

---

Advertisement

---

Undelivered online paid purchase - order 20867245

By Jose R B.

,

St Cloud, FL

,

Oct 12, 2019
Verified Reviewer

This is to inform you that my online purchase of Air Dragon air compressor was never received. I paid a total of $69.97:

Air Comp - $59.98.

S&H - $9.99.

This transaction was order #20867245 dated 1/11/2017. Time went by and I called the phone number listed in my order receipt, but with no answer.

Bottom Line: No, I would not recommend this to a friend

---

3 out 3 people found this review helpful

Air pfffttt...

By Cliff T.

,

Madison County, IN

,

Mar 21, 2019
Verified Reviewer

My wife got me this for Christmas. I charged the battery then tried to hook up the air hose according to the directions. Ummm...evidently there is a piece missing because it would not stay in!

After reading some of the other reviews, I understand why it was in a close-out store for only 20 bucks. I'll keep the case to use for something that actually works, but this Dragon's getting tossed!

Bottom Line: No, I would not recommend this to a friend

---

Advertisement

---

3 out 4 people found this review helpful

Not that great

By Robert W.

,

Sioux Falls, SD

,

Feb 16, 2019
Verified Reviewer

Best I could get it to do is 24 lbs. Enough I guess to get to a better compressor. But sort of negates the whole reason to have it. I carry it to be able to use it when needed and 24 lbs just does not cut it. Any more things are just gimmicks to fleece us of our money and to fill up the waste dumps. There seems to be no pride or morals in manufacturing.

Bottom Line: No, I would not recommend this to a friend

---

6 out 6 people found this review helpful

Piece of junk!

By Gary T.

,

Rockland, MA

,

Dec 4, 2018
Verified Reviewer

Looks great, used it once when I got it. I tried it a year later, it wouldn't work in a cigarette lighter. I charged the battery pack 24 hours and that wouldn't make it work. A piece of crap, waste of $50. The $11 one from Family Dollar you can't break.

Bottom Line: No, I would not recommend this to a friend

---

7 out 7 people found this review helpful

Air Dragon is a fraud!

By Alex F.

,

Simi Valley, CA

,

Sep 17, 2018
Verified Reviewer

Having seen the Air Dragon advertised on television for a number of months, it appeared to me to be a piece of convenient equipment I could use to inflate my auto and motorcycle tires from time to time, when they ran low on air from normal use or from not using the vehicle often enough. I put in my order and got the Air Dragon in a poorly packaged cardboard box that appeared to be made from old cardboard boxes. Once into the box, another box of poor quality contained the Air Dragon.

I looked at the instruction sheet but could not figure out how to inflate my tires. At some point, I realized that the second part of the portable battery operated drill-sized gadget had not been shipped with my air dragon.

I called the phone number supplied by my credit card account review and obtained the telephone number and called and explained what had happened. The associate kept asking me to further examine the box and the storage compartment of the Air Dragon under the handle or grip. I looked thoroughly and could find nothing. The associate told me that it was very unusual for the hose not to come with the machine. He then told me that he would send me a whole new Air Dragon as individual parts apparently are not available for the Air Dragon.

Six days later, I got a new Air Dragon from a delivery truck. The packing material was completely different than the first one, but still of poor quality. The Air Dragon had in the cord storage compartment, the necessary little hose. I plugged the Air Dragon in and initially it did not work. I tried a second accessory outlet in my car, and finally, after running the engine a few minutes, the Air Dragon compressor came on. I followed the instructions but at first had difficulty making the digital read-out screen work. Finally, I got it to function and I dialed in the recommended tire pressures for my car. After about 90 seconds or so, the Air Dragon shut off. There was no additional message with the status of the job which had been performed. I turned on the car's tire pressure monitoring system and sure enough, the exact amount of air required for my car was reached by the Air Dragon.

As I screwed the air hose onto the other tire stems, the hose began to have difficulty both screwing on and screwing off. I put the Air Dragon aside and then a few weeks later I needed to add a few pounds of air to my car tires. Again, screwing the hose on and taking it off began to become a difficult ordeal. Once on, the Air Dragon did its job, although the unit became, "too hot." By the time I reached the 4th tire, the hose would not screw onto the valve stem. I assumed that the threads on the unit female section had gone bad. I tried to look inside with a magnifier and a flashlight, but I couldn't really see anything wrong.

Final story - the Air Dragon just doesn't work and is made with materials that are so cheap it is no surprise that the Air Dragon doesn't hold up. It is not a product of Mercantile quality and therefore it is part of a fraudulent TV hoax designed just to get the customer to part with his or her money.

Bottom Line: No, I would not recommend this to a friend

---

8 out 8 people found this review helpful

Smoking pump

By Donna S.

,

Orlando, FL

,

Jul 29, 2018
Verified Reviewer

I bought Air Dragon for seven months to carry in my car, just in case I would need it. Well yesterday was the day I needed it. My tire was low but not to low. In my head I was like yeah I finally get to use it. Well big mistake. I plugged it into the lighter outlet and started putting air in the tire, then the dragon started smoking, turned off, and then I unplugged it. It doesn't work now even if it did, I would never use it again. That's 35 dollars down the drain.

Bottom Line: No, I would not recommend this to a friend

---

9 out 9 people found this review helpful

Weak air hose - no product support

By Craig H.

,

Anoka, MN

,

Jul 10, 2018
Verified Reviewer

I bought two of them. After the fourth time inflating a tire, the air hose ruptured. I have tried to contact Air Dragon to see about a replacement hose, and after several months, I have not gotten a response.

Bottom Line: No, I would not recommend this to a friend

---

10 out 10 people found this review helpful

Absolute junk!

By Jim K.

,

Buffalo, NY

,

Jun 27, 2018
Verified Reviewer

Don't waste your money people, not worth even $1.99. It stopped working while I was using it the fourth time inflating my grandkids kick balls. They will not replace it. It has a 30-day warranty and it took almost 30 days to get it after I ordered it. It's a piece of junk.

Bottom Line: No, I would not recommend this to a friend

---

17 out 17 people found this review helpful

This product is CRAP!

By Brian Mitchell

,

New South Wales, Australia

,

Apr 13, 2018
Verified Reviewer

Don't waste your money. This thing is nothing but a toy! It takes over 15 minutes to pump a normal auto tire up to 30 psi, and continually cuts out during air delivery. After several uses the red plastic "nose" brakes into two pieces rendering the thing as useless.

It is ok for soccer balls or similar, but not for auto tires!

Bottom Line: No, I would not recommend this to a friend

---