Air Hawk Compressor Reviews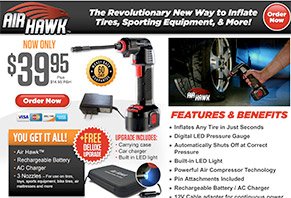 Using 3 interchangeable tips, Air Hawk Compressor claims to be a fast, convenient, and easy way to quickly inflate tires, sports equipment, and much more.
About Air Hawk Compressor
The handheld, cordless Air Hawk Compressor promises to pull in the outside air, compress it, and route into whatever you need—whether car and bike tires, toys, sports equipment, air mattresses, and more.
According to the company, Air Hawk is fast, convenient, and easy to use, and is able to inflate any tire "in just seconds," while its compact design allows it to be stored in just about any cabinet, car, or a drawer.
We're also told that Air Hawk comes equipped with 3 different nozzles, a digital LED display, a built-in light, and an auto-stop feature that will shut down when once the correct tire pressure is reached, as well as a rechargeable battery.
Sure, a device like the Air Hawk Compressor might help you avoid bulky compressors and messy canned air, but will it deliver a solid value? Can you expect it to be there for you in the event of an emergency? Will it last?
You want to know as much as possible about Air Hawk Compressor before handing over your money, and we aim to deliver. So, let's start with compressor basics.
How Do Air Compressors Work?
Whether you're talking about small handheld devices like Air Hawk, or giant machines that have to be pulled behind a truck, air compressors can be useful in just about every aspect of life.
In order to do their job, most air compressors use a reciprocating piston to create a temporary vacuum, which pushes open a valve to allow a small amount of air into a holding tank.
From there, the more strokes the piston performs, the more air enters the tank, where it's stored under pressure. When this pressure is released, the energy it contains can be used to power tools, air up your tires, and much more.
Given what we just learned, does Air Hawk mean the definition of an air compressor?
Taking a look at the picture below, it appears that Air Hawk doesn't feature any kind of holding tank. Instead, it seems like it's simply pulling the outside air straight through and forcing it into whatever's needed.
Given this, we think a more appropriate name would be 'Air Hawk Tire Inflator' than Air Hawk Compressor. Let's continue this thought in the next section.
Does the Air Hawk Compressor Have Any Competition?
Using what we just learned, if you search online for "handheld air compressor" or "handheld tire inflator," you'll find several options that are meaningfully similar to Air Hawk, including the Airman Rechargeable Inflator (which also features an LED gauge), the Craftsman Cordless Inflator Compressor Digital Pump, and many others.
And if you slightly change your search term to "portable tire inflator," you'll find dozens more options that might be slightly larger than handheld devices like Air Hawk Compressor, but could foreseeably meet your needs just as well.
In fact, except for the color scheme, the Air Hawk Compressor appears to be essentially identical to another ASOTV product named the Airman Handheld Airgun Compressor—although it's priced much higher at $80.
Speaking of price, you'll find that many of the handheld options fall between $40 and $70, while the slightly larger portable models come in lower at between $30 and $50. Comparatively, what will you pay for the Air Hawk Compressor?
How Much Does the Air Hawk Compressor Cost?
It appears that the compressor is not sold directly from the manufacturer. However, it's available at the following retailers:
Amazon: $79.95
Walmart: $79.21
Ace Hardware: $59.99
Pep Boys: 47.99
Who Might the Air Hawk Compressor Work Best For?
As we explained above, in order for something to be considered an air compressor, it must 1) compress air and 2) store the air and use it to create energy. However, Air Hawk appears to do neither of these.
Instead, it seems to simply route air from one location (the outside) to another location (the inside of a tire or ball, for example). As such, Air Hawk seems to fall into the tire inflator category that it does the air compressor one.
Given this, if you're looking for something to power tools, clear debris, or quickly seat tires (such as on a mountain bike), you'd probably be better served by a more traditional compressor.
On the other hand, if you simply need something that can quickly and easily inflate tires, then Air Hawk seems like it might fit the bill.
Just remember that it's unclear on the type of battery it contains, so we can't know how long it'll hold a charge. As such, if you're thinking about keeping one in your glove compartment for emergencies, be sure to test the battery and recharge often.
Finally, it's worth noting that you'll be putting at least $15 in non-refundable S&H charges (plus whatever it'll cost to ship back if you're dissatisfied) on the line by giving the Air Hawk Compressor a try.
Good for me

By Paul U.

,

Toronto, Ontario, Canada

,

Mar 23, 2020
Verified Reviewer

I purchased the unit at the local Canadian Tire store. I've used in on my Sebring convertible's slowly leaking tire. The main reason for the purchase was for use on my '51 Lincoln Cosmopolitan. The car has a six-volt system so won't run the inflators that are plugged into the cigarette lighter/power plug. So, this portable unit is perfect to have in the old car just in case. I've mentioned this to several colleagues in the collector-car field. So far the unit has performed perfectly. No complaints.

Bottom Line: Yes, I would recommend this to a friend

---

Air Hawk is not customer friendly

By Fred Z.

,

Woking, England

,

Jan 23, 2020
Verified Reviewer

After only being used 4 times it stopped producing air, the motor would run but no air came out.

I stripped it down and found that the Piston had broken off of the crankshaft. I cannot seem to be able to find a source to buy spares from Air Hawk.

Bottom Line: No, I would not recommend this to a friend

---

Advertisement

---

It will not compress!

By James L.

,

British Columbia, Canada

,

Jan 8, 2020
Verified Reviewer

While trying to inflate my car tire, it just stopped compressing! Prior to this problem, I loved my Air Hawk! I let it rest as per instructions, but it would not compress, but the light works and the device just sort of whines! Everywhere I looked, there is no troubleshooting help, and when I called Air Hawk direct, and left a message, no one contacted me as to what I should do! Terrible customer service and I am not happy!

Bottom Line: No, I would not recommend this to a friend

---

Not good quality

By Jack H.

,

Agoura Hills, CA

,

Nov 8, 2019
Verified Reviewer

When I used the Air Hawk for the third time it would not turn off unless I removed the battery from the pump! It is still usable, but not convenient! Also, it is not useful for a flat tire as it heats up and the hose comes out of the pump. It is reasonable for topping off a tire that is only low by a few lbs/sq in!

Bottom Line: No, I would not recommend this to a friend

---

Advertisement

---

Air Hawk battery is way too small and tube too short

By Russell S.

,

Birmingham, United Kingdom

,

Nov 6, 2019
Verified Reviewer

Fully charging the battery (even when new) is not enough to inflate 4 tires when upping the pressure for a heavily laden car (e.g. vacation time). The battery is woefully inadequate.

The compressed air tube is very short and could do with being 8 inches longer to reach the tire inflation point.

Bottom Line: No, I would not recommend this to a friend

---

Works for me

By Daniel R.

,

Florida

,

Oct 16, 2019
Verified Reviewer

I bought the product at a CVS drug store on a whim. I had seen it advertised but did not know much about it. I tried one before, or a similar product I should say, but it was slow. I was pleasantly surprised by this product, but I had to remember how I broke it down after each use. It was especially good with bike tires - so much easier than my bulky electric compressor. I would not recommend a bike pump either. I liked it so much, I purchased one for my nephew.

Bottom Line: Yes, I would recommend this to a friend

---

Very poor from start to finish

By David A.

,

Augusta, GA

,

Aug 29, 2019
Verified Reviewer

After several weeks I finally received the unit. It was missing the battery pack as well as the A/C adapter. I tried many emails back and forth with the company which included pics as they requested. Obviously I was dealing with people who were uncooperative and had problems communicating in English. I finally contacted Visa and got the charges reversed.

Bottom Line: No, I would not recommend this to a friend

---

Not happy

By Ann C.

,

Mount Dora, FL

,

Aug 15, 2019
Verified Reviewer

I bought the Air Hawk specifically for my Golf Cart and Riding Lawn Mower. I bought it from HSN a year ago. I have used it three times and have had a problem each time. The battery is low already. I hate this thing. It's not even easy to screw on to the tire. Waste of good money.

Bottom Line: No, I would not recommend this to a friend

---

Hot

By Sue O.

,

Missouri

,

Aug 14, 2019
Verified Reviewer

I just bought it today and tried it on two tires. First one was fine but air hose and tire spin it got hot. Second tire was fine. Did not make the noise on second. Will take more time to try it when needed. Also assembly felt like it was getting hot too.

Bottom Line: Yes, I would recommend this to a friend

---

Beware - rogue dealers

By Robert E.

,

Isle of Man

,

Aug 1, 2019
Verified Reviewer

This inflator bears no similarity to the advertised item. I connected my new inflator, attempted to put air into one tire, it overheated and then stopped working. No redress from the company, so tried to claim through PayPal. Rogue traders informed PayPal that I had significantly altered the device, so PayPal decided in seller's favor! Do not trust these people! Device does not mirror the easy inflation shown in their videos, quality of the unit is questionable and customer service is suspect. I know I have been scammed!

Bottom Line: No, I would not recommend this to a friend

---

Still waiting on delivery

By Wayne B.

,

Georgia

,

Jul 29, 2019
Verified Reviewer

Over 8 weeks and no product. Chinese email replies with bogus shipping numbers. Please redo your shipping number, it has shipped. Tired or waiting. Calling bank to report a scam. Ordered off of ad on Facebook.

Here is the email they sent the reply from:

发件人: Wayne Bennett

发送时间: 2019年7月11日 6:58

收件人: kai kai

主题: Re: 回复: 回复: Air Hawk purchase

Bottom Line: No, I would not recommend this to a friend

---