Air Optix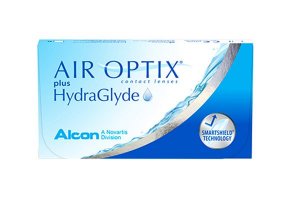 Air Optix is a prescription contact lens brand owned by Alcon that offers seven varieties of breathable, high-performance contact lenses meant to suit every lens wearer.
Air Optix Review: A Detailed Look
Air Optix is a prescription contact lens brand that offers a collection of breathable, high-performance contact lens for a variety of eye care needs. At the time of writing, the company offered seven styles of contacts.
Alcon, the company who oversees Air Optix states on their website that they are a global leader in eye care that develops and manufactures ocular medicine and devices like contact lenses that are designed to help customers with every aspect of eye care.
They report that their lenses are made of proprietary silicone hydrogel materials that are formulated to allow oxygen to flow through the lens and into the wearer's cornea.
But why would you want oxygen to pass through your eye? Is there a proven benefit of this practice? We looked through the research to help you decide whether Air Optix lenses are a smart choice for contact users.
How Does Air Optix Claim to Work?
According to their website, Air Optix lens are designed to improve the health of your cornea, which is the dome-shaped front part of your eye. They state that a lack of oxygen to the eye due to standard contact lenses can lead to corneal swelling, irritation, and red eyes.
What Air Optix believes makes their contacts stand out from other brands is their patented SmartShield® Technology surface treatment, which is formulated to resist the build-up of deposits so that they stay comfortable for as long as you wear them.
This treatment is made from a silicone hydrogel material that is composed of approximately 67% lotrafilcon B and 33% water, and it's purported to help the lens maintain a protective layer of moisture that keeps their surface hydrated. This highly breathable material purportedly allows oxygen to follow continuously through the lens into the corneas.
That sounds like a benefit for contact wearers, but is it more hype than substance? We'll explore that next.
Oxygen and Your Eye – Does It Really Matter?
A major selling point for Air Optix lenses is that they purportedly increase airflow to your eyes. AllAboutVision.com told us that standard contact lenses cover your entire cornea, meaning that they decrease the amount of oxygen that reaches your eye, which can potentially lead to problems like red eyes, corneal swelling, blurred vision, and general eye discomfort.
Soft silicone hydrogel contact lenses (like Air Optix) are offered as a solution to this low oxygen problem. They are designed to transmit more oxygen to your eye than standard lenses, potentially making them a safer option over time. Silicone hydrogel lenses are are considered best for people with sensitive eyes or those who are lax about taking out and replacing their contacts as often as recommended.
However, silicone hydrogel lenses don't seem to be the solution for all eye problems, as AllAboutVision.com reports that some people experience more 'lens awareness' when they wear them compared to regular contacts. Likewise, some types seem to be more prone to contact lens deposits that lead to corneal inflammation and other complications, despite their increased oxygen permeability.
For these reasons, the site concludes that there isn't concrete evidence that silicone hydrogel contacts increase comfort compared to standard lenses. That being said, if you have naturally sensitive eyes and regularly suffer from red, irritated eyes because of your contacts, a silicone hydrogel contact lens like those offered by Air Optix might help you find relief.
How to Start Using Air Optix Contact Lenses?
According to the brand's website and a report from the FDA, contact lenses are considered medical devices, which means that they must be prescribed by a licensed eye care professional.
All Air Optix prescriptions need to include information such as your name, the prescription expiration date, the prescriber's name, and pertinent details like power, base curve, manufacturer, diameter, and contact lens material to be valid. The company suggests using this search resource to find an eye doctor near you.
At the time of writing, Air Optix offered an opportunity for a free sample of their contact lenses in the form of an online certificate that you can print out and take to an eye care professional so they can prescribe them to you. (Professional fees may apply).
The company also offers an annual supply deal of their lenses that can save subscribers up to $50 over the year by way of a mail-in rebate. They define an annual supply as four 6-count boxes purchased over a year.
How Long Do Air Optix Lenses Last?
The Air Optix website tells us that you will need to replace your contact lenses as often as is prescribed by your eye care doctor. According to the FDA and AllABoutVision.com, soft contact lenses can last from one day to up to a year, depending on whether they are disposable, planned replacement, or reusable.
The lifespan of Air Optix lens varies depending on the variety you use. Day and Night lenses, for instance, can last as long as a month of continuous use, while HydroGlyde contacts should be replaced every few days.
When you remove your lenses but it's not time for a new pair, Air Optix's parent company Alcon recommends that you clean and disinfect them with their OPTI-FREE® PUREMOIST® Multipurpose Disinfecting Solution or CLEAR CARE® PLUS Cleaning and Disinfecting Solution.
What Products are Available from Air Optix?
At the time of writing, Air Optix offered seven varieties of contact lenses, each designed to appeal to different contact wearers.
Air Optix Aqua: These lenses feature the brand's SmartShield® Technology, which means that they have an ultra-thin protective layer that protects the lens from deposits while still allowing oxygen to flow through. They are considered best for people who want month-long comfort and live an active lifestyle.
Air Optix Aqua Multifocal: Using the same technology as Air Optix Aqua lenses, the multifocal lenses are best for people who want to improve their eyesight without using bifocals, readers or progressive lenses.
Air Optix Plus HydroGlyde: Considered a step above the Air Optix Aqua, these thirty-day contacts are designed to provide long-lasting surface moisture and protection from deposit buildup. They are considered a good option for people who live in dry environments, have an active lifestyle, or who value long-lasting surface moisture, and they can be used for up to six nights of extended wear.
Air Optix Plus HydroGlyde Multifocal: Offering the same moisturizing benefits as standard HydroGlyde lenses, this multifocal contact is meant for people who typically wear bifocals or progressive lens.
Air Optix for Astigmatism: These lenses are designed to provide clear, comfortable vision for those with astigmatism.
Air Optix Night and Day Aqua: Meant for people who don't want to fuss with their lenses more than necessary, these contacts can be kept in place for up to thirty continuous days before they need to be replaced, making them ideal for anyone who likes to sleep in their lenses.
Air Optix Colors: Featuring twelve colors at the time of writing, these lenses are meant for people who want to enhance their natural eye color without compromising comfort or breathability. They can be used both by people who do and don't need vision correction.
A Look at Customer Reviews
To determine how customers felt about Air Optix contact lens, we looked at online reviews of the brand from four reputable review sites.
Overall, the reviewers' opinions of the lenses seemed split between believing they were the most comfortable contacts they had ever used and stating that they felt like sandpaper. Some reviews stated that the lenses were ideal for anyone who wanted to sleep with their contacts on and that they stayed moist throughout the day. However, the most common complaint we saw was that they felt like sandpaper, caused their eyes to tear up, and often led to blurry vision.
Regarding the color lenses, some reviewers stated that they preferred other brands and that the colors were subdued enough to be realistic. A few people noted that they could see their iris through the center of the contacts, which made their eye color look weird. Other reviewers stated that the lens made their eyes blurry and didn't seem to be as comfortable as Air Optix Aqua or Hydragel lens.
Will the lens work for you? We didn't see any comments that addressed their ability to bring oxygen to your eyes, so it's hard to comment on the effectiveness of this feature. If these reviews made anything clear, it's that contact lens approval is highly personalized and difficult to predict. The best way to determine whether Air Optix will work for you might be to talk with your eye doctor and then try them out for yourself.
How Does Air Optix Compare to Similar Products?
Air Optix is a relatively new brand in the world of contact lenses, which means that numerous contacts companies claim to have lenses that offer similar benefits. How do they stack up? We compared Air Optix to Acuvue and Biofinity to find out.
Air Optix vs. Acuvue
Like Air Optix, Acuvue is a contact brand that offers numerous lens styles, including ones for daily use (1-Day Acuvue Moist and TruEye), monthly use (ACUVUE Vita monthly contact lenses) and for color enhancement (1-Day Acuvue Define). Most Acuvue lenses are made with silicone hydrogel to promote oxygen flow like Air Optix's are.
The brand offers a proprietary hydrating formula in some of their lenses known as HydraLuxe, which purported has tear-like properties and will keep your eyes moist throughout the day similar to how Air Optix's HydraGlyde lenses work.
According to both brand's websites, Acuvue lenses are slightly thinner than Air Optix (.07 mm vs. .08mm). Many people find thinner lenses to be the most comfortable, and they tend to let more oxygen through. Likewise, Acuvue lenses have a slightly higher water content than Air Optix, (38% to 33%) which might be a benefit for those with sensitive eyes that deal with dryness.
Air Optix vs. Biofinity
Another contact lens brand known for its silicone hydrogel lenses is Biofinity. Again, the company provides numerous lens types to suit different eye needs, and the lenses are formulated to keep sensitive eyes as moist as possible.
A comparison from Optix-now.com showed that both Biofinity and Air Optix lenses were similar in size (14.2 mm to 14mm), though Air Optix was composed of 33% water while Biofinity came in at 48%. Overall, the site concluded that Biofinity covered more powers, which might make them better suited for a broader range of people.
So which brand is best? While it's difficult to make definitive statements about contacts because of how personalized them are, this research shows that both Acuvue and Biofinity lenses seem to slightly edge out Air Optix in regard to comfort, hydrating potential, and oxygen permeability.
However, the advantage seems slight enough that you should choose which contact brand to commit to based on other parameters, such as what your insurance covers or what your doctor recommends.
Our View: Should You Consider Air Optix Contacts?
Considering all this, should you consider asking your doctor to prescribe you Air Optix contacts? These lenses are advertised as a premier option for letting oxygen to permeate your corneas, but the reality is that numerous other brands offer contacts made with silicone hydrogel, including Acuvue and Biofinity.
Air Optix offered seven varieties of contact lenses at the time of writing, and each is designed to target the needs of a specific contact user. This means that the brand has options for people who wear transition glasses, live an active lifestyle, and don't want to replace their lenses more than once a month, among others.
Overall reviews for Air Optix lenses are a little mixed. Some found that these contacts solved their dry eye problems, while others noted that they felt like sandpaper on their eyes after a few hours of use. We noticed a range of opinions about the brand's colored lenses as well, as some people thought they looked great while others noted that they impaired their vision and didn't fully cover their irises.
Should you make the switch to Air Optix contacts? That's a decision you need to make with your eye doctor. We've found that the brand is a smart lens solution for many people, but with all medical grade equipment, it's best to listen to the advice of an expert.