AirBolt Smartlock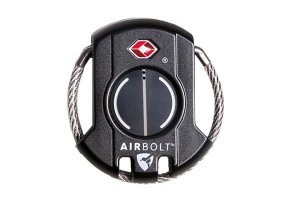 Frequent travelers will enjoy the stylish looks and function of the AirBolt, a Bluetooth enabled lock that you can lock and unlock via an app that works on Android and iOS phones.
AirBolt Smartlock Review
AirBolt is a smart lock that implements Bluetooth technology as well as an app to lock and unlock without using a combination or a key.
What's unique about the lock is that it's a marked departure from the combination-style locks that were popular for a time, as well as the basic luggage locks that travel companies put on their suitcases.
The company behind AirBolt is based in Melbourne, Australia, and, according to their About Us page, they created AirBolt because they grew tired of not having a reliable solution for locking their luggage.
"After our own frustrating experiences from using out-dated combination and key locks, we looked everywhere for the right solution but found nothing that could do the job," their site says. "So, we decided to solve the problem ourselves."
In this review, we'll talk about how the device works, how much it costs, then compare the AirBolt to similar products.
How AirBolt Smartlock Works
To use the AirBolt, you'll need to download the AirBolt app, which is available on Android and iOS phones.
You'll have to go through a quick setup process to connect your AirBolt to your phone, at which point both devices recognize each other and you'll be able to use your AirBolt to its fullest extent.
You'll use your app to decide how you can open your lock. You have the option of requiring a password to unlock it, you can tap a quick unlock button or you can set your lock to unlock when you get within a Bluetooh range of the lock.
AirBolt notes that, additionally, you can unlock your lock by pushing the button on the front of it according to a pattern that you determine.
If you stray too far away from you lock, you can choose to have your phone alert you when you're getting out of reach. Second, you can activate an alarm on the device if someone tries to steal it or the item to which you attached it.
This can come in handy if, for instance, you're at the airport and someone steals your luggage.
In the event that you lose your phone, you can unlock your AirBolt by pressing the pattern you said. Also, you can unlock the lock by using someone else's phone who has the AirBolt app.
Finally, if you lose your AirBolt (the airline loses the piece of luggage with the AirBolt, for example), you can mark the AirBolt lost and then other users will be alerted when they're in range of it. The app will also use GPS signals from other app users to locate it, too.
The device runs on a rechargeable battery that, according to AirBolt, only needs to be charged once a year.
AirBolt Notifications
Your AirBolt has a light on it that will emit various colors at varying rates depending on what it's trying to tell you. Here are a few of those light-based notifications:
Two green flashes: Device is unlocked
Steady red flash: Battery is low
Quick yellow flashes: Phone isn't communicating with a device
The supplemental materials included with your AirBolt will list the other light messages the lock transmits.
AirBolt Pricing, Returns, and Warranty
At the time of publishing, AirBolts were available through the AirBolt website and Amazon for $79.95. Shipping was $7 on the website. While there were no discounts for multiple lock purchases, AirBolt offered free shipping when you buy at least two devices.
The company's refund policy is relatively restrictive. You have 30 days from the date of purchase to start a return and you can only do so if your AirBolt is "unused, unopened and in the same condition that you received it," the fine print notes.
If for some reason your AirBolt is damaged or defective, you have the opportunity to exchange it for a new device. To make an exchange, you'll have to email support@theairbolt.com to confirm that they'll send you a new device.
The fine print points out that they may not ask you to return your AirBolt but, instead, may request that you send a video of the device "displaying the fault for our analysis and replacement approval." When approved, you'll have to pay to ship the item back to them but not for them to ship your new device to you.
Their fine print about returns concludes with a quick line that says they suggest you getting insurance on your shipment back to them, as they aren't responsible for the return arriving at their Australian address. Keep in mind that first-class international shipments through the USPS aren't eligible for insurance. You get insurance with Priority Mail but the shipping costs will be significantly higher.
Customer Reviews of AirBolt
At the time of publishing, the AirBolt didn't have many reviews on Amazon or the iTunes store. The main source of reviews came from the Google Play store, where the app had more than 1,000 downloads and 20 user reviews.
Those who reviewed the app gave it 3.5 stars. The five most recent reviews were, for the most part, negative. One user complained that he couldn't connect his device to his phone after he updated the app. Another user said he bought two devices but only one worked.
We saw several complaints about customer support, too, which takes place through an online form and email, not through the phone.
There were three Amazon reviews at the time of publishing, two of which were negative. In one case, the reviewer claims the TSA took their AirBolt and he or she couldn't track it down with the crowdsourced GPS tracking.
There was a positive review that noted how easy it is to connect them to his or her phone and how they never had an issue with unlocking or locking the AirBolt.
We can't provide a strong conclusion about how your AirBolt experience will be because there just wasn't enough customer feedback at the time of publishing to warrant any conclusive advice.
The Final Word: Our General Thoughts About AirBolt
AirBolt is an interesting device that would be a good option for someone who needs to lock up their bags or luggage.
We see this device being a good fit for someone who travels often and wants a secure, simple way to keep their luggage locked. We also think it could be a great lock for someone who travels on trains, subways, and busses and wants a simple way to protect their bag from pickpockets.
The downside of the device is the price, not because the device isn't worth $75 but because there are other Bluetooth- and fingerprint-enabled locks that are cheaper.
For example, the eGeeTouch smart lock gets an average of 3.1 stars from more than 110 reviews at the time of publishing. This lock's price is $52.80, although it doesn't look nearly as stylish as the AirBolt.
Incase, the company more famous for iPhone cases, has their own version of a smart luggage lock for $49.95. The lock had 5 reviews at the time of publishing, three of which were two or one stars. The main complaint against this device was that it had limited battery power.
While these options are cheaper than the AirBolt, those who are concerned about the way their lock looks and who want good battery life will most likely be happiest with AirBolt.
Just received...

By Rob C.

,

Victoria, Australia

,

Oct 31, 2019
Verified Reviewer

I have just received the delivery of my 3 AirBolt luggage locks.

I have downloaded the app and set up the first one, which was quite simple to do. I think that they are quite stylish and easy to use.

I will post another review after my next trip to see how they go whilst on holiday.

Bottom Line: Yes, I would recommend this to a friend

---

AirBolt locks are a great improvement on traditional luggage locks

By Kenneth B.

,

South Carolina

,

Mar 13, 2019
Verified Reviewer

I took my three AirBolt locks on a ski trip this past week. I used one AirBolt lock on my ski/snowboard carrier and used my other two AirBolts on my gear bag. Both pieces of luggage were "checked" at the airport.

The AirBolts worked perfectly! I don't know if it's a feature or not, but after an unsuccessful attempt (or two) to unlock the lock with the manual code, the lock appeared to not acknowledge any manual input. I then unlocked the lock from my mobile device and it was all good to go again. I really liked not having to keep up with keys and I have all 3 locks with the same manual code so that it's easy to open any one of them any time...and as an extra benefit, I could easily secure my skis when leaving them on the resort racks. (An AirBolt with a longer cable would be a great addition to your product line!)

On my return trip, TSA opened my ski bag and left their required notice. Apparently TSA was able to access the bag without issue as the AirBolt lock was securely replaced.

I haven't tried yet, but I think the AirBolt lock will work great to secure a motorcycle helmet to the bike. I'll find out for sure when the weather warms up!

Bottom Line: Yes, I would recommend this to a friend

---

Advertisement

---

I love it!

By Kyala F.

,

Seattle, WA

,

Mar 12, 2019
Verified Reviewer

I love my AirBolts. After I purchased it, I kept track of what these guys are doing, that's how I stumbled upon this article. It has been 2 years that I am using my AirBolts at various places. Their support is very polite and super helpful, since I have gone back and forth quiet a bit for my queries - as I am not a techy. I love using it for my kids' bikes. I haven't had the need to charge it since last year. It has got amazing build quality. Great work guys. Keep it up.

Bottom Line: Yes, I would recommend this to a friend

---

AirBolt malfunctions/Support lacking

I received three AirBolts as a gift. Two of them seem to work just fine, however, the first one has transcended into "airplane mode" and has locked up permanently, which means for the life of the battery it will tick like a very loud clock and flash a strobe of blue light constantly. I am unable to delete it from the app or reboot the AirBolt, it is not responding, in a similar fashion to the lack of response from the company via their only support option. I have taken one of them outside and put it in a box so I don't ever have to see it until the company decides to contact me back. However, if it is stuck in airplane mode, there is no way to reset it from the app re-boot it or delete it from your app.

Clearly they have not thought this product through. The manual and troubleshooting guides online or in the box are useless and do not contain any pertinent information to the problems. I have bought many items to help travel in the past and this is a great idea, however, I don't believe it's completely ready for market, and I'm concerned that the company lacks any type of reasonable response time. I recommend that people wait until the company shakes out the bugs, but I'd hate for this to start ticking and flashing like a bomb in the TSA area, but that's exactly what it sounds like. And I have it shipped with 90% battery life so I imagine it will be taking four weeks in the garage in a box before it dies!

Bottom Line: No, I would not recommend this to a friend

---

Advertisement

---