Airing Reviews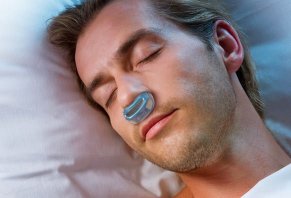 Using proprietary micro-blowers invented by Stephen A. Marsh, Airing is a small, lightweight, inexpensive device that promises to help OSA sufferers sleep better.
What Is Airing?
Airing is a soon-to-be-released micro-CPAP device that promises to work as well as any other CPAP machine, but without masks, hoses, cords, or discomfort.
Airing's inventor tells us on their website that the single-use device's soft, silicone nose buds are designed to fit comfortably inside your nostrils while providing a tight seal.
The rest of the plastic device sits outside your nose, which houses hundreds of proprietary micro-blowers—originally designed to regulate heat in computer chips—that work with your breathing. This area also houses Airing's Zinc-air battery that provides eight hours of power and ensures you get a good night's rest.
You're here because traditional CPAP machines suck. Sure, they can help prevent the potentially serious health effects of sleep apnea, but they're loud, expensive, and most of all, horribly uncomfortable.
But with Airing, have we entered a new era, where you can have your CPAP and wake up well-rested, too? Will it "liberate you from sleep apnea," as claimed on the product's website?
Here, we'll cover all the important points so you can be better informed before handing over your money—starting with the condition Airing was designed to treat.
What Is Obstructive Sleep Apnea?
When we sleep, muscles all over our body relax. Sometimes, the tissues at the back of the throat can become too relaxed, causing them to block the airway to varying degrees.
When this air passes through and causes throat tissue to 'flap,' this is known as snoring. However, when this airway blockage becomes so severe that it results in shallow breathing or complete pauses—some of which can last minutes—this is a condition known as obstructive sleep apnea (OSA).
Both snoring and OSA can cause sufferers to experience grogginess the next day, but ongoing sleep apnea can lead to health risks like high blood pressure, heart failure, diabetes, depression, headaches, and stroke. This is why it's so important to speak with your physician if you think you might be experiencing OSA.
The good news is that OSA can be treated, but it's not always pretty.
How Does Airing Compare to a Traditional CPAP Machine?
While there are a variety of designs and features, all continuous positive air pressure (CPAP) machines feature three fundamental parts:
Air Pump – Like any air pump, this draws air from the room and pressurizes it. Some of these pumps always deliver the same pressure, while others automatically adjust while you sleep.
Tube – This pressurized air is then sent through a tube to the mask.
Mask – Again, there can be many different options, but a CPAP mask will either cover the nose, or the nose and the mouth, and will be designed to create an airtight seal.
Once this air enters the user's throat, it works to increase pressure to a point where the tissues in their airway can't collapse or prevent them from breathing properly.
Comparatively, at just two inches long, 1.5 inches wide, one inch high, and weighing less than an ounce, Airing claims to deliver this same positive air pressure, but in a much more compact package.
On the outside, Airing's pliable silicone rubber nosebuds will come in different sizes and will be easy to insert, form a comfortable seal, and help the device remain in place while you sleep, without the need for straps.
The plastic housing features inhalation and exhalation vents, which are covered by micro screens. Before entering, all incoming air will be filtered.
Powering Airing is a Zinc-air battery, similar to a hearing aid battery, which we're told in the promotional video contains the most stored energy for the volume and weight. In fact, the company claims their batteries provide about 10X more stored energy in the same space as a Lithium-ion battery (which would be too heavy).
It's also easier to manufacture, lower-cost, and more environmentally friendly than rechargeable options. Despite its size, the Zinc-air battery can power Airing for eight hours.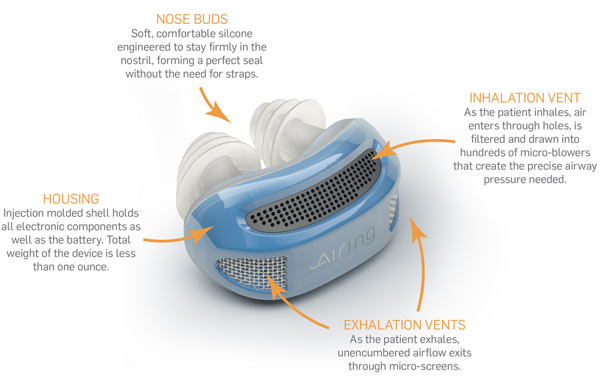 Using form-fitting silicon nosebuds, a small plastic housing, and hundreds of micro-blowers, Airing promises to deliver CPAP, but without all the bulky equipment like air pumps, hoses, and masks. Image credit: Airing, Inc.
Now, this is on the outside. But what is Airing hiding on the inside that really differentiates it from other CPAP devices?
What's Up With Airing's Micro-Blowers?
Invented by Stephen Marsh, the micro-blowers in Airing work as displacement pumps, similar to a bellows that blows air into a fire.
Instead of using handles and a large chamber, though, these micro-blowers use an electrostatic charge to move small plates up and down. When they're pulled (repelled) apart, they suck a tiny amount of air in; when they come back together, they push air out.
Now, due to their size, a single micro-blower won't deliver much air movement. This is why hundreds of these blowers work in parallel inside each Airing device, pumping air thousands of times per second, to provide the adequate amount of air to the user.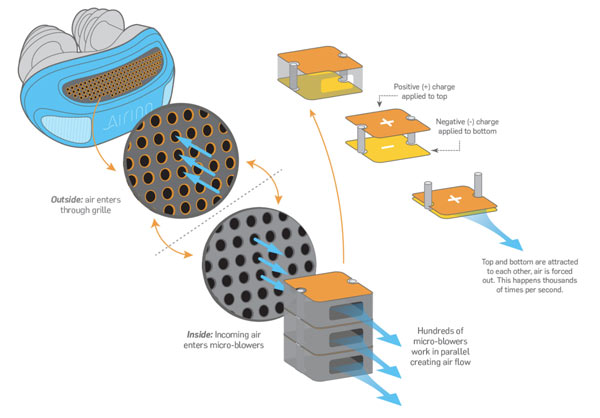 Inside Airing, hundreds of proprietary micro-blowers work in parallel to provide enough air pressure to help comfortably address obstructive sleep apnea. Image credit: Airing, Inc.
While Airing was still pending FDA approval at the time of our research, the company noted they were hoping it would be classified as "similarly equivalent" to existing CPAP machines—just a miniaturized version. This would cut the approval time down from years to months.
Once approved and release, the company tells us that Airing will initially be available in a range of pressures (up to 20) to match your needs, similar to contact lenses. However, they company would eventually like to create an adaptive version that will self-adjust.
On the other hand, Airing will be able to automatically adjust micro-blower output at release, so users won't have to worry about wasting "unnecessary energy blowing against the exhalation."
How Much Will Airing Cost?
On average, the company expects to price Airing somewhere around $3 per device. If your insurance company reimburses the typical 80%, they tell us this could reduce your per-device cost to $0.60.
Speaking of which, according to Airing's FAQ:
"The integrated pressure sensors and electronics that control the Airing device can track the patient's breathing cycle and deliver the proper treatment. The appropriate data can be stored for subsequent retrieval. This built-in feature can be used for proof of compliance. That will help with reimbursements."
With all of this in mind, here were the different pledge options listed on Airing's Indiegogo campaign:
Green – 15 Airings: $50
Silver – 30 Airings: $70
Gold – 45 Airings: $95
Platinum – 90 Airings: $155
Emerald – 120 Airings: $199
Diamond – 180 Airings: $270
On their main Indiegogo page, Airing's estimated shipping date was originally June 2017, although per one of their recent updates, this has been moved back to "sometime during 2018." This is fairly common with crowdfunding campaigns, and not necessarily a cause for concern.
Given the fact that Airing hadn't be released yet, was there any online customer feedback?
Additional Information
It seems Airing has tapped into the needs of a lot of CPAP users, as their June 2015 Indiegogo was well-received, with over 19,000 backers who helped raise more than $1.8 million.
Since that time, the company seemed to post fairly regular updates (about once per month) letting backers know what they're up to. Most recently (4/4/17), the company reported that they were able to gain access to the laser micromachining technology needed to create the small parts for their micro-blowers.
The company also quickly responded to most comments posted on Indiegogo.
Even considering their as-yet-unreleased product, Airing's Facebook page had 650+ reviews and an average rating of slightly more than four stars. Most seemed eager to get the CPAP they need, without masks or the associated discomfort.
Important note: Since the campaign's success, it seems there have been multiple Airway "knock-offs" (to use the company's own words) from overseas manufacturers entering the market, but are hollow inside (no battery, blowers, filters, etc.). You can read more about this trend on the company's blog.
As a self-taught inventor and entrepreneur, Airing's President Stephen A. Marsh holds numerous patents to his name, including technology for electronic vaporizer systems, self-regulating gas generators, fuel cell operation, power cell and chip architecture, and gas storage systems.
On the Facebook page referenced earlier, one user posted a link to a lawsuit (Encite, LLC v. Soni, C.A.) involving Mr. Marsh and one of his previous companies, Integrated Fuel Cell Technologies, Inc. It appears the organization never delivered a viable product using the micro fuel cell battery technology they claimed "could replace batteries in devices such as cell phones and laptops."
Obviously, we're only reporting the facts, and not indicating that you'll experience any of the same with Airing.
Considering this new technology, is there anything remotely similar to Airing on the market?
Our Final Thoughts About Airing
Living with your sleep apnea seems like a constant push-and-pull struggle. On the one hand, you want to maximize your health by wearing a CPAP machine. On the other, they're uncomfortable and in some cases don't help you get a better night's sleep.
But by eliminating the sometimes noisy air pump, the inconvenient tube, and the uncomfortable mask—not to mention the high prices—Airing might seem like it might offer a ray of hope. And based on what we learned during our research, it appears they're on the verge of really impacting people's lives.
Will there be additional future delays? It's not easy creating new technology, much less manufacturing it and implementing it into a device, so hiccups are almost unavoidable. But it seems like the company is so far open about what they're experiencing, even if they're currently delayed about a year.
Just remember that Airing's devices can't be recharged and aren't recyclable, so you'll have to toss each one out after only a single night's use. The company tells us they're focused on other options in the future, but for the time being, they might not exactly be considered environmentally friendly.
But if Airing really can address your sleep apnea, while feeling more comfortable and helping you achieve a better night's sleep, this could only be a minor concern.
It's dead!

By Kevin M.

,

British Columbia, Canada

,

Nov 5, 2019
Verified Reviewer

I, like many others, have tried in vain to find out what has happened to the Airing device and its progress. I do not necessarily think the idea started as a scam, but they encountered technical difficulties that, in this day and age, could not be overcome. OK, failures happen. My real gripe with them is the way they have just "stepped away" from it all with no grace in admitting that it was not achievable.

Only one term for it: Cowards!

Hope your parents, children, grandchildren, etc. are proud of you.

Bottom Line: No, I would not recommend this to a friend

---

Big big scam

By Lee B.

,

Waterloo, Ontario, Canada

,

Oct 13, 2019
Verified Reviewer

I suspect this is a lot bigger scam than we realize. They raised $1.8 million initially and then organized and sold knock off units for 3 to 4 years.

I wouldn't be at all surprised if they were behind all these pieces of scrap that came out of China.

I would definitely participate in a class-action lawsuit. Is there a lawyer out there that is interested in doing this?

All of us out there could use your help. Plus, you can make a buck honestly. What a consent.

Bottom Line: No, I would not recommend this to a friend

---

Advertisement

---

Airing scam

By Vivian F.

,

Maine

,

Sep 20, 2019
Verified Reviewer

I got my certificates to purchase the CPAP device when it becomes available, which I guess is never going to happen now. I recommend that backers get together and crowdfund money to sue Stephen Marsh to hell and not back. He's a crook!

Bottom Line: No, I would not recommend this to a friend

---

Investor

By Edward S.

,

Kansas

,

Jun 20, 2019
Verified Reviewer

I invested a small amount of money to Airing on Wefunder, after Indiegogo investors. Don't know the date exactly, maybe 2017. I was shocked, I got an email from Wefunder and Airing one day, and I received a refund for my investment, it was sent back to my bank. Happy I got my investment back. But very disappointed Airing scrapped the project of their C Pap. It would have been a great device and investment! I would have given no stars for rating, but I did get my investment back and if you don't give a star you can't review!

Bottom Line: No, I would not recommend this to a friend

---

Advertisement

---

Where's the battery? Power switch?

By Chris M.

,

West Virginia

,

Nov 22, 2018
Verified Reviewer

Bought one as a test. It flunked. How do you turn it on? Is there really a battery in there?

Why not just create a reusable CPAP that can run on disposable D batteries?

If it really worked it could be useful on public transit, camping, bug out bag etc.

Bottom Line: No, I would not recommend this to a friend

---

They took the money and ran

By Chris S.

,

Austin, TX

,

Nov 3, 2018
Verified Reviewer

Airing no longer even pretends they're working on their device. Their last report to Indiegogo backers was just under a year ago. It linked to a video that supposedly showed high-magnification photos of micro blowers at work. The video didn't work. I went to Airing's website only to discover that it gave no way to contact the company - no phone, address, email, or contact form. I emailed Airing through Indiegogo, asking about the non-working video. They never replied.

Whether or not any R&D ever really happened, clearly none is happening now. And Airing is no longer even trying to fool us with "progress" reports.

You conned us good, Airing. Well done; you put up a most convincing front. Your mamas must be so proud.

Bottom Line: No, I would not recommend this to a friend

---

Still waiting

By Eyal L.

,

Israel

,

May 29, 2018
Verified Reviewer

Like the others, I'm still waiting and waiting and waiting and waiting. A few years after my investment. I did not get anything from this company.

In my opinion, this is bordering on scandal. They only promise and nothing happens.

Bottom Line: No, I would not recommend this to a friend

---

Still waiting!

I was one of the backers on Indiegogo several years ago. I am still waiting on receiving the device that I backed on July 7, 2015. Now I have gotten an email wanting me to invest in a startup investment opportunity. Not sure if this will ever happen. I can not recommend this company as I have not gotten a device yet.

They say that they have fulfilled this, but I have not received anything from them.

Silver Founder + 30 Airings.

You will receive: • A voucher that can be exchanged for a 30 day supply of Airings (when they become available).* That's a 22% discount off the anticipated price of $3 each. • Exclusive quarterly Your name will detailing engineering and regulatory progress. Your name will be listed on our as a Founding Member of Airing * Subject to FDA clearance and doctor's prescription in the US and local regulation abroad. detailing engineering and regulatory progress. Your name will be listed on our as a Founding Member of Airing * Subject to FDA clearance and doctor's prescription in the US and local regulation abroad. on our as a Founding Member of Airing * Subject to FDA clearance and doctor's prescription in the US and local regulation abroad.

Bottom Line: No, I would not recommend this to a friend

---

Still waiting on delivery

This product airing has been advertised since 2014, and it is now 2017, and there still is no production. They have taken $1000000 from hard-working people to support their fantasy, and they are still waiting for production to try something that I presume has been revealed as a scam! If money from the people was what they needed, it would have been done, and production would have been prevailing by now.

Bottom Line: No, I would not recommend this to a friend

---