Airmega Smart Air Purifier Reviews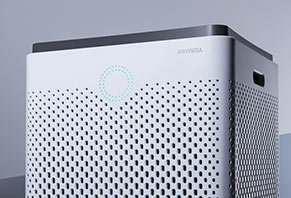 Using an activated carbon filter along with a Green True HEPA filter, Airmega Smart Air Purifier promises to remove 99.7% of pollutants from your home's air.
About Airmega Smart Air Purifier
Why is the Airmega Smart Air Purifier "smart"? According to the company, it's because it can adapt to indoor air conditions in real-time, remove up to 99.97% of particles, clean larger areas at a faster rate—and do all of it while fitting "within today's modern lifestyle." Not only this, but you can also stay connected and in control with Airmega's mobile app.
To provide you with cleaner air, we're told that Airmega's Smart Air Purifier pulls indoor air and through an "advanced" HEPA filter, which removes up to 99.97% of airborne particles. Like what? Mold, pet dander, cigarette smoke, allergens, dust mites, cooking odors, and even harmful gasses. Smart Purifiers can also continuously clean the throughout the night and help you sleep better.
Outside of its filtration technology (which we'll talk more about in a second), Smart Air Purifier promises to implement a ton of other useful features, including light-activated sleep mode, filter usage monitoring, scheduler, energy saving eco mode, remote operation, and more.
However, keep in mind that there are four different Airmega air purifiers to choose from within their lineup, and not all of these offer the same level of features. Which of these are right for you? Are any of them suited to your needs? We'll explore all of these important questions in this review.
All About Airmega Smart Air Purifiers
Overall, we'll discuss three main parts in this section: the Airmega Smart Purifier itself, the filtration technology it uses, and the companion app.
How Does the Airmega Air Purifier Work?
Regardless of the model, Smart Air Purifiers are 14.8" L x 14.8" W x 22.8" H. With its furniture-like legs, if it wasn't for the tiny holes in its side panel, you might not ever know it was an air purifier.
Inside is where the magic is supposed to happen, though. Here, Airmega's Max2 Filtration technology (more soon) pulls in air from two sides, cleaning it faster and more efficiently, across three different modes:
Smart Auto Mode: Here, Airmega will automatically adjust fan speed based on the room's current air quality. For example: If the air quality is good, the fan will rotate slowly. But if it's very unhealthy, it will rotate very fast.
Smart Eco Mode: If Airmega senses that the air quality in a room has remained good for 10 or more minutes, it will shut down the fan in order to conserve energy. Once its sensors detect pollutants, the fan will automatically restart.
Smart Sleep Mode: Not only do some of Airmega's sensors detect pollution, others also detect light. So, if the room is dark and has been clean for three minutes, it will reduce noise and power consumption to keep you undisturbed.
On front, near the top of your Smart Air Purifier, you'll find a brightly colored LED ring that lets you know if your indoor air is fresh (blue-green), moderate (blue-yellow), unhealthy (brown-orange), or very unhealthy (red-purple). And it'll monitor your air quality every minute of the day.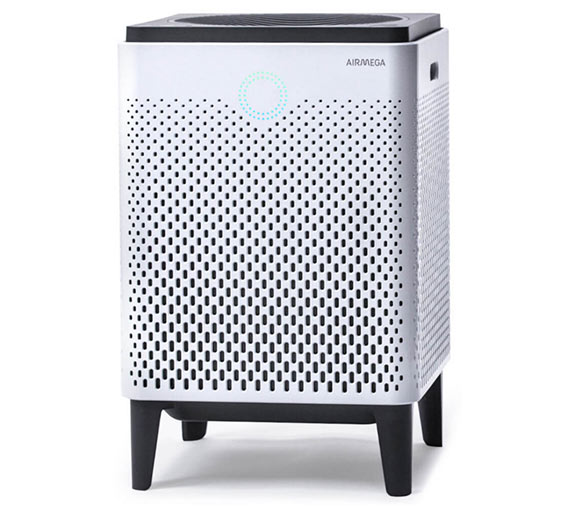 Despite the furniture-like appearance of Airmega's Smart Air Purifier, it's supposed to constantly monitor—and improve—your air quality throughout the day.
Next, let's find out how Airmega might help you breathe cleaner air.
Max2 Filter Technology
Like many other air purifiers, Airmega utilizes two different filters to deliver cleaner air:
Pre-Filter – This first line of defense uses micromesh to collect larger particles like hair, fur, and dust.
Max2 Activated Carbon Filter w/Green True HEPA Filter – This filter goes further to reduce up 99.97% of particles 0.3 microns or larger in the air, including pollen, allergens, and fungi, not to mention harmful gasses, VOCs, cigarette odor, food smells, and more.
Each Max2 filter will last about 12 months (which is based on real-world usage, not time), and replacing it is as easy as opening the side covers, removing both pre-filters, and putting the new Max2 filter in place.
The Smart Air Purifier App
While Airmega's exterior is what you'll look at, and its interior is what provides cleaner air, the app is where its full functionality comes into play.
Here, you'll be able to monitor indoor and outdoor air quality in real time, program on/off times for any given day, and learn the times of day when your home's air quality is at its best (and when it isn't). When its time to replace your filter, you'll receive an automatic notification.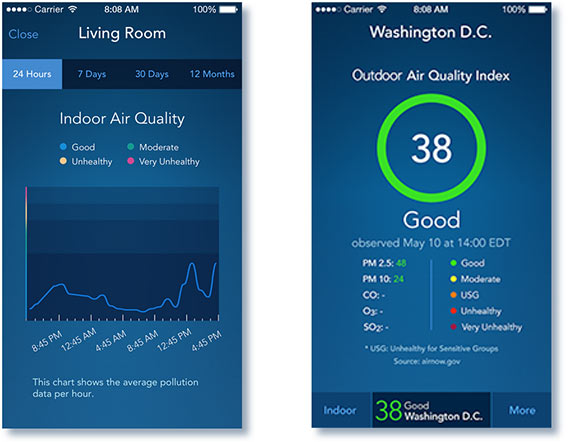 ​With Airmega's smartphone app, you'll be able to monitor outdoor air quality, set timers and fan speed, spot indoor air quality trends, and more.
But hold one: remember when we mentioned that not all these features are available on every Airmega model? Let's talk more about this next.
What's the Difference Between Each Airmega Model?
Although there are four different Smart Air Purifier models, the reality is that there are only two main differences between them: 1) the square footage they can cover and 2) whether or not they feature app connectivity.
Airmega 300 vs. 300S
Designed to clean 1,256 square feet (small to medium-sized rooms), Airmega's 300 model features Auto, Sleep, and Eco modes, as well as real-time air quality monitoring, but it does not feature app connectivity.
On the other hand, the 300S model is equipped with Wi-Fi, enabling you to connect and control it via the mobile app, at any time and anywhere.
Pro tip: If you own a dual band router, Airmega claims that you'll need to ensure it's broadcasting either both bands, or only 2.4GHz. Otherwise, you may not experience an optimum connection.
Airmega 400 vs. 400S
Like the 300 line, Airmega's 400 line ranges in loudness between 22 and 52 decibels, depending on the mode it's operating in.
However, the 400 line is designed to clean 1,560 square feet, making it ideal for larger spaces. The standard 400 model does not feature app connectivity, while the 400S does.
Which Airmega Model Is Right for You?
Based on what we just learned, perhaps your first consideration should be the square footage you're looking to clean. While there's only a difference of 300 square feet between the 300 and 400 lines' capabilities, it could make a meaningful impact on the device' ability to properly clean your home if you go too small.
Next: Will you use your Smart Air Purifier only while you're home? Or, would you like it to continue cleaning throughout the day, while you maintain real-time control over what's happening? If you have more of a hands-off personality, then the non-connected 300 or 400 models might suit you just fine.
On the other hand, if you're even remotely into technology—and you want to really open up what Airmega can do—then the 300S and 400S models could be for you.
Now, these are comparisons between Airmega's in-house models. But how do Smart Purifiers stack up against the competition?
Is Airmega Better Than Other Air Purifiers?
Although Airmega's Max2 Activated Carbon w/Green True sounds really fancy, the reality is that—at least based on what's shown on their website—it doesn't seem to perform better than any other standard HEPA filter (I highly recommend reading this article if you're in the market for a HEPA-based air purifier). That is, like Airmega, all high-quality HEPA filters will reduce up to 99.97% of airborne particles 0.3 microns in diameter or larger.
To this extent, if you search online for "HEPA air purifier," you'll be met with hundreds of relevant results in all shapes, sizes, and colors, not to mention price points (more in just a second). Will they provide the same connectivity and real-time sensors? Probably not. Will they clean the same amount of space as efficiently as Airmega? That largely depends on the model.
Related: Molekule Air Purifier Review
But from a filtration standpoint? In other words, referencing the number of particles they'll remove from the air? They're likely to be on par with Smart Air Purifier.
Looking for something that doesn't just trap particles in the air, but that actually breaks them apart at the molecular level and turns them into harmless elements? Be sure to read more about Molekule [pending link].
Often times though, high-level technology comes at a price. Is this the case with Airmega?
How Much Does the Airmega Smart Air Purifier Cost?
Airmega's models are priced as follows:
300: $649
300S: $749
400: $749
400S: $849
Regardless of which option you choose, the company provides free shipping on all orders.
However, keep in mind that Airmega's Air Purifiers are sold through many popular third-party retailers as well, including Amazon, Allergy Buyer's Club, Wayfair.com, and many others.
Comparatively, you can find some HEPA-based air purifiers online for as little as $90 (but remember: as a consumer, you often get what you pay for), with the very unscientific average hovering somewhere around $180-$200.
Airmega also sells replacement parts on their website:
Max2 Filter: $99-$129
Pre-filter: $25
Top Cover: $30
Front Cover: $30
Side Cover: $30
If purchased through Airmega, Your Smart Air Purifier will come with a 30-day money back guarantee, as well as 5-year manufacturer warranty.
To request a refund or process a warranty claim for direct purchases, Airmega's customer service department can be reached at 800-285-0982 or Info@airmega.com.
Based on these prices, are customers finding Airmega to deliver solid value?
Are There Any Smart Air Purifier Online Reviews?
On Amazon, 14 Airmega customers gave the 400S model an average rating of 4.8 stars. Most compliments seemed to reference high quality, attractive design, silent operation, and cleaner air. On the other hand, more than one complained about the less-than-stellar app.
One detailed review noted that Airmega plays a melody when switching into Smart Mode, which might be loud enough to disturb light sleepers. They also mentioned that the indicator light is quite bright and similarly disturbing in a dark room.
Finally, from an app perspective, they noted: "When the purifier goes into ECO mode, you are unable to access any information about the device through the app. You must first turn the device on in order to see any details, i.e., scheduling or filter status." Obviously, this could be a problem if you're at work (for example) and want to turn Airmega on for cleaner air when you walk through the door at the end of the day.
The only other hands-on review we found for Airmega at the time of our research was on PC Mag's website, where the Smart Air Purifier earned 3 stars. Why? While testers found it had a stylish design, easy-to-set schedules and timers (as well as to clean), and quiet operation, they felt was expensive and found the app occasionally laggy.
Ultimately, PC Mag concluded that the Airmega Air Purifier is "hard to recommend at this price," noting that for the same amount of money, you can buy several of the competition, some of which also offer app connectivity.
From a company perspective, the Airmega Air Purifier is manufactured by Coway USA, Inc., who had an A+ Better Business Bureau rating at the time of our research, based on two closed complaints (as of 7/30/16).
Related: Wynd Air Purification System Review
Is an Airmega Air Purifier a "Smart" Decision?
We've covered a whole lot of territory in this review, so you now have all the important facts at your fingertips. From a value standpoint, perhaps the most effective question you can ask yourself about Airmega is: Is the "Smart" functionality in these air purifiers worth the much higher price?
Sure, this kind of functionality and feedback is super cool, but ultimately this is a question only you can answer.
When it comes down to it, based on the HEPA filtration features in Airmega's Smart Air Purifier, we're not so sure it'll deliver any cleaner air than the competition—some of which cost 75% less.
Do you fell Airmega's extra cost was worth it, or do you think it fell flat? Tell us about you experience below in your very own review!
1 out 1 people found this review helpful

Great purchase

By Tyler Frey

,

Ohio

,

Nov 22, 2017
Verified Reviewer

My home has a gravel driveway, so we constantly have dust and dirt blowing into the house. Our house is also older so removing the musty smell is amazing! It has a high price, I'd say for a reason. The filters are rather pricey, about $100 or cheaper online through third party sites, but you only need to replace them once a year. If you run it less, you could probably pull off 1.5 - 2 years.

I can't see how anyone could give this product below 4 stars. If you can afford it, it's worth it. Rated one of the best purifiers on the market right now in many third-party buyer guides and review sources for purifiers.

Bottom Line: Yes, I would recommend this to a friend

---

2 out 3 people found this review helpful

Very expensive to buy and maintain

By Darrell

,

Memphis, TN

,

Mar 8, 2017
Verified Reviewer

I bought this because I am chemically sensitive. I don't know what kind of chemicals are in the Green HEPA filter, but it made me sneeze and burned my eyes. I thought that with all the carbon, there would be very little chemicals coming out. They put the carbon first and then the air passes thru the Green HEPA, which allows whatever chemical they treated the filter with come out into the room.

Plus, $129.00 for filters every year way too expensive. I have two Whirlpool air purifiers, and they work better, move almost as much air, and are quiet. The sensor doesn't work very well, and I don't think it's worth $800. I would not buy it again.

Bottom Line: No, I would not recommend this to a friend

---

Advertisement

---