Airocide Reviews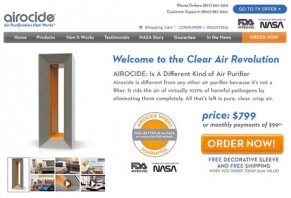 Airocide claims to be a breakthrough filterless air purifier that can eliminate nearly 100% of the pathogens in your home, helping you to breathe easier
About Airocide
Since being featured on the Ellen DeGeneres show a couple years ago, Airocide has gained quite a bit of popularity. Why? Because this filterless air purifier claims to use NASA-developed technology to remove nearly 100% of pathogens in the air you breathe. By doing so, Airocide claims to be especially useful in helping those suffering from respiratory ailments to relieve their symptoms.
But does Airocide really perform as well as it claims, and is the cost justified? We gathered the facts, and here's what they have to say.
Airocide Details
Airocide claims to have been built for one reason: to help you feel better, which it claims to accomplish by using something called Photocatalytic Oxidation (PCO). Without going into too much detail, this technology was originally invented by NASA as a way to prevent food spoilage, which worked by drawing ethylene (a gas that causes fruits and vegetables to ripen) out of the air and then destroying (oxidizing) the particles on a molecular level.
Airocide claims to have taken this same technology and adapted it for in-home use, which has been FDA approved since 2003. But instead of ethylene gas, Airocide claims to draw in harmful airborne pathogens and allergy triggers such as mold, fungi, pollen, dust mites, viruses, pet dander, bacteria, and VOCs. Once these pathogens are drawn in, they're claimed to be oxidized on contact, ultimately leaving you with clean air and zero ozone emissions. As such, the air purifier may be especially beneficial for those suffering from respiratory ailments such as allergies or asthma.
To back up these assertions, Airocide claims to have been proven to remove indoor bacteria and mold anywhere from 60% to 75%, based on multiple university, laboratory, and governmental studies over the past 12 years. The air purifier has also been used by food packers, florists and grocery chains since 1998, and has been used in operating rooms, intensive care units, and hospital pediatric areas since 2003.
Because Airocide claims to use ultraviolet light to eliminate all the pathogens that pass through it, there isn't a need for a filter (we'll talk more about this in the Bottom Line section). The device claims to be able to clean any size room in your home whether positioned vertically or horizontally, although the manufacturer recommends using it in your bedroom. Airocide also claims to look more like a piece of furniture than an appliance, and to feature capacitive touch controls that allow you to adjust air speed.
The company claims that most users will notice a difference with 4-6 weeks of regularly using Airocide.
Airocide Pricing & Refund Policy
Airocide is available through two different purchasing options:
One single payment of $799
First payment of $99.99, then eight monthly installments of $99.99 (total of $899)
While Airocide is available through Amazon.com, if purchased directly through the manufacturer, you'll also receive free shipping, as well as a decorative sleeve that adds a dark wood accent, no-scuff surface, and silicone inserts.
The manufacturer also offers a 60-day refund policy, which can be initiated by calling customer service at 800-687-3100.
Regardless of where you purchase it, all Airocides come with a five-year limited warranty against defects in materials and workmanship
What Are Other Consumers Saying About Airocide?
Airocide seems to have a primarily positive online reputation, with the most common compliment claiming that it works very well at removing harmful impurities from the air, resulting in relief from allergies.
With this said, some of the most frequent complaints we came across during our research referenced Airocide's very high price, relative loudness and high pitched sound (we read descriptions ranging anywhere from computer fans running on full blast, to jet engines idling), and failure to provide benefits. Curiously, we also read several reviews from customers who claimed that Airocide seems to draw a lot of power, which can cause breakers and/or GFI outlets to trip.
However, we found numerous instances where the company's CEO personally responded to online complaints, while offering detailed, thorough explanations about their concerns.
What's the Bottom Line About Airocide?
If you suffer from allergies or other respiratory ailments, you want to know if the Airocide is worth your hard-earned money, and if it really can help ease your symptoms. Based on our research, we think it's certainly possible that Airocide works as it claims to, since the company provides a fair amount of citations on their website to back them up, and it appears that most customers have been satisfied by their experience.
With this said, keep in mind the following:
First, while Airocide is approved by the FDA (a copy of their approval letter can be found here), they are filed under a 501k, which means that they are "substantially equivalent" as another device already available on the market. While this is no easy task and Airocide is one of the few air purifiers who have received FDA approval, don't take this to mean that the FDA has thoroughly tested the device and validated all of its claims.
Next, keep in mind that Airocide is designed to remove VOCs, which are particles smaller than .3 micrometers. As such, it's not going to be anywhere nearly as effective for particles above this size as would a HEPA filter. In addition, several consumers recommended that Airocide works best when located off the ground, and with open air flow on all sides. This means that you may need to purchase the floor stand, which costs an additional $129, while also being required to replace the reaction chamber once per year, adding another $99 item to the Airocide's operating costs.
With this in mind, there is some fairly healthy debate among users about how effective Airocide actually is. This is because the fan inside each Airocide is not very powerful, and many customers have pondered just how much air in any given room would actually move through the product, and how long it would take for this to occur. Ultimately, this is an important question, because it's one thing to lock the Airocide in a room and allow it all the time it needs to eventually clean the entire room's air. But in real life, air is constantly moving in and out of the rooms in your home, causing many to wonder if Airocide contains sufficient "power" to keep up with the inflow of new pathogens.
Bottom line: While Airocide admittedly comes with a steep price, the company does a good job of providing citations for most of their claims, and the product appears to have fairly high satisfaction rating among online customers. One of the best signals that a company is proud of its product is by providing outstanding customer service, and Airocide definitely delivers here.
So if you suffer from relatively severe allergies or other respiratory ailments and have searched far and wide for a cure, then it is probably worth giving Airocide a try. However, if you don't fall into this group, you may not experience much of a difference, and may not ultimately feel the high price tag is worth it.
---
I KNOW this thing works for allergies

By Erin K.

,

Castle Rock, CO

,

Jul 10, 2019
Verified Reviewer

Overall Experience:

I've had this product since 2015, maybe longer, and it has always stayed in my large master bedroom...the last two years in a row I suddenly felt like crap when I woke up and had terrible fatigue and allergy symptoms all day. Last year when it happened, I kept saying, "why all of a sudden do I feel so bad?!" Then my subconscious remembered seeing the blinking light on my purifier...so I thought, "Could it BE?" I ordered the replacement and felt better.

Now here we are a little over a year later...I started waking up feeling unrested and headachy/sneezing all day again. (Mind you, my cleaning people had just been here and so there were some chemicals floating around but this is a monthly occurrence so that should not be the issue.) It finally hit me (quicker this time because of memory banks) that the light has been blinking on the unit again. I ordered a new reaction chamber from Amazon immediately. I can't wait to receive it and get relief.

I was always on the fence about whether this thing is actually doing what it claims and now after 2 years of experiencing the same, I am convinced this really does its job. Sidenote: I also had been noticing my house smelling kind of musty upstairs but hadn't put two and two together.

Some say it's "loud" and that may be somewhat true but it's kind of a useful white noise for me. Another thing I noticed in the past is if the power had gone off in the house and I didn't realize the unit was off, I wasn't able to fall asleep...I think it was from the sound being off (it was too quiet!!) and possibly from the air not being clean.

I wanted to put this review out to the world because I do feel like I've had a long enough period of time to really judge this product in an unbiased way. It's pricey but I worth it to me because allergies suck and this clearly helps!

Bottom Line: Yes, I would recommend this to a friend

---

Scammers!

By Elliot K.

,

New Jersey

,

Jan 26, 2019
Verified Reviewer

Overall Experience:

Airocide is despicable. They sell air purifiers for hundreds (the newest one is over a thousand) of dollars and then do not have a replacement filter/chamber which renders the filtration unit useless. It has been 1.5 years since I bought the purifier, so I am definitely due for a new filter and for the last 7 months they have been "out of stock." The $129 replacement filter is not available! So, Airocide, what do you suggest I do with my $699 + tax purifier now? Unbelievable. These people are scammers, stay away!

Bottom Line: No, I would not recommend this to a friend

---

Advertisement

---

A fabulous machine!

Tucson, AZ

,

Mar 31, 2017
Verified Reviewer

Overall Experience:

I have severe allergies and asthma, and though it used to be true that deserts like Tucson, AZ were GOOD for people with allergies, that is no longer true because of the "foreign" landscape trees, and plants people have brought in. It is also true in Tucson that the desert "dirt" or "dust" is incredibly fine and gets into your home no matter what you do. I have dogs which bring the dust in with them also.

I almost expect an email from Airocide when they see my returned reaction chambers! I also have parakeets inside for a while, and they are known to create an awful amount of dander in the air. One of my dogs actually got an airborne virus from them, and I have seen a noticeable change in her since I began using the unit.

There is absolutely an incredible improvement in the air quality of my home with this unit. It is well worth it! I am so glad I saw the advertisement for this product.

Thank you, Elizabeth Blandford.

Bottom Line: Yes, I would recommend this to a friend

---