Albert Reviews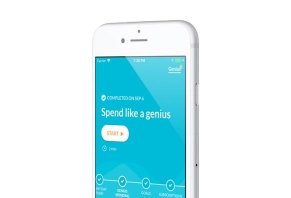 For those of us who have a hard time saving and need financial advice, new app Albert promises to use their math equations and real human advice to build up your savings automatically and offer money tips.
About Albert
Albert is a new app that helps you save money through automated deposits to your account.
We stopped by Albert's website to get a brief overview of what it's about and ended up watching their promo video. Basically, a woman in her 20's is standing at an ATM daydreaming about having thousands of dollars when, in fact, she's overdrawn.
A few quick shots of her cooking and eating ramen later, her Albert app notifies here that she saved more than $400, turning her Snapchattable misery frown into a smile.
Albert was founded in Nov. 2015 by Andrzej Baraniak and Yinon Ravid, a pair of Ivy League graduates with an extensive background in financial services.
What the app claims to offer is very similar to what we saw with Digit, another new tool intended to help people save through an in-house algorithm.
So, what makes Albert unique? What are the features and benefits you get from using it. Does money magically appear in your account in time to forego another meal of ramen and crushed financial dreams?
Those are the types of question we're going to answer in the next few minutes as we dissect what Albert does and what its strengths and weaknesses are.
To use Albert, you'll have to download the app and connect all relevant financial accounts that you want analyzed by Albert.
At the time of publishing, Albert was only available on iOS.
Using Albert: How the App Analyzes Your Finances and Helps You Save
As we mentioned earlier, the Albert app uses algorithms to help you save. Here's what that means in real life.
Mathematical equations observe your spending, income, and bills. They recognize patterns and trends and then make decisions based on those trends. In this case, those decisions flesh out in multiple ways.
Paying Down Debt
The statistics about credit card debt in the United States are pretty sobering. People with credit cards either don't use them, use them and pay them off or use them and carry a balance.
In fact, 41% of Americans who have a credit card carry a balance and those balances average around $16,000.
Overcoming that amount of debt can be discouraging, and, according to Albert, that's where their app is so helpful.
Their algorithms get a read on your debt and provide suggestions for credit cards that help you pay down that debt.
Based on our research, we think this could be helpful because many consumers aren't satisfied with the credit cards they have. An app like Albert could suggest a card that brings them valuable savings on interest payments and makes debt more manageable, a pair of factors that could increase consumer satisfaction.
But recommending credit cards to pay down your debt isn't the only thing Albert does.
Financial Health Scoring
Part of the Albert methodology of helping you strengthen your financial life is giving you a financial health score between 0 and 100.
According to Albert's website, they calculate this score based on four factors: savings and investments, debt burden, insurance and credit card fees and rewards.
The app allows you to see how each of those four factors was scored, giving you further insight into the app's methodology.
Albert Savings
This is the facet of the app we mentioned in the introduction and is what makes this tool similar to what you see in Digit, a similar app that we reviewed.
Like your financial health score, Albert's Savings function calculates how much it will withdraw from the designated connected account based on a series of factors:
Your upcoming bills
Your income, including predicted paychecks
Recent spending
Your checking account balance
The app's algorithms won't make withdrawals from your funding account if it thinks your balance is too low, saving you from overdraft fees.
Pro tip: Savings transfers take two or three business days to process.
Albert Genius
What makes Albert different than Digit is the Genius function.
Whereas most apps limit their automatic savings or investing to algorithms, Albert Genius is a paid monthly service that connects you with Albert's team of human financial experts.
They frame the service as a newer, better way to hire a financial professional to give you advice and shape your financial decisions.
Here's how they describe the advantage they offer:
"Albert eliminates the most subjective part of financial planning: manual account management performed by overpaid advisors in pinstripes and penny loafers. Instead, we rely on data to help you make the right decisions. We maintain an unbiased approach, selecting the best service providers regardless of their fees, and we will never encourage you to take unnecessary action."
What's important to know is that financial advisers are bound by law to make investment decisions on your behalf and, while there have been instances in which advisers have made decisions based on their best interest and not their clients', Albert isn't really offering anything new by saying they provide "unbiased advice".
How do you get that advice? By asking questions through the app. Here is an example of the kinds of questions Albert suggests you ask:
"I have some debt that I'd like to lower interest payments on, where do I start?"
"I have 35k travel miles. What's the best way to use them on a flight to Europe?"
"I have a friend's wedding coming up, can you help me save for it?"
"What's the cheapest mover in LA?"
As you can see, the Genius service provides financial advice for just about every part of your financial life.
And, to top it off, Albert Genius members earn a 1% bonus on the cash they save: $1,000 saved will earn you $10. The bonuses you earn could conceivably offset what you pay each month to use the service.
Public Opinion About Albert
To find out what users thought about Albert, we headed to the app's iTunes page where, at the time of publishing, more than 1,000 people had left reviews with an average rating of 4.5 stars.
The most recent reviews of the app were positive with few complaints. One user brought up an excellent observation: Albert is better than a banking app.
While it's pretty obvious that Albert and other savings-focused apps like Digit and Clarity Money offer far more capabilities than a banking app, it's important to remember that Albert sets itself apart even from other financial apps because it incorporates algorithms and real people.
Our Final Thoughts About Albert: Pros, Cons and Who It's Good For
Albert's ability to use their in-house algorithm to save for you as well as real humans to offer advice on financial matters is certainly unique and we think those two features are the app's strength.
As we've talked about on many occasions in our personal finance articles and reviews, the average American has less than $1,000 in their savings account. Apps like Albert provide a fun, easy way to go against the averages and build up some solid savings that can offset an unexpected cost or pay for emergency car or home repairs.
We've mentioned Digit multiple times in this review and that's because its auto-save feature is very similar to Albert's. The main point of difference is the Albert Genius service which, based on our research, is the missing advice piece from many of the financial apps we've reviewed.
While Albert Genius is a nice feature, we also think it could be the app's weak point. First, it comes at a cost that most likely negates any money you earn from interest on the money you save. Also, we had a hard time finding out who those geniuses actually are.
The Albert website frames Albert Genius as a way to circumvent the high fees and not-so-wholesome intentions of financial professionals, but they don't give you the credentials of the real humans giving you financial advice.
Are those real humans CFPs, CPAs or financial planners? How does Albert decide which members of their Genius team respond to which questions? Are you getting general advice or advice that is specific to your own financial situation?
For that last question, we'd assume the answer is "yes" because Albert has access to your financial information. But, in the end, we believe that the best advice comes from financial professionals who have training and are certified or licensed to answer your questions and provide guidance.
Related: How Robo-Advisors Make Investing Easier Than Ever: Beginner's Guide
Scam

By Contessa Z.

,

Logan, UT

,

Nov 11, 2019
Verified Reviewer

I was drawn to Albert because they offered advances on my paycheck, who wouldn't want to get paid early, for free? I did my research and saw that they also gave banking advice. So I downloaded the app. After putting in my information, including my checking information, I found out that the paycheck advances aren't even available yet (false advertising) and that they wanted to withdraw "savings" out of my account. Great, but not what I wanted.

I immediately saw that they wanted to auto withdraw savings and deleted the app. I did NOT select anything just deleted the app and went on my way. I never completed my set up or registration.

A week later, I have $59 withdrawn out of my checking account. Come to find out even though I never authorized this they enrolled me in "auto savings". They took the money out and it is supposed to be available in the app within 2-3 business days. I was furious. I contacted them and they told me there was nothing that they could do.

Side Note: they take at least 3 hours to get back to you between every text. Another side note: you can only get a hold of them through text.

They told me that once the funds were done pending I could transfer them back to my bank. I waited, I am on my fourth business day of waiting and my money is STILL NOT available to transfer back, even though they withdrew the money successfully 4 days ago! This is theft.

I have contacted them AGAIN and I still have heard nothing back. At this point, I feel like the only way to get through to them is through negative reviews and my legal team. I am happy to validate this with evidence of my withdrawal dates, app screenshots, etc. Please DO NOT trust this app.

Bottom Line: No, I would not recommend this to a friend

---

Terrible support

By Justin G.

,

Maryland

,

Oct 12, 2019
Verified Reviewer

I've been trying to withdrawal my savings for over a month to no avail. When I try to get support, they respond maybe 1 or 2 times then ghost me and leave me hanging. I just want my money so I can delete this stupid app.

Bottom Line: No, I would not recommend this to a friend

---

Advertisement

---

Terrible app with faulty algo

By Kristy T.

,

Delaware

,

Oct 7, 2019
Verified Reviewer

This app was INCREDIBLY aggressive in saving money. I felt like I was playing a game with buckets of water, desperately trying to refill my accounts because I had bills coming up. Over the course of 3 days, Albert moved almost $300 into their savings account. I kept trying to move money back, but it takes 2-3 days for funds to hit the account. I closed my account with the app, but was waiting on the transfer to zero out my Albert account. When I wrote them about it, they informed me that the transfer had already occurred TWO DAYS before I even closed the account. I am still fighting to get all of my money returned.

I don't think this is a scam, but I DEFINITELY think their customer service could be better, and their algo needs a LOT more work before they go screwing up other people's finances.

If you're looking for automatic savings, I highly recommend Acorns instead.

Bottom Line: No, I would not recommend this to a friend

---

Albert app awful

By Stacy K.

,

Idaho

,

Aug 7, 2019
Verified Reviewer

I recently downloaded this app, have not gone full force into using it but it had a feature to transfer money to savings for you. So I set this up, not realizing when you NEED that money to use, it isn't put back into your bank account for 2-3 business days, and don't expect anything on weekends...you can't just access the money, it's at the apps or customer service to get this done. Upon realizing this and we needed the money ASAP, I turned off the money savings feature to so no money would be taken out of my checking until I turned it back on. Well, I found out somehow, it was activated, NOT by me, and money was taken out again and placed in Albert savings on the app, to which I cannot touch the money, even though its mine. I had to request the money be put back in my checking, causing issues with our checking account now and Albert customer service can ONLY be contacted via text, in which they have a disclaimer they have 2-3 business days to respond. NO CUSTOMER SERVICE ON WEEKENDS TOO. So they explained that I turned the savings back on, to which I DID NOT.

So user beware, this company is a paint to deal with and I believe there are glitches in their app that will cause you a lot of problems down the road.

Bottom Line: No, I would not recommend this to a friend

---

Advertisement

---

Scam

By Dana S.

,

Jackson, MS

,

Mar 21, 2019
Verified Reviewer

I saw Albert on an ad on Instagram. I thought it would be a good way to budget and I didn't intend to use the savings part. Shortly after I was charged $44! I am a young woman living paycheck to paycheck, the $44 was gas and food money that I don't have anymore. I didn't ok any fees and I have no idea what it came out for. I have reached out to the support but no luck. If you are struggling I DO NOT recommend you try this.

Bottom Line: No, I would not recommend this to a friend

---

This company lacks transparency. Borders on UNETHICAL.

By Arthur C.

,

Las Vegas, NV

,

Feb 2, 2019
Verified Reviewer

I signed up and within SECONDS saw through the scam! Two days later $25 deducted from the account. I contacted Bank of America and they stopped payment. I contacted AG and FBI Internet Crime Unit, was told to watch my account closely. There is no way that I am the only one being scammed! I tried to arrange a face to face meeting with a representative to no avail. I ASSURE YOU if another "deduction" is taken by this company, there will be HELL to pay!

Bottom Line: No, I would not recommend this to a friend

---

Advertisement

---