Alessa Serum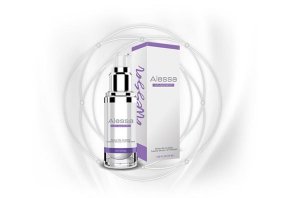 Alessa Anti-Aging Serum claims to boost collagen and elastin product and reverse the signs of aging. However, its high price and lack of dosage information make it a risky choice.
Alessa Serum Review: Is It Legit or Just Hype?
Alessa Anti-Aging Serum is a facial serum that claims to use whole collagen particles to hydrate your skin and remove wrinkles and dark circles under your eyes.
These claims provide some hope for consumers who are looking for a way to reverse the aging effects evident on their skin.
Alessa's breakthrough formula delivers whole collagen molecules to the skin," the product's website says. "The peptide-rich wrinkle serum is applied to the skin, rebuilding and rejuvenating the skin."
In our review of this product, we'll talk to you about how it works, what its known ingredients are, what science says about those ingredients, efficacy, as well as any side effects or safety issues we know about Alessa's anti-aging serum.
We'll also include a section on the product's pricing and autoship policy, as there are some potential red flags you need to be aware of.
How Alessa Anti-Aging Serum Works
One of the difficulties in examining this product is that its website reveals little information about directions for use.
What we do know is that this product is a serum, which is a term referring to water-based products like the lotion you'll get in your 0.50 fluid-ounce bottle of Alessa.
The website doesn't say how often you should apply the serum, only that it delivers "amazing results" and helps you avoid needle-based treatments, which we're assuming is a reference to Botox, an injection-based treatment.
We called the company's customer service line and discovered that you're supposed to use a pea-sized portion of the serum once a day. Rub the lotion into your skin with circular motions. Also, apply the serum at least 30 minutes before sun exposure.
The phone rep with whom we spoke suggested using the serum at night to avoid sun exposure, which is something we'll talk about in the side effects and safety section.
Alessa Anti-Aging Serum's Ingredients and Scientific Efficacy
Alessa's website mentions that the serum contains whole collagen and peptides. When we spoke with their customer service department, the phone rep told us the serum includes the following ingredients:
Retinol
Rosemary
Mint balm
The phone rep said these were the only ingredients their information was showing them, which means it may not be an exhaustive list. Assuming these are the main ingredients, we'll give you a breakdown of what each one is supposed to do, according to the prevailing research.
As a side note, the phone rep did not mention collagen. Even if the serum included collagen, Dr. Anthony Youn, a plastic surgeon, told us that applying collagen on the skin won't help it look younger.
"While studies show that ingesting collagen and injecting collagen can thicken the collagen of the skin and make it look younger, placing it on top of the skin in cream form won't do anything to the collagen of the skin," Youn told us. "The molecules of collagen are too big to actually pass through the skin."
Retinol
Retinol is a popular ingredient used in anti-aging products. It's made from vitamin A and, can reduce fine lines and wrinkles, according to WebMD.
In an interview with Allure magazine, Dr. Dana Sachs, an associate professor of dermatology at the University of Michigan, said that retinol is the "only derivative of vitamin A worth using."
The ingredient promotes collagen growth and elastin, two chemicals that make your skin look younger.
So, in that sense, Alessa Anti-Aging seems to be on the right track. Unfortunately, they don't list how much retinol is in their serum. Therefore, it's impossible to know exactly how effective Alessa is based on its retinol content.
Rosemary
In its oil form, rosemary is purported to have many benefits ranging from increased alertness to hair growth. However, rosemary doesn't seem to have any proven benefits for improving the health of your skin, according to research site ConsumerLab.com.
Mint Balm
Mint balm's scientific name is Melissa officinalis and it goes by multiple names including lemon balm and bee balm.
ConsumerLab.com's profile of mint balm indicates it's a popular treatment for oral herpes.
"It appears to make flare-ups less intense and last for a shorter period of time, but it doesn't completely eliminate them," the site said. "Regular use of lemon balm might help prevent flare-ups, but this potential use hasn't been properly studied."
However, ConsumerLab makes no mention of mint balm's effectiveness in fighting skin aging. Therefore, we believe mint balm does not play a role in the Alessa's claims it can reverse wrinkle and fine lines.
All of the evidence and research we looked at seems to indicate that the only ingredient in this list that can mitigate the effects of aging is retinol.
However, as we mentioned earlier, Alessa's website does not reveal any dosage information. So, we have no idea how much retinol is in each bottle.
Alessa Anti-Aging Serum Side Effects and Safety
After spending time researching the known ingredients in this product, we found that the main side effect should be dry, flaky skin, thanks to the retinol included in the serum.
The Allure article we mentioned earlier noted that retinol acts as an exfoliant for your top layer of skin. This means your top layer will peel off after using the lotion.
The dermatology expert who spoke with Allure for the article refuted the advice we received from the Alessa customer service rep who told us you need to stay out of the sun for 30 minutes after applying the serum.
"This misconception came about because in some early studies, people described putting on a retinoid, walking into the sun, and immediately burning. But that redness is likely related to heat exposure," Sachs told Allure. "Clinical studies have shown pretty definitively that retinoids do not lower the MED — or minimal erythemal dos — of human skin, which is the amount of UV light you can take before the skin burns."
Alessa Anti-Aging Serum Pricing and Autoship Policy
At the time of publishing, you could buy your first bottle of serum for $4.95. The price is low because Alessa frames your first bottle as an "exclusive trial."
This is where you have to be careful. If you don't contact Alessa's customer service line within 14 days of buying your serum, they will enroll you in an auto-ship program.
If this happens, Alessa will automatically charge you $94.40 after the 14 days are over, ship you a new bottle of the serum and then continue to do this every month.
To avoid this, make sure you call (877) 796-8390 and ask the company to cancel your trial. It's critical you do this. If you don't Alessa will charge you the auto-ship subscription fee.
Also, keep in mind that the 14-day trial starts the day you order the product, not the day you receive it in the mail.
The Bottom Line: Should You Try Alessa Anti-Aging Serum?
We believe that our research and the research of reputable sites reveals that Alessa's main ingredient, retinol, has the ability to do some good.
However, it's hard to pin down exactly how well this anti-aging serum will work because there is limited information about its ingredients and, more importantly, we don't know how much retinol is in each bottle.
The second red flag we see is the cost of the product. At nearly $95 per 0.5-fluid-ounce bottle, a yearly regiment of this anti-aging serum will cost you more than $1,000.
By contrast, Arvesa Natural Retinal Moisturizer Cream, a retinol anti-aging product on Amazon, is $14.84 for a 1.75-fluid-ounce jar. The product has more than 400 ratings on Amazon with an average rating of 4.2 stars.
Finally, the company's autoship program can be a serious hindrance if you forget to renew.
The pros and cons of this product lead us to believe that, even if the retinol content in Alessa Anti-Aging Serum is sufficient, the cost exceeds the benefits that we believe are possible through far cheaper alternatives.
If you want to learn more about anti-aging creams, take a few minutes to read through our analysis of the real value of these creams. We talk about the basics of retinoids, alpha-hydroxy acids and antioxidants, the three main types of ingredients you'll find among anti-aging creams.