AlignMed Posture Shirt Reviews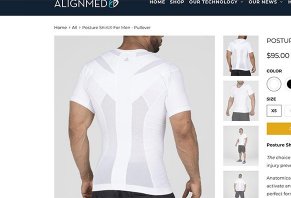 AlignMed Posture Shirt uses Neuroband Technology® to gently pull your shoulders and spine into neutral position, reduce pain, boost performance, and more.
About AlignMed Posture Shirt
If you suffer from poor posture or back pain, AlignMed Posture Shirt might sound like a miracle product. Heck, even if you're looking to improve your performance or just hide unsightly bulges, AlignMed might seem like an ideal solution for a lot of common problems. How so?
In a nutshell, AlignMed claims to be a breakthrough, FDA registered posture garment that can help you:
Maintain proper posture and stand taller
Look thinner and feel better
Improve performance
Prevent injuries
Relieve torso pain
Adjust your shoulders, neck, and spine
In fact, AlignMed goes so far to claim that it'll help you "perform like a champion" since, according to company representatives, "numerous pro athletes wear it and have worn it for performance." Some of those athletes include Anthony Davis (NBA), Peyton Manning (NFL), Eric Gordon (NBA) and Greg Holland (MLB).
There's little doubt that poor posture can have a big impact on your health, or that nearly all of us want to look thinner, perform better, and feel our best. But is there anything about the AlignMed Posture Shirt that will help correct the problem, or does it just amount to a basic compression shirt? Let's find out what we uncovered during our research.
How Does AlignMed's Neuroband Technology® Work?
After slipping on or zipping up AlignMed Posture Shirt (the choice is yours), its patented Neuroband Technology® (their brand name for "anatomically constructed tension panels") will provide specific resistance to different areas of your body, including your shoulders and spine.
The shirt's panels are made of a variable-stretch elastic material that's laid out in a T formation, which is intended to pull your spine and shoulders into alignment, or what the company calls the "proper neutral position."
Once this occurs, you'll activate and stimulate specific muscle groups" that can help you perform better and provide all the benefits mentioned above.
How, exactly, does the AlignMed Posture Shirt accomplish this? When it comes down to it, is there any evidence (clinical or otherwise) showing that it can provide any of these benefits? Let's find out.
Is AlignMed Posture Shirt Proven?
On the main AlignMed website, you'll find eight different clinical studies intended to support their claims.
Of these, seven were related directly to the Posture Shirt, while the last one referenced one of the company's other products (more about this in a moment). Here's a quick sampling:
A 2013 study that looked at the effects of Posture Shirt on overhead athletes with poor posture. The study concluded that results were "highly variable," and that it "might" work.
An undated University of Southern California study that found AlignMed's Posture Shirt "significantly affects blood flow characteristics of the pitching arm of elite pitchers," leading to improved accuracy and velocity. However, these performance measures were not noted to be "statistically significant."
A study conducted through the University of Denver that noted a "significant difference in forward shoulder posture, forward head posture, thoracic kyphosis, and grip strength" for those who wore a device like Posture Shirt while working at their desk over the course of 4 weeks. In addition, it was noted that "postural fatigue and muscular fatigue decreased by 21% and 29%, respectively, and energy level and productivity increased by 20% and 13%, respectively."
Again, this is just a sampling, so we'd certainly suggest reading through each of AlignMed's studies when you have a few moments.
Taking this evidence together, the evidence seems to indicate that, particularly office workers, there is a good chance that the Posture Shirt can decrease muscle fatigue and increase your productivity.
Granted, this is just our opinion based on what we learned on the AlignMed website. What are real world customers saying about their experiences?
What's Everyone Saying In Their AlignMed Posture Shirt Reviews?
AlignMed seems to have been selling their Posture Shirt for a decent amount of time, as there's a fair amount of feedback for it online.
On Amazon, Posture Shirt had an average rating of 3.6 stars from the 77 reviews posted at the time of publishing.
Two customers specifically claimed that it's not much more than a basic compression shirt, and three of the negative reviews cited insufficient support (or at least, not as much as the company makes it seem).
In response, AlignMed told us that their shirts aren't compression shirts but "functional garments that enable muscles to work better, all the while providing posture support."
Recent Amazon positive Amazon reviews of the product note that the shirt helped them correct their posture and that, according to a review named "Lucky", "It really does push me into a more upright position but more than that it's a constant reminder that I need to straighten up."
Review site PostureBraceGuide.com gave the AlignMed Posture Shirt a try in an effort to improve his posture from years of working at a computer.
Overall, he appreciated its comfort (although it took a little getting used to), and that it acted as a "gentle reminder" throughout the day to pull his shoulders back and sit upright. Because of this, he felt Posture Shirt was an "excellent product" that made "a noticeable difference in [his] posture."
One of the writers over at CNET also decided to put AlignMed's Posture Shirt and walked away claiming that it worked "perfectly."
He found that his back, shoulder, and arm pain "was pretty much gone" after about a month, and that he felt "more focused and productive." In the end, he felt the Posture Shirt was "money well spent."
AlignMed Posture Shirt 2.0 vs. IntelliSkin
Just because the AlignMed Posture Shirt seems to have received some glowing reviews from testers, this doesn't mean it's your only option. In fact, if you type "posture shirt" into your favorite search engine, you'll find dozens of similar (and not-so-similar) options that could foreseeably work just as well.
In general, though, Posture Shirt's closest competition comes from IntelliSkin, an unrelated company that operates within 5 miles of AlignMed. Which of these is best for you?
PracticePosture.com provided an in-depth comparison between the two, and came away feeling that IntelliSkin offered higher quality. Also, they thought IntelliSkin's version was more user friendly, that it felt "much more streamlined," and that it felt more like a compression shirt than a postural brace (a good thing, in their opinion).
If you're looking for a substantial comparison between AlignMed Posture Shirt and IntelliSkin's, you'll definitely want to check out this NeuroTalk forum thread, where several dozen users sound off about their experiences with each. As you'd imagine, there's a lot of personal preference and opinion involved, but it'll give you a great sampling to work from.
What about price, though?
How Much Does AlignMed Posture Shirt Cost?
The Alignmed Posture Shirt has an on-line suggested retail price of $95.
All AlignMed products may be returned or exchanged within thirty (30) days of purchase. The return and warranty policy if found here. Some of the important points of this policy include:
Returned items must be in like-new condition
Accepted returns will get an email notification
You have 60 days to make a warranty claim on a defective product
The Final Word: Pros and Cons of AlignMed Posture Shirts?
Based on a lot of online customer (and professional) feedback, it seems like the AlignMed Posture Shirt might work best for office workers who need a gentle reminder to maintain proper posture throughout the day. In fact, the company even provides us with some clinical evidence supporting this benefit.
Our research of these various factors indicate that the average person who spends a lot of time sitting at a desk could, based on the research we mentioned earlier, see an increase in productivity and a decrease in posture and muscle fatigue.
If you're interested in trying the product, then try it out for a few weeks and see if there's a difference. If not, you have 30 days to return your Posture Shirt.
The one main downside of the product is that the $99.95 price tag may be cost prohibitive for some. There is a possibility that your insurance company could pay for part of the cost of your shirt.
To find this out, you can fill out a quick form in which you'll need to give AlignMed the name and phone number of your insurer, as well as your:
Full name
Plan ID #
Group ID #
Doctor's name
Doctor's phone #
Doctor's fax #
I can go through an entire day with no pain. Incredible!

By Robert S.

,

Lancaster, PA

,

Aug 6, 2018
Verified Reviewer

I have worn the shirt for a few days now. Usually, I feel my posture is more upright, relaxed, with less lower back pain than I usually have. It is not magic. I must keep my shoulders upright, and keep from slouching, which I tend to do. Still, it seems a great help in correcting my posture. I have to do the work, but the shirt helps greatly.

Bottom Line: Yes, I would recommend this to a friend

---

Shipping/delivery

Be aware! AlignMed does not not state the full shipping costs of this product. After buying this product and paying full shipping costs to AlignMed. I was then sent an additional invoice from there delivery supplier FED EX for this delivery. AlignMed does not state anything on their website regarding extra delivery costs. This is false cost advertising and customers should be made aware of ALL costs involved before making a purchase.

Bottom Line: No, I would not recommend this to a friend

---

Advertisement

---